Salads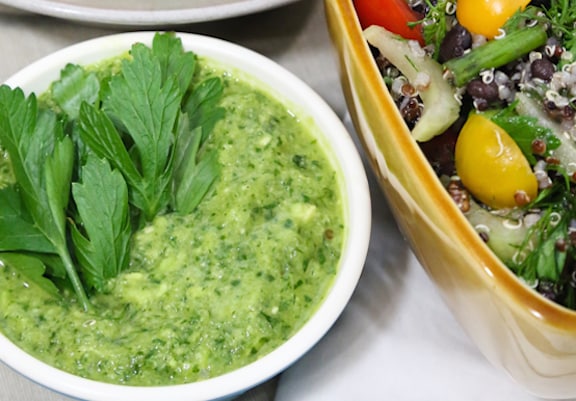 Salad dressing can get a little tricky when you're vegan. Most are made out of oils and vinegars. But if you want a hearty, creamy dressing, many have mayonnaise in them. Luckily, it's easy to get a creamy, vegan salad dressing by using ingredients like vegan mayonnaise, hummus or even nuts like cashews. Below are some of the top creamy vegan salad dressing recipes. more→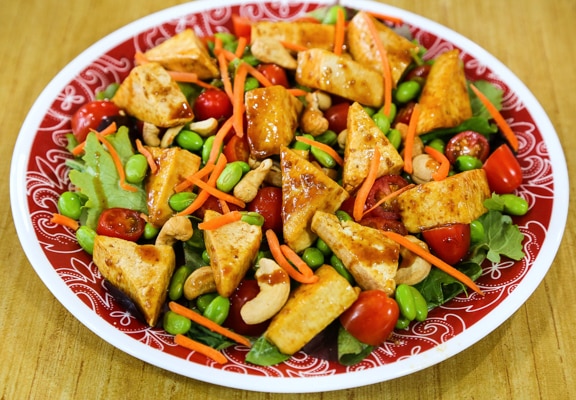 When the weather is cool, I find I need to find ways to entice myself to eat salads. One way that seems to do the trick is to add a warm or hot element to cool greens. This sizzling salad features tofu that's been cooked in tasty teriyaki sauce. Edamame (fresh green soybeans) and cashews add even more protein and a lot of flavor. For me, this is a winter favorite! Photos by Evan Atlas. more→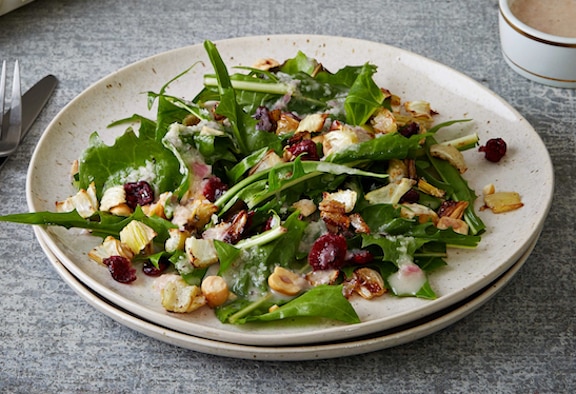 A gorgeous fall themed salad with an epic name but a relatively simple procedure. Roasting fennel lightly caramelizes and brings out the delicate licorice flavor. The crunch of roasted hazelnuts and chewy tang of dried cranberries makes this an ideal salad for winter holidays, but don't wait for Black Friday: make this lovely dish any blustery cold weekend and serve with your favorite fall soup. Allow the fennel and shallots adequate roasting time to ensure that their deep, sweet flavors really develop. more→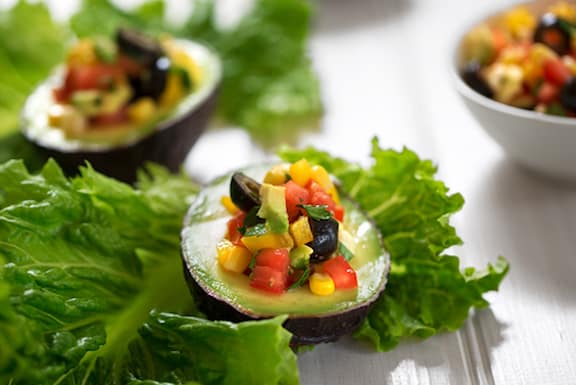 Individual avocado cups, studded with corn and crisp vegetables, are an easy alternative to an ordinary salad, or a nice first course. Double the recipe if you'd like everyone to have two halves rather than one, in which case it can almost be a main-dish salad, especially if you pair it with a bean salad, like Simple Marinated Beans.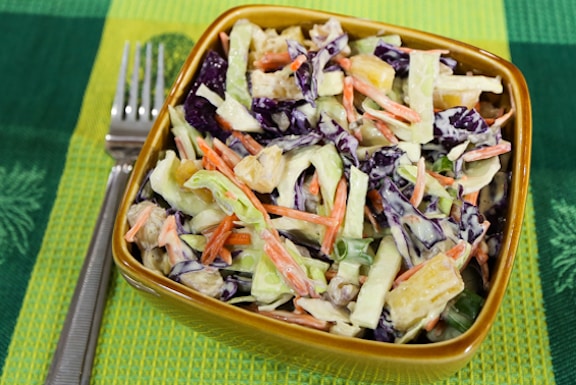 Crushed pineapple is the standout ingredient in this pleasing Creole coleslaw recipe. It provides a good balance to spicy or bold dishes. My favorite dishes to serve it with are, appropriately, Vegan Jambalaya and Pasta Jambalaya. more→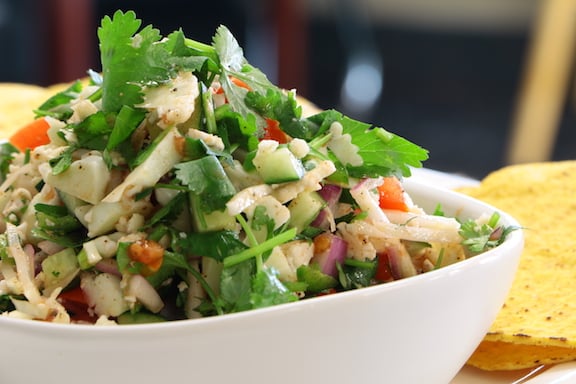 Vegan ceviche, a Latin-American specialty, is a perfect and refreshing first course or appetizer, especially when it's made all-vegetable.Traditionally, it's made with seafood and vegetables, but taking the fish out of the equation, it's still really good, with its salty and citrusy flavors. It's a great appetizer for most any kind of Southwestern- or Mexican-style meal.
Mexican Independence Day is September 16, and just in time, Vegan Mexican Food, a resource of the nonprofit Food Empowerment Project, has been updated and expanded. Thanks to these organization for this tasty contribution, as well as the photo. more→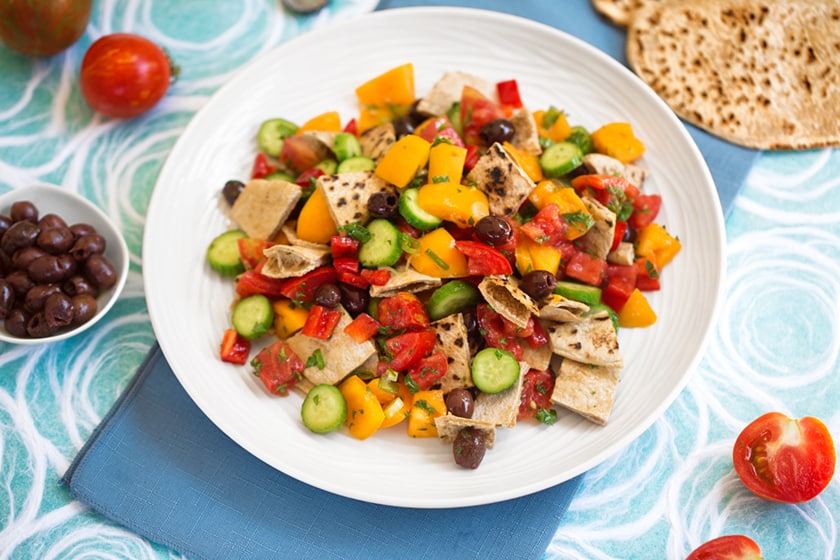 Fattouche salad is a Middle Eastern classic that's not as well known in western culture as is tabbouleh, though maybe it should be — it's just as delicious. It gets its characteristic touch from the use of small bits of toasted pita bread mingling with juicy tomatoes, cucumbers, and fresh herbs. It's good all year round, though especially tasty with summer tomatoes more→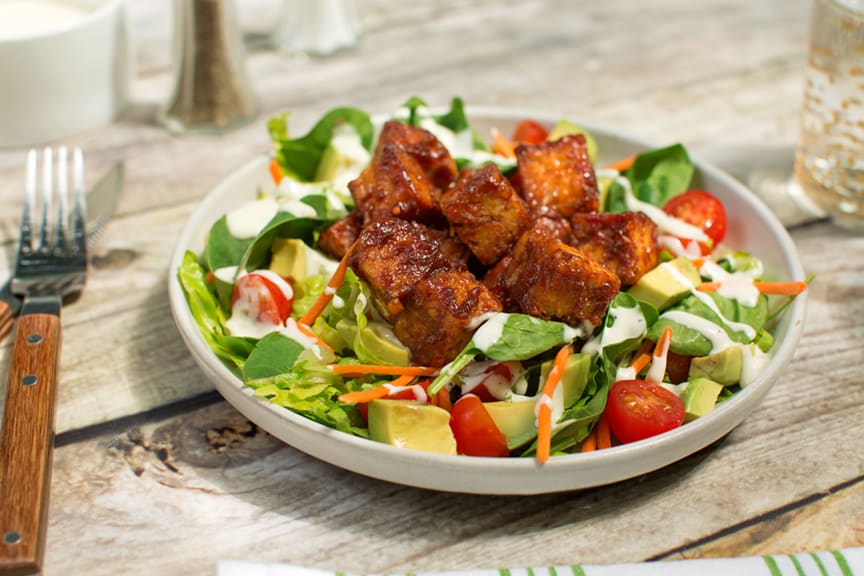 The synergy between hearty BBQ tempeh croutons and crisp salad veggies dressed in creamy vegan ranch dressing is most appealing. First presented as one of our Vegan Dinner Hacks, paired with sweet potato fries, this is a more formal recipe. But not so formal that you have to follow this recipe precisely — far from it. The barbecue-flavored tempeh croutons make any salad hearty and satisfying; you can vary the kinds of salad veggies here as you'd like. more→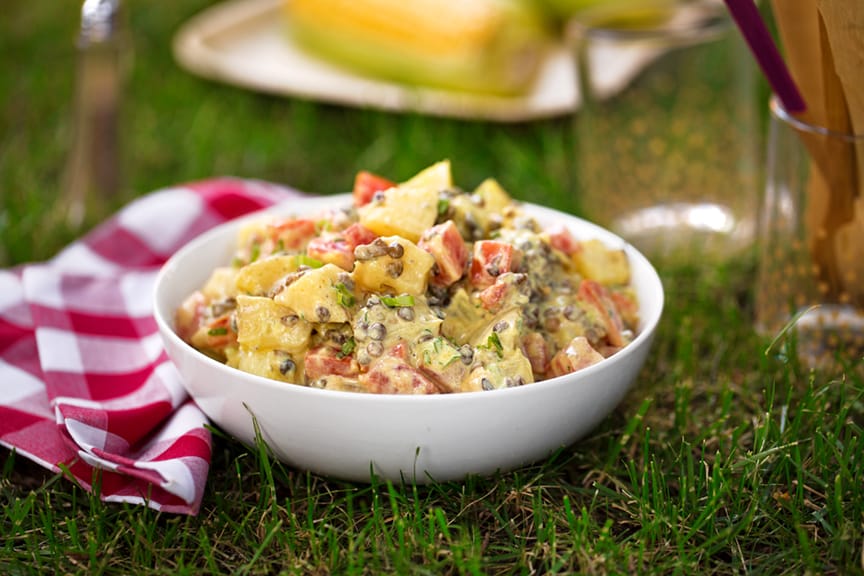 This curried potato salad is a luscious combination of potatoes, lentils, and tomatoes — an offbeat change-of-pace from the standard varieties, and gets a nice protein boost from the lentils. It's hearty enough to serve as a summer main dish with fresh corn on the cob. Add a cold summer soup for a larger meal. Photos by Hannah Kaminksy. more→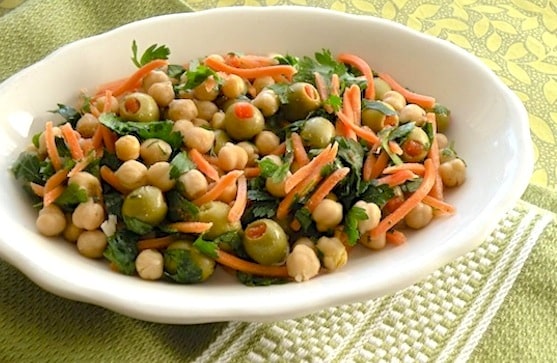 Chickpeas should be a mainstay in any vegan diet. They're super easy to cook with and are a great source of iron and protein. They also have a subtle nutty flavor that mixes well with just about any other flavoring. And their hearty grainy texture is super satisfying. Below are several vegan chickpea salad recipes, both for sandwiches and served as side dishes.
Chickpea salad: A great vegan substitute for egg salad sandwiches is a chickpea salad sandwich. This combines chickpeas with vegan mayo, along with veggies like onions, celery, pickles and red bell peppers. Yellow mustard, pepper and lemon juice also add plenty of flavor.
Cucumber chickpea salad with lemony tahini dressing: The super cool thing about this recipe? It's served right inside a hallowed out tomato. The cucumbers add just the right amount of crunch to the chickpea base.
Chickpea sunflower sandwich: This is another recipe that combines chickpeas with vegan mayo. It also adds in roasted sunflower seeds to add to the flavor. Mustard, maple syrup and dill also contribute to a dish with rich, complex flavors. The recipe is served up on wheat bread with lettuce, avocado, red onions and tomatoes.
Chickpea salad sandwich: This super easy recipe simply calls for blending soaked chickpeas, cashew cream, red onions and celery together. It's then seasoned with salt to taste. Serve it up on whole wheat bread with toppings like sprouts, tomatoes and pickles.
Mashed chickpea salad sandwich: This sandwich is served with a layer of mashed avocado, in addition to the chickpea salad. To make the mashed chickpea salad, you can combine the chickpeas with hummus, tahini or vegan mayo.
Mediterranean pesto chickpea salad: Fans of pesto rejoice! This recipe goes great as a sandwich. It calls for chickpeas (of course), black olives, artichoke hearts, red bell peppers and salt and pepper to taste. It's all mixes together with an easy pesto base.
Lentil and chickpea salad sandwich: If you love the earthy flavor of lentils, then you'll want to try this dish. If you have dieting concerns, the person who made this recipe cut it with red lentils because they are lower in fat, but higher in protein and fiber. The ingredients are combined with vegan mayo in this dish.
Chickpea salad: Looking for a more traditional salad, like the kind you can throw in a bowl and eat? This recipe throws in a hearty amount of chickpeas combined with ingredients like peppers, kalamata olives and parsley.
Mediterranean chickpea salad sandwich: In addition to the chickpea salad, this sandwich loads in the cucumbers, tomatoes, red onions and mashed avocado. The salad itself calls for flavorings like tahini, lemon juice, turmeric, smoked paprika, salt, garlic powder and cumin.
Curried chickpea salad sandwich: Here's a great lunch idea for curry fans. In addition to the obvious chickpeas and curry in this dish, there's also the sweet taste of diced apples. Dried cranberries also add fruity flavor against the mustard and vegan mayo base.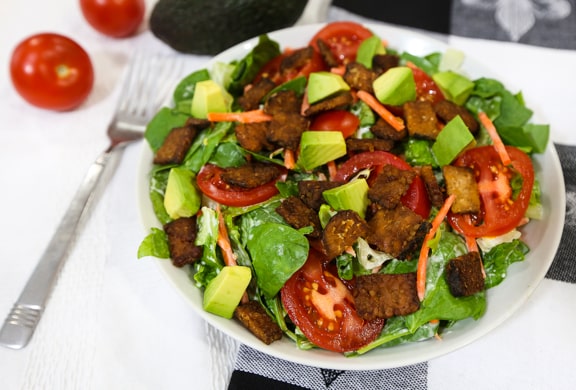 The smoky-sweet flavor of tempeh bacon makes a simple salad sizzle. Especially in winter, when salad is a lot less tempting than soups and stews, adding something warm and hearty like tempeh bacon makes it more appealing. And if you're lightening up post-winter holidays, the classic combo of lettuce, tomatoes, and (vegan) bacon minus the bread will hit the spot without feeling heavy. Use your favorite kind of store-bought tempeh bacon, or try Dreena Burton's fabulous Baconut, a homemade bacon substitute made with coconut flakes. more→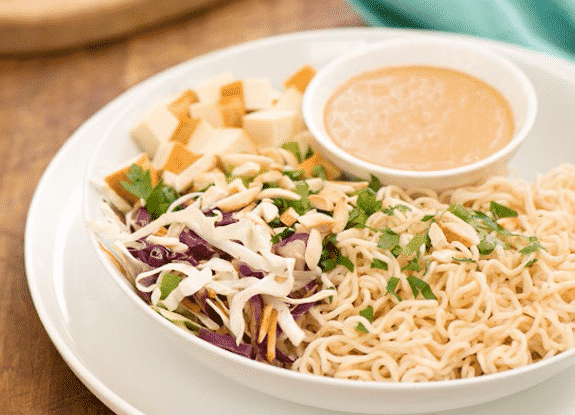 I don't know about you, but I consider ramen a primary cheap-eats food group, and this take on it has major protein and flavor punch. Keep some ramen noodles on hand for quick and easy salads like this one. Thanks to bagged slaw mix and baked marinated tofu (both found in most supermarkets), it only takes minutes to assemble. Reprinted from The Book of Veganish by Kathy Freston & Rachel Cohn ©2016, by arrangement with Pam Krauss Books, a member of Penguin Group U.S., a Penguin Random House Company. more→