Colorful Green Salads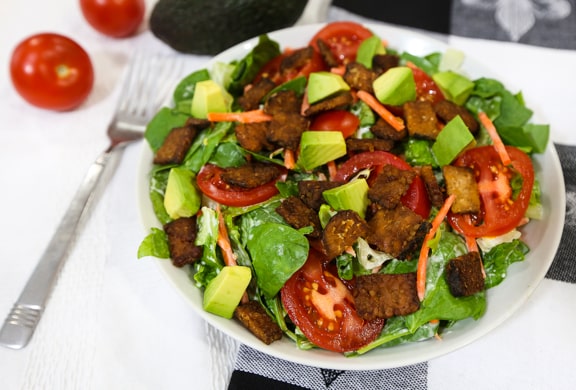 The smoky-sweet flavor of tempeh bacon makes a simple salad sizzle. Especially in winter, when salad is a lot less tempting than soups and stews, adding something warm and hearty like tempeh bacon makes it more appealing. And if you're lightening up post-winter holidays, the classic combo of lettuce, tomatoes, and (vegan) bacon minus the bread will hit the spot without feeling heavy. Use your favorite kind of store-bought tempeh bacon, or try Dreena Burton's fabulous Baconut, a homemade bacon substitute made with coconut flakes. more→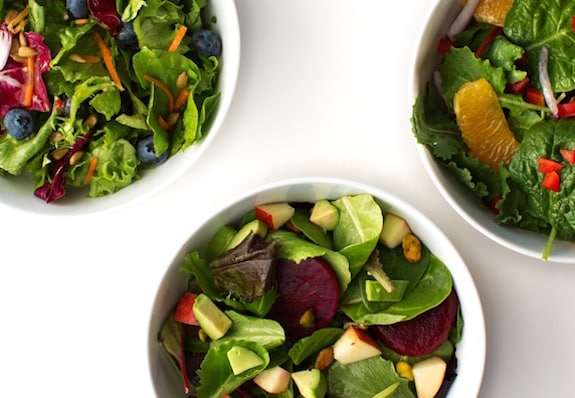 Start with mixed baby greens, spinach, or arugula (or some combination of two or three of these) and add fresh seasonal fruits and a sprinkling of nuts to make easy salads. This kind of salad adds a refreshing note to most any kind of meal. There's almost nothing to it, and you need not follow any recipe! You can vary it each time you make it. more→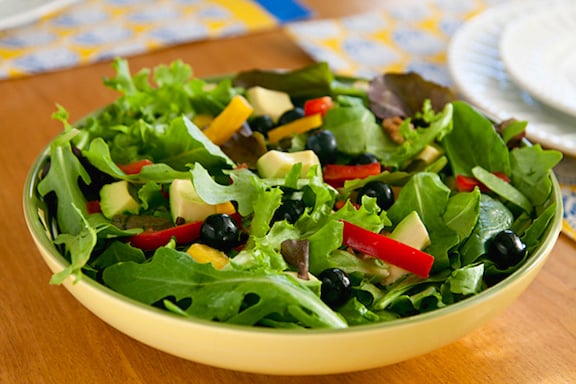 This gorgeous summer salad featuring mixed greens, bell peppers has the surprising flavor twist of blueberries. It's a feast for the eyes, and is a snap to make and adds a splash of color (and lots of antioxidants) to the summer plate. Adapted from Vegan Holiday Kitchen. Photos by Susan Voisin. more→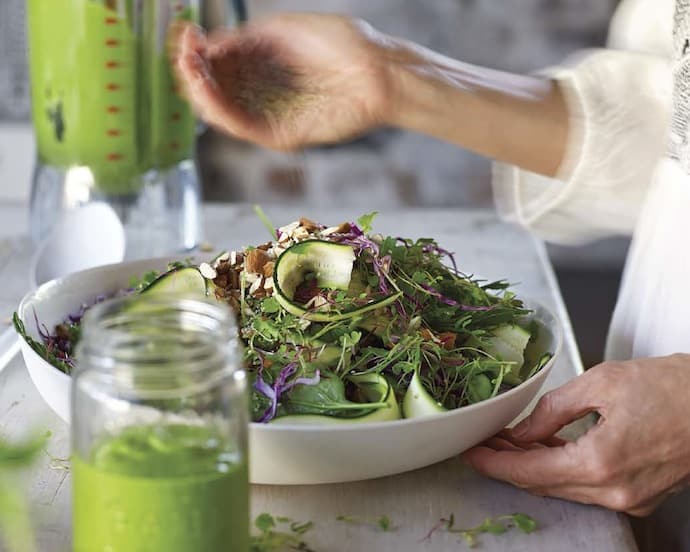 I think of this salad dressing as the culinary equivalent of my little black dress—a staple that gets pulled out, works for most occasions, and never goes out of style. I love the peppery notes in this dressing, but any blend of herbs and greens can yield spectacular results. This lean green dressing machine will transform even the most tragic mound of lettuce from drab to fab. People swoon when they taste it. Many a friend has exclaimed in the midst of a euphoric bite, "Oh, I could just gobble this up with a spoon!" I have done that, and also licked it out of the blender carriage before it even had the chance to get dressed up. Reprinted with permission from The Blender Girl* by Tess Masters, copyright © 2014. Published by Ten Speed Press, an imprint of Random House LLC. Photography © 2014 by Anson Smart.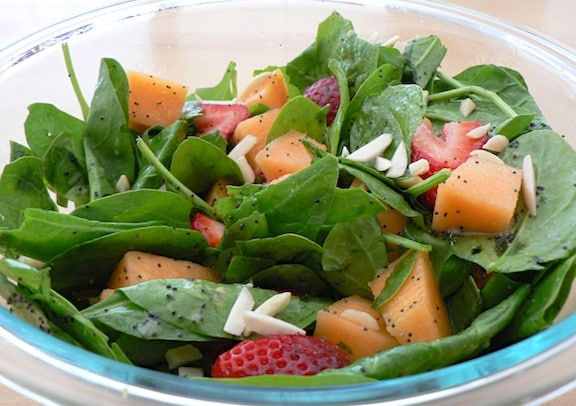 Any variation of a spinach salad immediately shoots to the top of my favorites list.This popular combination of spinach and strawberries, is drizzled with a sweet poppy seed dressing. I get a little extra footloose and fancy-free, adding in some cantaloupe and almond slivers for an unexpected crunch. Recipe and photos by Sharon Discorfano, from Stellar Vegan Salads. * Reprinted by permission.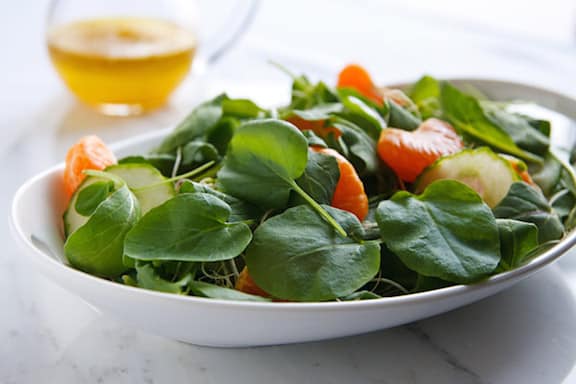 Spring's early greens, including baby bok choy, arugula, and watercress cross paths with the last of the cold season's small oranges in this easy and delectable salad. Recipe from Wild About Greens. Photos by Susan Voisin. more→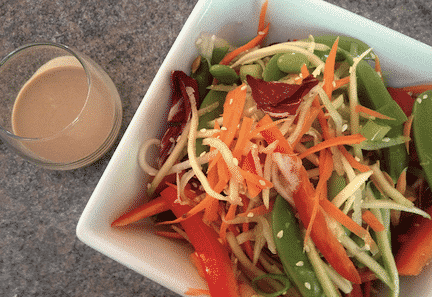 This is a powerhouse salad, full of vegetables, protein, nutrients. The dressing is so easy (and versatile) and really packs an extra punch. This salad did not stand a chance; I sat down and devoured this in no time. It kept me full for really long time. This is also great to pack for lunch because the dressing does not make it soggy. Tahini is made of ground sesame seeds and adds to the rich texture of the dressing, while giving it a great nutty taste. Recipe and photo contributed by Meg Staples, of Veggie Staples.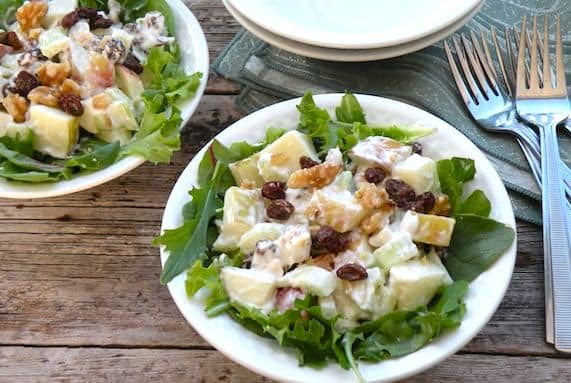 An American classic, Waldorf salad is a crunchy mixture of apples, walnuts and celery. This version is updated with vegan mayonnaise and a bed of baby greens. more→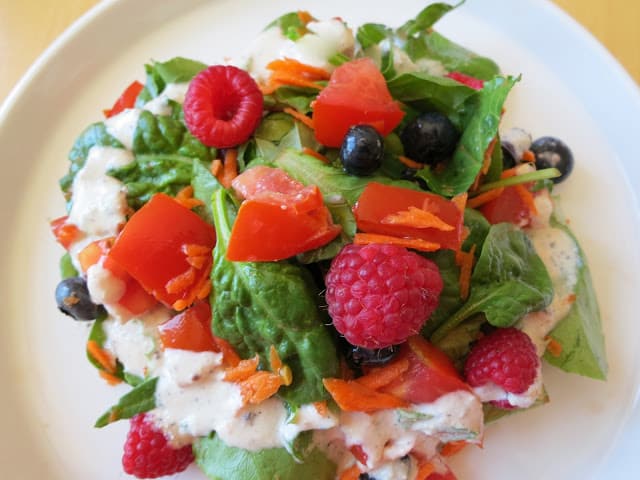 This simple salad is a summer delight — sweet berries and a peppery cashew dressing combine with greens, carrots, and tomatoes. Recipe and photo contributed by Vasanthi Raghavan, from Mixed and Tossed. more→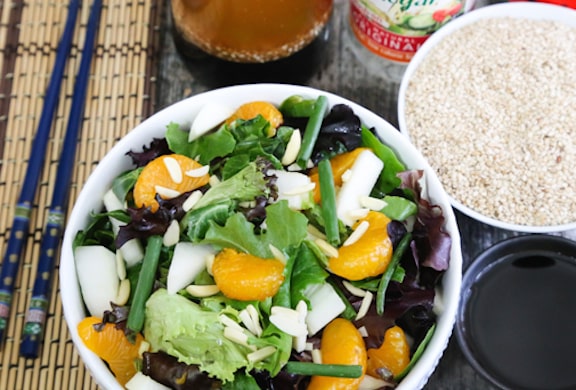 This mixed greens salad makes a lively accompaniment to many types of Asian-style dishes, embellished with crisp turnip or jicama and bok choy, and the sweet taste of orange. It's a simple, offbeat accompaniment to many types of dishes. Photos by Evan Atlas. more→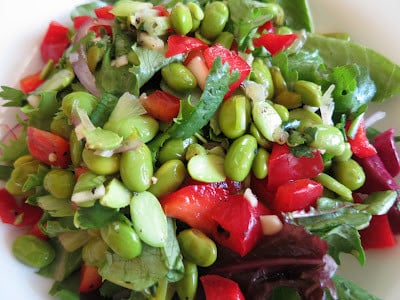 This folate-rich and high-protein edamame salad is a favorite in my home. I used the shelled version for this recipe. Though I serve this salad with greens, it can be served without. Recipe and photo contributed by Vasanthi Raghavan, from Mixed and Tossed.
more→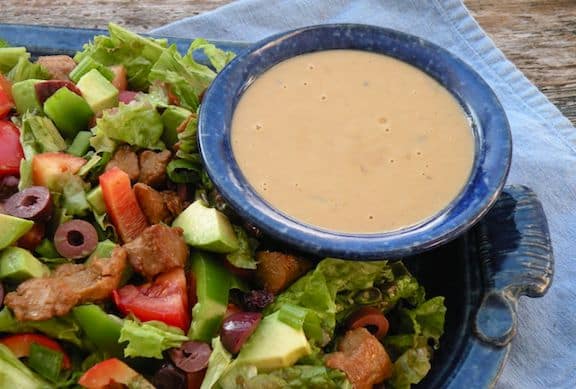 Here's a delectable salad featuring strips of high-protein seitan, embellished with avocado and olives. This salad is also delicious served in wraps. It's great accompanied with a simple potato dish or any kind of potato salad. Seitan is pure wheat gluten, so this is obviously not for those who are gluten-free! more→