Kale Salads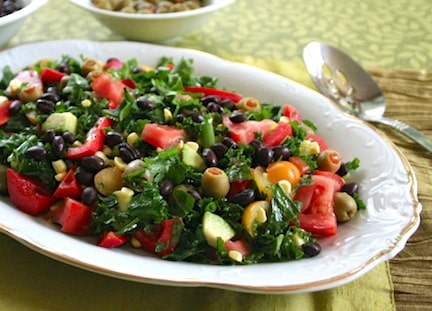 If you're at all on top of food trends, you know what a big deal kale has become over the last few years. And for good reason — it's one of the most nutrient-dense foods on the planet. If you're already a kale fan, step it up a notch by learning how to make delicious raw kale salads—sometimes referred to as massaged kale salads. By massaging this hardy green, you'll see it soften, become brighter green, and feel it become more tender right in your (lightly oiled) hands. Most important, it will have a more pleasant mouth feel and flavor, making it a fantastic ingredient for a wide variety of salads, like our Southwestern Kale Salad, shown at top. more→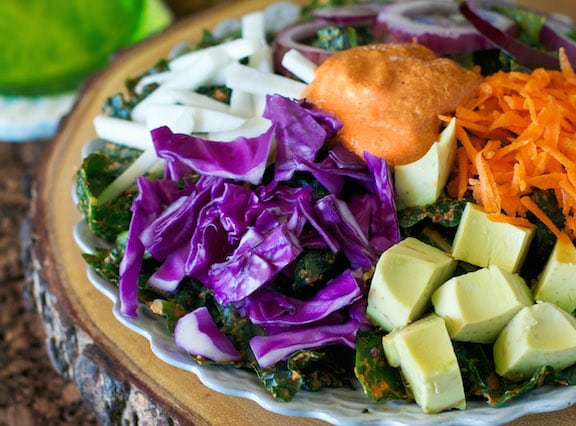 I call this "a salad for the kale haters" because my husband, who isn't fond of kale, asked for seconds on this incredibly lush and dreamy salad. Recipe from The Abundance Diet: The 28-Day Plan to Reinvent Your Health, Lose Weight, and Discover the Power of Plant-Based Foods. * ©2015 by Somer McCowan. Used by permission from Vegan Heritage Press LLC. Photo by Ann Oliverio. more→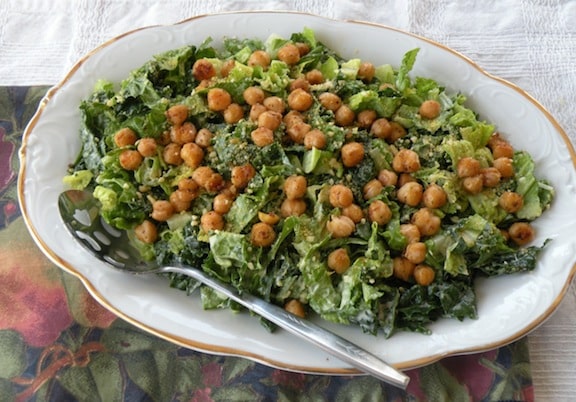 This vegan Kale caesar is an updated version of the classic American caesar salad. There's not much to to the original recipe other than lettuce, bread croutons, and a (nonvegan ) caesar dressing, so a revamp is welcome. When I first made this with only kale, I found it to be a bit too overpowering. The combination of kale and romaine lettuce is perfect, allowing the other flavors to shine through. This recipe, easy though it is, also offers further shortcuts. more→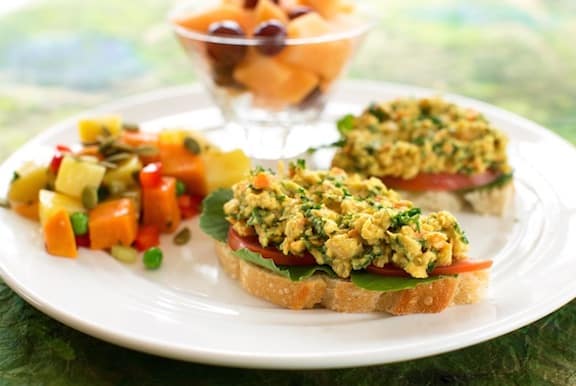 Chickpeas and kale are a tasty team, and this combination makes a great spread for bread, a filling for pita bread or a wrap (along with some tender lettuce and sliced tomatoes), or layered scoop of it on a sturdy flatbread and served open-faced. For a nice warm weather meal, this is great served with any sort of potato salad and a simple fruit medley. This makes about 2 to 2 1/2 cups. Recipe from Plant Power: Transform Your Kitchen, Plate, and Life with More Than 150 Fresh and Flavorful Vegan Recipes by Nava Atlas. ©2014, published by HarperOne, reprinted by permission. Photos by Hannah Kaminsky.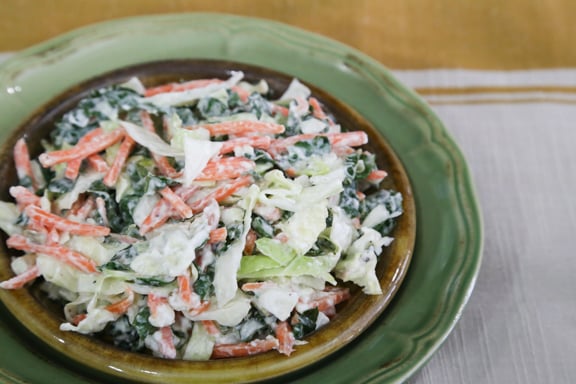 I find this simple raw kale and cabbage salad to be positively addictive, and my family seems to, as well! It goes with just about any kind of meal and is good year around. I prefer lacinato in this, but use what you've got! Photos by Evan Atlas. more→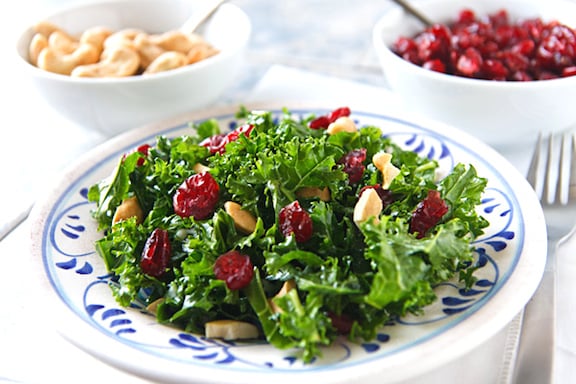 Here's a basic recipes for massaged kale salad, with lots of ways to vary it. You can toss in some slivered baby carrots, substitute another kind of nut, add a bit of thinly shredded red cabbage for extra color, or sliced celery or bok choy for extra crunch. Even in its simple form, as presented here, it's luscious and festive, and just as welcome for everyday as well as holiday meals. Its colors make it especially nice for a vegan Thanksgiving or Christmas meal. Recipe adapted from Vegan Holiday Kitchen. Photos by Susan Voisin.

more→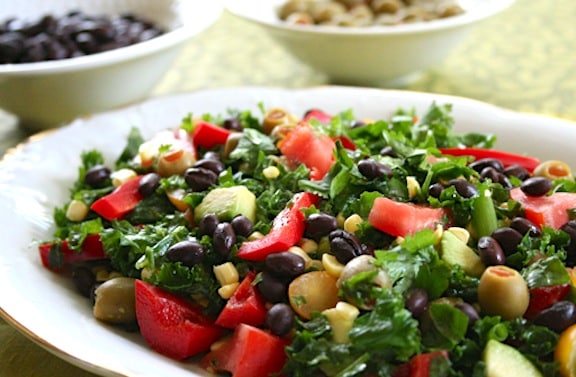 Kale, corn, avocado, and tomatoes add up to a seriously delicious salad. With the optional beans, it's a fantastic main dish salad. Without the added beans, it's a great companion to tortilla specialties containing beans—burritos, enchiladas, and the like. Recipe adapted from  Wild About Greens by Nava Atlas. Photos by Rachael Braun. more→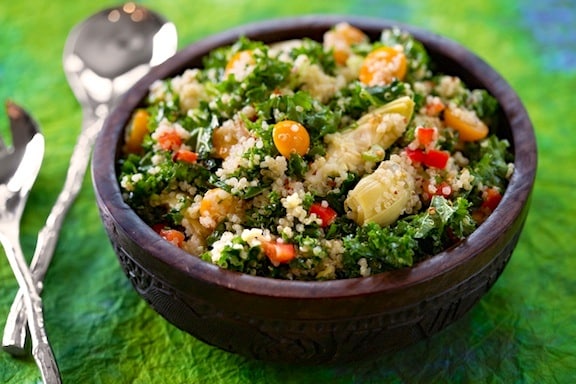 Any time you put kale and quinoa together, it's a winning duo. Not only are they both nutritional powerhouses, they taste and look fantastic together. Cook quinoa ahead of time, and this salad can be made in a snap. For an easy meal, serve with Sweet and Savory Sautéed Tofu, and corn on the cob or baked sweet potatoes. Photos by Hannah Kaminsky.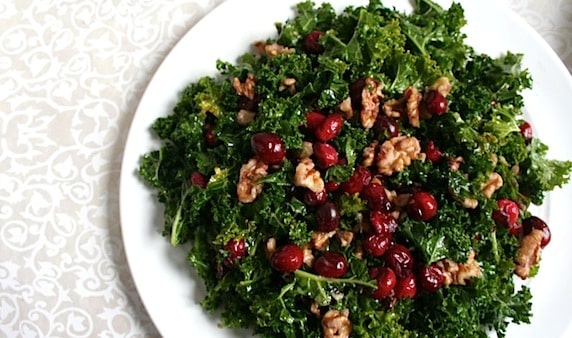 If you want an easy way to add some greens to your holiday table, this salad is for you. My Grandpa used to make cranberry bread for Thanksgiving, and this is basically that — in salad form.  Cranberries, walnuts, orange, all mixed together … it's like the holidays in a bowl!  This makes a moderate amount as everyday fare, so if you'd like a larger portion to serve at a vegan holiday meal, the recipe doubles or triples easily. Originally posted at and reprinted from Esther at A,B,C,Vegan. Photos by Rachael Braun.  more→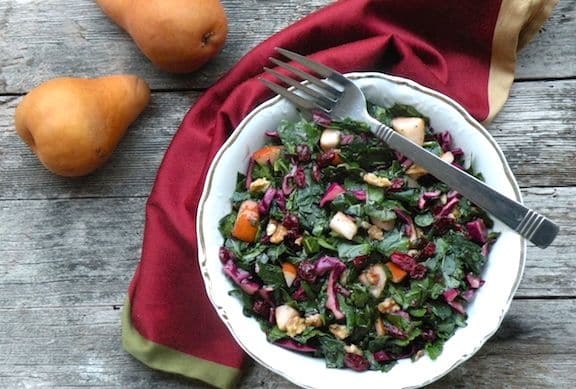 This simple and beautiful massaged kale salad provides a gorgeous burst of color for every day or special occasion meals (festive enough to include in a vegetarian/vegan Christmas or Thanksgiving dinner menu). It's so luscious that I consider this the salad equivalent of candy!  more→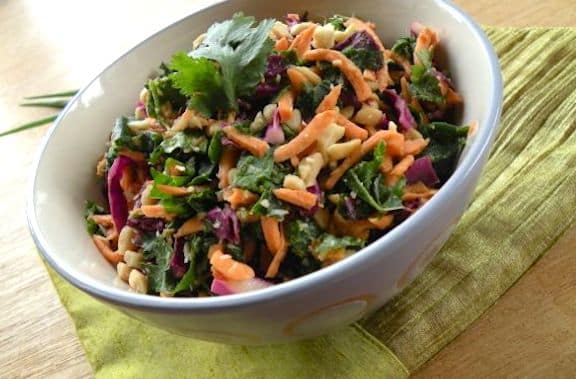 This variation of Raw Sweet Potato and Cabbage Salad with Coconut-Lime Dressing was inspired by Ricki Heller. She took my aforementioned recipe and varied it by using raw kale. The combination of raw sweet potato and raw kale (two veggies more commonly eaten cooked) is amazing. A small amount of red cabbage is added for color and crunch, and the coconut oil and lime dressing ties it all together. more→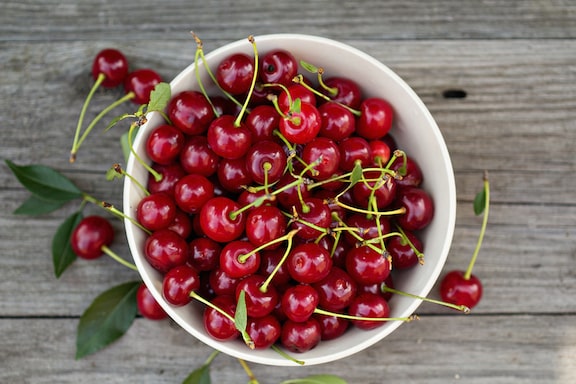 Yearning for something a little different for dinner tonight? Try using kale instead of lettuce for a salad. A garlicky dressing and bits of sweet cherry add surprising flavor twists. more→