Potato Salads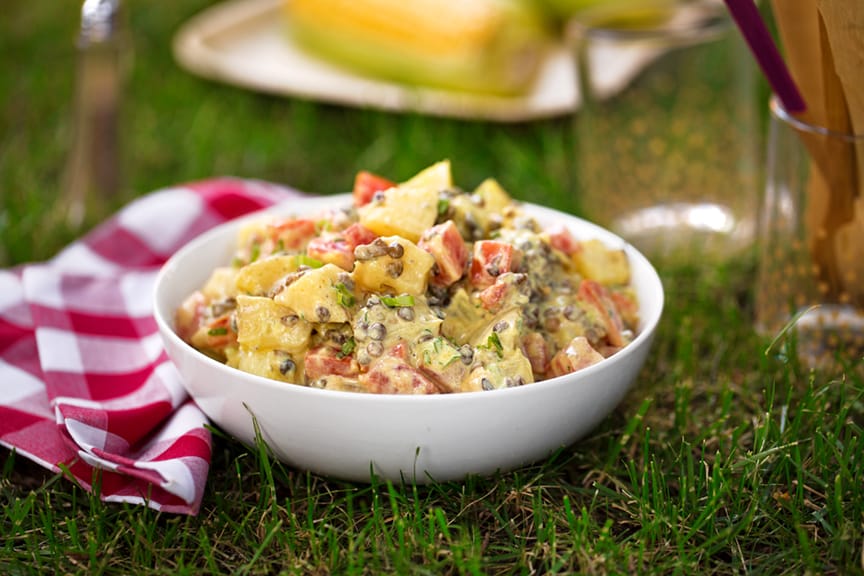 This curried potato salad is a luscious combination of potatoes, lentils, and tomatoes — an offbeat change-of-pace from the standard varieties, and gets a nice protein boost from the lentils. It's hearty enough to serve as a summer main dish with fresh corn on the cob. Add a cold summer soup for a larger meal. Photos by Hannah Kaminksy. more→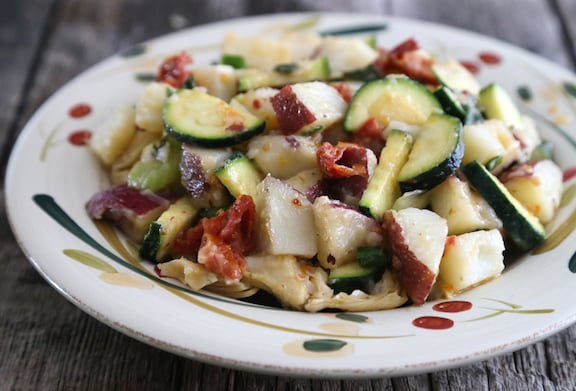 We most often associate potato salads with summer fare — potlucks, barbecues, and picnics. But there's no reason not to enjoy robust potato salads all year round. Here are a few favorites that incorporate ingredients that are available any time. Serve potato salads as hearty side dishes with veggie burgers or other sandwich fare; a helping of potato salad is a nice change of pace for a portable lunch, too. First up — Warm Mediterranean Potato Salad, enhanced with zucchini and artichoke hearts, can be made any time of year. Its seasonal personality enhanced by either rosemary (for cooler months) or basil (for warmer weather). more→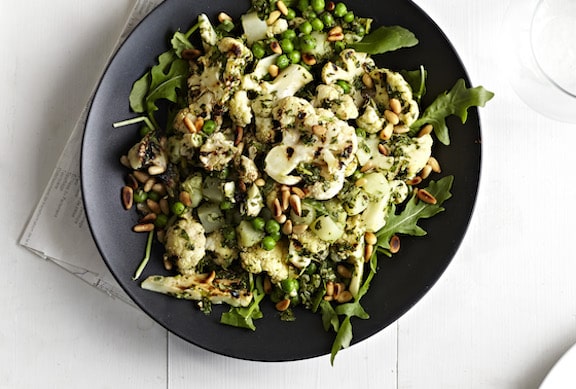 This classic combination of pesto and potatoes is lightened up with irresistible grilled cauliflower. For a more substantial pesto entrée, replace half or all of the cauliflower with pasta, preferably those tight little twists called gemelli. From Salad Samurai: 100 Cutting-Edge, Ultra-Hearty, Easy-to-Make Salads You Don't Have to Be Vegan to Love* by Terry Hope Romero. Reprinted courtesy of Da Capo Lifelong Books, ©2014. Photos by Vanessa K. Rees.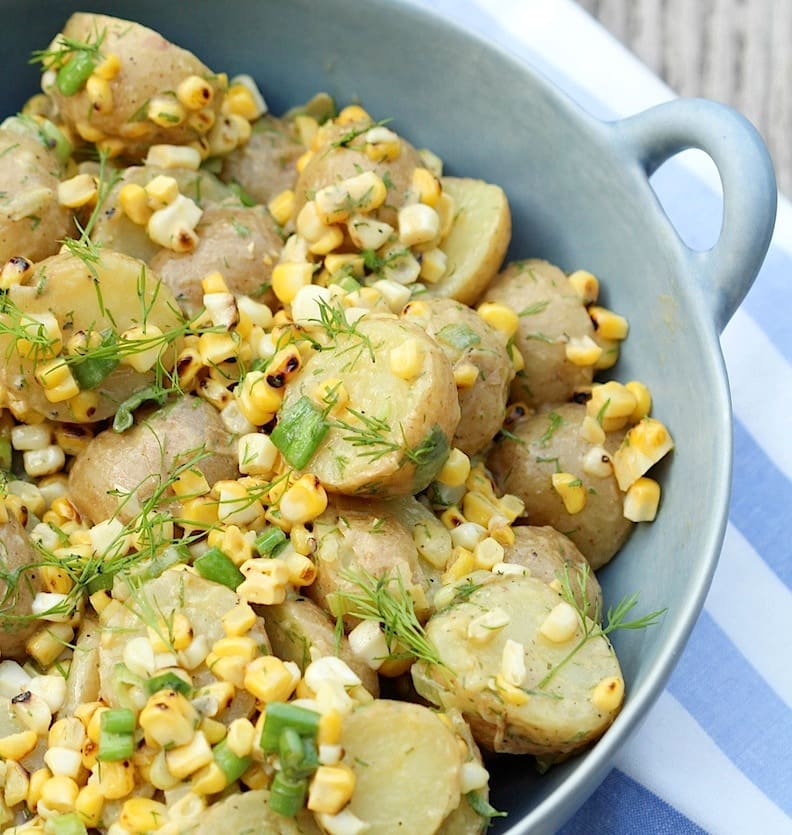 When summer is in full swing, it means picnics, family bike rides, BBQs, and lots of dinners on the patio. A popular summer salad which I was never really able to get behind is the traditional potato salad. I just find it too heavy with mayo and much too creamy for my liking. I do, however, love the idea of grilled corn, fresh dill, and tangy mustard in my potato salad, and that's just what I did to recreate this classic dish. This recipe makes for excellent leftovers, and it's so easy to whip up to bring along to a lunch or dinner party. It won't leave anyone feeling weighed down by heavy mayo, and you can proudly say it's vegan! Recipe and photos contributed by Sophia Zergiotis of Love and Lentils.
more→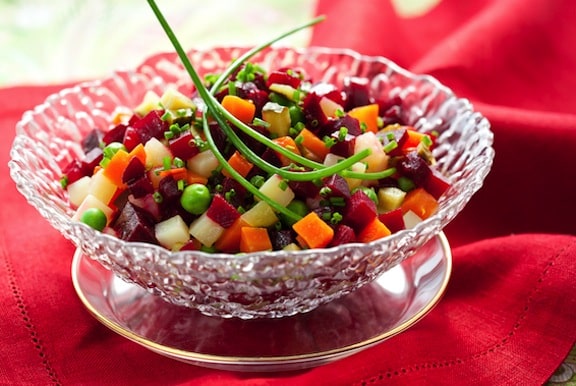 Here's a simple, classic potato salad made vivid with beets. If you have access to golden beets, by all means, use them. They're even sweeter than red beets, and keep their vivid color to themselves more than red beets do. Is this salad really Russian? I have no idea; it is really good, though, especially if you like beets! more→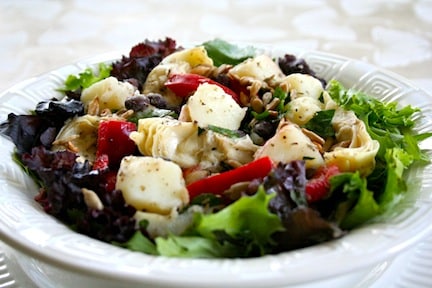 If salads aren't your thing, try this one, which may change your mind. Potatoes add comfort, and black beans add flavor and protein. The potatoes and beans synergize nicely in this offbeat salad, embellished with artichokes and bell peppers. The liquid from the artichoke hearts provides lots of flavor. Photos by Rachael Braun.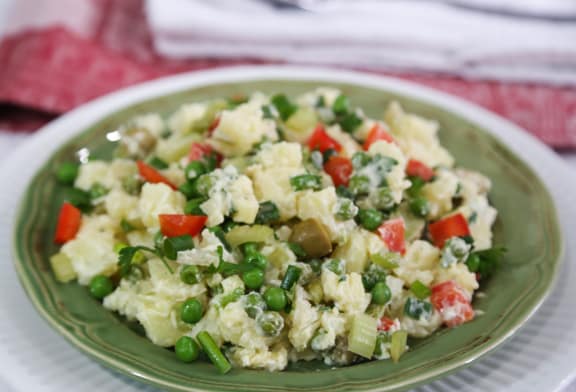 Whether you're in need of a side dish for an everyday dinner or looking for a dish to share at a potluck or outdoor meal, you'll find this lively potato salad quite pleasing. Green peas, bell peppers, olives, and herbs enliven a classic salad. Photos by Evan Atlas. more→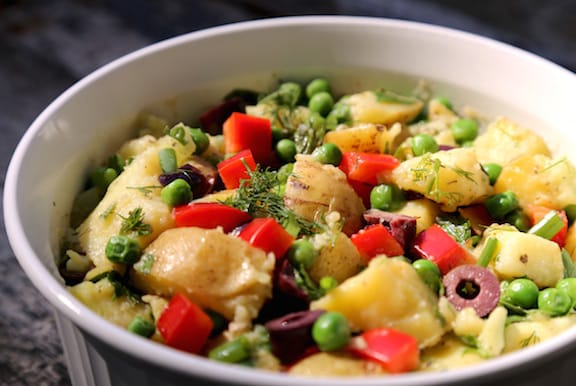 A summer classic, this tasty potato salad features plenty of fresh herbs, and is dressed in a vinaigrette. It's welcome at picnics and barbecues, or really, any warm-weather meal. Served with your favorite plant protein (a simple tofu, tempeh, or bean dish) and fresh organic corn, you've got an easy dinner for any night of the week. Leftovers make great lunch fare for school or work. Photos by Evan Atlas. more→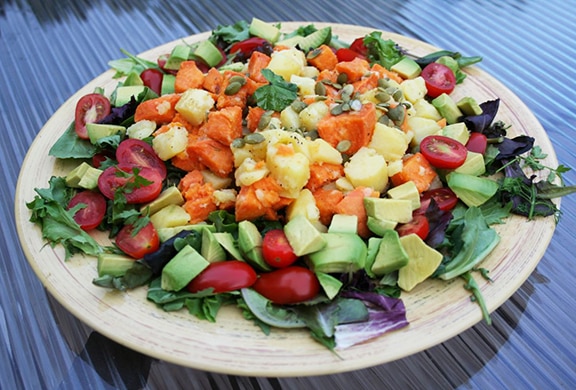 This potato salad, combining white or golden potatoes and sweet potatoes is one I often make for company. It's so pretty, perched on mixed greens and ringed with grape tomatoes and avocado, yet is incredibly easy to prepare. It's wonderful for summer and early fall potlucks and other gatherings. more→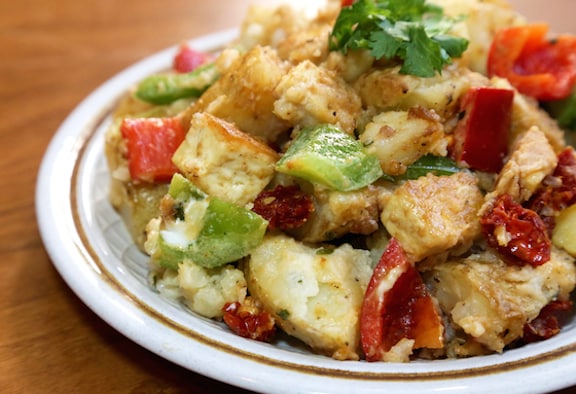 With the addition of tofu, this potato salad can be a flavorful dish during summer months, but is welcome any time of year. Simple though it is, it's always a hit with guests, and is a good potluck dish. Photos by Evan Atlas. Adapted from The Vegetarian Family Cookbook. more→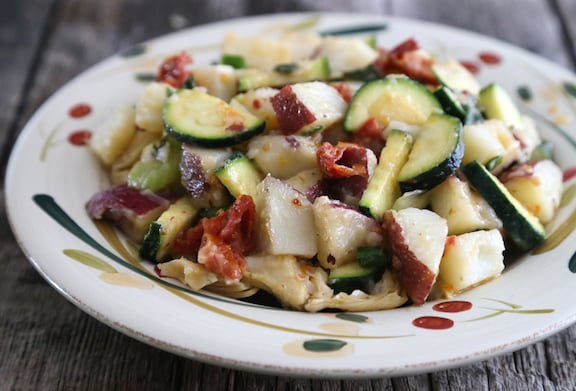 This flavorful warm potato salad, enhanced with zucchini and artichoke hearts, can be made any time of year. Its seasonal personality enhanced by either rosemary (for cooler months) or basil (for warmer weather). Photos by Evan Atlas. more→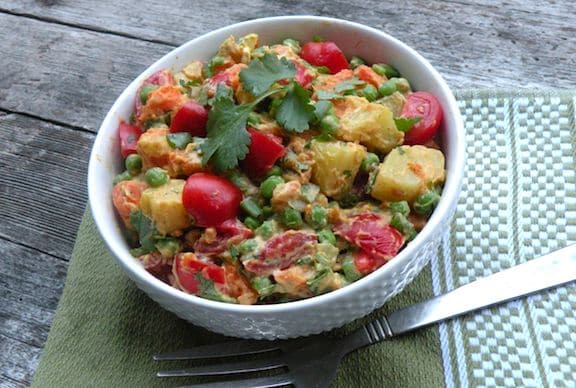 Potatoes, tomatoes, and green peas in a curry-flavored base add up to  a luscious salad that's most welcome in the summertime but delicious any time of year as long as you can find flavorful tomatoes. more→