Super Savory Salads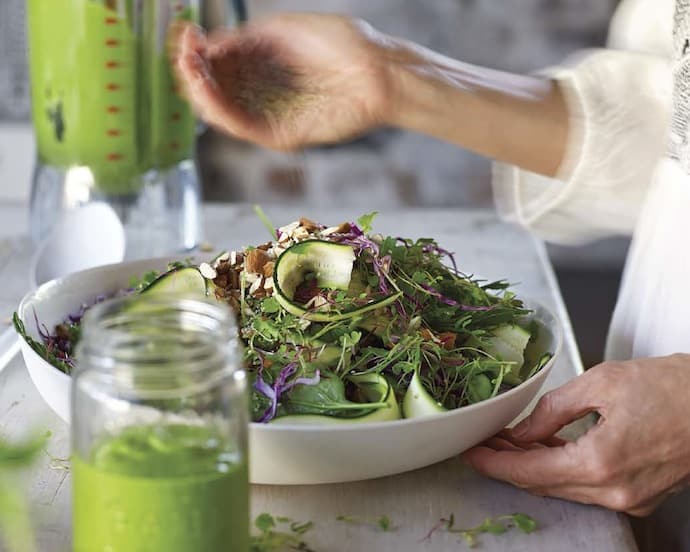 I think of this salad dressing as the culinary equivalent of my little black dress—a staple that gets pulled out, works for most occasions, and never goes out of style. I love the peppery notes in this dressing, but any blend of herbs and greens can yield spectacular results. This lean green dressing machine will transform even the most tragic mound of lettuce from drab to fab. People swoon when they taste it. Many a friend has exclaimed in the midst of a euphoric bite, "Oh, I could just gobble this up with a spoon!" I have done that, and also licked it out of the blender carriage before it even had the chance to get dressed up. Reprinted with permission from The Blender Girl* by Tess Masters, copyright © 2014. Published by Ten Speed Press, an imprint of Random House LLC. Photography © 2014 by Anson Smart.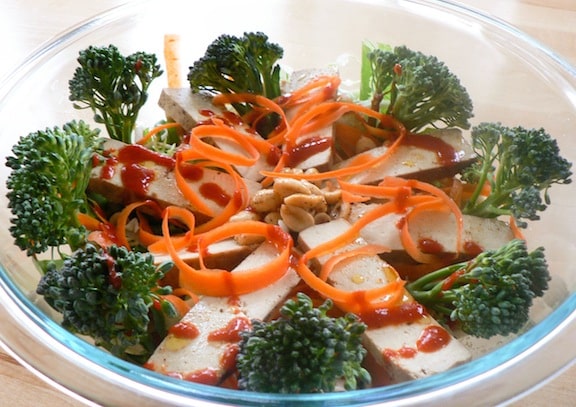 Admittedly, I'm not always the most adventurous when it comes to trying new sauces; my husband Seth, on the other hand, has been known to add as many as five sauces to a vegan hot dog. When he discovered the Thai chili-based Sriracha, he started adding it to just about everything other than cereal. Naturally, I wanted to create a salad for him that would incorporate this new favorite. He gave it two thumbs up and then showered the chef with some appreciative kisses. Recipe and photos by Sharon Discorfano, from Stellar Vegan Salads. * Reprinted by permission.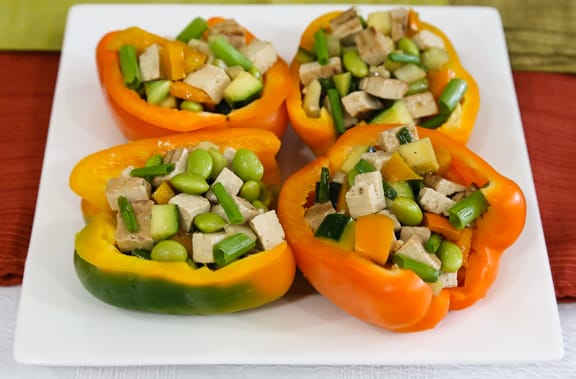 This unusual salad combines edamame (fresh green soybeans) with baked tofu and crisp, finely chopped bell pepper and zucchini. It goes well with Asian-style rice or noodle dishes (hot or cold), and can also be served on a bed of greens, in lettuce cups, or stuffed into raw bell peppers for a nice touch. The Asian-inspired flavors of this edamame and tofu chopped salad are sure to be a hit. Photos by Evan Atlas.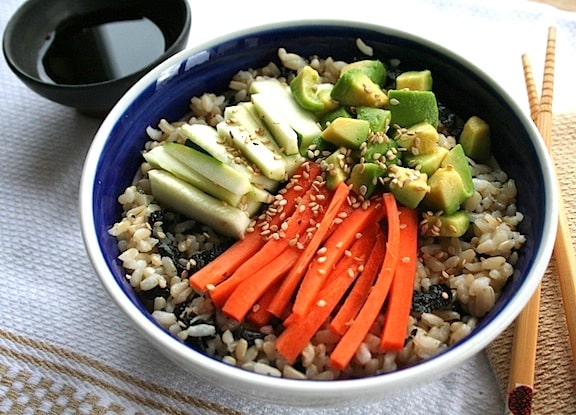 This delightful rice bowl tastes like your favorite veggie sushi, but without the fuss and mess of the rolling and cutting. It's a great way to use leftover cooked rice. Short-grain brown rice gives it the most authentic flavor, but really, any kind of whole grain rice or rice blend will do. Once your cooked rice is on hand, this is really no more time consuming to make than a sandwich or any other kind of salad, and if you use a covered container, it's an offbeat portable lunch that you'll be happy to dig into! Photos by Rachael Braun. more→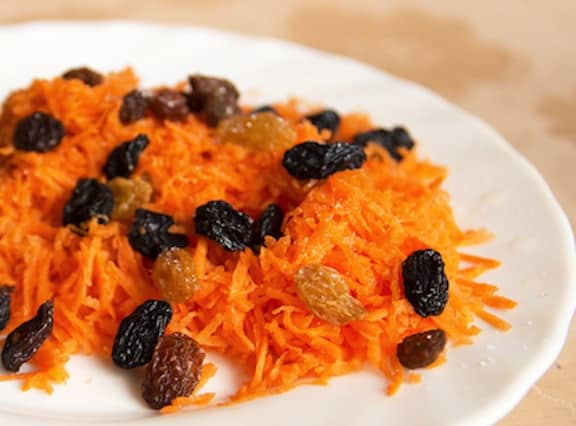 Here's a simple salad that goes with just about anything. Carrot-raisin salad might just be the first that kids will enjoy! A food processor is a must for preparing this salad quickly; or you can start with pre-grated carrots that come packaged, but make sure they look nice and fresh. more→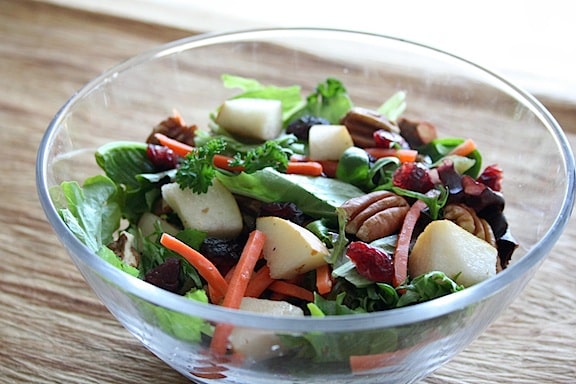 Bosc pears that are just slightly underripe are perfect in this salad that's simple enough for everyday, yet festive enough for holiday meals. Contrasted with the crunch of pecans and and the sweetness of dried cranberries, this salad is a party for the palate. Photos by Rachael Braun. more→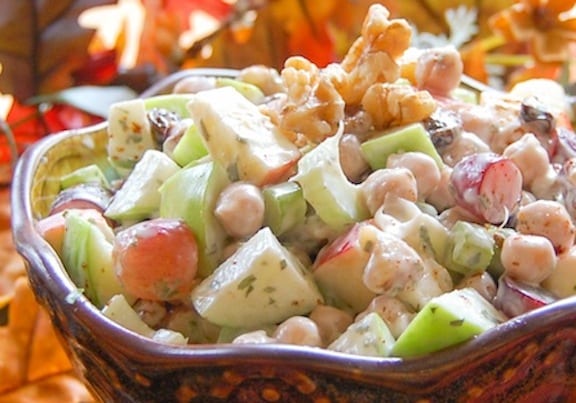 A Waldorf salad is a salad traditionally made of fresh apples, celery and walnuts, tossed with mayonnaise, and usually served on a bed of lettuce as an appetizer or a light meal. The addition of chickpeas, tart cranberries, and a seasoned mayonnaise make it even more delectable. Contributed by Jennifer Strohmeyer, from Virtually Vegan Mama.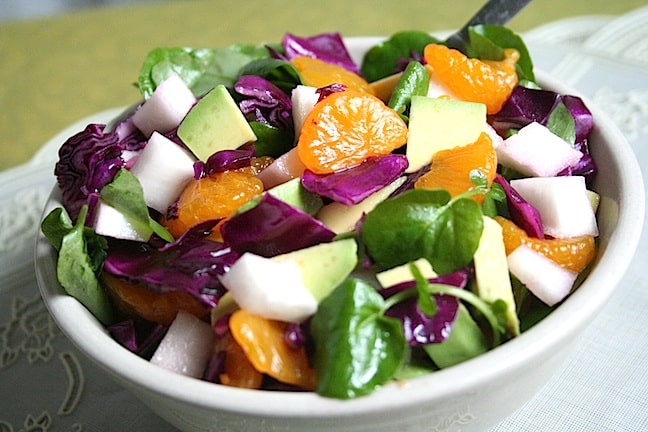 Here's a vitamin-packed salad featuring oranges, avocado, and watercress, perfect for winter and early spring. It goes with just about anything else you're serving and can be made in minutes. Photos by Rachael Braun. more→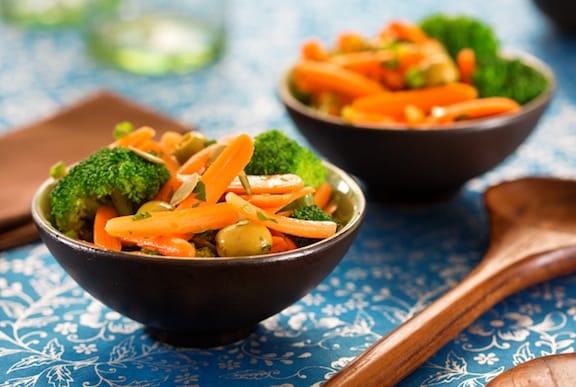 Green olives, fresh herbs, and crunchy seeds embellish the pairing of baby carrots and broccoli for a simple, savory salad.This is the kind of salad that has good staying power, as long as you take care to cook the broccoli just until it's barely tender-crisp and still bright green. It's even better the next day, and is a nice little side  to include in your lunch. Photos by Hannah Kaminsky of Bittersweet.  more→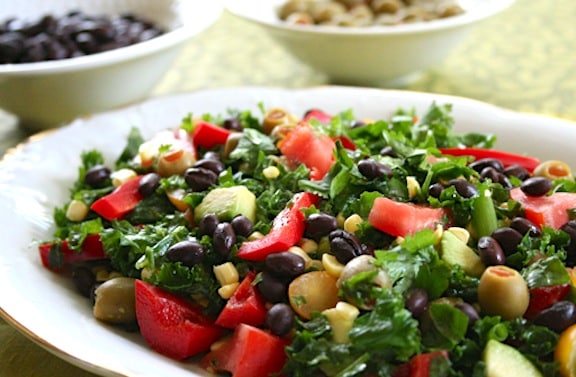 Kale, corn, avocado, and tomatoes add up to a seriously delicious salad. With the optional beans, it's a fantastic main dish salad. Without the added beans, it's a great companion to tortilla specialties containing beans—burritos, enchiladas, and the like. Recipe adapted from  Wild About Greens by Nava Atlas. Photos by Rachael Braun. more→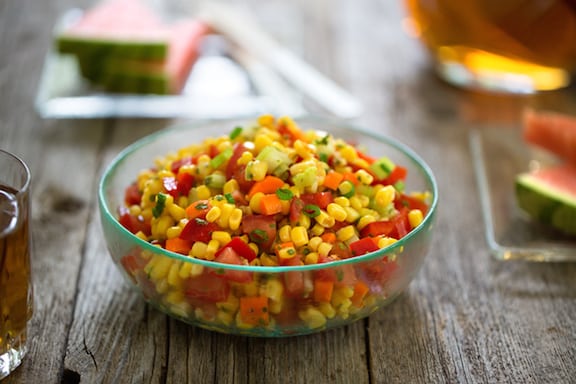 This pleasing combination of two of summer's premier bumper crops—corn and tomatoes—makes for a delightful mid-to late-summer salad that goes with just about any kind of meal. Pair it with a simple bean dish and/or Creamy Chilled Avocado Soup or serve with Vegan Quesadillas. Photos by Hannah Kaminsky. more→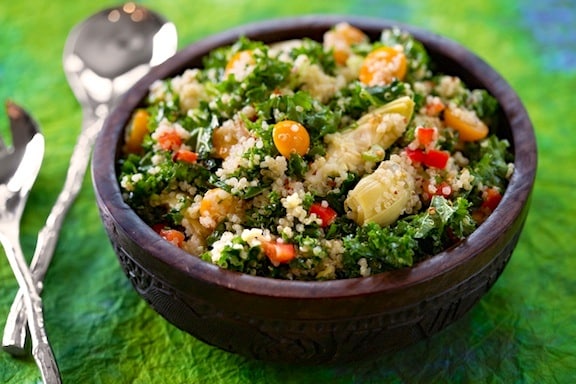 Any time you put kale and quinoa together, it's a winning duo. Not only are they both nutritional powerhouses, they taste and look fantastic together. Cook quinoa ahead of time, and this salad can be made in a snap. For an easy meal, serve with Sweet and Savory Sautéed Tofu, and corn on the cob or baked sweet potatoes. Photos by Hannah Kaminsky.