A Slew of Slaws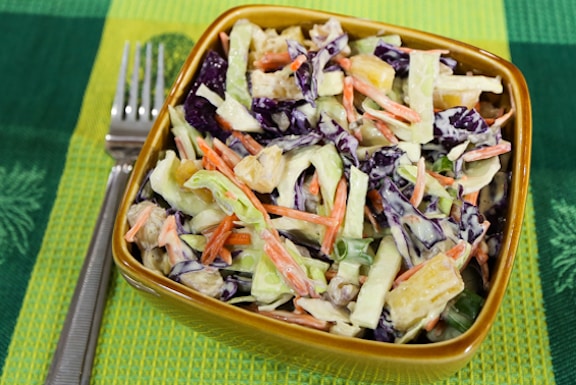 Crushed pineapple is the standout ingredient in this pleasing Creole coleslaw recipe. It provides a good balance to spicy or bold dishes. My favorite dishes to serve it with are, appropriately, Vegan Jambalaya and Pasta Jambalaya. more→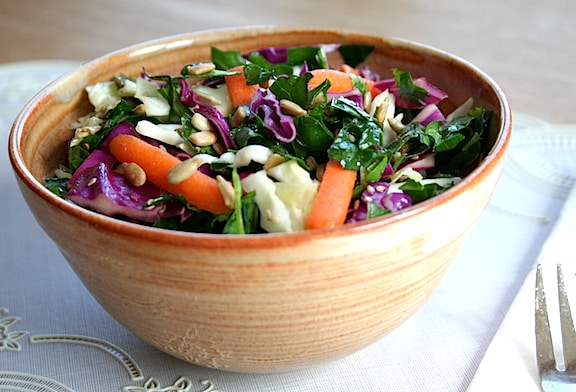 Tri-Color Coleslaw combines massaged kale with both green and red cabbage. It goes with just about every kind of meal, and you can vary it each time with different dressings. You can also add a little dried fruit or apple for a sweet twist.
more→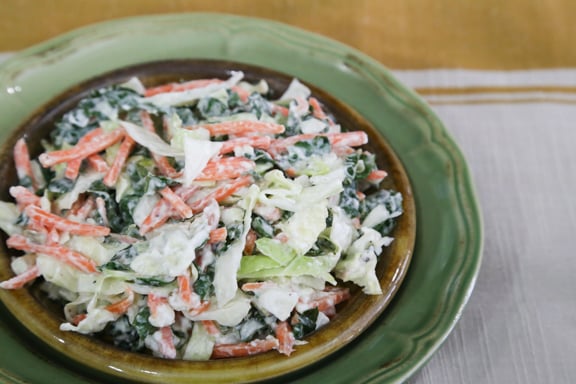 I find this simple raw kale and cabbage salad to be positively addictive, and my family seems to, as well! It goes with just about any kind of meal and is good year around. I prefer lacinato in this, but use what you've got! Photos by Evan Atlas. more→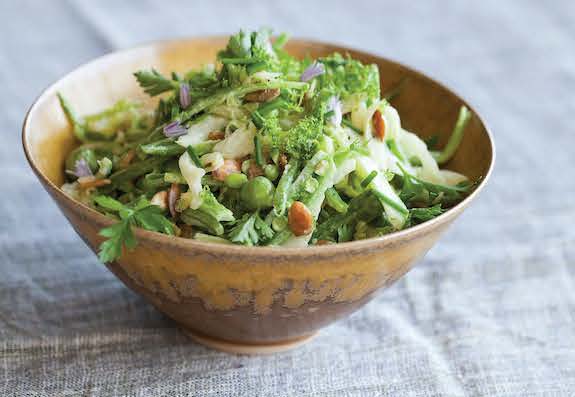 This dish is my modern take on classic coleslaw. The delicate flavor of the green peas and sugar snap peas make this an exceptional dish, and the crunch from the celery and pumpkin seeds is extremely satisfying. The tangy dressing is top-notch too, so reserve any extra to use on another salad. Reprinted with permission from Afro-Vegan: Farm-Fresh African, Caribbean & Southern Flavors Remixed* by Bryant Terry, copyright © 2014. Published by Ten Speed Press, an imprint of Penguin Random House LLC. Photos © 2014 by Paige Green.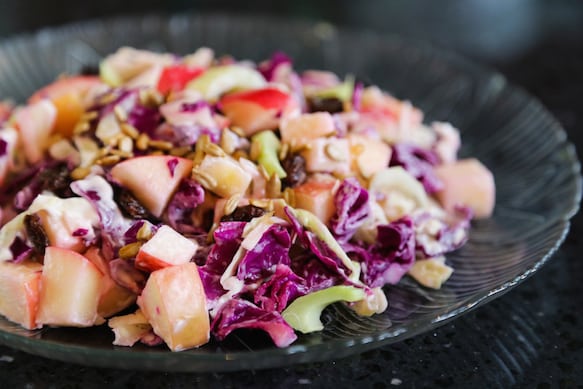 This colorful and naturally sweet slaw is a medley of cabbage, apples, and raisins with an appealing crunch. It's great for everyday as well as holiday meals. Photos by Evan Atlas. Adapted from The Vegetarian Family Cookbook. more→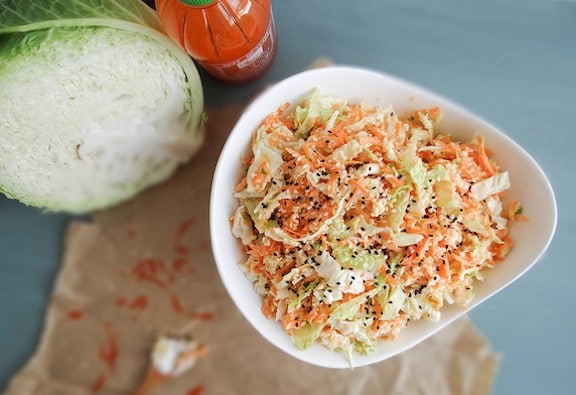 I absolutely love a good slaw alongside vegan brats & beans, tempeh sliders are generously mounded with the stuff and lately I can't get enough of this slaw stuffed inside my tacos. If you are looking for a super creamy slaw adjust the vegan mayo according to your taste. This recipe makes a boatload — perfect for a BBQ, picnic or leftovers for a sandwich or taco topper! Recipe and photos contributed by Heather Poire of Sunday Morning Banana Pancakes.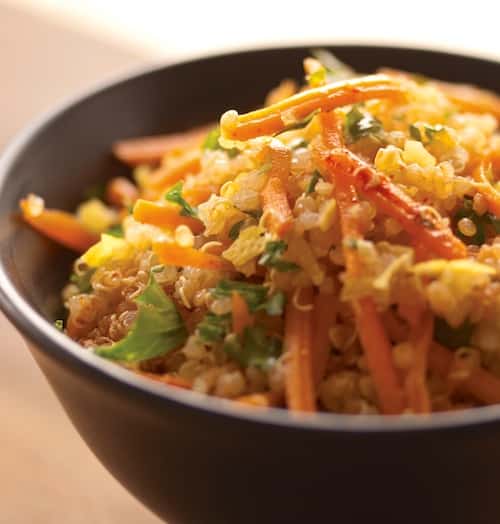 This simple side dish comes together very quickly if you have cooked quinoa on hand in the refrigerator. For even faster prep, use bagged shredded carrots and break the speed limit. Recipe  from Quinoa: High Protein, Gluten-Free* by Beth Geisler with recipes by Jo Stepaniak, @2014 Books Alive, Summertown, TN, reprinted by permission. Photo by Andrew Schmidt.
more→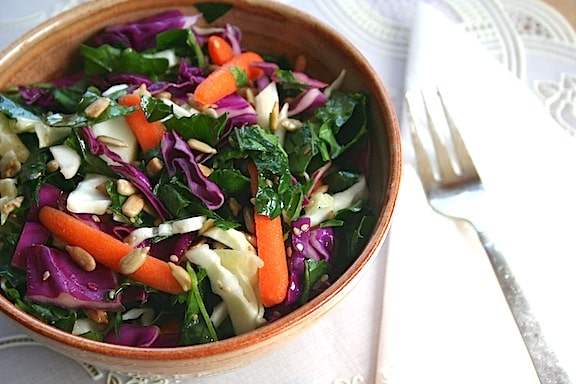 This colorful and crunchy slaw combines massaged kale with both green and red cabbage. It goes with just about every kind of meal, and you can vary it each time with different dressings (see suggestions following the recipe). You can also add a little dried fruit or apple for a sweet twist, as suggested in the variation. Photos by Rachael Braun. more→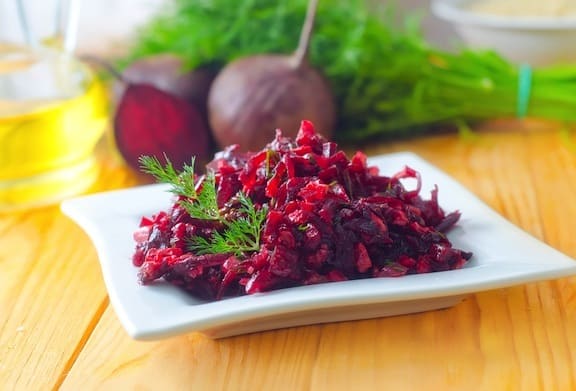 This vivid salad of grated beets and red cabbage, served in modest portions, makes a dazzling visual statement on the dinner plate, but more importantly, add a dose of vitamins and antioxidants. It's a beautiful addition to everyday meals or holiday plates.  more→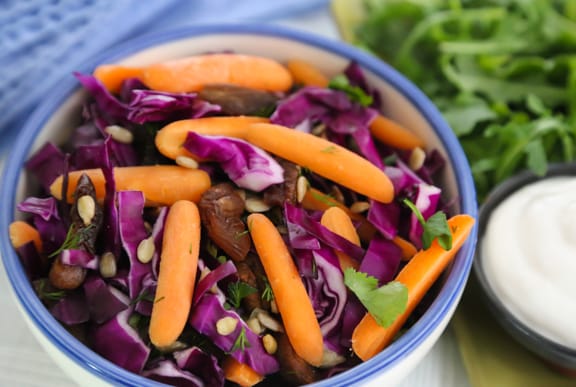 Here's a nice change of pace from "white" coleslaw —  a combination of red cabbage and carrot, sweetened with dried apricots. It adds a refreshing note to spicy meals and adds vibrant color to the plate. You can use whichever fresh herbs you like, or a combination, but I think this is particularly good with cilantro. Photos by Evan Atlas. more→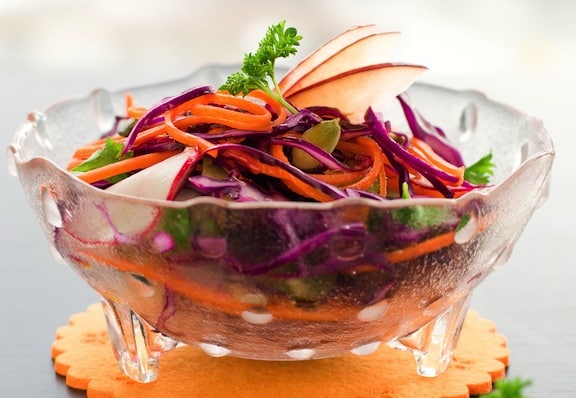 Adding sweet elements like apples and dried fruit to raw vegetables like red cabbage can be a good way to entice kids to give salads a try. Eaters of any age will like this one, too. Try it with it spicy dishes, to which it provides a nice flavor contrast. more→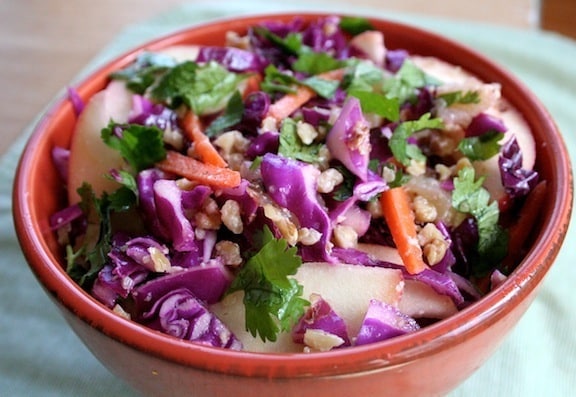 This fruity red coleslaw salad adds great color to any plate. It benefits from having time to stand, allowing the flavors blend and for the cabbage to soften, so prepare it before making your main dish. It goes well with most any kind of meal, lending a nice contrast to spicy and hearty dishes. Photos by Rachael Braun. more→