Savor and Flavor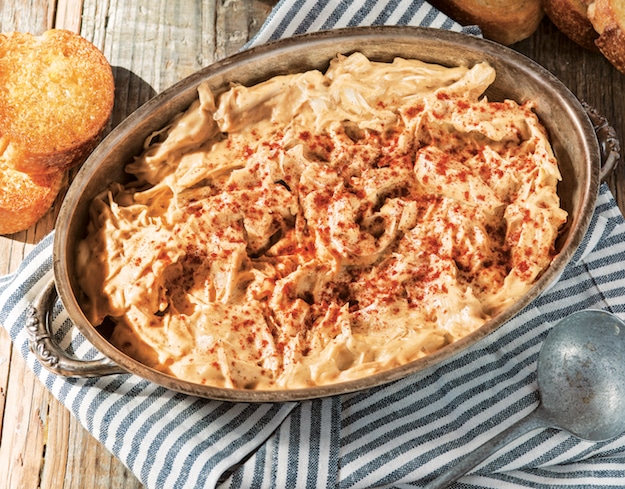 This vegan crab dip, made with jackfruit, is so creamy and mild in flavor, perfect for spreading on crackers or for dipping with your favorite veggies. Our vegan version is every bit as good as the conventional version. Shredded young jackfruit is surprisingly similar in texture to crab, and the flavors of the Dijon, Old Bay seasoning and the other spices are spot on.
In case you're not familiar with Old Bay seasoning, let us acquaint you. Old Bay is a fragrant mix of spices, such as celery salt, mace, cloves, ginger, cardamom, and more. It's what gives most crab cakes their flavor, and it's what brings this crab dip to life. more→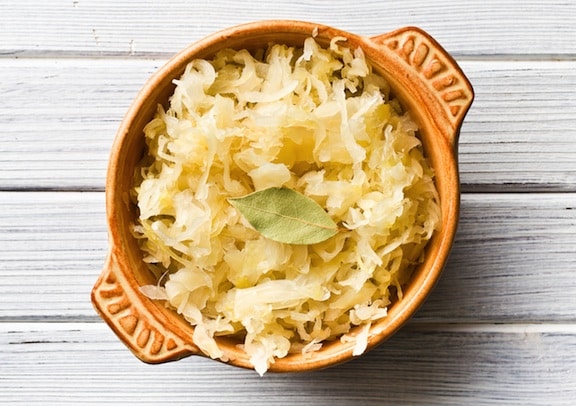 In Western culture, fermented foods often don't play enough of a role in everyday fare. Fermented foods contribute to gut health, supplying more probiotic action that what you might find in a capsule. They can also strengthen your immune system, according to this article by expert Rebecca Wood.
"Fermentation increases the flavor, medicinal value and nutrition of foods," she writes. Of course, you can buy a jar of sauerkraut. And if you do, make sure it's the kind that is naturally fermented, not just salted. But DIY sauerkraut can be surprisingly easy to make, and allow you to experiment with flavors you won't find in the store-bought kind. Here are 9 flavorful homemade sauerkraut recipes to tickle your palate and at the same time improve your gut health. more→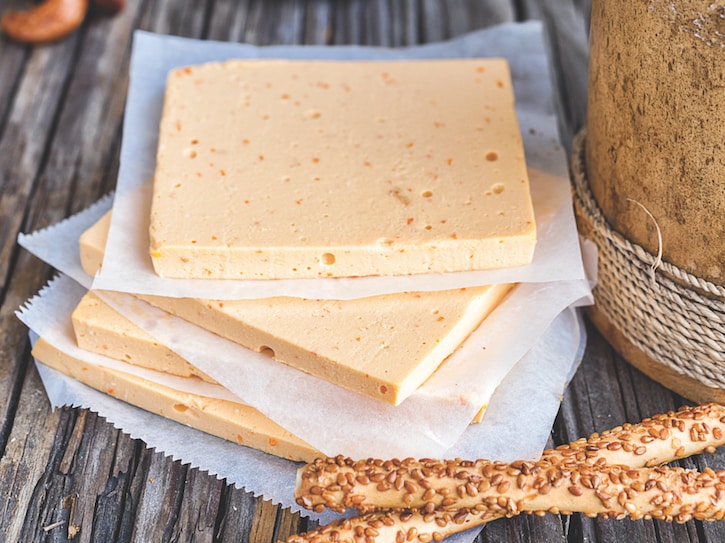 The same classic American cheese taste you grew up with: mild, firm, and satisfying. These creamy golden-hued vegan American cheese slices are perfect sliced on sandwiches and crackers. Recipe and photo from Vegan Cheese: Simple, Delicious Plant-Based Recipes by Jules Aron, ©2017 by Countryman Press, reprinted by permission. more→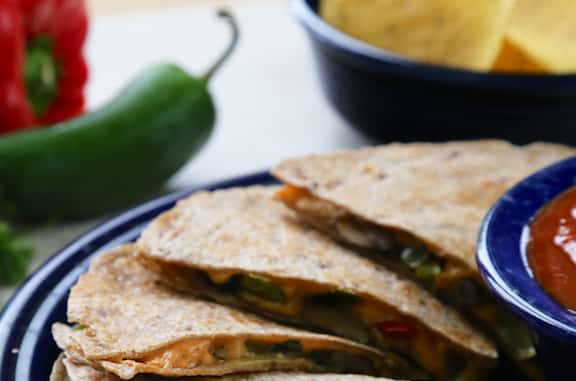 Here are 12 easy and fun vegan snacks for your Super Bowl gathering, starting with Mushroom and Bell Pepper Vegan Quesadillas. These make a great snack served simply with salsa and can also accompany well-seasoned chili.  more→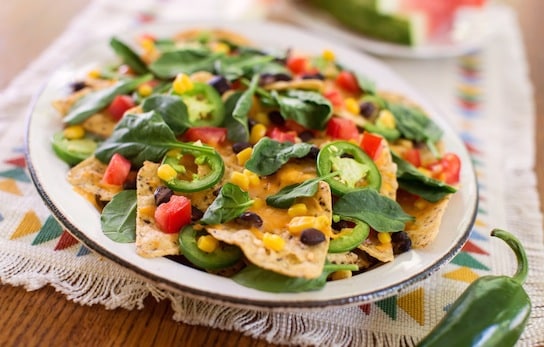 Here are some super-tasty nachos that can be made with pantry and refrigerator staples in a matter of minutes. Nachos are fun fare no matter what, whether as a snack for a small party, or even as an emergency dinner. Recipe from Plant Power: Transform Your Kitchen, Plate, and Life with More Than 150 Fresh and Flavorful Vegan Recipes by Nava Atlas. © 2014, published by HarperOne, reprinted by permission. Photos by Hannah Kaminsky.

more→
A very simple savory tart recipe that uniquely combines asparagus and sun-dried tomatoes with vegan cheese, all nestled in a perfect puff-pastry square. I love recipes that double as quick-and-easy snacks by day and elegant party foods by night. And this one is exactly that. The prep is easy, and minimal equipment is needed. 
Recipe and photo from Modern Vegan Baking: The Ultimate Resource for Sweet and Savory Baked Goods by Gretchen Price © 2018 Rockridge Press, reprinted by permission.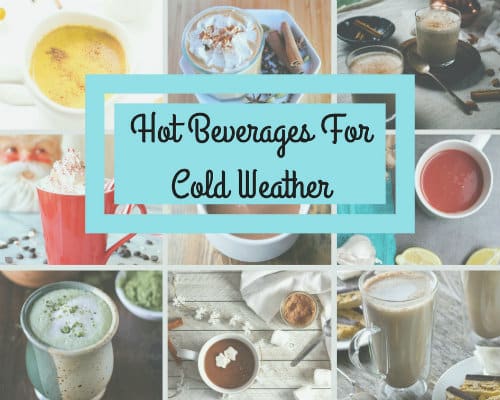 When the days start getting shorter, and the temperatures start to drop, it is nice to have a nice warm mug in your hands. Hot beverages are a large part of that cozy feeling in cold weather. Many of the popular coffee house drinks are not vegan, but you should not have to miss out on these treats when the chill hits the air. That is why we have collected this list of vegan hot beverages for cold weather. Whether you need to cozy up with a book and a blanket, or you are having a family get together for the holidays, this list will have the hot beverages that you need.
more→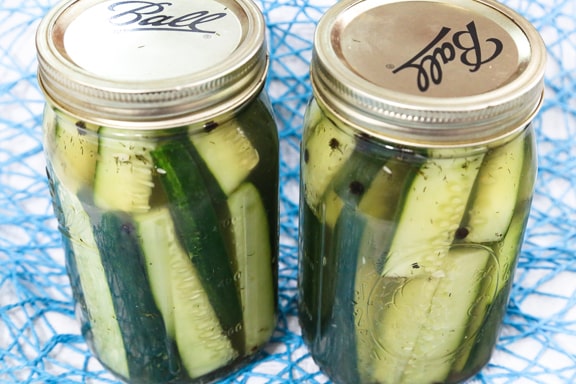 A delicious dozen of Apple Cider Vinegar recipes will boost your intake of the most popular vinegar in the natural health community. ACV's health benefits are legion, many of which are backed by research (see 23 of these benefits here). It's become well known as an aid to weight loss, and due to its probiotic properties, it's a good way to boost gut health. Make sure to use raw, unfiltered, and organic ACV — it's the ideal kind to use to make these apple cider vinegar recipes — pickled vegetables, salad dressings, and bracing beverages.  more→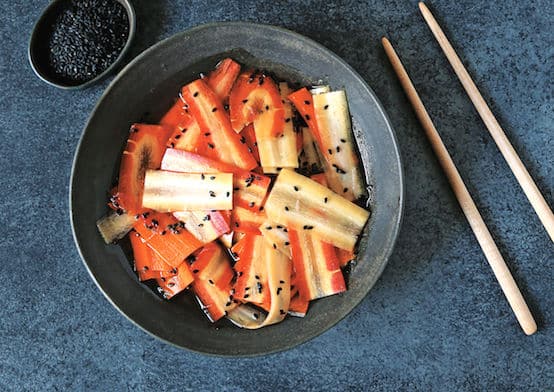 These traditional Japanese carrot pickles are great on their own as a snack or appetizer, but their flavor and texture truly shine when paired with other Asian dishes. This recipe is gluten-free, oil-free, soy-free, and super quick to prepare. Recipe and photo credit: Bold Flavored Vegan Cooking by Celine Steen, Page Street Publishing Co. © 2017. Reprinted by permission. more→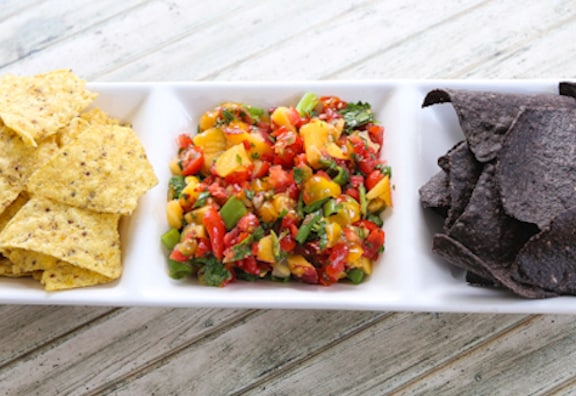 I love salsa of all kinds, and there are quite a lot of good ones on the market. But when midsummer rolls around, there's nothing like a fresh homemade salsa using summer tomatoes. Homemade salsa tends to get watery from the tomatoes' juices, but I discovered that using cherry (or grape) tomatoes helps mitigate that. And there's no pre-chopping — just toss them into the food processor whole. Adding a ripe peach gives the salsa a perfect sweet twist. more→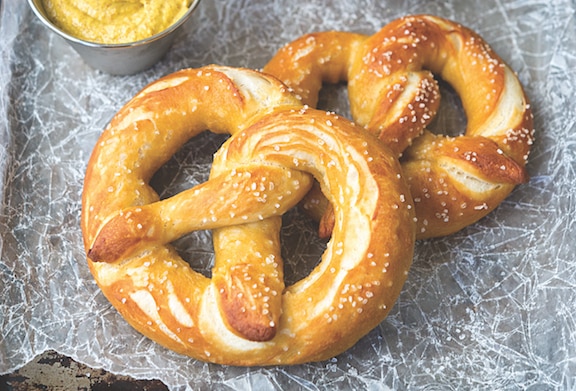 Soft street-cart pretzels have been sold on the streets of New York City since at least the 1820s, and now, here's a recipe you can make at home. Today, they're still sold from ubiquitous metal carts found all over Manhattan and always offered with mustard. From NYC Vegan: Iconic Recipes for a Taste of the Big Apple, copyright © 2017 by Michael Suchman and Ethan Ciment. Photos by Jackie Sobon. Used by permission. more→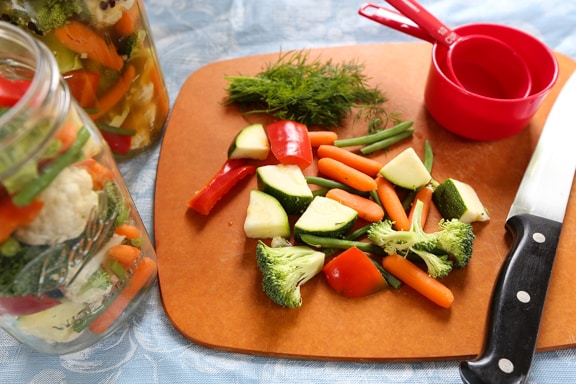 When gardens and markets are bursting with veggies, it's fun to make these quick pickled vegetables. With a mild sweet and savory brine, this addictive veggie snack just might tempt kids and picky eaters. Since this isn't a vacuum-sealed canning project, you don't need any special equipment. These pickles keep well for a week or more in the refrigerator. more→