Salsas, Chutneys, and Relishes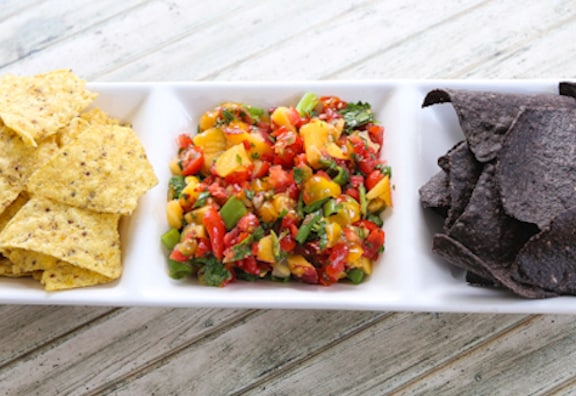 I love salsa of all kinds, and there are quite a lot of good ones on the market. But when midsummer rolls around, there's nothing like a fresh homemade salsa using summer tomatoes. Homemade salsa tends to get watery from the tomatoes' juices, but I discovered that using cherry (or grape) tomatoes helps mitigate that. And there's no pre-chopping — just toss them into the food processor whole. Adding a ripe peach gives the salsa a perfect sweet twist. more→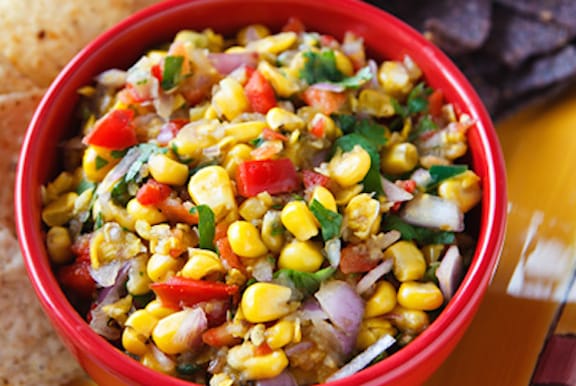 Here's a delicious salsa that highlights summer corn, which comes to market at about the same time as tomatillos. Delicious served as an appetizer with tortilla chips, this refrigerates even better than fresh tomato salsa, so it's a good one to make ahead. Recipe adapted from Vegan Holiday Kitchen. Photos by Susan Voisin. more→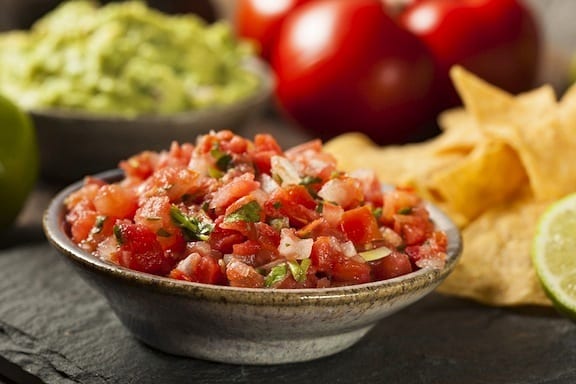 Also known as salsa Mexicana and salsa cruda, this is what comes with the chips in Mexican restaurants. (Cruda means raw, not crude.) For best results, chop very finely; large chunks of tomato are hard to catch on a chip. Reprinted with permission from The New Vegetarian Cooking For Everyone by Deborah Madison,copyright © 2014. Published by Ten Speed Press, an imprint of Random House LLC. more→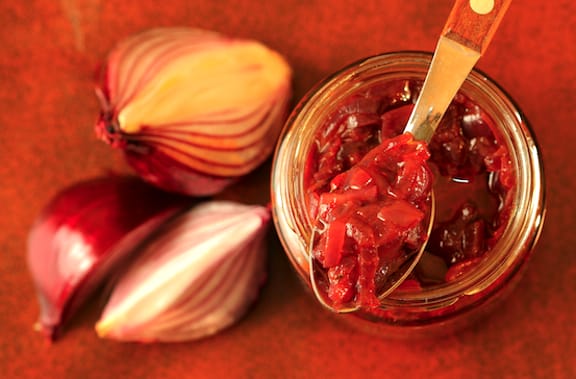 This sweet and savory jewel-tone red onion jam, which can be made a day or several days ahead. This is what you want to serve with Chickpea-Zucchini Farinata. It's also good with flatbread, dolloped on grain dishes, and with fresh, ripe tomatoes.
more→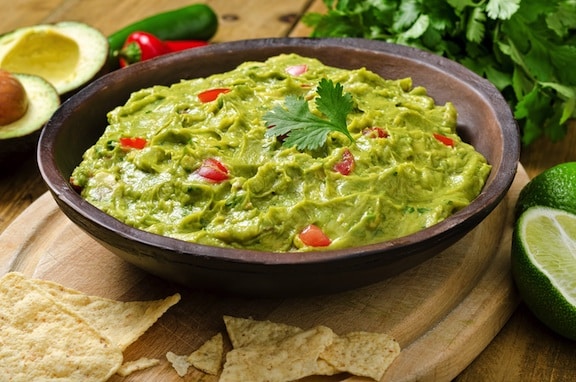 Five minutes, a few ingredients, and you've got nearly-instant, really yummy guacamole. Just open a bag of stone-ground tortilla chips, and have a party! more→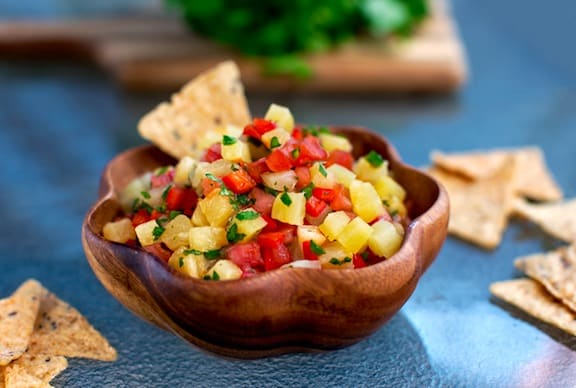 Easy to make and deliciously different, this lively pineapple and tomato salsa can be served as an accompaniment to a Southwestern-style meal (to top vegan quesadillas and the like, or as a snack served with stone-ground tortilla chips. Photos by Hannah Kaminsky. Recipe adapted from Vegan Express. more→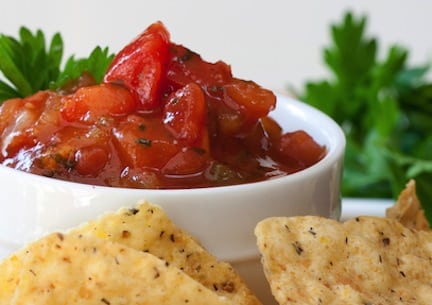 Salsa, the most basic relish of Southwestern cuisine and a well-loved dip, is sometimes known as salsa fresca or salsa ranchera. Store-bought salsas are generally quite good, not to mention convenient, but there's nothing like making fresh tomato salsa in midsummer. Homemade salsa tends to get liquidy as it stands, especially if you make it with juicy, ripe tomatoes, so drain it off occasionally. Serve with stone-ground tortilla chips or use for topping quesadillas or other southwestern specialties.
more→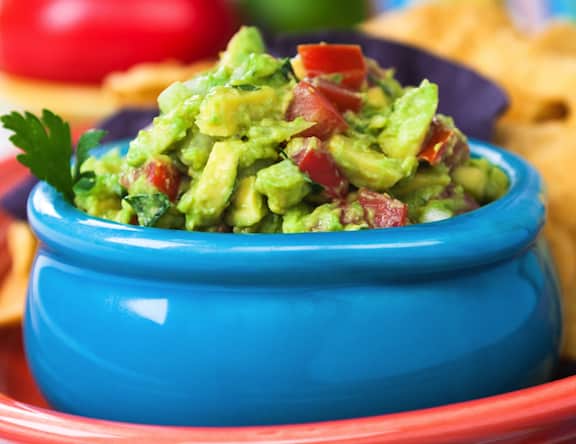 Here's a delicious summer guacamole with a bit more emphasis on the tomatoes than the avocados, great when a larger quantity with more staying power is needed. Serve as a sauce for quesadillas or soft tacos, or as a dip with stoneground tortilla chips. more→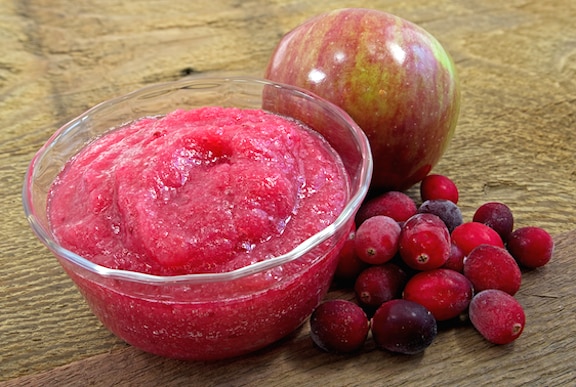 Antioxidant and nutrient-dense cranberries have so much going for them. Why not enjoy these tart treats raw? This delicious relish can be made in minutes and can be enjoyed on special occasions (like Thanksgiving and Christmas, when cranberry sauce is a staple) or for everyday meals. This recipe doubles easily for serving a crowd. Served in small portions, this provides a great burst of color and flavor to the plate and goes just as well with spicy dishes as it does with comfort foods.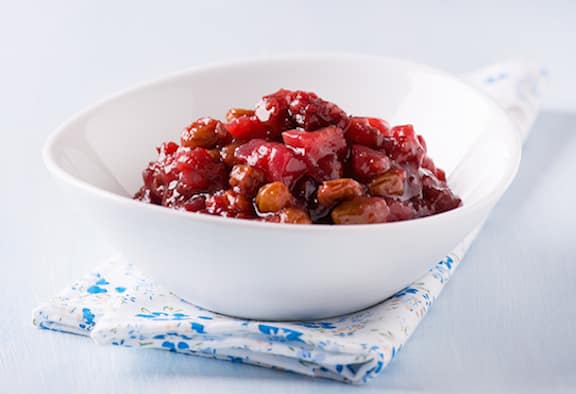 If your only experience with cranberries has been in sweet, jelled sauces, this spicy cranberry and apple chutney will provide a welcome change of pace for your grown-up palate! It's a great choice for Thanksgiving dinner. more→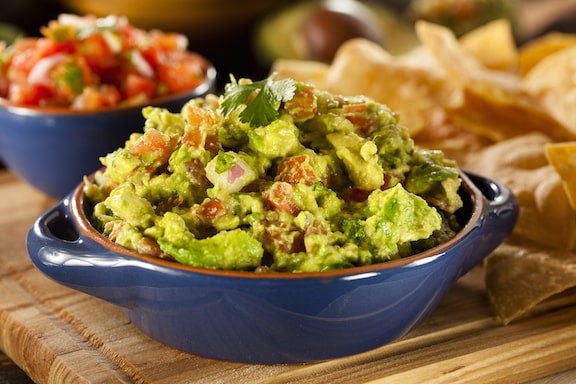 Avocado and mango make a heavenly pair when combined in a delicious and easy salsa.You can spread this onto crackers, or papadi (small, round, and salty snack from India), spoon it into tortilla scoops, or serve as a dip for tortilla chips. Contributed by Mythreyi Vattikuti from her blog Yum! Yum! Yum!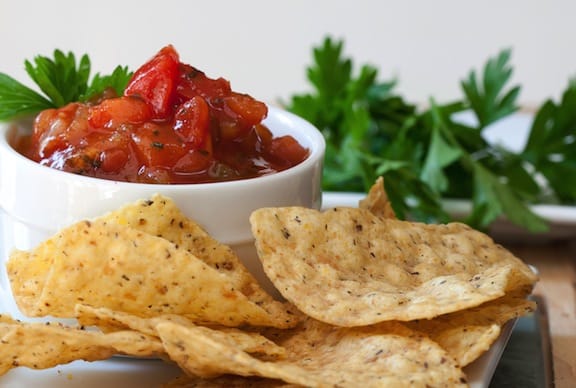 Here's a heavenly salsa to make when tomatoes and mangos are at their best — the convergence happens mainly in July and August. Serve with tortilla chips as a stand-alone appetizer or as a condiment with Mexican or Southestern-style meals. Adapted from The Vegetarian 5-Ingredient Gourmet. more→