Simple Sauces and Such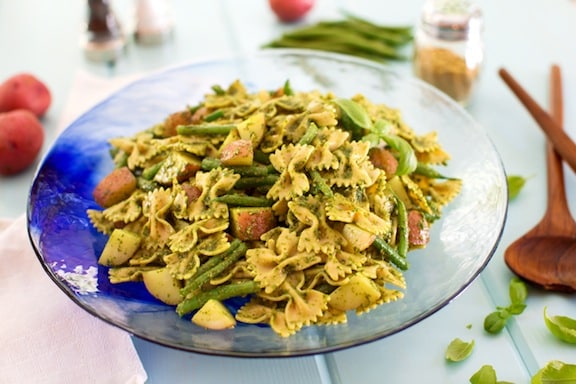 There's something about pesto that immediately brings summer to mind — of course, it's that magical aroma of basil. And though basil is a must-have ingredient of classic pesto sauces, there are countless variations on the theme when it comes to vegan pesto recipes. Here are 10 recipes for pesto as well as dishes that incorporate the pleasantly pungent, green flavor of the classic sauce — minus the usual dairy. You'll find ideas for pesto pasta, of course, but going beyond that to potato salad, pizza, and as a delectable spread for bread as well.
Pasta with Pesto, Potatoes, and Green Beans (at top) is a classic rustic Italian combination. It may seem odd to combine pasta and potatoes, but it does work well, and is extra hearty. It's carb heaven, maybe, but still healthy, especially if you use whole-grain pasta. more→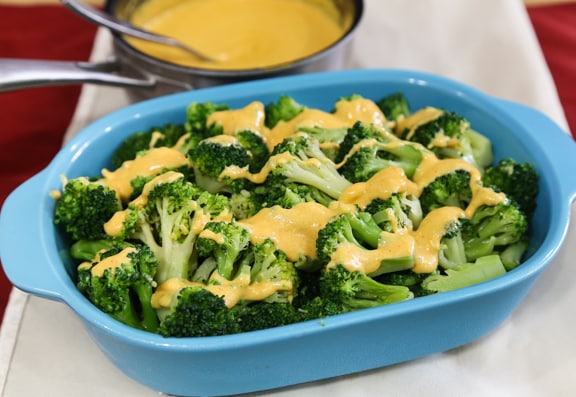 This luscious vegan cheez-y sauce makes vegetables (broccoli, cauliflower, green beans, brussels sprouts) more appealing to the finicky, but even veggie lovers will enjoy this cheesy treat. This makes about 2 cups. Photos by Evan Atlas.
more→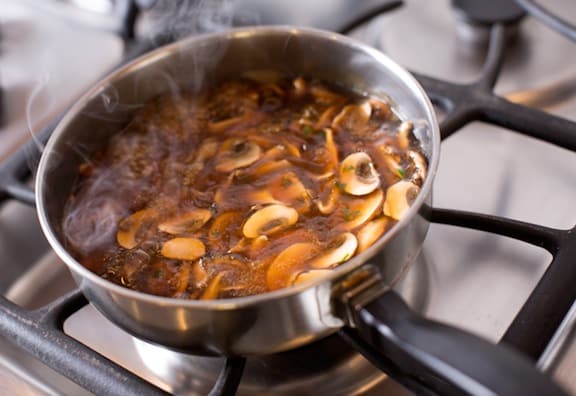 If you like mushrooms, you'll enjoy this simple vegan gravy, which is great over seitan, tofu, brown rice or other cooked grains, veggie burgers, and best of all, mashed or smashed potatoes. In other words, this makes comfort dishes even more comforting. This recipe makes about 2 cups. Photos by Hannah Kaminsky.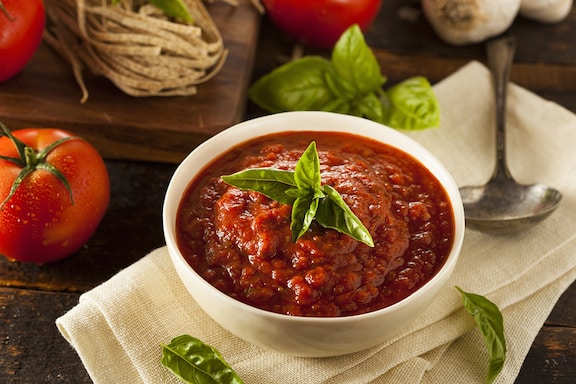 When tomatoes are at their peak of flavor and abundance, this is a great sauce to make. I'm quite on board with prepared, organic marinara sauces in general, but there's really no comparison with making it from scratch with ripe tomatoes. Do this at leisure, as the process takes at least an hour. If you do any home canning, consider at least doubling this recipe and putting a few jars by for the winter! This sauce is perfect for pasta and pizza.  more→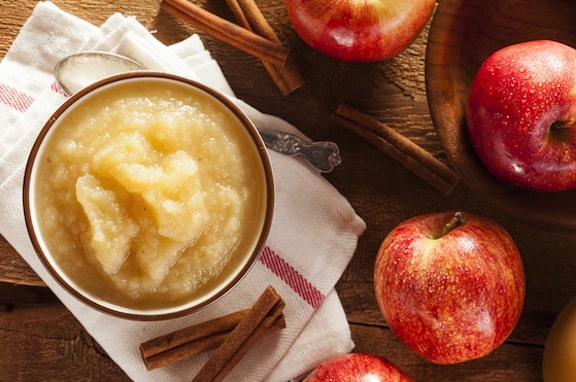 Homemade applesauce is the perfect thing to make after you've gone apple-picking, or to celebrate the first crop of apples at local farmers' markets. Kids of all ages will love this. Please, use organic apples! This freezes well. I suggest freezing it in 1-cup capacity BPA-free plastic storage containers. Serve on its own or in recipes calling for applesauce. more→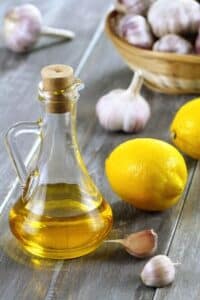 This basic marinade is excellent for grilling vegetables. The tang of lemon juice balances the fruity taste of the olive oil. more→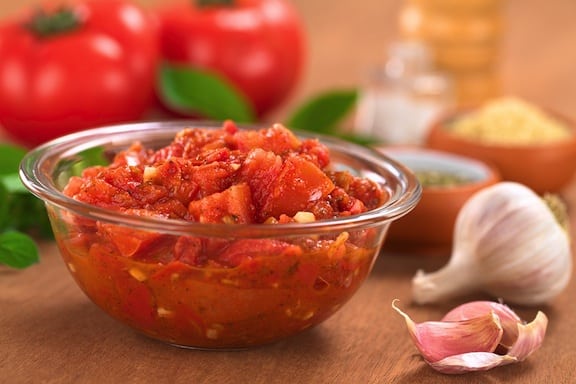 Garlic lovers, this sauce is for you! It's perfect for summer, when you can get garden-fresh organic tomatoes. It's delicious served over pasta or polenta. Recipe contributed by Vicki Chelf. more→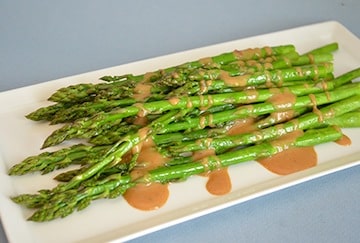 This sauce is sensational over grilled seitan, vegetables, or potatoes. It also peps up sandwiches when used as a spread. Contributed by Tamasin Noyes, from Grills Gone Vegan*,© 2013, Book Publishing Company. Reprinted by permission. more→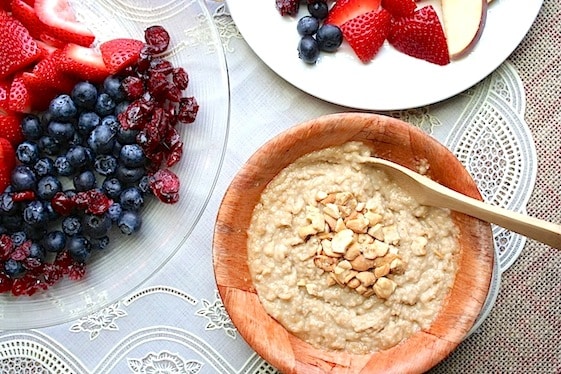 Use this easy sweet sauce made of raw cashews  as a garnish for cakes, pies, fresh fruits (especially nice on berries) and fruit desserts. Photos by Rachael Braun. more→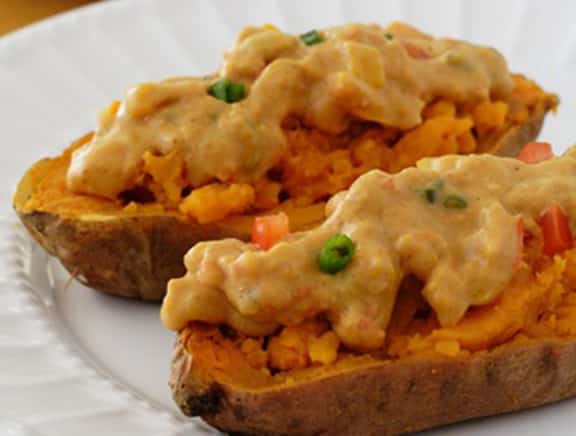 Cashew butter saauce is one of the most luscious, versatile sauces in my repertoire—it tastes great on sweet potatoes, grains, vegetables, and noodles. Adapted from Vegan Express. Photo by Susan Voisin, Fatfreevegan.com.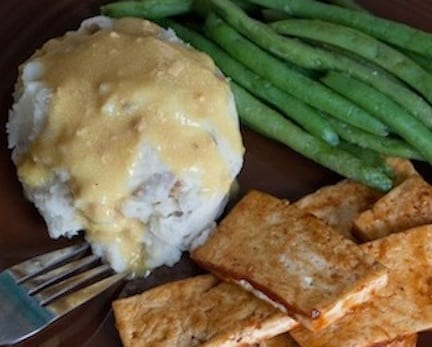 Good over greens, mashed potatoes, faux chicken—anything really. This is my latest go-to gravy. Recipe and photo contributed by Lindsay S. Nixon, from The Everyday Happy Herbivore* (BenBella Books, 2011).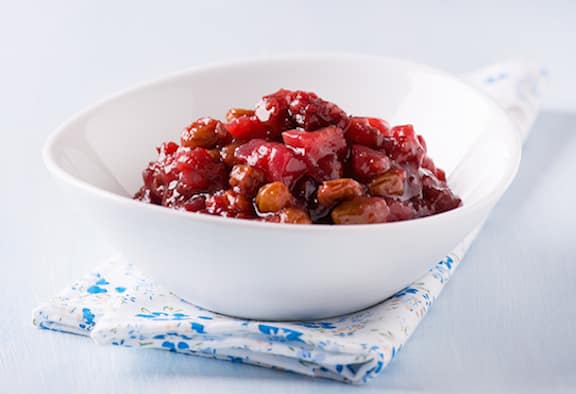 If your only experience with cranberries has been in sweet, jelled sauces, this spicy cranberry and apple chutney will provide a welcome change of pace for your grown-up palate! It's a great choice for Thanksgiving dinner. more→