Vegan Snacks and Dips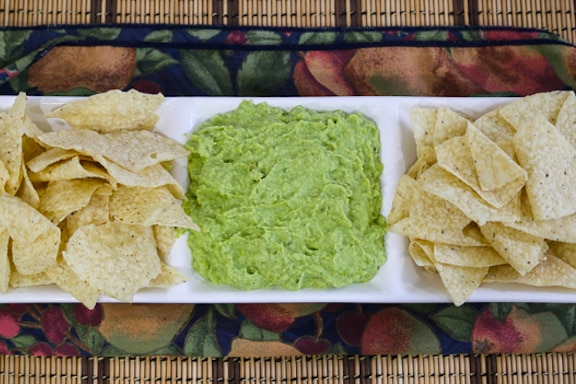 If you'd like some protein in your guacamole and chips, blending the prime ingredient  — avocado — with edamame (fresh green soybeans) is a great way to do so. If you don't care for soy products, you can substitute baby lima beans or even green peas. Make the dip smooth or chunky, as you prefer. Photos by Evan Atlas. more→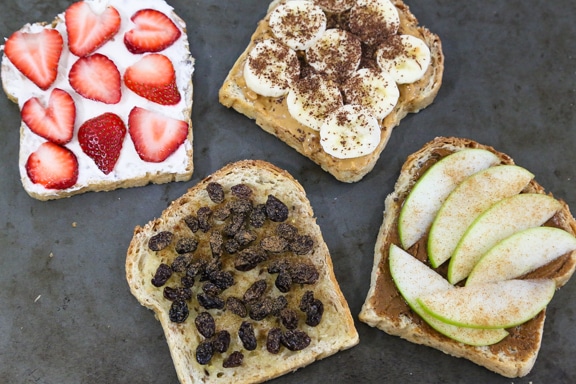 Despite the gluten-free trend, and apart from the Paleo phase, toast seems to be making a comeback. Judging by a spate of magazine spreads and books on the subject, it's once again considered the best thing since sliced bread. Here are 8 simple vegan toast toppings that make a quick route to a snack, breakfast, or lunch. Use whole-grain bread to boost nutrition; and of course, there are plenty of decent gluten-free breads out there if that's your preference. No need for recipes; just some good ideas, a few minutes, and a spreading knife. Photos by Evan Atlas.  more→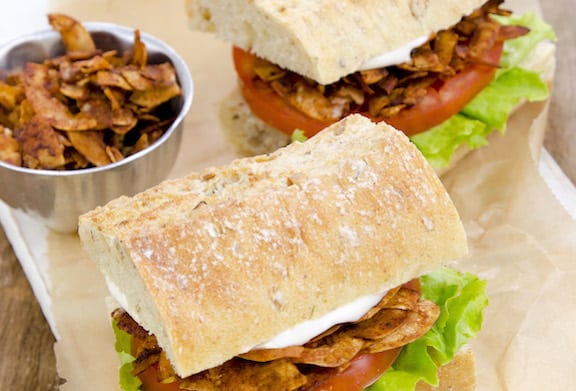 Large flakes of unsweetened coconut are the perfect canvas to infuse the smoky-sweet flavor associated with bacon. Coconut has natural fat and the flakes absorb seasoning well. After a low-heat bake, the flakes are crunchy, savory, salty, smoky, and just a touch sweet. Try them on your next sandwich and take your lunch to a new level of deliciousness! Recipe from from Plant-Powered Families: Over 100 Kid-Tested, Whole-Foods Vegan Recipes* by Dreena Burton, BenBella Books © 2015, reprinted by permission. Photos by Nicole Axeworthy. more→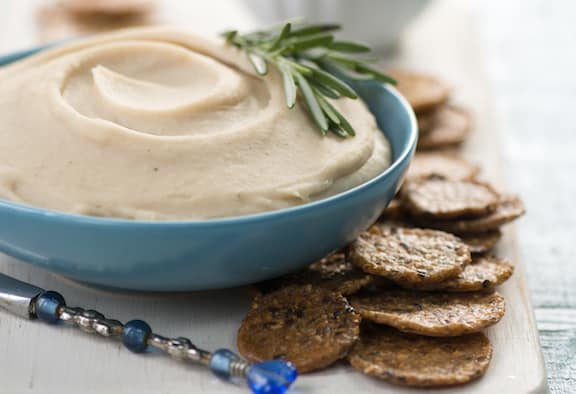 A light and rustic dip that easily accompanies any meal, serve this creamy concoction with whole-grain bread, crudités, or whole-wheat pitas or as a sandwich spread. Recipe from The Vegiterranean Diet: The New and Improved Mediterranean Eating Plan — with Deliciously Satisfying Vegan Recipes for Optimal Health*  by Julianna Hever © 2014 Da Capo Lifelong Book, reprinted by permission. Photos by Nicole Axeworthy.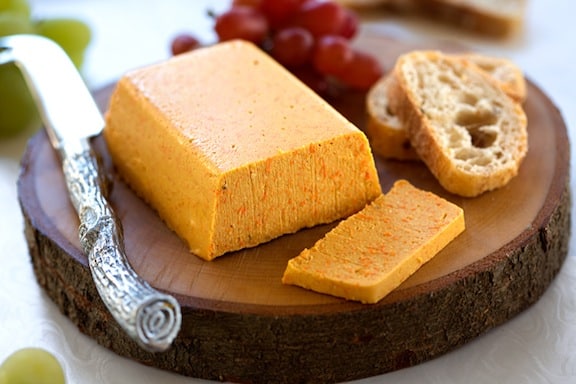 For winter gatherings, my favorite food theme for entertaining is a delicious vegan appetizer buffet with wine, cocktails, and/or mocktails. After that, who needs dinner? You can then skip to coffee/tea and light desserts. Here are 8 tasty dips and finger foods, our absolute favorites from VegKitchen's vast array of Vegan Appetizer Recipes. Choose 5 or 6 of these and serve with your favorite beverages. Above, Smoky Vegan Cheddar Cheez. You'll find the way to the recipe with the 4th link below, along with its spreadable version. Photo above by Hannah Kaminsky. more→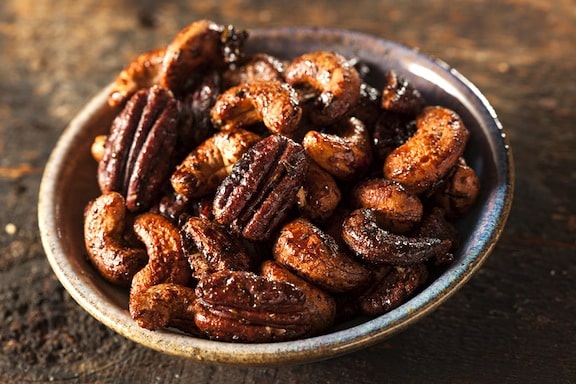 Deliciously glazed and spiced nuts are a tasty finger food at special occasion, or as an everyday snack. Use any combination of your favorite nuts — peanuts, almond, pecans, walnuts, macadamia nuts, cashews, etc. more→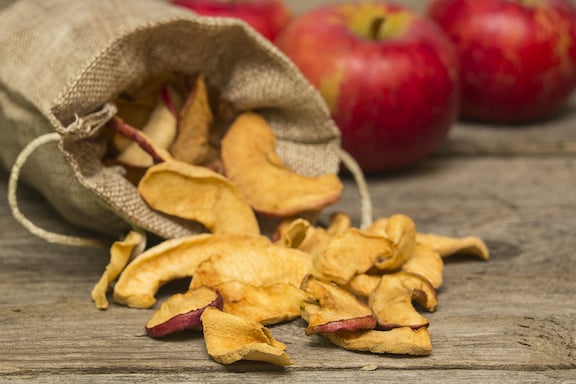 Apple chips are one of my favorite healthy snacks. I love their crunchy, sweet, and luscious flavor. They take some time to bake at a low temperature, but are really easy to prepare. You can set your oven's timer and go do other things and return when it's time to flip the apples. You can even make a bigger batch and have them handy for snacking throughout the week. Recipe and photo contributed by Mariana Diez, from her blog Joyful Living.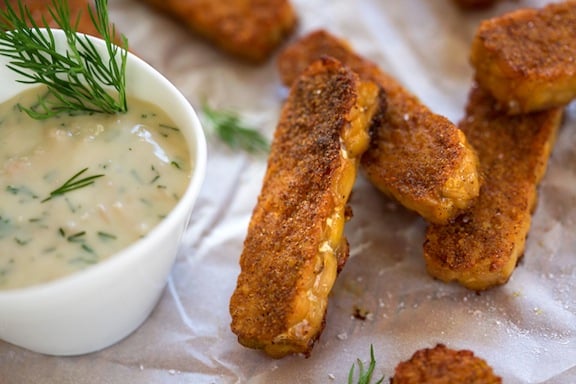 If your meal needs just a little extra something in the protein department, but not necessarily a filling main dish, this is a nice choice. It also works well as an appetizer. These fries can be a bit addictive, so you may want to double the recipe if serving hungry tempeh fans. Adapted from Vegan Express. Photos by Hannah Kaminsky. more→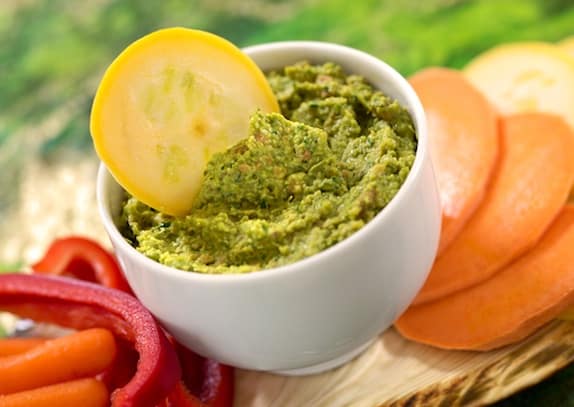 This bright green dip of sweet peas, parsley, and luscious pistachios is great served with brightly colored vegetables—baby carrots, sliced red bell peppers, rounds of yellow squash, and thin wedges of raw sweet potato. You can also add fresh or crisp breads or stone-ground tortilla chips to the mix. This might well become your go-to as a tasty snack or appetizer. Photos by Hannah Kaminsky of Bittersweet. more→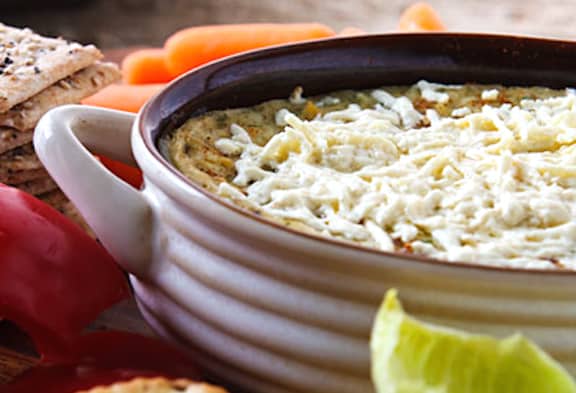 Hot artichoke dips are classic appetizer offerings, but they're rarely vegan. This one is, and it's every bit as luscious as the dairy version. Serve with crispbreads, baby carrots, spoon-sized chunks of red bell pepper, and Belgian endive leaves. Photos by Susan Voisin. Adapted from Vegan Holiday Kitchen. more→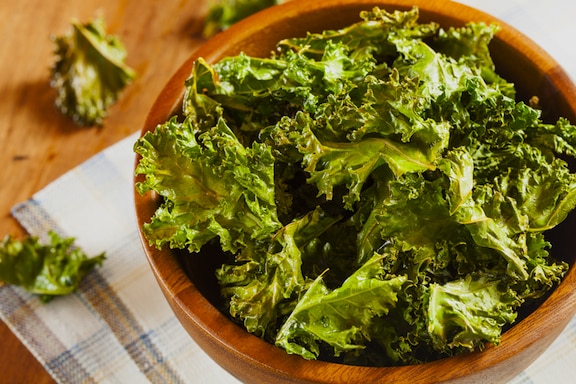 Here's a simple how-to for making kale chips. One of the trendiest and most popular things to do with kale is to transform it into crispy chips for snacking. Though I'm more partial to raw kale salad, kale chips enthusiasts report that once these are out of the oven, they're instantly devoured by snackers of all ages. more→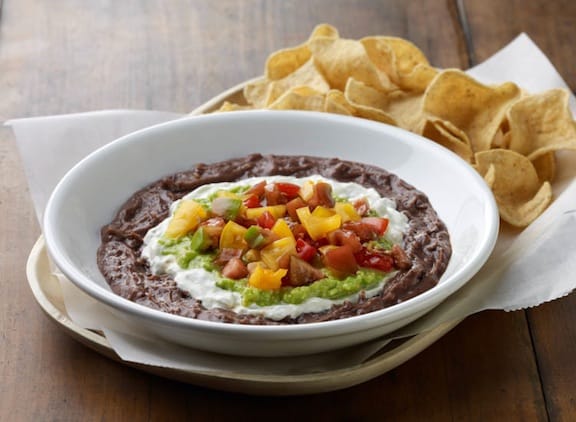 Sometimes you need a quick and dip for a party or as an easy appetizer. This is simple to make, but dressed up with a little rum in the beans, some chile in the vegan sour cream, and topped with multicolored heirloom tomatoes, it makes an appealing presentation. Recipe and photo from The Great Vegan Bean Book* by Kathy Hester ©2013, Four Winds Press. Photo by Renée Comet. Reprinted by permission. more→