Soups for All Seasons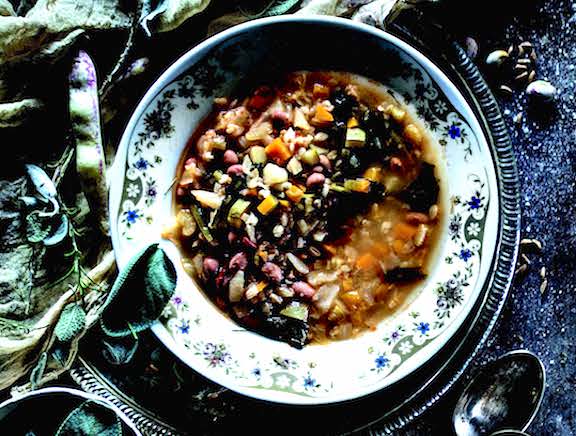 Every time I make minestrone, I stop and think how amazing it is that such a humble dish became so popular outside of Italy. The main idea behind minestrone is the same as a quiche: It's a recipe designed to rid the fridge of all the vegetable scraps that have been sitting for too long and are starting to look sad and wilted. Feel free to throw whatever vegetables you have on hand into your minestrone—this version, enriched with herbs and Tuscan farro, makes for a wonderful fall minestrone soup. Reprinted from Naturally Vegetarian by Valentina Solfrini, by arrangement of Avery Books, a member of Penguin Group USA. A Penguin Random House Company, © 2017. more→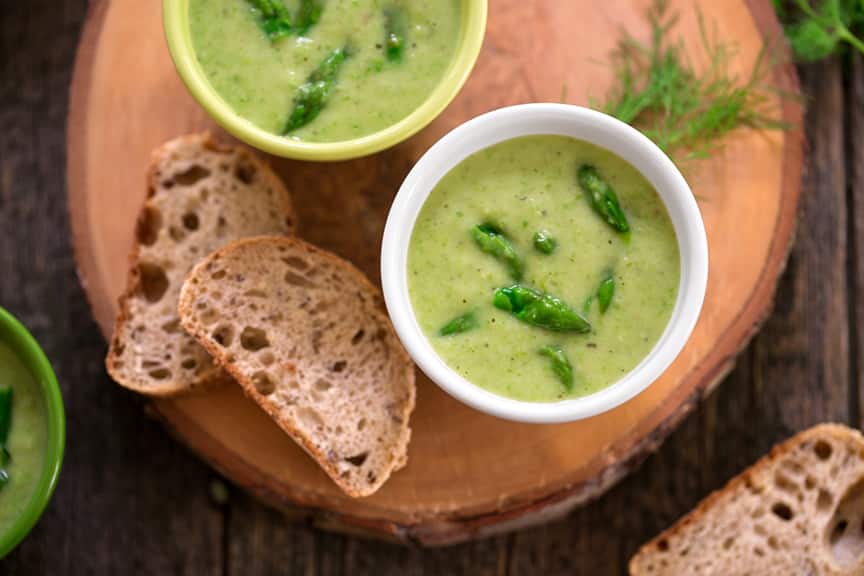 This gorgeous vegan cream of asparagus soup is a nice introduction to meals as a first course, since it's nice and light. It used to be that asparagus was primarily available in spring (and that's still when it's best and less expensive), but now that it's become more year-round, you can enjoy this soup nearly any time of year. Serve with a crusty whole-grain bread, if you'd like.
more→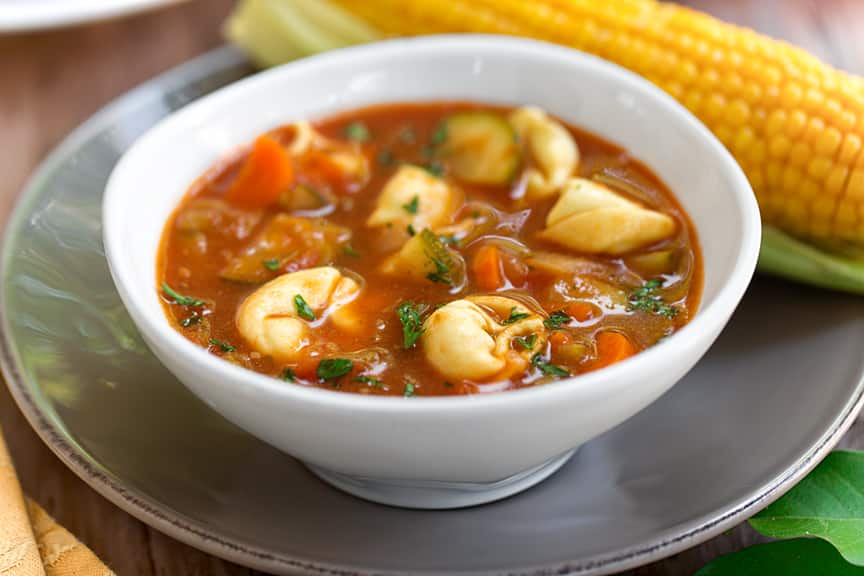 This hearty vegan fresh tomato soup with tortellini or ravioli is filling far served with a fresh corn on the side. It's a wonderful choice for late summer that are starting to get cool, and is a good way to use up tomatoes that are a bit past the season's peak. Look for vegan tortellini or ravioli in the freezer section of your natural foods store. Serve with fresh corn on the side. Photos by Hannah Kaminsky. more→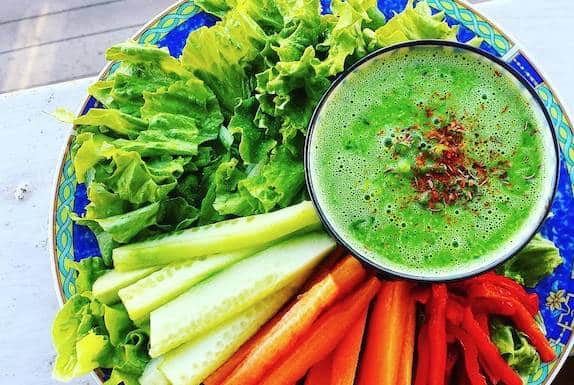 Sweet fresh peas, leeks, and leafy greens come together in this lavish green pea soup. This spring sweet pea soup can be made in a blink of an eye with readily available seasonal ingredients. Your palate will enjoy the tenderness of the peas and sweet potatoes, followed by the lingering aroma of garlic and leek sautéed in basil infused oil. Serve with an array of colorful raw vegetables for a healthy meal. If you're feeling ambitious, make gluten-free Spicy Cilantro Crackers to accompany the soup. Recipe and photo contributed by Melissa Bridge from Healthy Life Rhythm. more→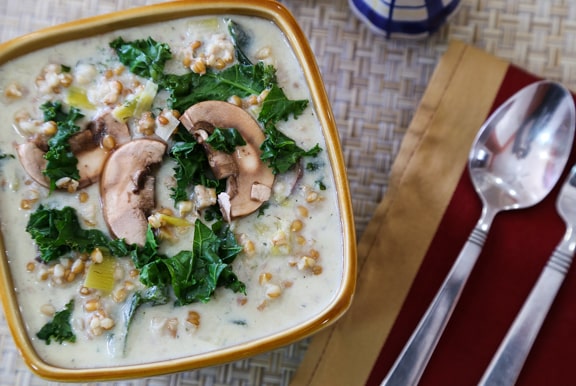 Made creamy with tofu or white beans, this ancient grains soup is filled with tasty leeks and mushrooms. It's truly a bowl of comfort! If you'd like to explore the various ancient grains on the market, you can make this with whole farro, spelt, or einkorn berries. Or go "new school" with ordinary pearl or pot barley. Whichever grain you use, you'll enjoy this nourishing soup on a chilly or rainy day. Photos by Evan Atlas. more→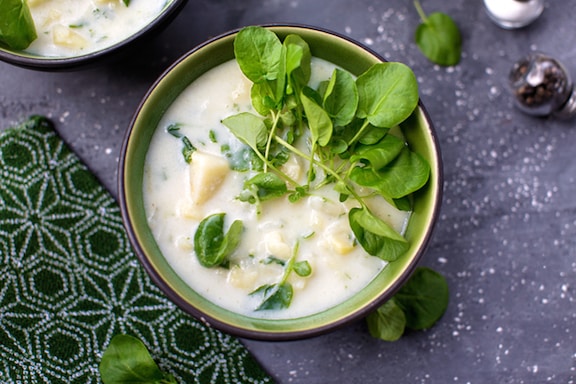 Spring and summer are headed our way. While that may mean fun in the sun and a great reason to boost those mood-elevating vitamin D levels, it can also be a time for heartache. Heartache because soup season is over. Or is it? We've rounded up some spring seasonal vegan soup recipes that use spring veggies and herbs to create a lighter taste that works great in the warmer months. Check out these spring vegan soup recipes to change up your soup game and continuing making this lovely, versatile dish. more→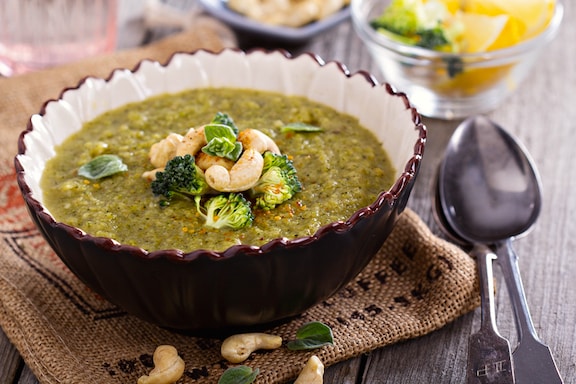 If you need a soothing soup that's packed with a host of nutrients, look no further than vegan broccoli soup. Many creamy soups are made with a dairy base, so creamy vegan broccoli soup is a good way to get your craving for a creamy soup met while still staying vegan. Below are several creamy vegan broccoli soup recipes that are as tasty as they are easy.
Creamy vegan broccoli soup: Being vegan doesn't mean creamy soups are out of reach. This recipe is made with macadamia milk as a base, as well as coconut milk. Garlic, veggie broth and onion add plenty of flavor. There are even optional instructions for browned broccoli croutons.
Vegan broccoli and cheese soup: If you love a delightfully creamy cheese soup, this vegan recipe has you covered. The vegan "cheese" sauce is made with ingredients like potatoes, nutritional yeast, coconut oil and white wine vinegar. The soup itself has a kick to it, calling for cayenne pepper and chickpea miso.
Broccoli soup with ginger and lemon: As the name suggests, the ginger and lemon flavoring in this soup give it a neat little twist. Coconut milk gives it a creamy texture. Optional toppings to this dish include coconut milk, scallions, sesame seeds and roasted broccoli.
Sweet potato and broccoli cheese soup: Other recipes on the list have called for potatoes, but sweet potatoes are a flavorful twist. Another interesting flavor twist is the bit of dill pickle juice the recipe calls for.
Vegan cream of broccoli soup: This recipe calls for your basic veggies and seasonings. It also calls for a cup of non-dairy milk to add to the creamy consistency. It's easy to make, as it basically calls for cooking the veggies and then throwing it all into a blender.
Broccoli and potato soup: Can't decide between a cream of broccoli and cream of potato soup? Have both! Two cups of broccoli and three medium potatoes form the base of this dish. It also calls for an optional garnish of chives and vegan sour cream. Thyme also adds a distinct taste.
Creamy vegan broccoli soup with curried chickpeas: If you love curry, you'll love this interesting take on broccoli soup. This adds roasted chickpeas into the mix, along with curry powder and turmeric for a truly Indian taste. Tip: serve this with naan bread on the side.
Vegan cream of broccoli soup: This recipe is on the easier side, with just nine ingredients. Tons of broccoli forms the base, of course, but there's also cauliflower, onion, garlic, vegetable broth and Celtic sea salt for added flavor and nutrients.
Creamy broccoli soup: Here's another vegan soup with a faux cream. It's made with a cashew cream sauce mixture including potatoes, raw cashews, white beans, miso, nutritional yeast and lemon juice.
Spiced creamy broccoli soup: This recipe is perfect if you want a bit of a kick to your broccoli soup. It's packed full of spices like cayenne pepper, cumin, onion powder, coriander and basil. It also calls for soaked cashews and non-dairy milk to give a creamier base.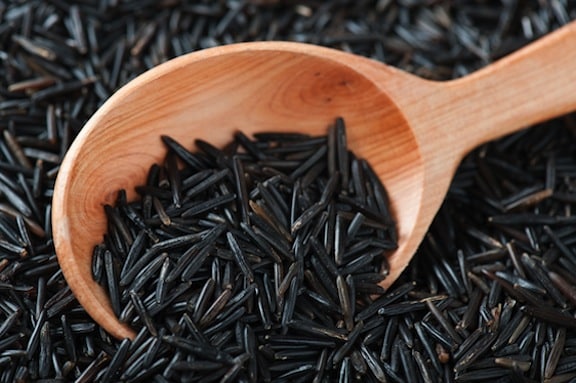 No matter the season, soup remains a staple dish in everyone's home. Hearty vegan soups are a great meal option for vegans because they can be easily made with plant-based ingredients. Soups are a great way to cook vegetables and other hearty ingredients like lentils, beans, and even potatoes.
However, there are a number of non-vegan soup recipes that need to be updated with more plant-based substitutes. One of these classics is cream of chicken and wild rice. For vegans, a simple substitute is mushroom and wild rice. This soup is perfect for cozy nights or lunch on a chilly winter day. more→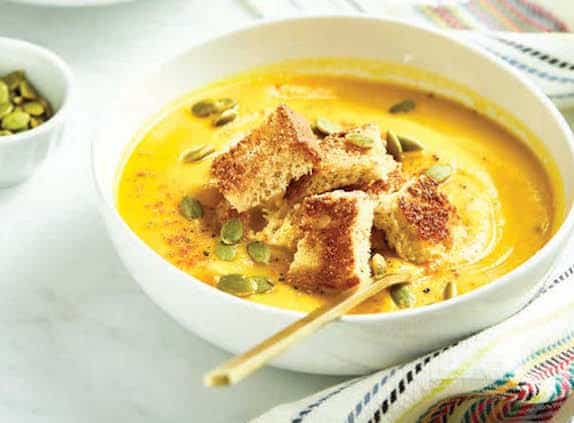 This soup shows off the flavor of red curry paste, an authentic Thai ingredient. It's warm and spicy, but not overpowering, and it's usually enhanced with notes of lemongrass, garlic, ginger, and chiles. It works wonders in this soup, creating rich and full-blown flavor in an instant! The soup also boasts a rich, thick texture, which makes it comforting as the weather turns cooler. It's also fantastic served with a scoop of cooked rice on the bottom of the bowl to make it heartier. Reprinted from Oh She Glows Every Day, © 2016 by Angela Liddon. By arrangement with Avery, a member of Penguin Group (USA) LLC, a Penguin Random House Company. more→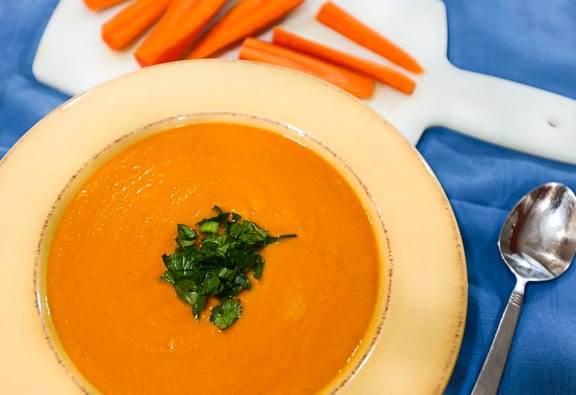 Here's a curried carrot soup in a coconut base that's perfect for any time of year. You can enjoy it chilled in the summer, or serve it hot when the weather gets nippy. Use baby carrots as a clever shortcut — no peeling or chopping required. Photos by Evan Atlas. more→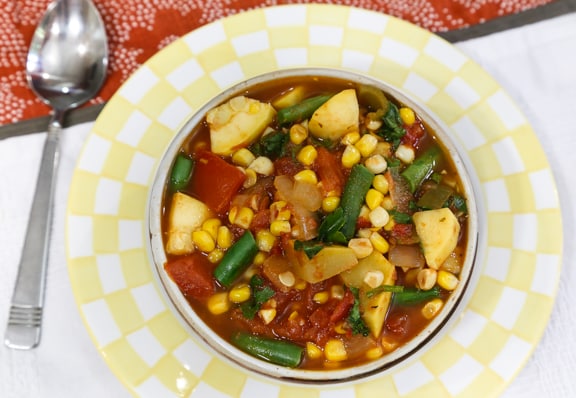 While fresh local corn is abundant in early fall, the most tempting way to eat it is right off the cob. But cooking with fresh corn can be equally appealing. Its sweetness and crunch can't be matched by frozen corn kernels.To vary the recipe, add a cup or two of cooked pinto or pink beans and serve with a purchased fresh bread. Adapted from Vegan Soups and Hearty Stews for All Seasons. Photos by Evan Atlas.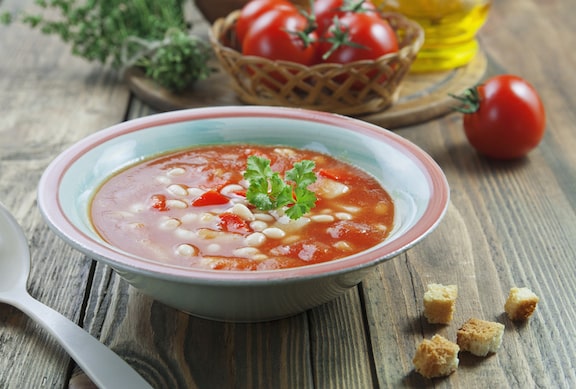 Even though we can use air-conditioning to mitigate summer heat in the kitchen, being able to make cold soups without turning on a single burner is a gift on the hottest days. Some cold soups have cooked ingredients and then are chilled in the fridge, but the ones presented here don't require any heat at all. It's good to chill them before serving for ultimate refreshment, but you can serve them right away if need be (you can always swirl 3 or 4 ice cubes into them before serving to get that chilled effect). First up, Cool White Bean and Tomato Soup, shown above, which makes for a flavorful, nearly instant and surprisingly hearty cold soup.  more→