Cold Summer Soups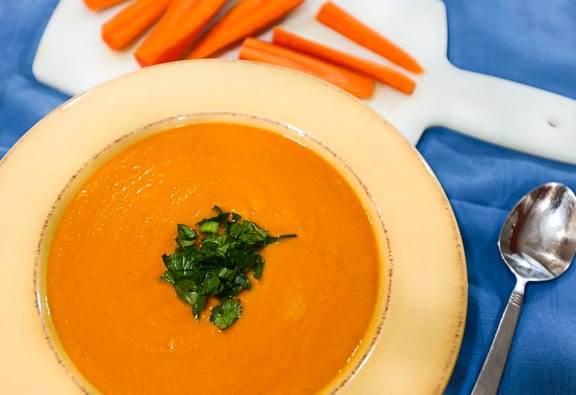 Here's a curried carrot soup in a coconut base that's perfect for any time of year. You can enjoy it chilled in the summer, or serve it hot when the weather gets nippy. Use baby carrots as a clever shortcut — no peeling or chopping required. Photos by Evan Atlas. more→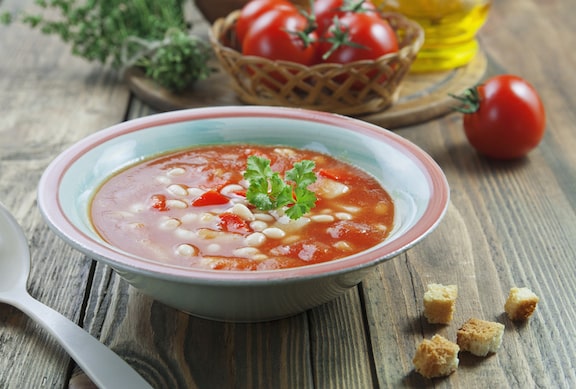 Even though we can use air-conditioning to mitigate summer heat in the kitchen, being able to make cold soups without turning on a single burner is a gift on the hottest days. Some cold soups have cooked ingredients and then are chilled in the fridge, but the ones presented here don't require any heat at all. It's good to chill them before serving for ultimate refreshment, but you can serve them right away if need be (you can always swirl 3 or 4 ice cubes into them before serving to get that chilled effect). First up, Cool White Bean and Tomato Soup, shown above, which makes for a flavorful, nearly instant and surprisingly hearty cold soup.  more→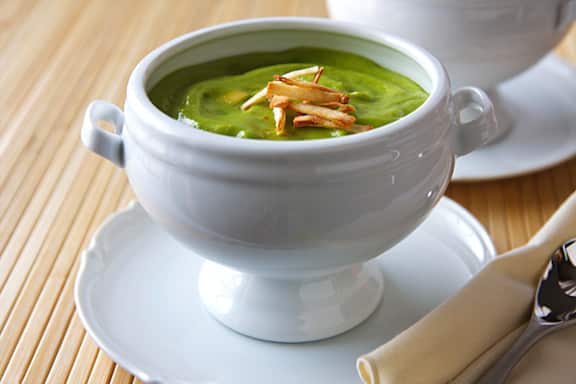 Cold soups are one of my favorite ways to feel refreshed in the summer heat. What makes any cold soup even better for me is if it needs no cooking at all, like this one featuring ripe avocados and green peas. And it adds gorgeous burst of green to the table, as well. Recipe adapted from Vegan Holiday Kitchen. Photos by Susan Voisin.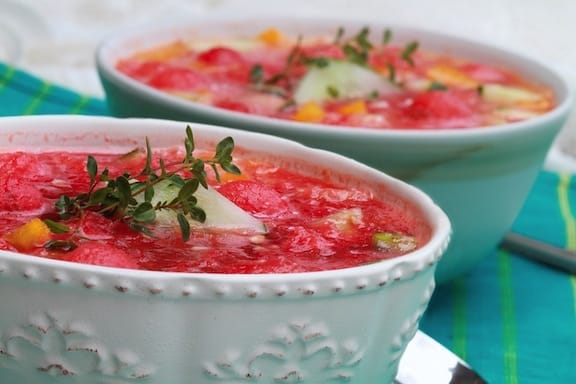 Adding summer fruit like watermelon and peaches (or nectarines) to a classic tomato gazpacho works surprisingly well. The sweet and piquant flavors play off of one another in this palate-pleaser. Recipe adapted from Vegan Holiday Kitchen by Nava Atlas. more→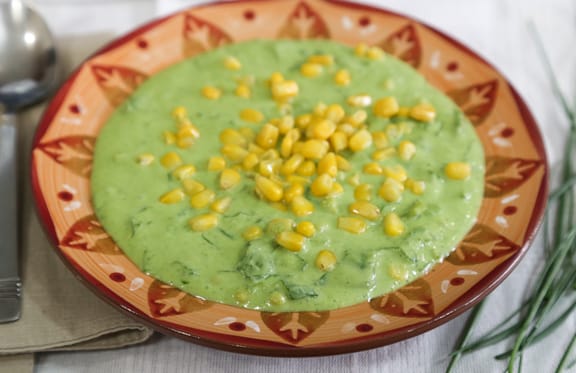 Here's an almost-no-cook (actually completely no-cook if you like raw corn) soup that's perfect for warm weather meals. Lettuces are abundant in gardens and in farm markets, and if you find yourself with too many heads, this soup will take two of them off your hands and out of your fridge! Fresh corn pairs perfectly with the lettuce in this mildly curried, refreshing chilled soup. Photos by Evan Atlas. more→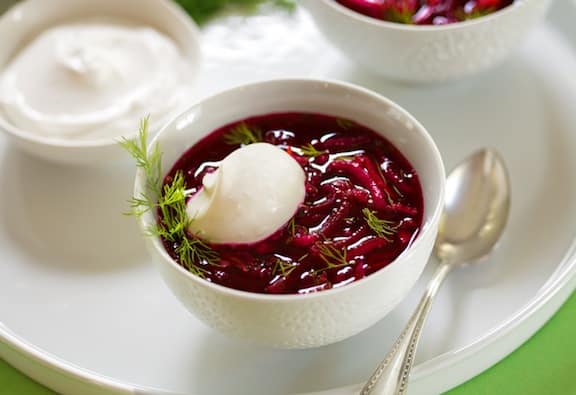 The ingredients of classic cold beet borscht are usually cooked together, then chilled, but in this version, there's no need to cook at all, unless you'd like to lightly pre-cook the beets. After this has a chance to chill, don't be shy about amping up the lemon/agave contrast to your taste. Photos by Hannah Kaminsky. more→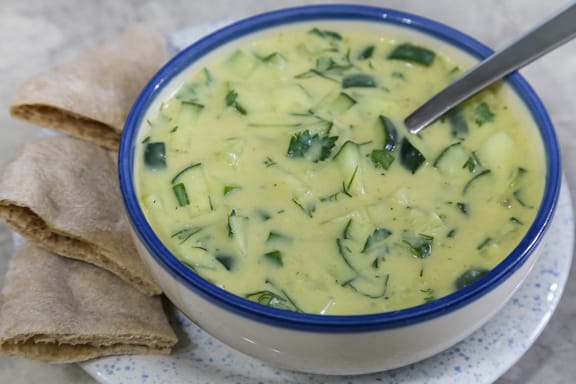 Here's a nearly-instant cold cucumber soup with plenty of fresh herbs. Cucumbers are undoubtedly one of the most refreshing of veggies. So on a very hot day, if you want to be as cool as one, serve this lilting chilled soup. Note that coconut yogurt has a naturally sweet taste, so you'll want to judiciously add the lemon or lime juice and salt as a foil. Photos by Evan Atlas. more→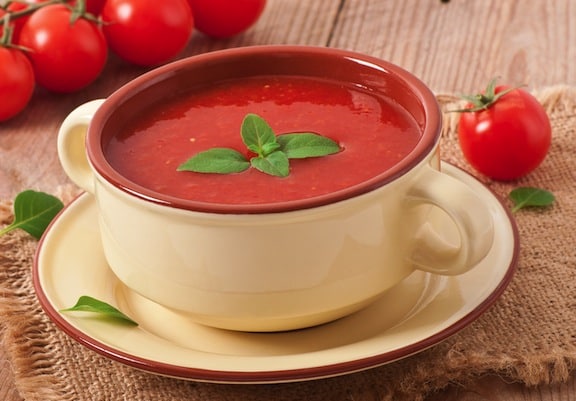 Here's a great way to take advantage of late summer's sublime tomatoes. This is great for when your garden or CSA share is overflowing with ripe tomatoes and you really need to use them up quick! more→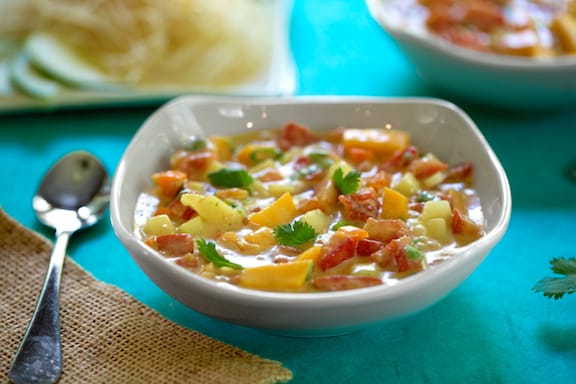 Think of this no-cook soup as a Thai-flavored gazpacho. It's best with really lush summer tomatoes. Serve with a cold noodle dish for a quick summer meal. Adapted fromVegan Soups and Hearty Stews for All Seasons by Nava Atlas. Photos by Hannah Kaminsky.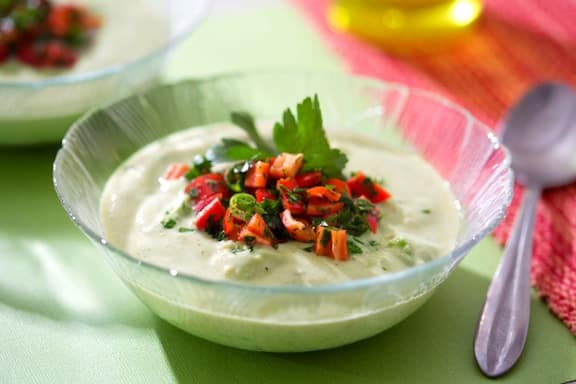 Requiring no cooking, this creamy chilled avocado soup is remarkably refreshing on a hot summer day. It's best eaten on the same day as it is made, since avocado discolors and does not keep well under refrigeration once peeled. This raw soup makes a great opener for a Southwestern-style meal of burritos, enchiladas, or the like. Adapted from Vegan Soups and Hearty Stews for All Seasons. Photos by Hannah Kaminsky. more→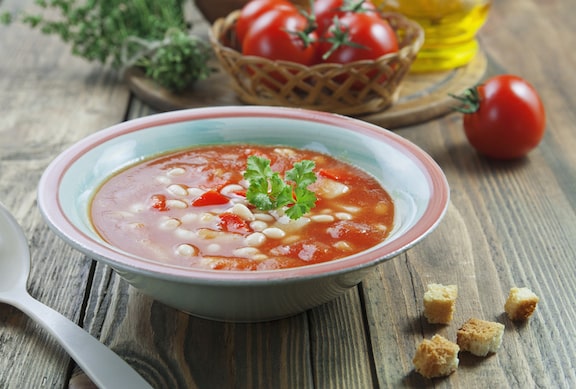 White beans make a creamy base for soups, dips, and sauces, in addition to being quite companionable with the ripe tomatoes of summer. The combination of white beans and fresh tomatoes makes for a flavorful, nearly instant cold soup.  more→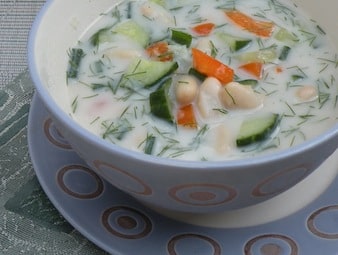 Substantial yet refreshing, this cool soup can be made in minutes. Choose a crisp, flavorful cucumber with pale green (rather than watery white) flesh for optimal flavor. Leave the peel on for extra fiber and flavor if the cucumber is organic and unwaxed. Serve with a simple potato or pasta salad or wraps for an easy and tasty summer meal. more→