Fall Harvest Soups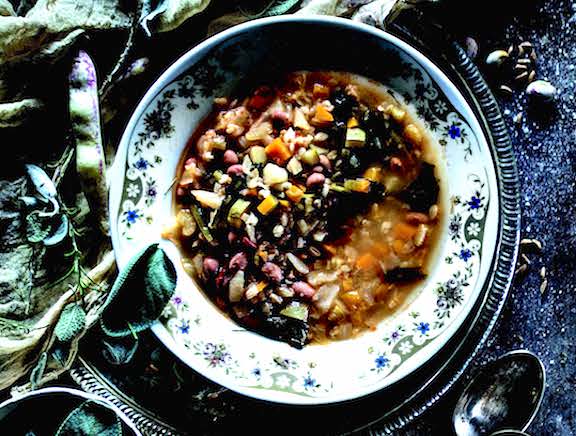 Every time I make minestrone, I stop and think how amazing it is that such a humble dish became so popular outside of Italy. The main idea behind minestrone is the same as a quiche: It's a recipe designed to rid the fridge of all the vegetable scraps that have been sitting for too long and are starting to look sad and wilted. Feel free to throw whatever vegetables you have on hand into your minestrone—this version, enriched with herbs and Tuscan farro, makes for a wonderful fall minestrone soup. Reprinted from Naturally Vegetarian by Valentina Solfrini, by arrangement of Avery Books, a member of Penguin Group USA. A Penguin Random House Company, © 2017. more→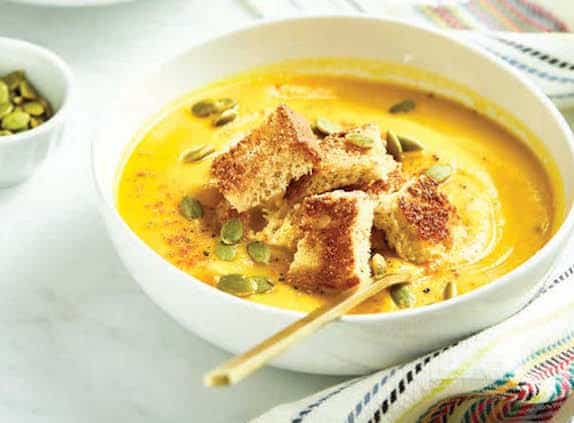 This soup shows off the flavor of red curry paste, an authentic Thai ingredient. It's warm and spicy, but not overpowering, and it's usually enhanced with notes of lemongrass, garlic, ginger, and chiles. It works wonders in this soup, creating rich and full-blown flavor in an instant! The soup also boasts a rich, thick texture, which makes it comforting as the weather turns cooler. It's also fantastic served with a scoop of cooked rice on the bottom of the bowl to make it heartier. Reprinted from Oh She Glows Every Day, © 2016 by Angela Liddon. By arrangement with Avery, a member of Penguin Group (USA) LLC, a Penguin Random House Company. more→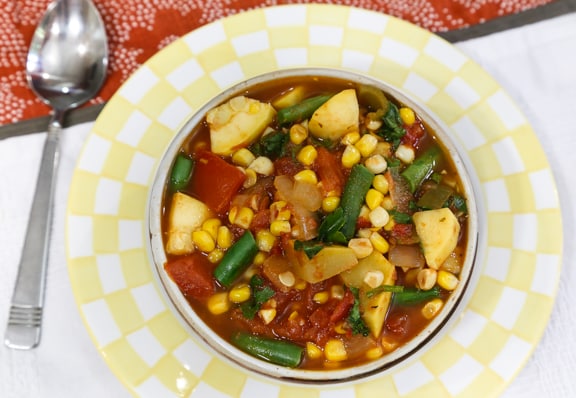 While fresh local corn is abundant in early fall, the most tempting way to eat it is right off the cob. But cooking with fresh corn can be equally appealing. Its sweetness and crunch can't be matched by frozen corn kernels.To vary the recipe, add a cup or two of cooked pinto or pink beans and serve with a purchased fresh bread. Adapted from Vegan Soups and Hearty Stews for All Seasons. Photos by Evan Atlas.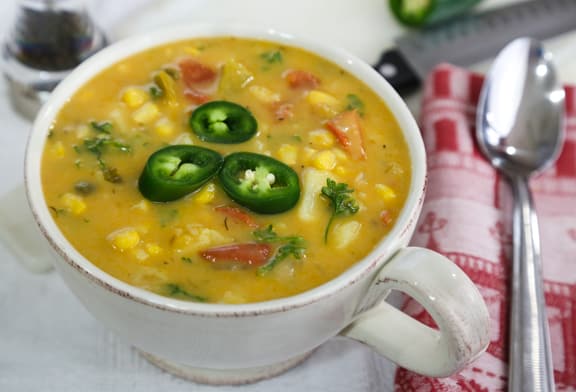 harvestThis flavorful soup of potatoes, corn, and green chiles is a nondairy version of a contemporary classic from the American Southwest. It's filling, so it can serve as a centerpiece of a meal, served with a salad or salad-y wraps. Try this with Cool Refried Bean Wraps for a nice meal. Photos by Evan Atlas.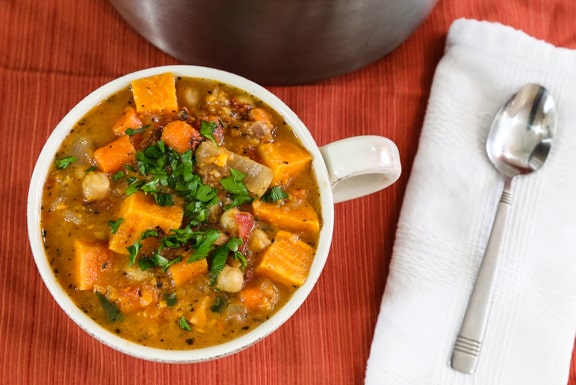 A satisfying soup that gets its golden-orange color from sweet potatoes and carrots, this will warm you throughout the fall and winter. Served in a generous bowl, it can be a main dish, completed simply with salad and fresh bread. Served in smaller portions, it's a nice way to start a vegan Thanksgiving meal. Photos by Evan Atlas.
more→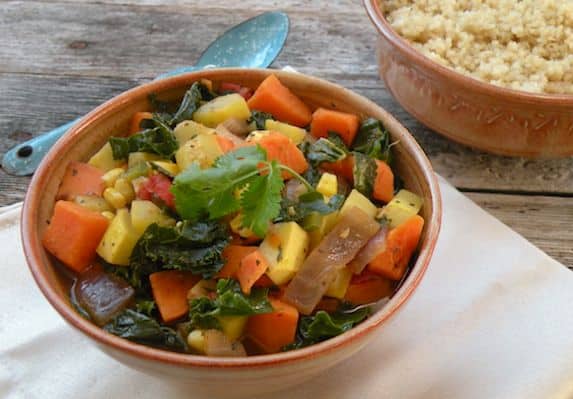 As everyone knows, greens are good for you, and with its high calcium content, kale is a standout. In this stew, the deep greens contrasted with the yellow of the squash and the orange of the sweet potato, makes this an attractive and nourishing dish for the autumn harvest.  more→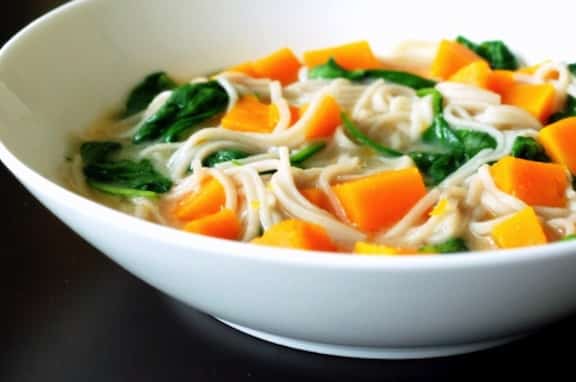 Once you've got the squash baked, this warming noodle soup with colorful and nutritious veggies comes together quickly. It's as pleasing to the eye as it is to the palate. Use chopsticks for "slurping" the noodles, then enjoy the rest with a spoon. Adapted from Vegan Soups and Hearty Stews for All Seasons.  Photos by Janet at The Taste Space.
more→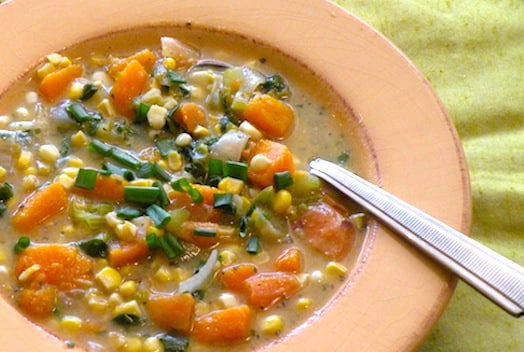 Squash, corn, and sweet potato combine to make a hearty chowder that's especially perfect for fall. Though this admittedly involves a bit of preparation, none of it is difficult. It's a great soup to make on a quiet Sunday — you'll be happy to come home to it during the week! It's delicious with fresh cornbread. It's also the kind of soup you won't mind making an extra effort to make for holiday meals like Thanksgiving. more→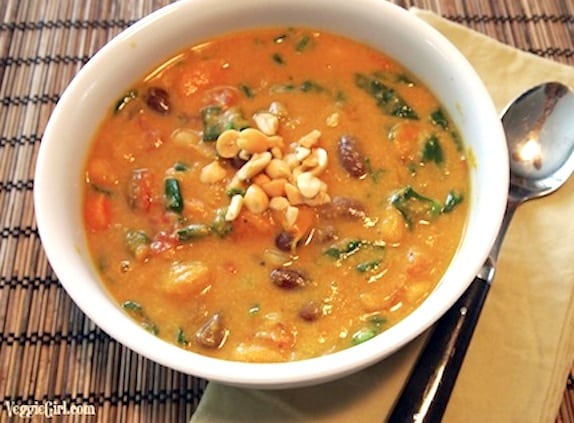 Because of of its pumpkiny goodness, this soup is perfect to serve as a starter to everyday meals as well as festive occasions, like Thanksgiving. If serving for a holiday meal, remember that it's filling enough to be a dinner centerpiece on its own, so serve in modest portions, otherwise you won't have enough room for anything else! Recipe and photo by Dianne Wenz of VeggieGirl.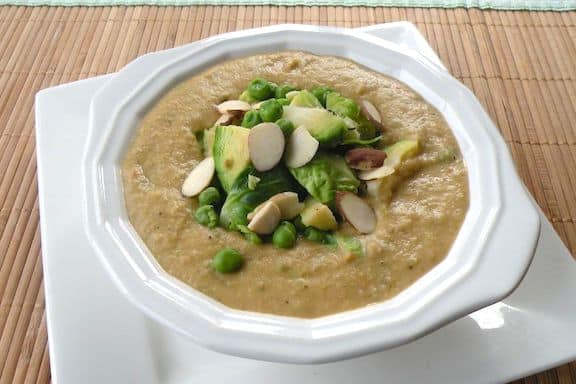 Elegant and richly flavored, this vegetable soup featuring brussels sprouts and a myriad of other veggies has almond butter as its base. You can use cashew butter or peanut butter for equally delectable results. Fresh whole grain bread and a salad of tomatoes and mixed greens make excellent companions. Adapted from Vegan Soups and Hearty Stews for All Seasons.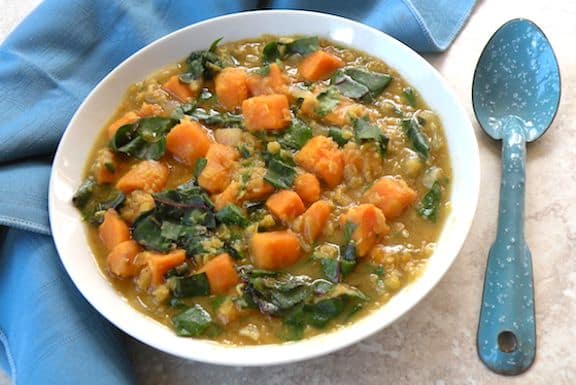 Both nourishing and sublimely satisfying, this thick soup incorporates fall's first sweet potatoes with seasonal greens. Red lentils, which cook to a warm golden color, are available in natural food stores and ethnic groceries. Adapted from Vegan Soups and Hearty Stews for All Seasons. more→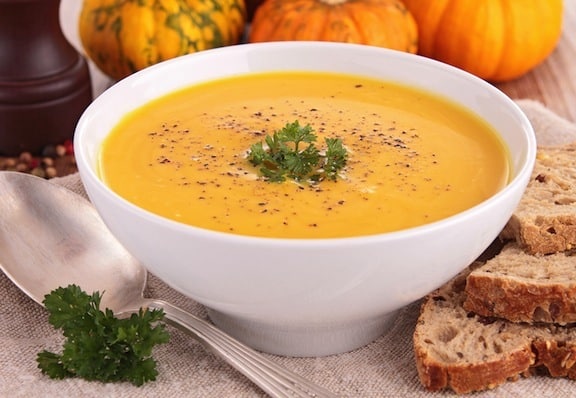 In this luscious cool-weather soup, onions, garlic, winter squash, and silken tofu are all enveloped in the familiar flavor of potatoes, making this a wonderful vehicle for getting a lot of nourishing ingredients into eaters of all ages. Adapted from Vegan Soups and Hearty Stews for All Seasons.