Soups for All Seasons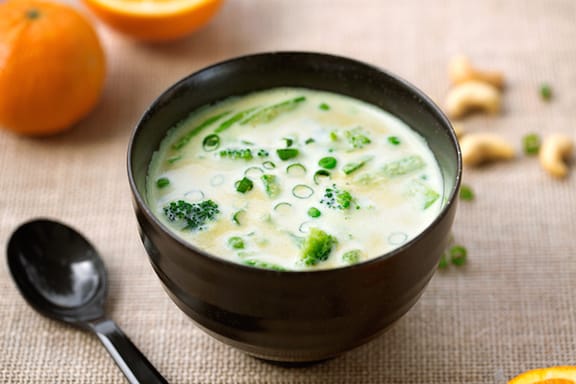 Nut butter make an unusual and rich-tasting base for a soup. With notes of ginger, curry, and citrus, this soup is good hot or at room temperature. Photos by Hannah Kaminsky. more→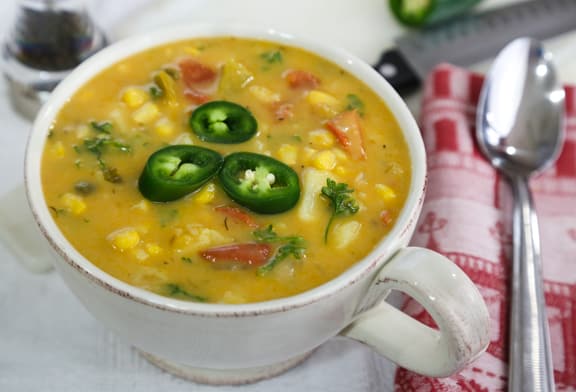 harvestThis flavorful soup of potatoes, corn, and green chiles is a nondairy version of a contemporary classic from the American Southwest. It's filling, so it can serve as a centerpiece of a meal, served with a salad or salad-y wraps. Try this with Cool Refried Bean Wraps for a nice meal. Photos by Evan Atlas.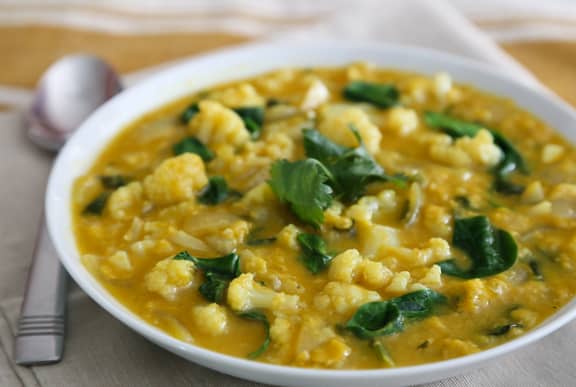 Red lentils cook quickly, so they're a good choice when you want a hearty, filling soup in little time. Adding a couple of cups of pumpkin or butternut squash puree adds to the orange-y goodness of this soup — and cauliflower and spinach contribute to its overall veggie-packed deliciousness. Serve this main-dish soup with a fresh flatbread and a simple salad. Photos by Evan Atlas.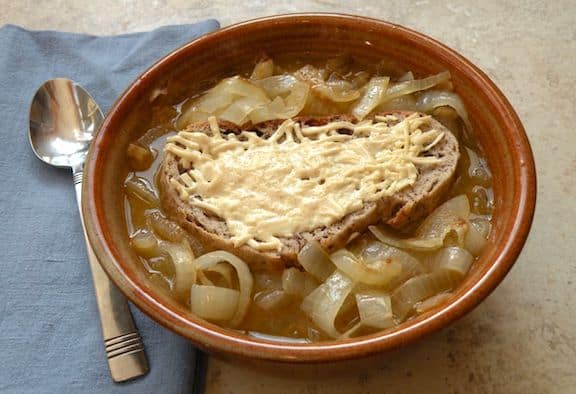 Here's a vegan take on the classic French onion soup, topped with crisp bread and melted nondairy cheese. You'll cry a river while cutting the onions, but you and your family or guests will weep tears of joy while eating this heavenly soup. It's also a good remedy for a cold — all those onions and garlic will do you good! This recipe skips the rather unnecessary step of baking the soup with the bread in it — as really, it's only the bread and cheese that need to be baked. Adapted from Vegan Soups and Hearty Stews for All Seasons by Nava Atlas.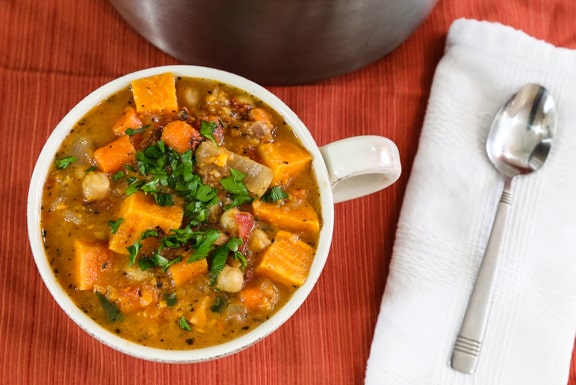 A satisfying soup that gets its golden-orange color from sweet potatoes and carrots, this will warm you throughout the fall and winter. Served in a generous bowl, it can be a main dish, completed simply with salad and fresh bread. Served in smaller portions, it's a nice way to start a vegan Thanksgiving meal. Photos by Evan Atlas.
more→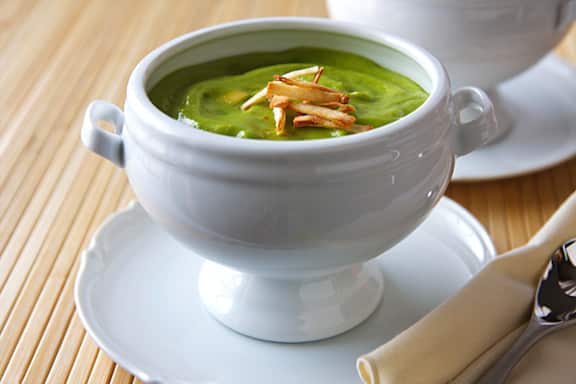 Cold soups are one of my favorite ways to feel refreshed in the summer heat. What makes any cold soup even better for me is if it needs no cooking at all, like this one featuring ripe avocados and green peas. And it adds gorgeous burst of green to the table, as well. Recipe adapted from Vegan Holiday Kitchen. Photos by Susan Voisin.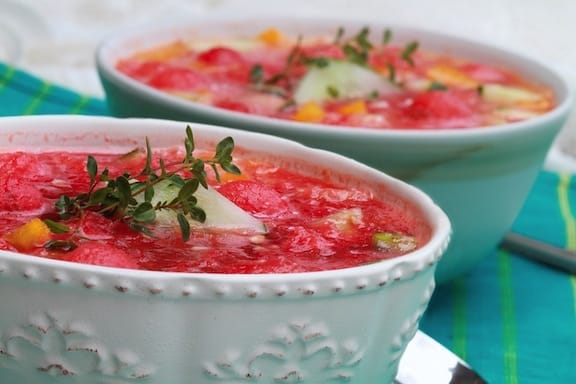 Adding summer fruit like watermelon and peaches (or nectarines) to a classic tomato gazpacho works surprisingly well. The sweet and piquant flavors play off of one another in this palate-pleaser. Recipe adapted from Vegan Holiday Kitchen by Nava Atlas. more→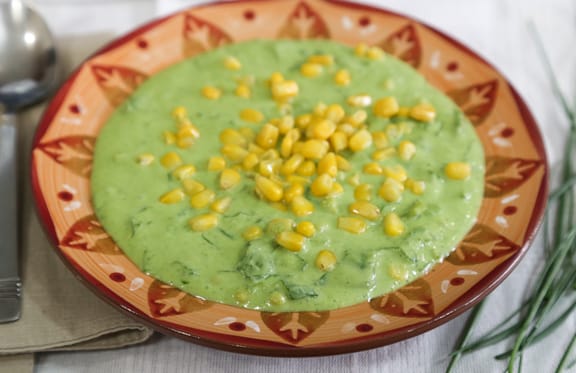 Here's an almost-no-cook (actually completely no-cook if you like raw corn) soup that's perfect for warm weather meals. Lettuces are abundant in gardens and in farm markets, and if you find yourself with too many heads, this soup will take two of them off your hands and out of your fridge! Fresh corn pairs perfectly with the lettuce in this mildly curried, refreshing chilled soup. Photos by Evan Atlas. more→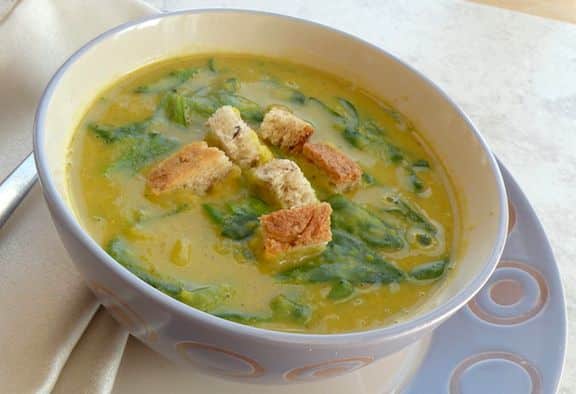 Here's a simple soup of quick-cooking red lentils, embellished with tender greens. It's a warming homemade soup you can have on the table in less than 45 minutes. Once you've done the onion-garlic sauté, there's very little additional work to do! Serve with fresh pita, croutons, or crispy pita chips that you can crumble right into the soup. The recipe yields a flavorful but mild soup; see notes on seasonings following the recipe if you'd like to kick it up a few notches.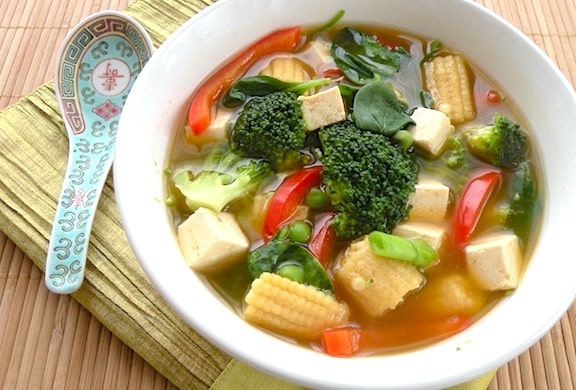 This quick and colorful soup will please anyone who enjoys Asian flavors. Just toss everything into a soup pot and in a few minutes, it's done! Try enticing kids and teens with this simple soup. Serve with an Asian-flavored rice or noodle dish and veggie spring rolls for a fun meal. more→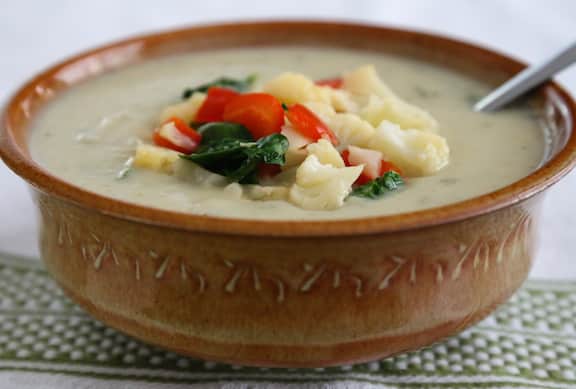 This creamy dairy-free cauliflower soup, enhanced with any of the garnishes recommended, makes a soothing introduction to a meal. It's great with veggie-filled wraps and main-dish salads. Adapted from Vegan Soups and Hearty Stews for All Seasons. Photos by Evan Atlas.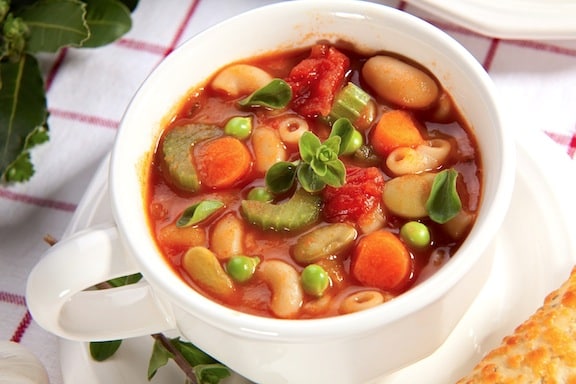 Like Minestrone, Italian Pasta and Bean Soup is a classic, sometimes referred to as pasta e fagiole. It's a meal in a bowl that you can complete easily with fresh garlic bread and a big salad. Adapted from Vegan Soups and Hearty Stews for All Seasons by Nava Atlas. more→