Light and Lively Spring Soups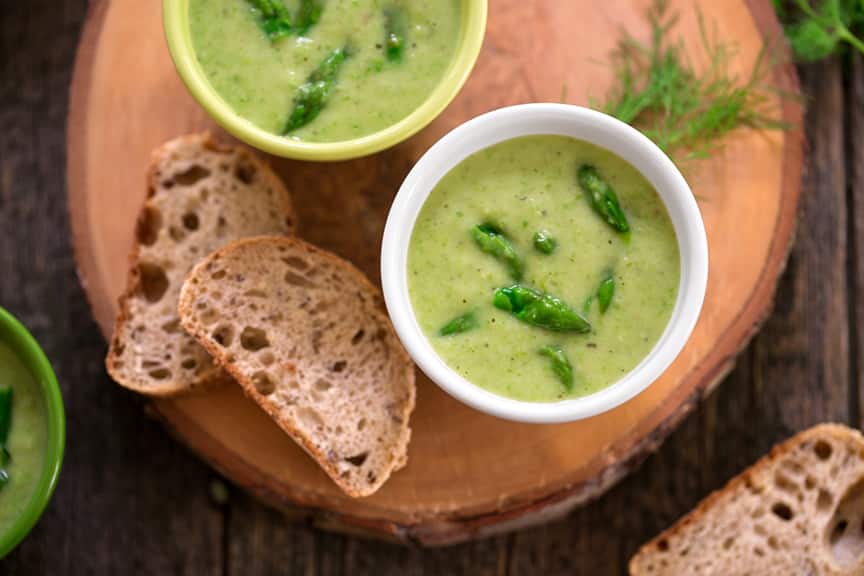 This gorgeous vegan cream of asparagus soup is a nice introduction to meals as a first course, since it's nice and light. It used to be that asparagus was primarily available in spring (and that's still when it's best and less expensive), but now that it's become more year-round, you can enjoy this soup nearly any time of year. Serve with a crusty whole-grain bread, if you'd like.
more→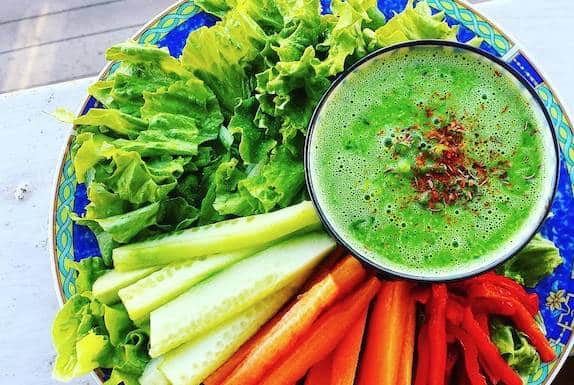 Sweet fresh peas, leeks, and leafy greens come together in this lavish green pea soup. This spring sweet pea soup can be made in a blink of an eye with readily available seasonal ingredients. Your palate will enjoy the tenderness of the peas and sweet potatoes, followed by the lingering aroma of garlic and leek sautéed in basil infused oil. Serve with an array of colorful raw vegetables for a healthy meal. If you're feeling ambitious, make gluten-free Spicy Cilantro Crackers to accompany the soup. Recipe and photo contributed by Melissa Bridge from Healthy Life Rhythm. more→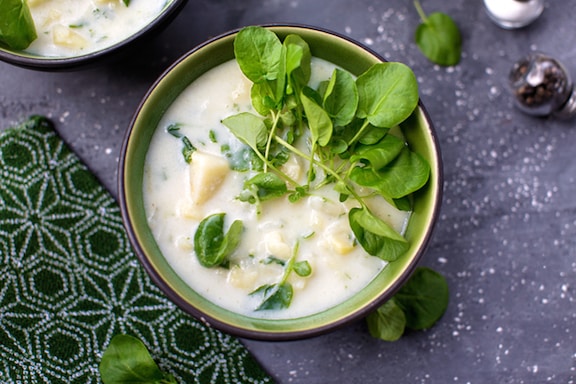 Spring and summer are headed our way. While that may mean fun in the sun and a great reason to boost those mood-elevating vitamin D levels, it can also be a time for heartache. Heartache because soup season is over. Or is it? We've rounded up some spring seasonal vegan soup recipes that use spring veggies and herbs to create a lighter taste that works great in the warmer months. Check out these spring vegan soup recipes to change up your soup game and continuing making this lovely, versatile dish. more→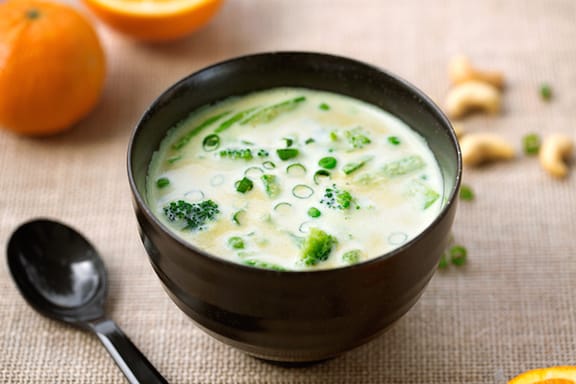 Nut butter make an unusual and rich-tasting base for a soup. With notes of ginger, curry, and citrus, this soup is good hot or at room temperature. Photos by Hannah Kaminsky. more→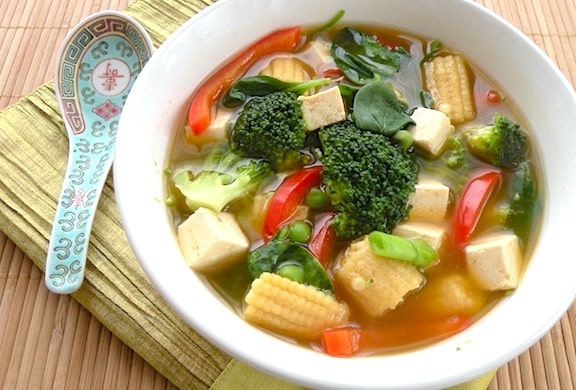 This quick and colorful soup will please anyone who enjoys Asian flavors. Just toss everything into a soup pot and in a few minutes, it's done! Try enticing kids and teens with this simple soup. Serve with an Asian-flavored rice or noodle dish and veggie spring rolls for a fun meal. more→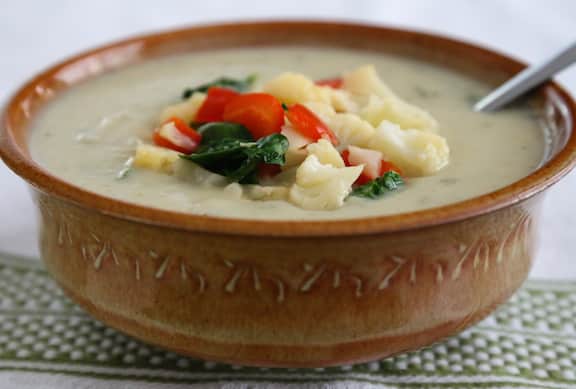 This creamy dairy-free cauliflower soup, enhanced with any of the garnishes recommended, makes a soothing introduction to a meal. It's great with veggie-filled wraps and main-dish salads. Adapted from Vegan Soups and Hearty Stews for All Seasons. Photos by Evan Atlas.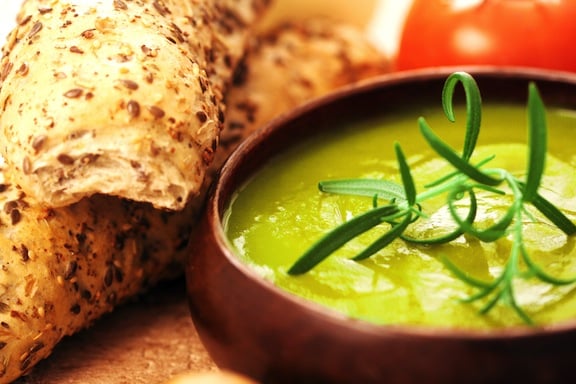 This delicate leek and asparagus soup tastes even better if made a day ahead. It's a light first course for festive spring holiday meals (Easter or Passover), or as an everyday kind of soup served with sandwiches or wraps. more→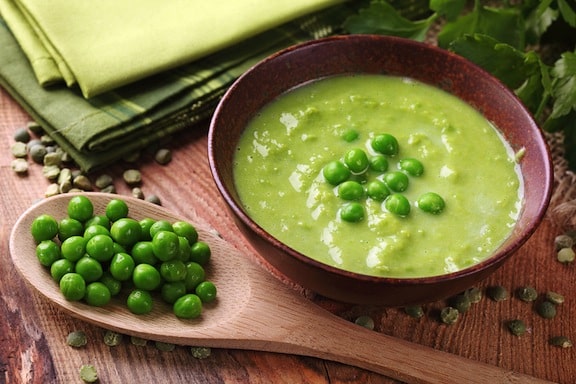 A delectable, high-protein puree featuring cashew butter and green peas in a base of white beans or silken tofu, this is a nearly-instant soup. It's a treat when you crave fresh soup but don't have the time for a lot of chopping and simmering. Serve with a crusty bread. more→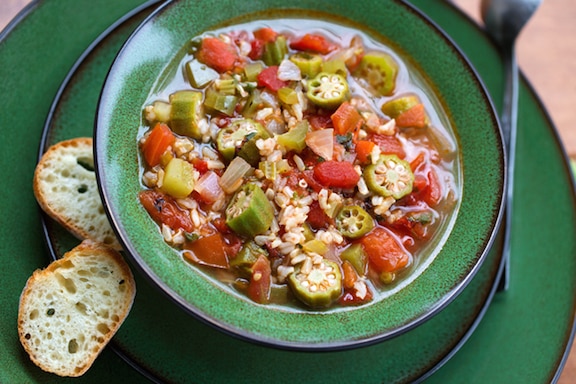 A true Southern classic, this okra and rice soup was as commonplace in the nineteenth century as it is unusual today. Despite the "throw-everything-into-the-pot" simplicity of the recipe, the result is a wonderfully complex blend of flavors and textures—thanks mainly to the unique character of okra. This thick soup is closely related to a Creole gumbo. Photos by Hannah Kaminsky. more→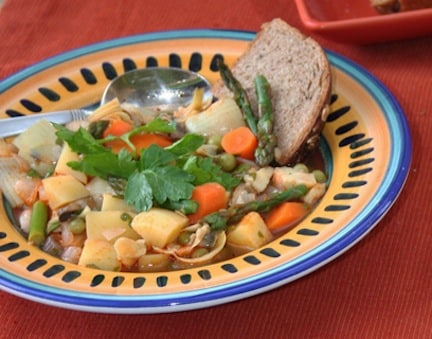 This classic Spanish vegetable stew, menestra de verduras, has many regional variations, and can be made with different vegetables according to season. Constant ingredients include potatoes, carrots, and green peas; artichokes are the most characteristic. Fresh artichokes are called for in traditional recipes, but using the canned or frozen variety simplifies the process.
Though it's a stew, it's nice and light, and with plenty of fresh asparagus, this is a great dish for a cool spring evening. A great companion to this is Chickpea Salad with Roasted Peppers, Tomatoes, and Basil, and fresh whole-grain bread. Adapted from Vegan Soups and Hearty Stews for All Seasons; photo by Michael Polito. more→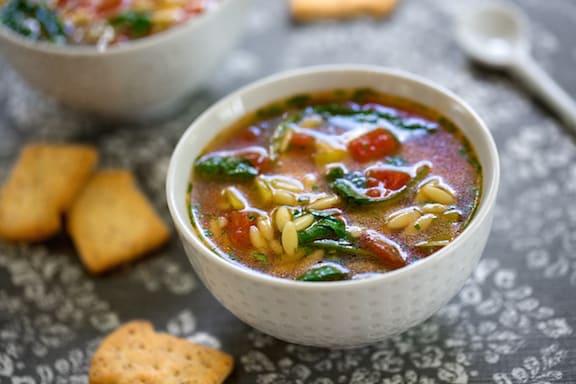 Here's a lively spinach soup that comes together quickly, with leeks, greens, and tiny orzo pasta in a lemony broth. It's a lovely soup for everyday meals as well as holiday celebrations such as Easter dinner. Photos by Hannah Kaminsky.   more→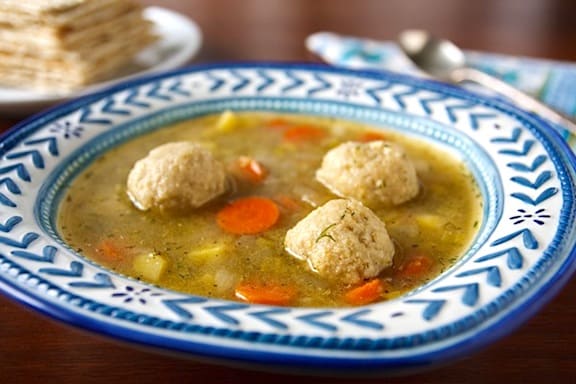 This vegan matzo ball soup recipe is chock-full of vegetables, and the perfect prelude to the Passover Seder dinner. But more importantly, it's vehicle for delicious Vegan Matzo Balls. Recipe adapted from Vegan Holiday Kitchen by Nava Atlas. Photo by Susan Voisin. As an alternative to this Ashkenazik-style soup, try Moroccan-Style Vegan Matzo Ball Soup. more→