Warming Winter Soups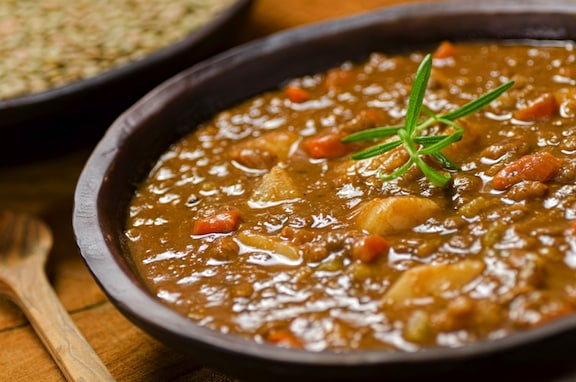 The earthy flavor of these protein-packed legumes shines in this basic rendition of lentil soup. Make sure to see the variations listed below the recipe. This is perfect as a soup centerpiece, served with crusty bread or fresh cornbread, and any kind of salad you enjoy.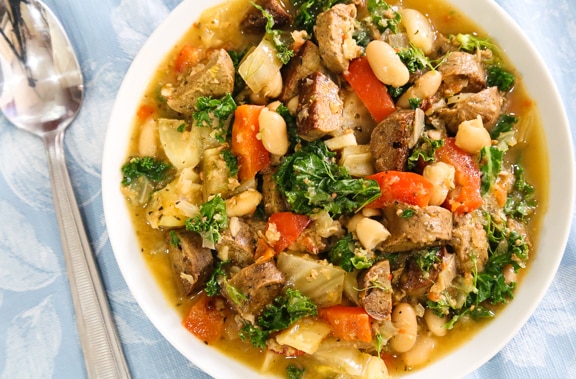 White beans, kale, fennel and sausage — what a winning combination for a warming stew. This is such welcome dinner to come home to on a cold winter day and it is especially good served with a loaf of crusty bread warmed in the oven. From The Blooming Platter Cookbook* by Betsy DiJulio, by permission of Vegan Heritage Press, © 2011, reprinted by permission. Photos by Evan Atlas more→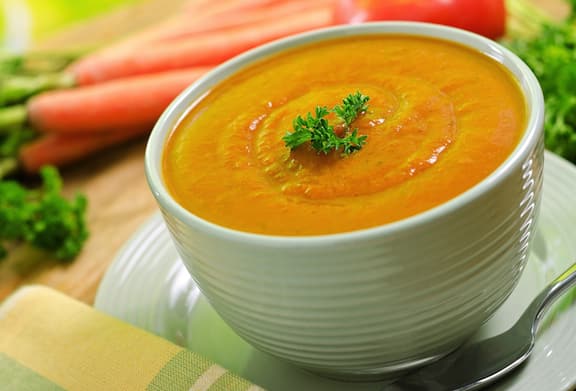 This clove-scented Creole cream of carrot soup has a cheery orange color, and if good, fresh carrots are used, a subtly sweet flavor. It's a real spirit-lifter in the fall, winter and spring, awakening and nourishing the senses. Serve with fresh warm bread or top with crisp croutons. Leftovers are great to pack into thermoses for school lunch or the office.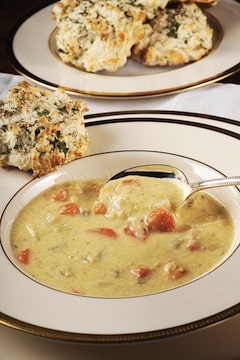 Nuts and lentils make this a protein and vitamin-packed soup. It's simple, creamy, and comforting. Recipe and photograph from Virgin Vegan The Meatless Guide to Pleasing Your Palate** by Linda Long, reprinted by permission of Gibbs Smith Publisher, © 2013. more→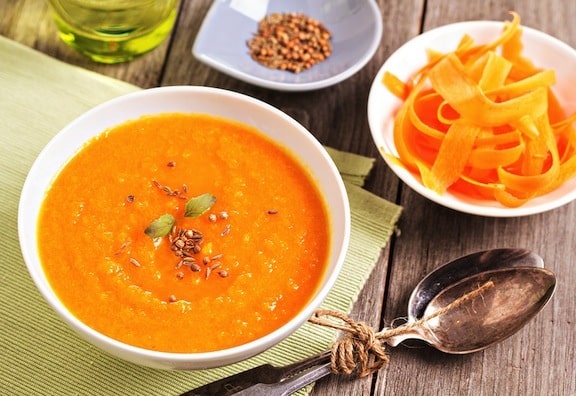 A warming soup with the cheering color of carrots and the zesty flavor of citrus and ginger, this soup is great as everyday fare as well as a first course for winter holiday meals.  more→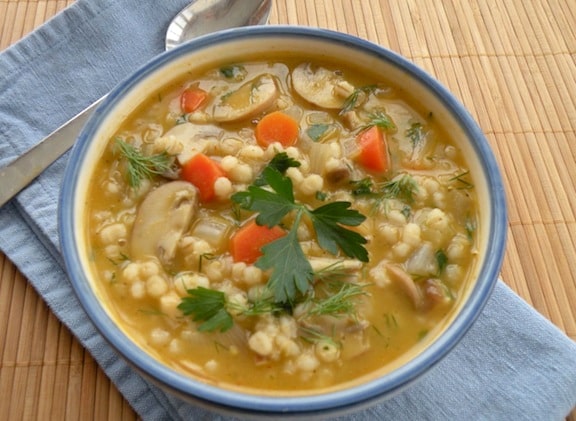 Here's the comforting classic, mushroom-barley soup. It's nothing fancy, but always so satisfying. Change it up by using different kinds of mushrooms. I like to use a combination of baby bella (aka cremini) and shiitakes.  more→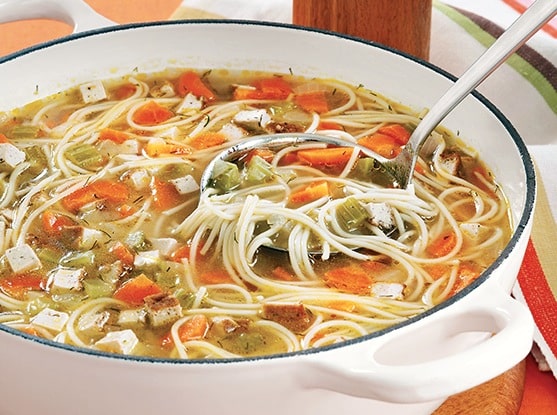 This simple, tasty soup recalls a comfort food from my childhood — minus the poor bird. Chickpeas or baked tofu do the trick, adding substance and flavor to this soothing soup. There's a Yiddish proverb that goes: "Worries go down better with soup." How true! Photo by Theresa Raffetto. Adapted from Vegan Soups and Hearty Stews for All Seasons.*
more→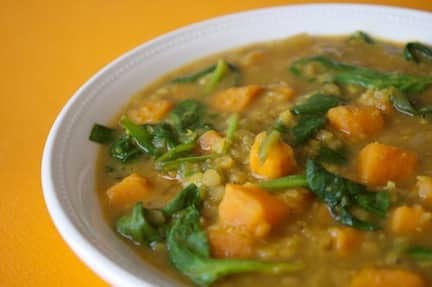 This soup is Dal-icious! It's so flavorful you'll want seconds. and thirds! Recipe and photo contributed by Lindsay S. Nixon, from The Everyday Happy Herbivore* (BenBella Books, 2011).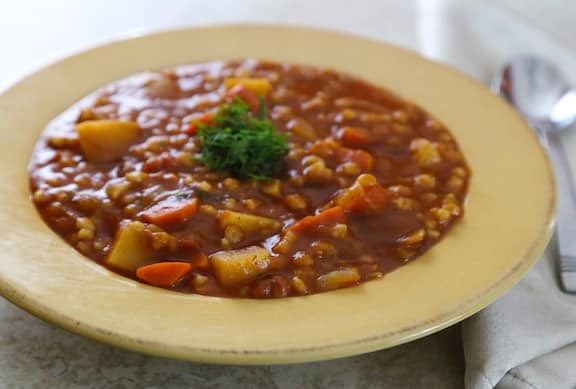 Here's a hearty, full-flavored tomato-barley soup featuring vegetables readily available in the winter. A one-dish meal, serve this with a simple salad. Try one with mixed greens, apples or oranges, and toasted walnuts. For added protein, serve with hummus and fresh whole-grain bread or pita. Photos by Evan Atlas.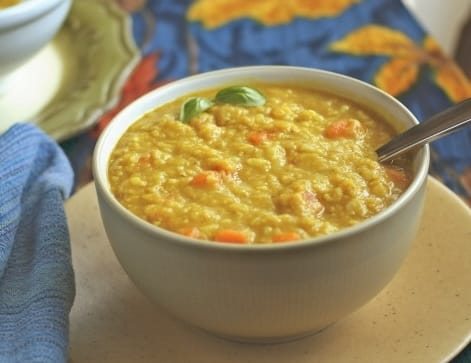 This hearty soup, adapted from Vegan Soups and Hearty Stews for All Seasons, features a variation serendipitously discovered by Ricki Heller of Diet, Dessert, and Dogs. Craving pea soup, Ricki pulled out the book, started the soup, and realized she had no yellow split peas. Undaunted, she quickly substituted red lentils and discovered that the soup works just as well with that substitution. Thanks to Ricki for that inspiration, and for the lovely photo here as well. more→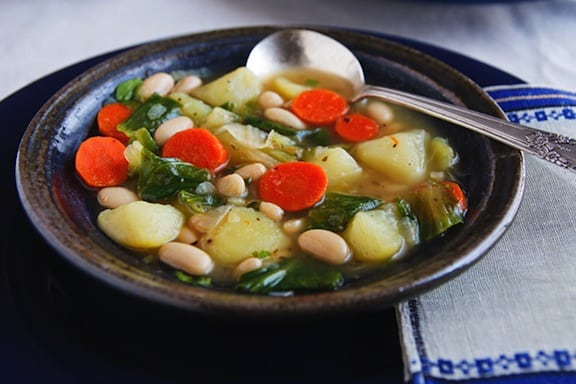 The combination of greens and potatoes makes a comforting soup that's perfect for a chilly day. No escarole? Substitute an equal amount of chard, kale, or mustard greens. Adapted from Wild About Greens. Photo by Susan Voisin of FatFree Vegan Kitchen.
Serves: 6
2 tablespoons extra virgin olive oil
1 medium onion, quartered and thinly sliced
2 to 3 cloves garlic, minced
6 medium or 4 large potatoes, preferably golden, peeled and diced
2 to 3 medium carrots, thinly sliced
32-ounce carton low-sodium vegetable broth
1 teaspoon dried basil
1/2 teaspoon dried thyme
Two cups cooked or one 15- to 16-ounce can cannellini (large white beans)
or chickpeas, drained and rinsed
1 medium head (6 to 8 ounces) escarole, coarsely chopped and rinsed
(or see variations in headnote)
1/2 cup chopped fresh parsley
Salt and freshly ground pepper to taste
Heat the oil in a soup pot. Add the onion and sauté over medium heat until translucent. Add the garlic and continue to sauté until both are golden, stirring frequently.
Add the potatoes, carrots, broth, basil, thyme, and 2 cups water. Bring to a gentle boil, then cover and simmer gently for 20 minutes, or until the potatoes and carrots are tender.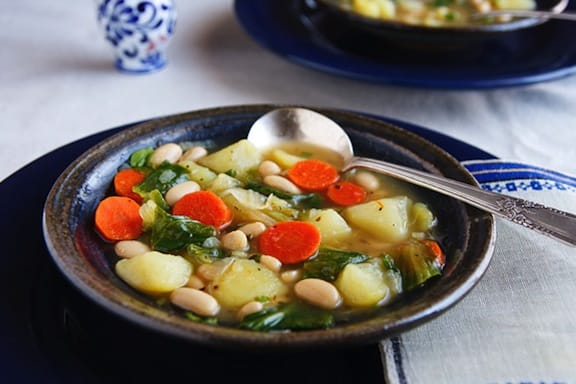 Stir in the beans, escarole, and half of the parsley. Simmer gently for 8 to 10 minutes, or until the escarole is tender.
With the back of a wooden spoon or a potato masher, mash some of the potatoes in the soup to give it a nice base. Stir in water as needed (up to 2 cups). The soup should be thick, but not overly so. Return to a simmer. Stir in the remaining parsley, season with salt and pepper, then serve.
If time allows let the soup stand off the heat for an hour or more before serving, then heat through as needed.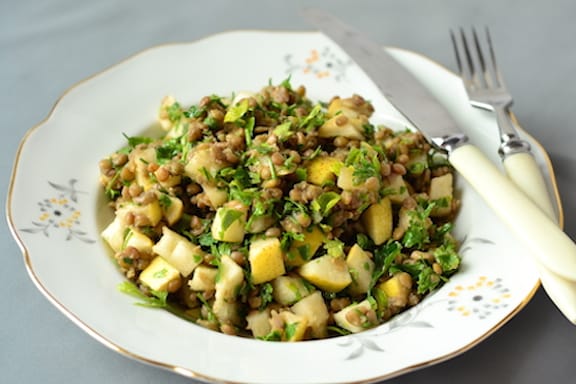 Here's a simple, basic stew of potatoes and lentils that gets its kick from a cool coconut yogurt dressing that's passed around for topping. Serve with a crusty bread or fresh flatbread and a colorful kale salad for a nice cold-weather meal.