Special Occasions and Entertaining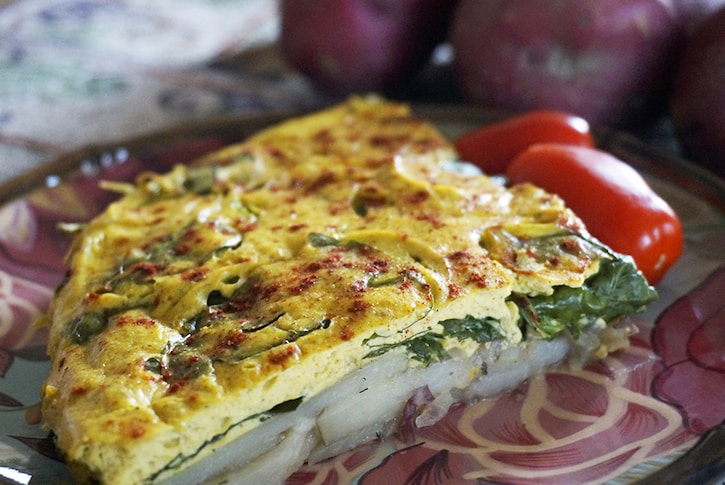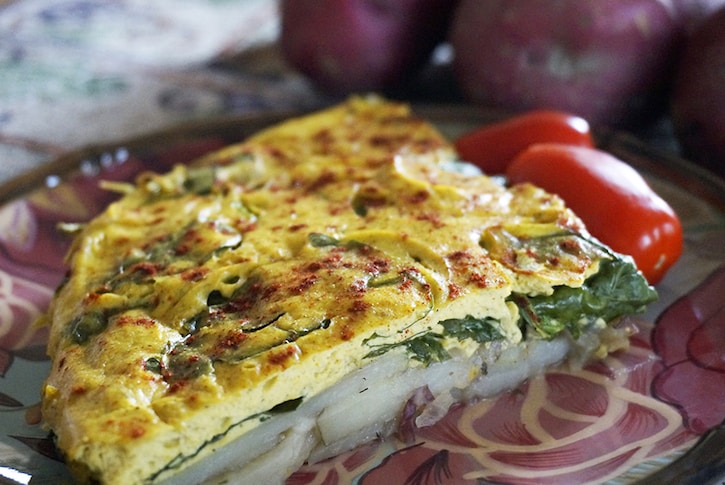 It's frittata time! This authentic-tasting vegan frittata is baked in the oven, making it especially easy to prepare. With a delicious potato/onion base, paired with an herb-infused egg-like filling, this egg-less entrée is a true winner, perfect to serve for any meal of the day.
Recipe and photo by Laura Theodore, from JazzyVegetarian's Deliciously Vegan. Published by Scribe Publishing, ©2018, reprinted by permission. more→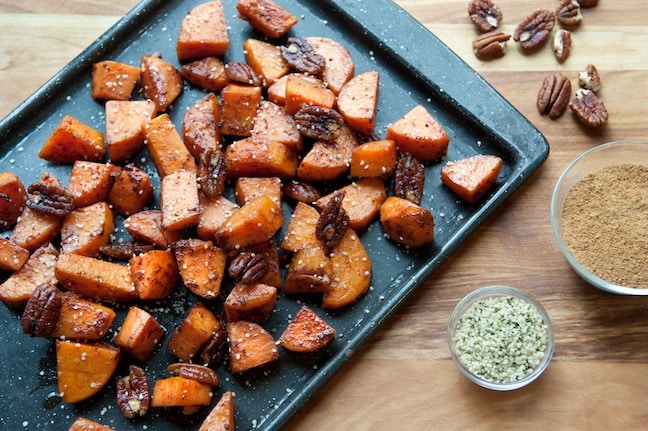 You can make this festive roasted sweet potato dish with yams or sweet potatoes or a combination of both. Generally speaking, garnet yams are sweeter than sweet potatoes. Serve it as part of a vegan Thanksgiving holiday or anytime you want to warm up the house with the sweet aromas of cinnamon and nutmeg. Recipe contributed by Leslie Cerier. Photo by Tracey Eller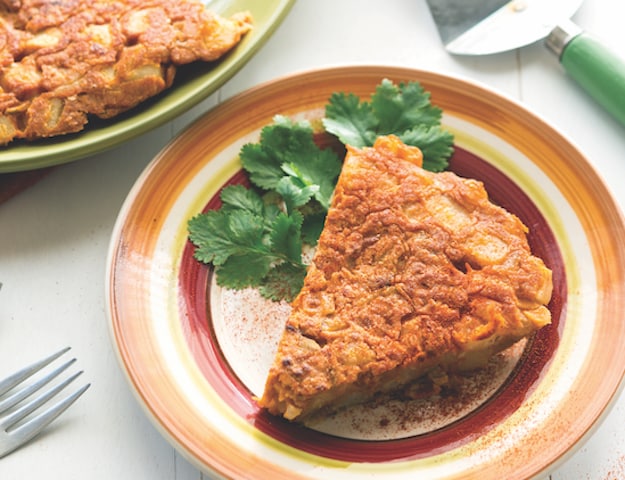 This is my personal vegan twist on the traditional Spanish omelet. I am a big fan of spicy foods, and the smoked paprika is what makes this recipe super fun and different. If you want less spice, simply reduce the amount of paprika. This vegan omelet is delicious served with sautéed vegetables or over raw leafy greens. Recipe by Parisa Salahshourian, VLCE, Spain, from The Main Street Vegan Academy Cookbook by Victoria Moran and JL Fields (BenBella Books, 2017). Reprinted by permission. more→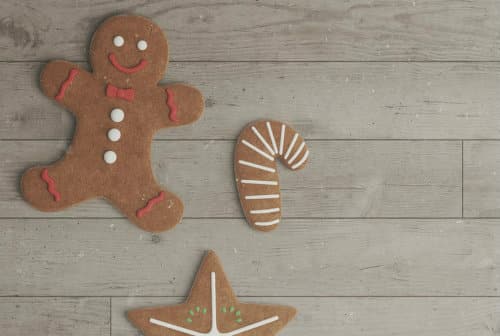 Baking is chemistry, while cooking is more of an art. If certain items are (or are not) present in your formula when you are baking something, then it will change the final product. This is true of vegan and non-vegan baking alike. This article is a look at vegan gingerbread cookies, and what makes one recipe different from another. They are all gingerbread after all, so why would you prefer one recipe to another. This article takes a look at recipes for vegan gingerbread cookies in an attempt to help you find the perfect one for your holiday celebrations.
more→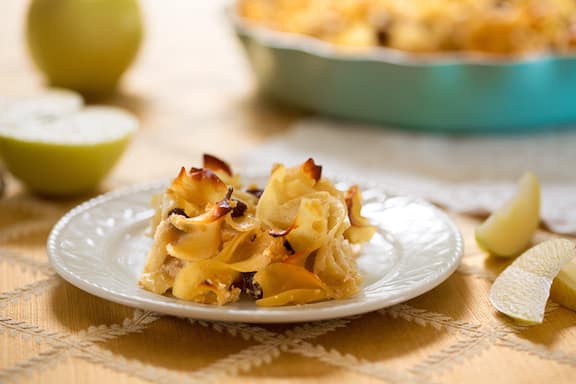 This mildly sweet vegan noodle kugel, made dairy-free, is a classic Jewish comfort food, and always welcome at celebrations such as the Jewish New Year (Rosh Hashanah) and Hanukkah. Adapted from Vegan Holiday Kitchen. Photos by Hannah Kaminsky. more→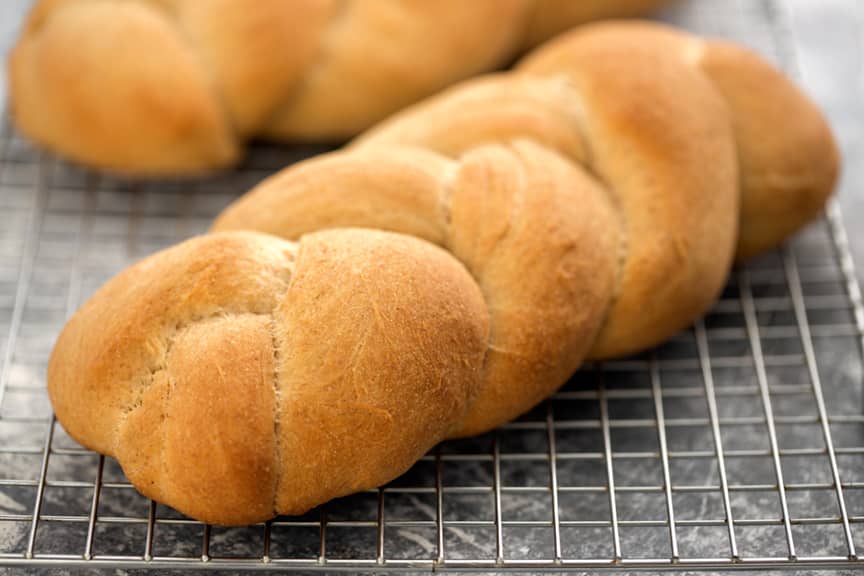 It took a while for a virtual non-baker like me to get the hang of baking without eggs, but I did. One of my first projects was to learn how to bake vegan challah because I wanted my son to continue to enjoy his favorite Friday night ritual, safely. I found that it was easier, safer, and tastier to make it myself, rather, than to relentlessly ask questions at the bakery which only yielded nonchalant responses that could result in a potentially life threatening episode.
Often, my guests ask me for this recipe and as part of my mission, I now pass it on to you. Another benefit of this challah (aside from the fact that it is ridiculously simple) is that it is cholesterol-free for those family members or guests who are on restricted diets. Enjoy! Recipe by Rachel Orenstein Packer. Photos by Hannah Kaminsky. more→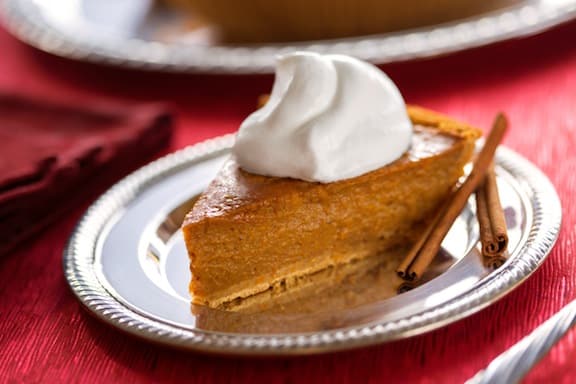 Thanksgiving is the Mother of All Holidays, according to many vegans. There are few special occasions that can compare when it comes to amazing plant-based food choices that celebrate the fall harvest — truly something to be thankful for. And even though the meal can be filling — or indeed, over-filling — leave room for one or two of these delectable vegan Thanksgiving dessert recipes. There are the requisite pumpkin pies, with variations, but if that's not your thing, there are plenty of other appealing options. Make sure to visit our Vegan Thanksgiving Dinner page for an incredible array of options for the entire meal. more→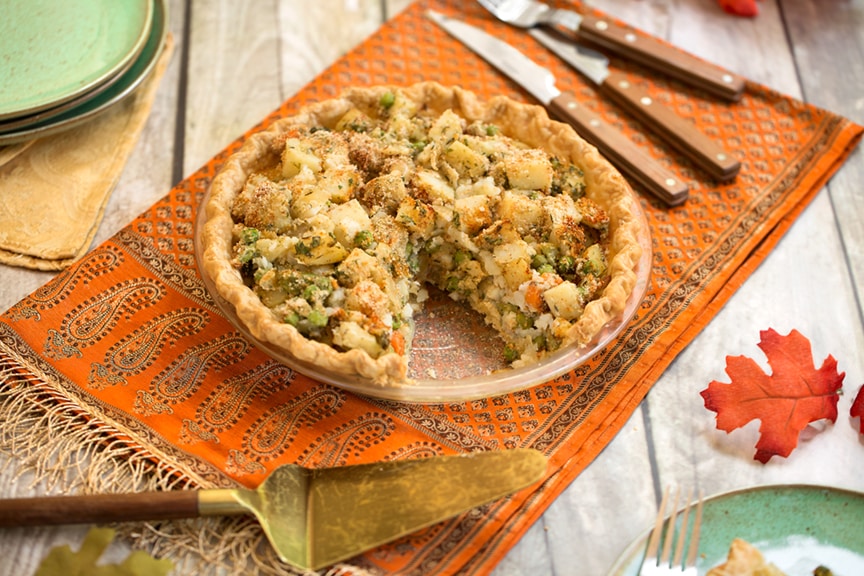 Everyone loves the nostalgic classic, vegetable pot pie. Many VegKitchen readers have let us know that this mild dish of hearty veggies enclosed in pie crust is on their regular cool-weather meal rotation; it's also a crowd-pleasing vegan option for a Thanksgiving or Christmas menu.
Using prepared whole-grain pie crusts makes pot pies a snap to prepare. We like to take them out of the tins they come in, and place them in a similar-sized pie pan. Adapted from The Vegetarian Family Cookbook by Nava Atlas. This recipe makes two pies, for at least 12 servings. For a smaller crowd, to make one pie, halve the recipe. Photos by Hannah Kaminsky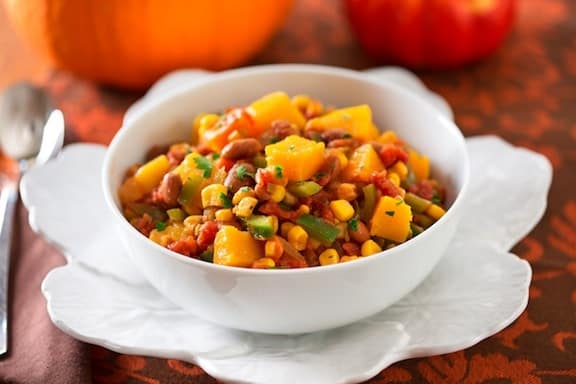 Thanksgiving has gotten to be a more inclusive holiday over the past few years — where once upon a time, the lone vegetarian or two picked at side dishes. Fast-forward to the present, and even full-fledged vegans can enjoy the full feast, from appetizers to desserts. Whether you're going to be a guest or host, you'll want to explore these options for our best vegan Thanksgiving main dish recipes. And make sure to explore our entire array of vegan Thanksgiving dinner recipes.

Three Sisters Stew (shown at top) is somewhat like chili, though it's more about the squash than beans. In Native American mythology, squash, corn, and beans are known as of the "three sisters" — the very crops that the harvest festival of Thanksgiving is meant to celebrate! more→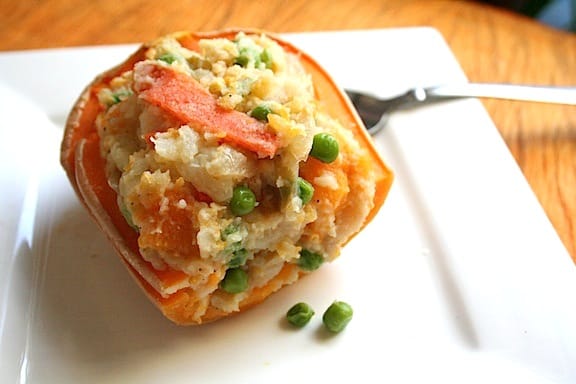 This mild mashed potato-stuffed winter squash makes a great alternative main dish for Thanksgiving, but it's any time during fall harvest season or as a winter comfort food. Double the recipe to feed a bigger crowd. Each stuffed winter squash half can serve as a main dish portion; or cut each half again to make 8 smaller side dish portions. Photos by Rachael Braun.

Winter Squash Stuffed with Mashed Potatoes and Peas
Recipe type:
Winter squash / Thanksgiving
Prep time:
Cook time:
Total time:
This mild mashed potato-stuffed squash makes a great alternative main dish for Thanksgiving, but it's any time during fall harvest season or as a winter comfort food.
Ingredients
2 medium butternut or carnival squashes (1½ to 2 pounds each)
6 medium potatoes, any variety, peeled and diced
1 tablespoon olive oil
1 large onion, chopped
1 large carrot, cut into thick 2-inch-long matchsticks
½ cup unsweetened nondairy milk
1 cup frozen petite green peas, thawed
2 teaspoons salt-free seasoning blend (such as Spike or Mrs. Dash)
Pinch of nutmeg
Salt and freshly ground pepper to taste
Nutritional yeast to taste, optional
Instructions
Preheat the oven to 400 degrees F.
Cut the squash in half lengthwise and remove the seeds and fibers. Cover with aluminum foil and place the halves, cut side up, in a foil-lined shallow baking pan. Bake for 40 to 50 minutes, or until easily pierced with a knife but still firm. When cool enough to handle, scoop out the pulp, leaving a firm ¼- to ½-inch-thick shell all around. Mash the pulp and set side until needed.
Meanwhile, combine the potatoes with enough water to cover in a large saucepan. Bring to a simmer, then simmer steadily, covered, until the potatoes are tender, about 10 to 15 minutes.
Heat the oil in a medium skillet. Add the onion and carrot and sauté over medium heat until the onion is golden and the carrot is tender-crisp. Remove from the heat.
When the potatoes are done, drain them and transfer to a mixing bowl. Add the milk  and mash until smooth. Stir in the onion-carrot mixture, followed by the peas, nutritional yeast, and nutmeg. Add the reserved squash pulp, and stir gently until the mashed potato and squash are well integrated.
Divide the mixture evenly among the four squash shells. Bake for 15 minutes, until well heated through. Serve each half as one substantial portion, or cut each half crosswise to make 8 smaller portions.
Variation: Substitute 1 large sweet potato for 2 of the other potatoes.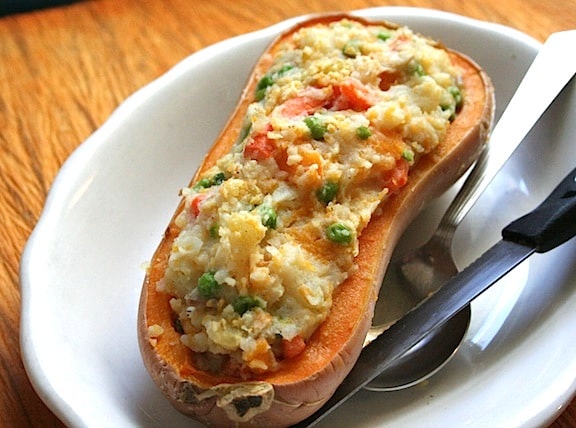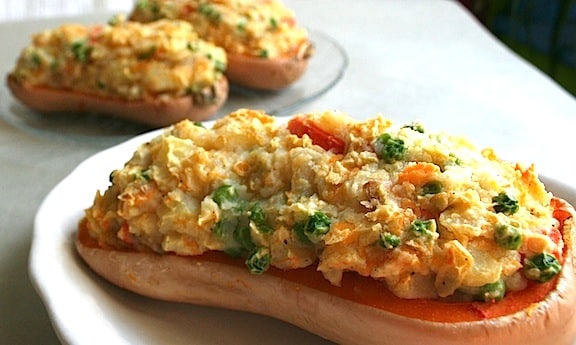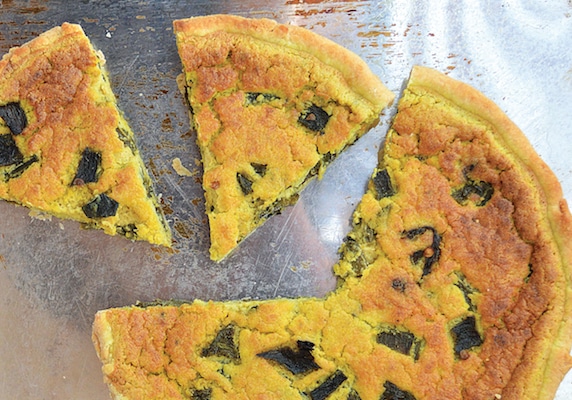 The secret to this creamy, delicious vegan chile relleño quiche is using aquafaba — AKA chickpea liquid. Most poblano chiles are relatively mild, but if you don't want any heat, substitute 2 large green bell peppers instead. Or, if you like more heat, add a few roasted jalapeños to the mix. Recipe and photos from Aquafaba: Sweet and Savory Vegan Recipes Made Egg-Free with the Magic of Bean Water © 2016 by Zsu Dever. Reprinted by permission of Vegan Heritage Press.
more→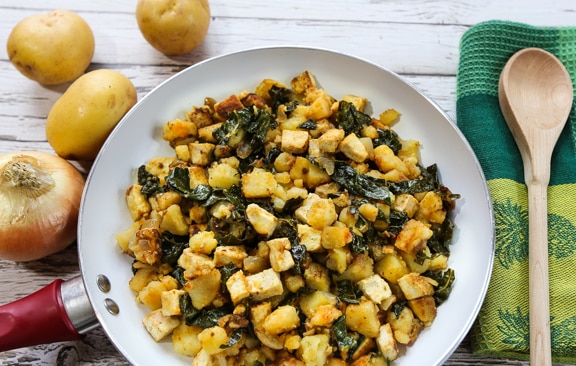 Tofu and potato hash browns is a simple, comforting skillet dish that's just as good for dinner as it is for brunch. Have potatoes cooked ahead of time, and this easy and tasty dish will have your family or guests eating in short order. Leftovers are wonderful for breakfast. Or, if you make this expressly to serve in the morning, you can either microwave or cook the potatoes the night before for a head start. Great accompaniments include orange wedges and fresh whole grain bread. Adapted from The Vegetarian Family Cookbook. more→