Bountiful Vegan Brunches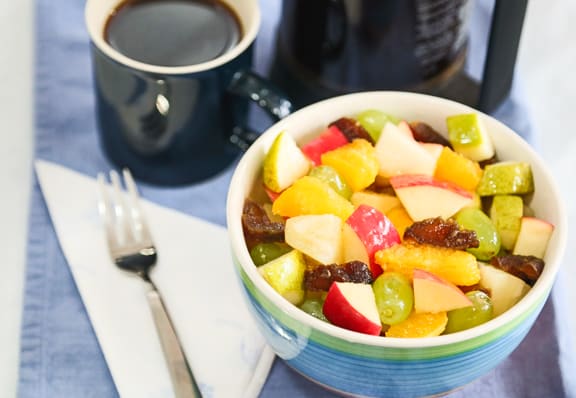 If it's not quite the time for summery fruits, this medley makes the most of winter and early spring fruits for a luscious and refreshing finale to a meal. It makes a nice breakfast or brunch offering as well. Photos by Evan Atlas. more→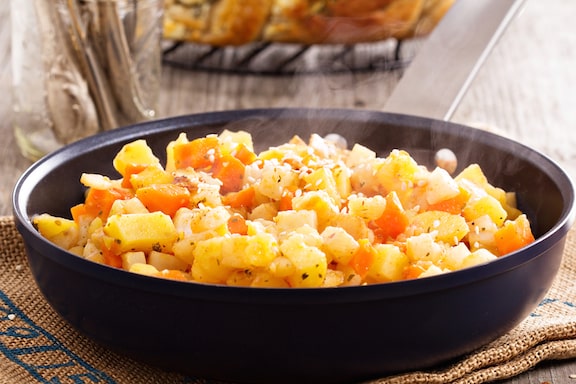 Ordinary potato hash browns are given an interesting twist with the addition of root vegetables — with a choice from among sweet potato, golden beets, turnips, parsnips, etc. Do try the optional tart apple — it adds a delightful flavor. This goes hand-in-hand with tofu scrambles, but you can use it as a cold-weather side dish with bean dishes.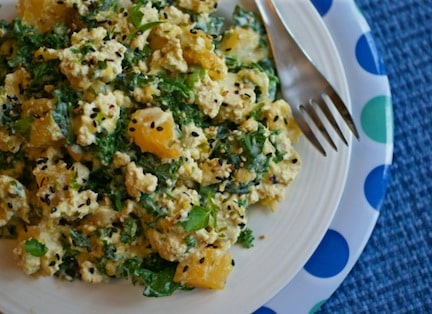 This recipe contributed by Ricki Heller, from Diet, Dessert and Dogs proves that you don't need a ton of ingredients to create a flavorful recipe. This delicious and very pretty tofu scramble features pumpkin or butternut squash and kale, making it perfect seasonal fare for a super-quick dinner (providing that your pumpkin or squash is pre-baked; see VegKitchen's tips here, brunch, or even a hearty breakfast. more→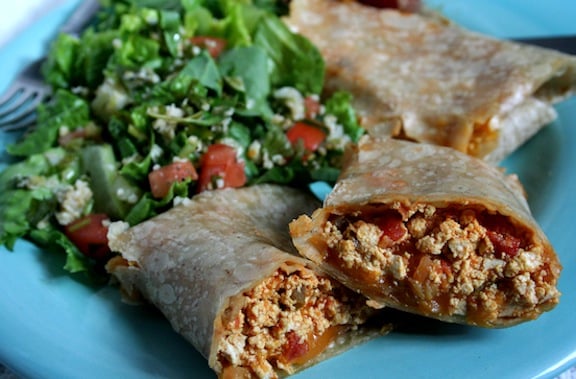 These easy scrambled tofu burritos are excellent as a weekend brunch or breakfast; they also make a nice option for a quick dinner. Serve with a simple potato dish or fresh fruit, and a colorful salad. Photos by Rachael Braun.
more→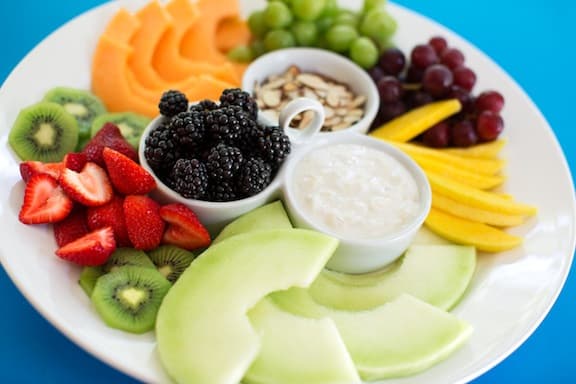 Fresh fruit platters are the best kind of dessert for summer evenings, with berries, melons, and other fruits at their peak. They can also be the main feature of a light brunch served with muffins or other baked goods. Here, quantities are given just as a guideline — they aren't as  important as arrangement—and of course, the fruit should be ripe and luscious. Vary the kind of fruit used according to what's available. Photos by Hannah Kaminsky. more→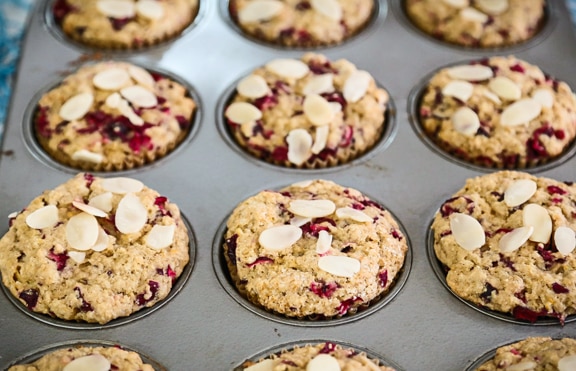 These delicious and healthy vegan muffins or mini-loaves prove that pairing orange and cranberry makes for a lively flavor combination in baked goods. If I'm in the mood to make muffins for a weekend brunch, this is one of my top choices! And for winter holiday baking or giving, this batter is nice made into mini-loaves.This makes 1 dozen muffins, or 3 to 4 mini-loaves. Photos by Evan Atlas. Adapted from The Vegetarian Family Cookbook.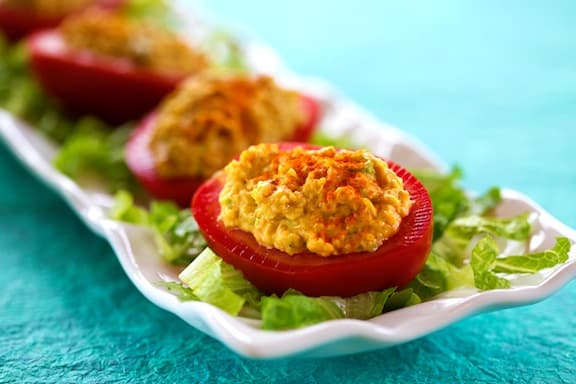 If you no longer eat eggs but have a craving for the retro classic, deviled eggs, you'll really enjoy these deviled tomatoes — a completely vegan rendition. The combination of chickpeas, nutritional yeast, and vegan mayo add up to a fairly egg-like flavor and consistency. And these are even easier to make than the originals. Though these are somewhat spring-y (for instance, they'd be a lovely vegan Easter appetizer) they can be a treat any time of year for brunch, as an appetizer, or even to pack into the lunch box in a container. These are rather addictive, and with no worry about cholesterol, be prepared for them to disappear quickly! Photos by Hannah Kaminsky.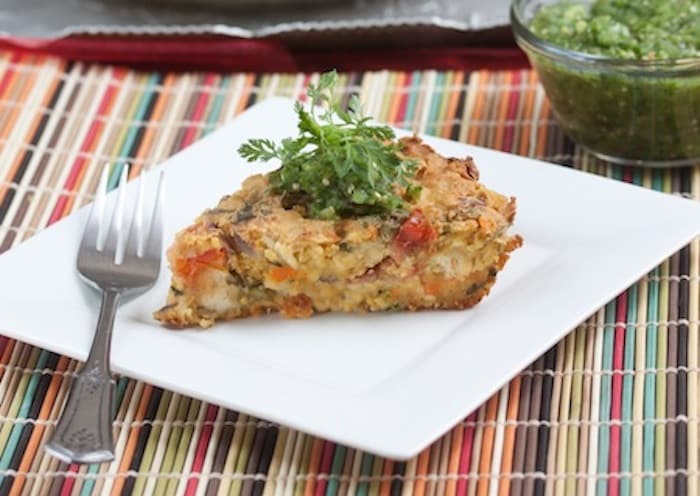 This quick frittata is one of the most requested dishes in my household. It can easily have countless variations by using seasonal vegetables from your local farmer's market in place of the ones listed. Try shredded kale instead of asparagus and zucchini in place of the carrot for a fun twist or try adding minced red pepper for a dash of color.  Recipe and photo contributed by Allyson Kramer, from Great Gluten-Free Vegan Eats Around the World* ©2013 Fair Winds Press, reprinted by permission. more→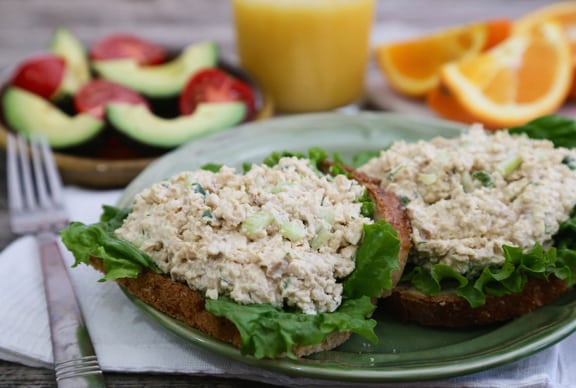 This sandwich spread is so simple, yet every time I make it, it disappears quickly. Even tofu skeptics love it. Since all you really need for this is the first three ingredients, it hardly qualifies as a recipe, and you won't even need to consult this after you make it once. The last two ingredients, though entirely optional, are highly recommended. If I'm having guests for lunch or brunch on weekends, I often make a batch of this as an extra, no matter what else I'm serving. Photos by Evan Atlas. more→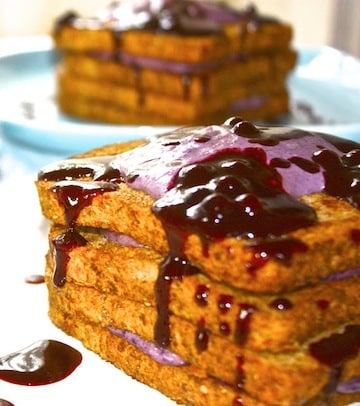 What to make for a late morning brunch… too cold for a smoothie, not really up for oatmeal… haven't had french toast for a while so I thought, why not make it a little different and a lot special…
There are three components to this fantastic, healthy dish: the french toast itself, the blueberry "cream" cheese stuffing and the blueberry syrup… of course you can use any or all of them separately for other yummy, nutrient-dense meals. Contributed by Helyn Dunn from her blog Helyn's Healthy Kitchen. more→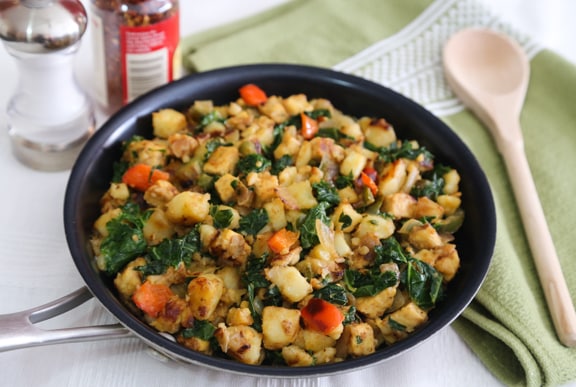 A hearty vegan spin on a "meaty" classic, this skillet hash of potatoes and high-protein tempeh (embellished with bell pepper and kale) is as good served as a quick dinner as it is an offbeat and hearty breakfast. For breakfast or brunch, serve with fruit; add whole-grain bread for a heartier meal. For a quick dinner, serve with an abundant tossed salad, whole grain bread, and orange slices. Photos by Evan Atlas. more→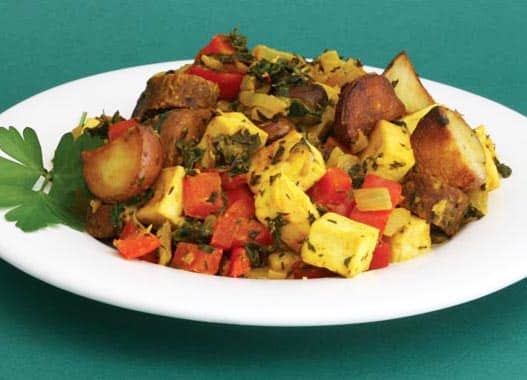 This homestyle favorite, made with potatoes, onions, peppers, and vegan sausage, makes a hearty brunch or dinner. Contributed by Tamasin Noyes, from American Vegan Kitchen
more→