Jewish New Year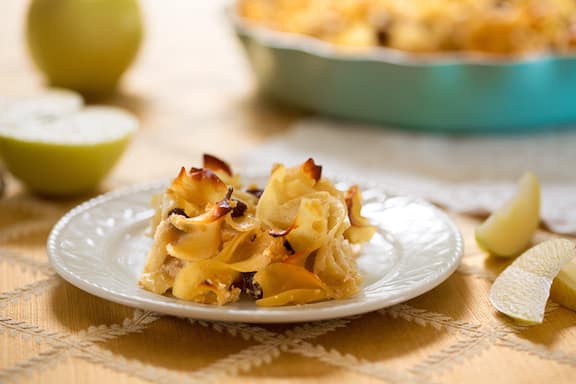 This mildly sweet vegan noodle kugel, made dairy-free, is a classic Jewish comfort food, and always welcome at celebrations such as the Jewish New Year (Rosh Hashanah) and Hanukkah. Adapted from Vegan Holiday Kitchen. Photos by Hannah Kaminsky. more→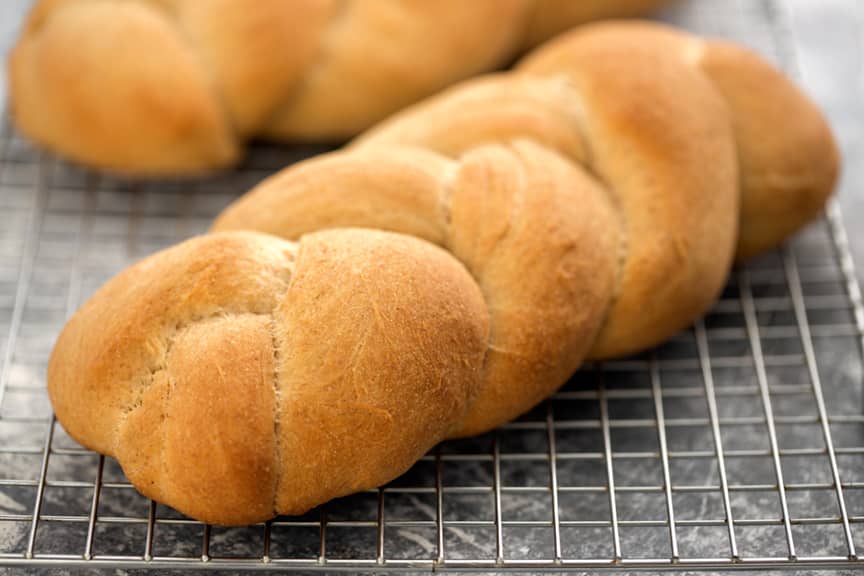 It took a while for a virtual non-baker like me to get the hang of baking without eggs, but I did. One of my first projects was to learn how to bake vegan challah because I wanted my son to continue to enjoy his favorite Friday night ritual, safely. I found that it was easier, safer, and tastier to make it myself, rather, than to relentlessly ask questions at the bakery which only yielded nonchalant responses that could result in a potentially life threatening episode.
Often, my guests ask me for this recipe and as part of my mission, I now pass it on to you. Another benefit of this challah (aside from the fact that it is ridiculously simple) is that it is cholesterol-free for those family members or guests who are on restricted diets. Enjoy! Recipe by Rachel Orenstein Packer. Photos by Hannah Kaminsky. more→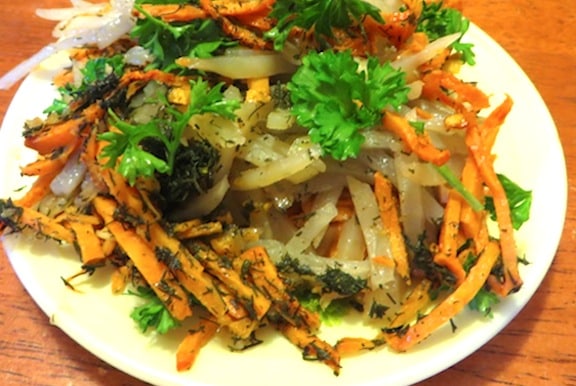 This potato kugel (which is a baked pudding or a casserole) is reminiscent of my grandmother's, but I kicked up the nutritional profile a bit with the inclusion of sweet potatoes and taking out the eggs. This version is less rich but still full of potato-y comfort, a cross between hashed browns and scalloped potatoes, and a great side dish at a Passover meal. Being gluten-free, I omitted the traditional matzo meal, but feel free to add that as described if you have no issues with wheat. By the way, a mandolin slicer works great for getting the potatoes into uniform matchsticks. Recipe and photo contributed by Maria Rose from Vegan Street.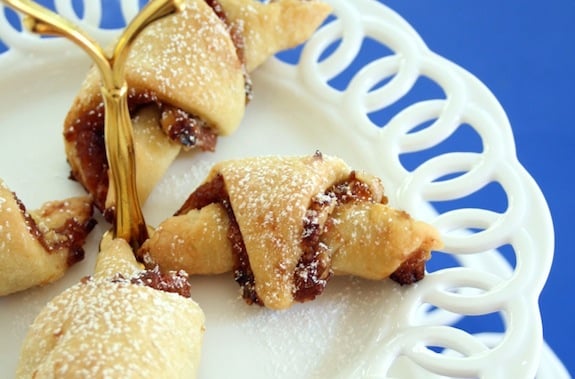 Apples and honey are the traditional treat to celebrate the Rosh Hashana, in hopes that it will be a sweet New Year. Apples and agave or maple syrup have always provided this same sentiment just fine, but now I have something even better to kick off a new 365 days with. Rolling up a mixture of walnuts, apples, agave, and just a tiny touch of orange blossom water for that floral hint you'd find in honey, the standard buttery rugelach dough becomes a whole lot more special. more→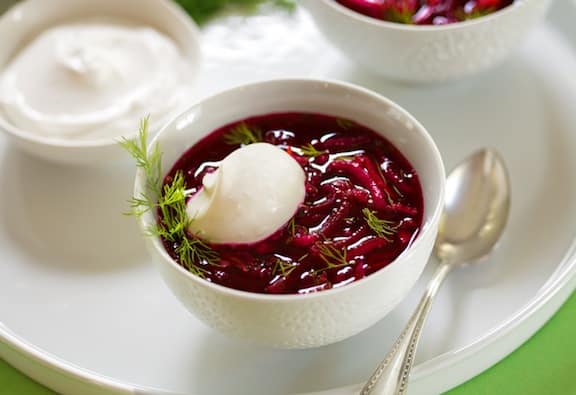 The ingredients of classic cold beet borscht are usually cooked together, then chilled, but in this version, there's no need to cook at all, unless you'd like to lightly pre-cook the beets. After this has a chance to chill, don't be shy about amping up the lemon/agave contrast to your taste. Photos by Hannah Kaminsky. more→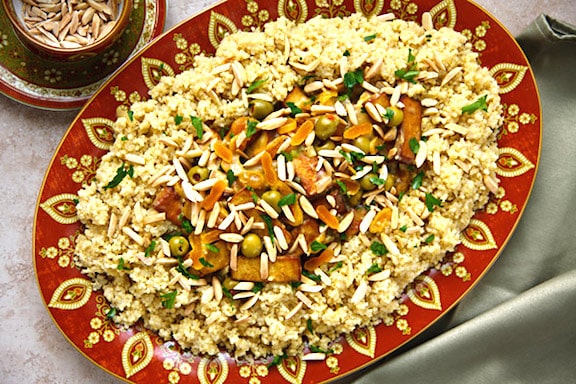 Bursting with an offbeat combination of flavors—salty, sweet, mellow, and tart—this recipe is inspired by a classic Moroccan recipe. This is a wonderful choice for a vegan main dish for a Jewish New Year (Rosh Hashanah) menu. Most of the original ingredients remain in this veganized recipe; the baked tofu stands in for the chicken customarily used in this dish. Don't be daunted by the ingredient list; it's an easy dish that comes together quickly and is also a feast for the eyes. Recipe adapted from Vegan Holiday Kitchen. Photos by Susan Voisin.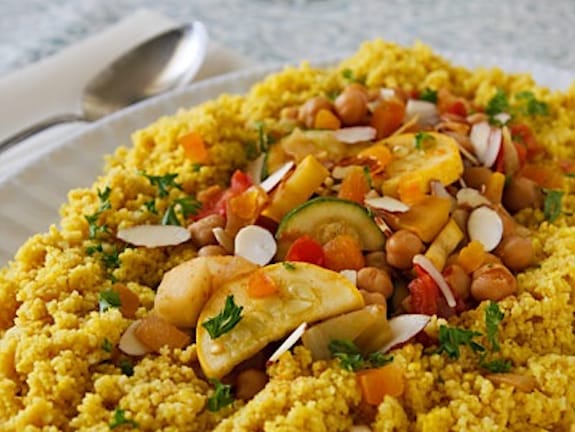 Seven is a lucky number in Jewish tradition, so a soup or stew featuring seven vegetables is a Rosh Hashanah (Jewish New Year) favorite among Sephardic Jews. Despite the longish ingredient list, it's easy and quick enough to serve as a mid-week main dish even if you don't observe the Jewish New Year. Feel free to replace other veggies for the ones listed below. Want a gluten-free version? Substitute  quinoa for the couscous. From Vegan Holiday Kitchen. Photo by Susan Voisin, FatFree Vegan Kitchen.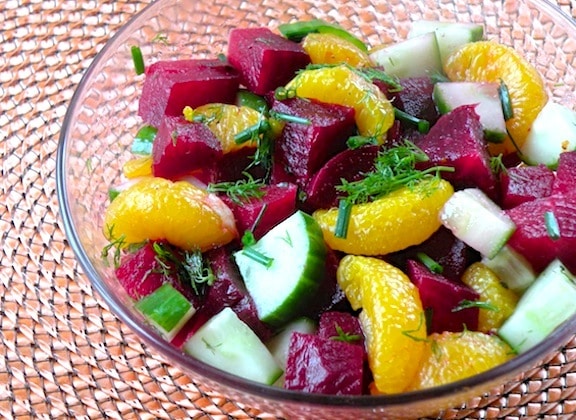 If you like beets, you'll absolutely love them combined with the crunch of cucumber and the sweetness of citrus. This salad can be enjoyed all through fresh orange season, adding color and flavor to cool-weather meals. It's also a festive salad to add to fall and winter holiday meals.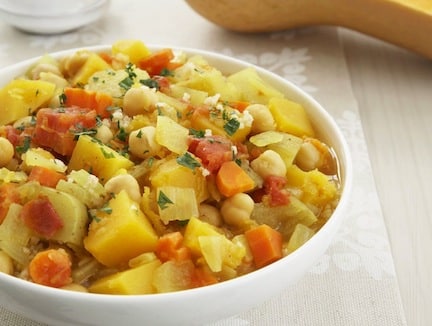 This delicious Moroccan-inspired stew looks as good as it tastes. It's a wonderful way to warm up cold season dinners, with sweet sugar pumpkin or butternut squash in an aromatic broth. This can also be a wonderful choice for fall Jewish holidays — Rosh Hashanah (Jewish New Year)and Sukkoth. Adapted from Vegan Soups and Hearty Stews for All Seasons by Nava Atlas. Photo by Theresa Raffetto.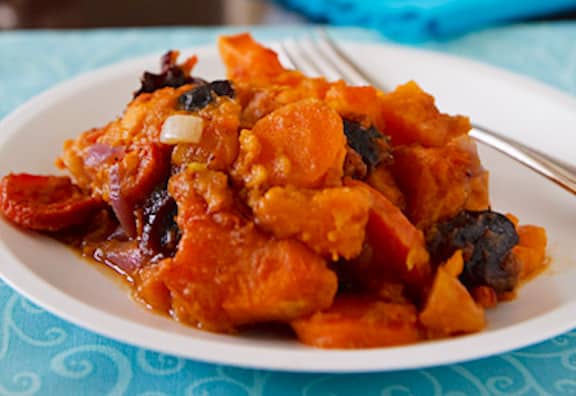 An Eastern European standard, tzimmes is a roasted vegetable dish that is made a number of ways, depending on the occasion. For the Jewish New Year, Rosh Hashana, the appropriate ingredients include carrots and sweet potatoes, with the added sweetness of fresh and dried fruits. Recipe adapted from Vegan Holiday Kitchen. Photos by Susan Voisin.

Sweet Potato Tzimmes
Recipe type:
Jewish holiday
Cuisine:
Vegan / Jewish New Year / Healthy
Prep time:
Cook time:
Total time:
Ingredients
2 tablespoons olive oil
1 cup chopped onions
3 large carrots, sliced
3 large sweet potatoes, cooked, baked, or microwaved in their skins, then peeled and sliced
1 large apple or pear, cored and sliced
½ cup chopped prunes
¼ cup chopped dried apricots
½ cup orange juice, preferably freshly squeezed
1½ teaspoons cinnamon
½ teaspoon each: ground ginger and salt
⅓ to ½ cup chopped walnuts, optional
Instructions
Preheat the oven to 350 degrees F.
Heat the oil in a large skillet. Sauté the onions over medium heat until translucent. Add the carrots and continue to sauté until onions and carrots are golden.
In a mixing bowl, combine the onion-carrot mixture with all the remaining ingredients except walnuts. Mix thoroughly; don't worry if the potato slices break apart.
Transfer the mixture to a large, oiled, shallow baking dish (a round or oval shape is attractive). Sprinkle the optional walnuts over the top.
Bake for 45 to 50 minutes, or until the top begins to turn slightly crusty. Serve hot or warm from the baking dish.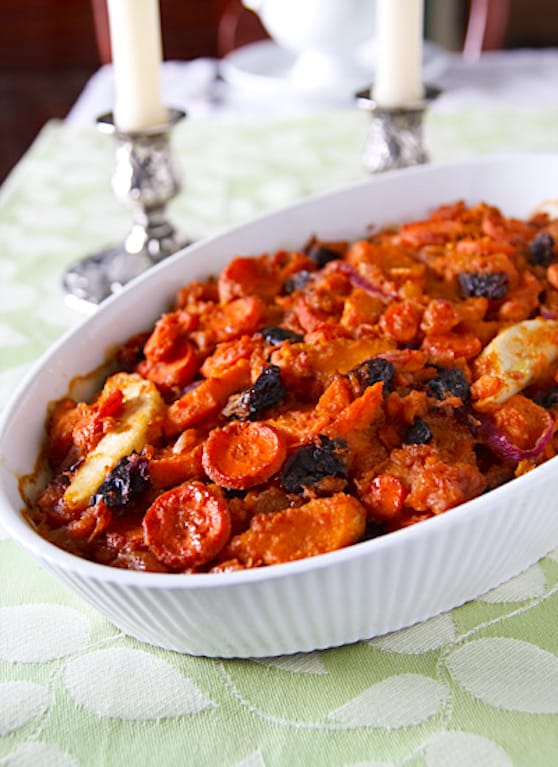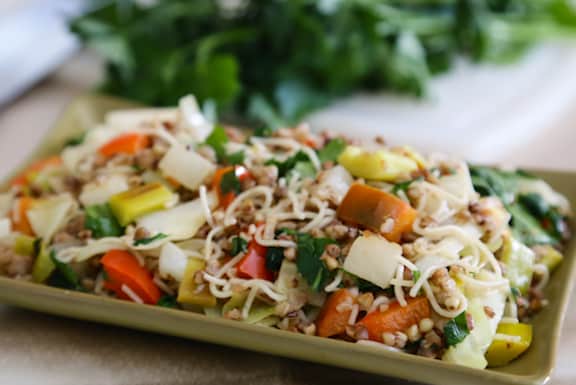 Buckwheat groats, or kasha, lend an invigorating texture and distinctive flavor to this enticing grain dish. Featuring colorful and crunchy veggies, think of this as a more colorful and contemporary version of kasha varnishkes. It's a nice choice for a main dish for vegans at the Jewish New Year table, and a side dish for everyone else. Photos by Evan Atlas.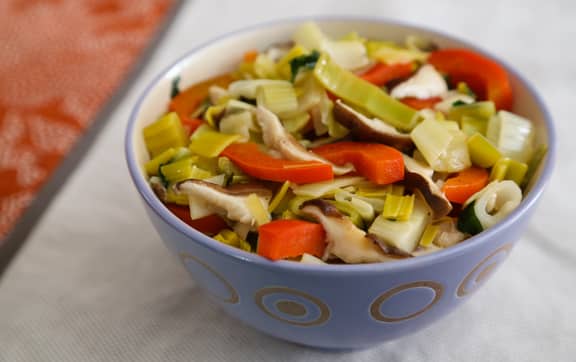 This naturally well-flavored side dish of sweet leeks and bell peppers (plus tasty shiitake mushrooms) goes well with just about any kind of simple plant-based protein entrée — tofu, tempeh, beans, or grains. Photos by Evan Atlas. more→