A Colorful Vegan Christmas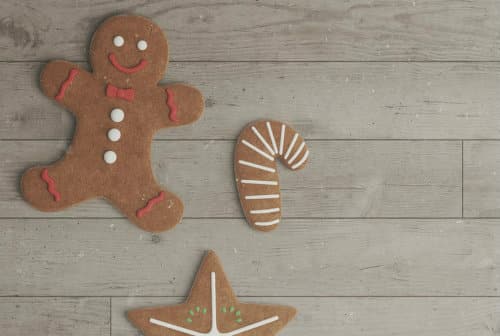 Baking is chemistry, while cooking is more of an art. If certain items are (or are not) present in your formula when you are baking something, then it will change the final product. This is true of vegan and non-vegan baking alike. This article is a look at vegan gingerbread cookies, and what makes one recipe different from another. They are all gingerbread after all, so why would you prefer one recipe to another. This article takes a look at recipes for vegan gingerbread cookies in an attempt to help you find the perfect one for your holiday celebrations.
more→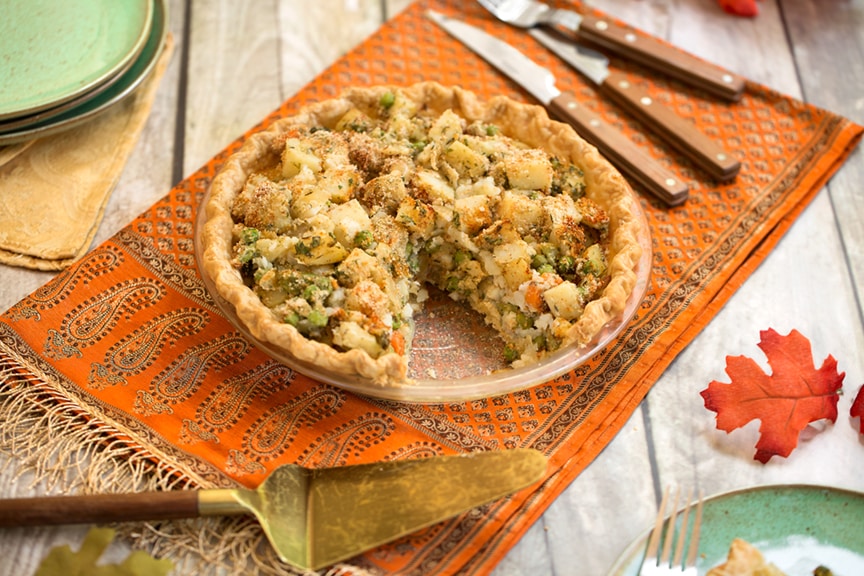 Everyone loves the nostalgic classic, vegetable pot pie. Many VegKitchen readers have let us know that this mild dish of hearty veggies enclosed in pie crust is on their regular cool-weather meal rotation; it's also a crowd-pleasing vegan option for a Thanksgiving or Christmas menu.
Using prepared whole-grain pie crusts makes pot pies a snap to prepare. We like to take them out of the tins they come in, and place them in a similar-sized pie pan. Adapted from The Vegetarian Family Cookbook by Nava Atlas. This recipe makes two pies, for at least 12 servings. For a smaller crowd, to make one pie, halve the recipe. Photos by Hannah Kaminsky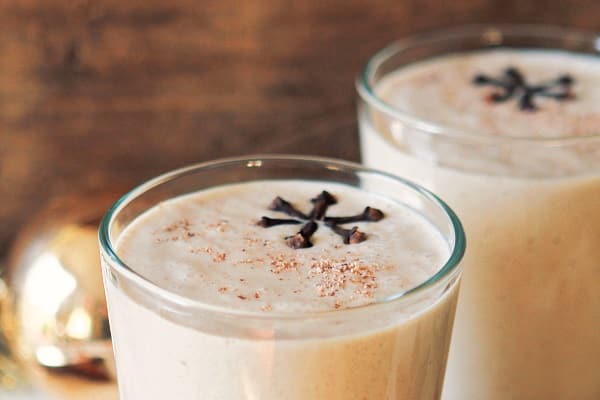 It can sometimes be tough to be vegan around the holidays. You have to content yourself with side dishes while your family eats turkey and asks you the same annoying questions about your diet.
But luckily, your holiday meal doesn't just have to be about hunger and interrogation. Bringing some of these vegetarian entrees for Thanksgiving, or vegan side dishes to any holiday meal is a great way to both feed yourself and give your relatives a taste of the vegetarian lifestyle. more→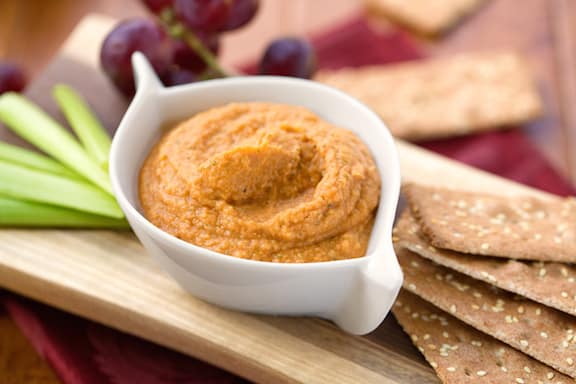 Here's an old standby that never fails to please — a savory spread based on creamy white beans, accentuated with sun-dried tomatoes. Serve with raw vegetables and crispbreads. Make the sliceable version of Smoky Cheddar Cheez and serve with crisp red grapes for a lovely array of appetizers. Photos by Hannah Kaminsky.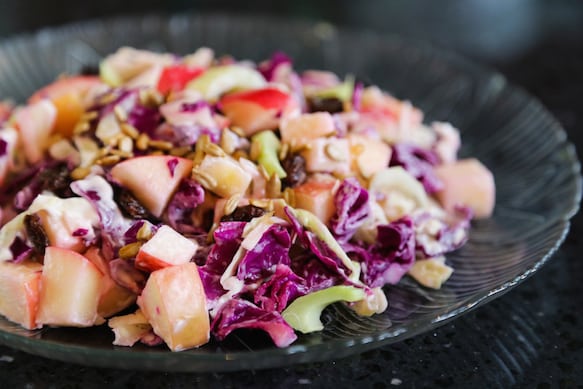 This colorful and naturally sweet slaw is a medley of cabbage, apples, and raisins with an appealing crunch. It's great for everyday as well as holiday meals. Photos by Evan Atlas. Adapted from The Vegetarian Family Cookbook. more→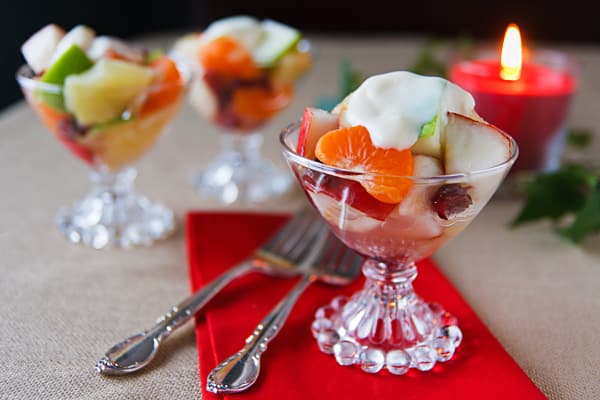 This simple and pretty combination of winter fruits — pears, apples, oranges, and pineapple, spiced with crystallized ginger — is a refreshing finish to any meal. It's pretty enough to serve as a Christmas dinner dessert, accompanied by your favorite cookies. Recipe adapted from Vegan Holiday Kitchen. Photos by Susan Voisin.
more→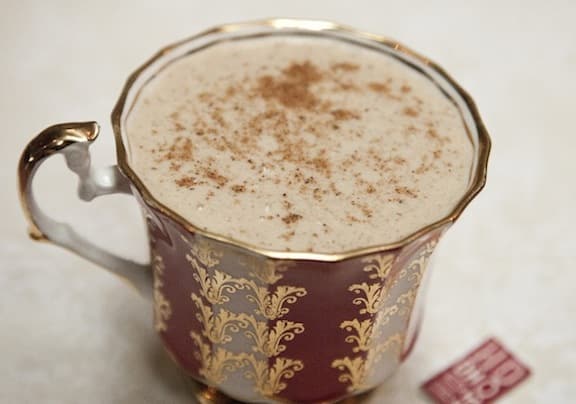 Eggnog is the official beverage of December. It's rare to encounter it any other time, and truly is Christmas spirit in a cup.  We were so pleased when we whipped up this vegan eggnog mixture and created an egg-free version to sip with some spiced rum or on its own. Extra nutmeg always welcome! Recipe and photo contributed by Samantha Shorkey, from The Vegan Project. To order What to Feed that Effing Vegan: The Holiday Edition, VegKitchen readers can get this instantly downloadable pdf e-book for just $5 (regularly $7) by entering coupon code: thateffingvegkitchen — which includes 20+ delicious recipes to create a full course holiday dinner plus appetizers, brunch, cocktails, desserts and many gluten-free options! more→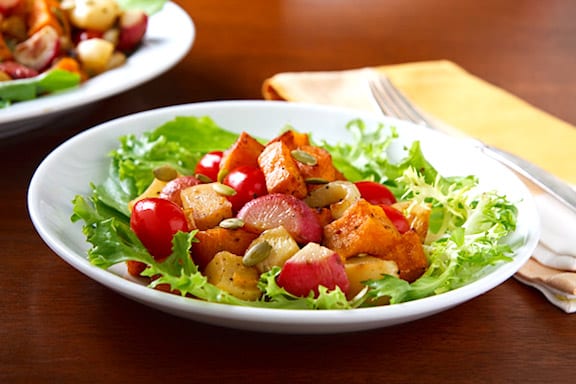 Root vegetables are so abundant in the fall, and come in so many earthy hues. Roasting roots in a hot oven is the best way to bring out their mellow, slightly sweet flavors. Since they taste just as good at room temperature as they do hot, they're presented here in an altogether appetizing salad. Recipe adapted from Vegan Holiday Kitchen. Photos by Susan Voisin.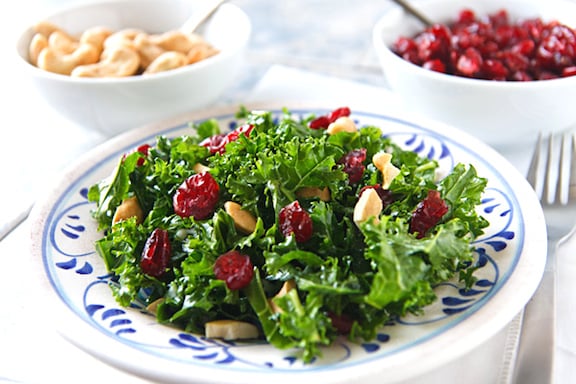 Here's a basic recipes for massaged kale salad, with lots of ways to vary it. You can toss in some slivered baby carrots, substitute another kind of nut, add a bit of thinly shredded red cabbage for extra color, or sliced celery or bok choy for extra crunch. Even in its simple form, as presented here, it's luscious and festive, and just as welcome for everyday as well as holiday meals. Its colors make it especially nice for a vegan Thanksgiving or Christmas meal. Recipe adapted from Vegan Holiday Kitchen. Photos by Susan Voisin.

more→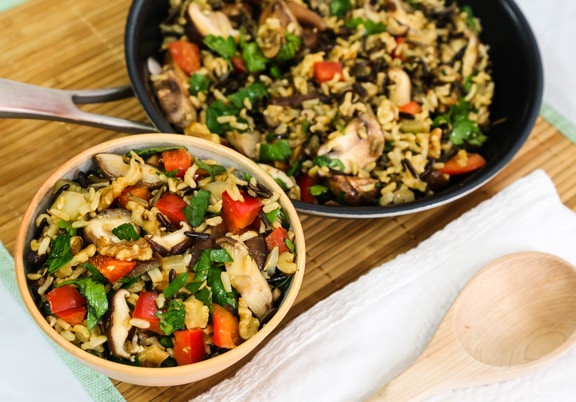 Rich with nutty, invigorating flavors, this earthy wild rice and mushroom pilaf is good served warm or at room temperature. It's a perfect side dish for the Thanksgiving or Christmas table, though you need not wait for a special occasion to enjoy it. Photos by Evan Atlas. more→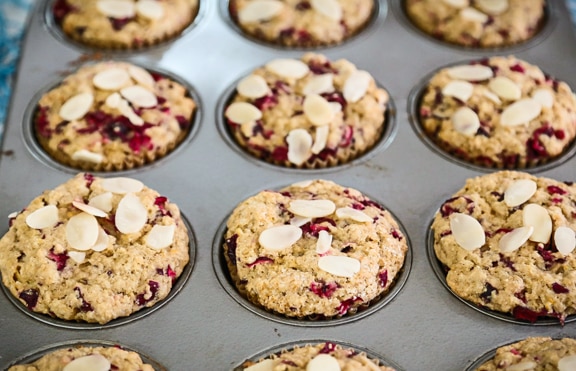 These delicious and healthy vegan muffins or mini-loaves prove that pairing orange and cranberry makes for a lively flavor combination in baked goods. If I'm in the mood to make muffins for a weekend brunch, this is one of my top choices! And for winter holiday baking or giving, this batter is nice made into mini-loaves.This makes 1 dozen muffins, or 3 to 4 mini-loaves. Photos by Evan Atlas. Adapted from The Vegetarian Family Cookbook.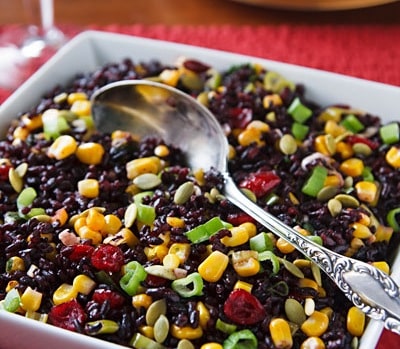 This delectable dish of black or wild rice, corn, and cranberries is a festive eyeful, but it's too good to save for only special occasions, and too simple not to make for everyday meals. It makes a gorgeous holiday side dish, or, stuffed into small squashes, a great vegan main dish. Recipe from Vegan Holiday Kitchen by Nava Atlas. Photo by Susan Voisin.