Tofu, Tempeh, and Seitan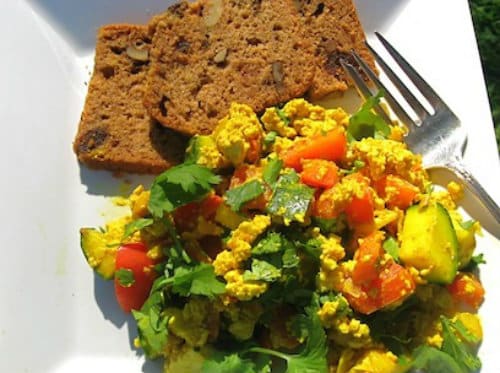 Tofu scrambles are great for any brunch party. Tofu scrambles are versatile, and they can be customized to any theme, season, or flavor pallet. Once you set the theme of your brunch party, you can very likely find a scramble that will compliment that theme. The best part about making a Tofu scramble for your brunch party is that they are simple to make! Here are a few recipe ideas of tofu scrambles that can help you get started planning your next brunch.
more→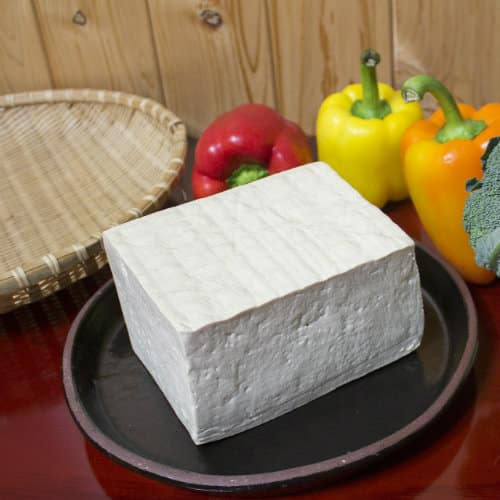 Tofu has become very popular in the United States, and it is an essential element in most vegan diets. The soy-based product is incredibly versatile, and it can be used in several cuisine applications. But, where did it come from and how is it made?  Here is a little history and some fun facts about tofu that you may not have known about this food that we love.  
more→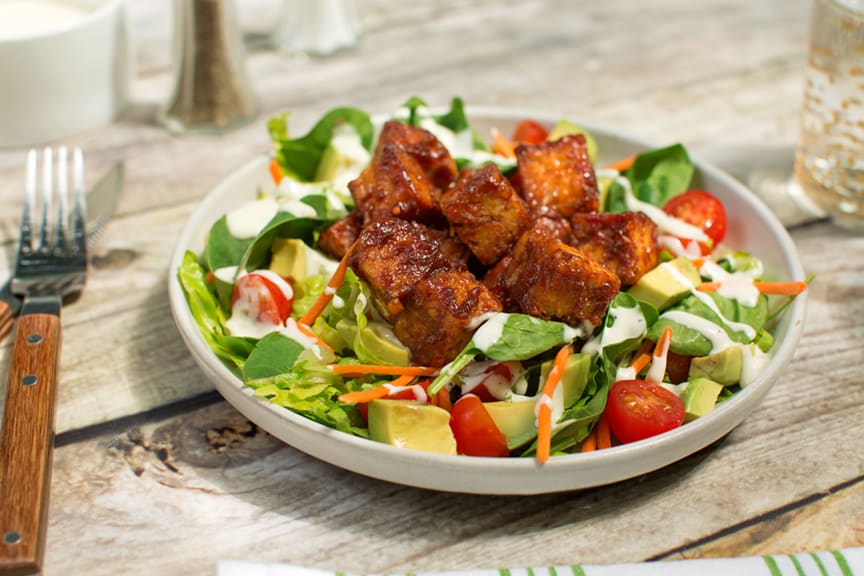 The synergy between hearty BBQ tempeh croutons and crisp salad veggies dressed in creamy vegan ranch dressing is most appealing. First presented as one of our Vegan Dinner Hacks, paired with sweet potato fries, this is a more formal recipe. But not so formal that you have to follow this recipe precisely — far from it. The barbecue-flavored tempeh croutons make any salad hearty and satisfying; you can vary the kinds of salad veggies here as you'd like. more→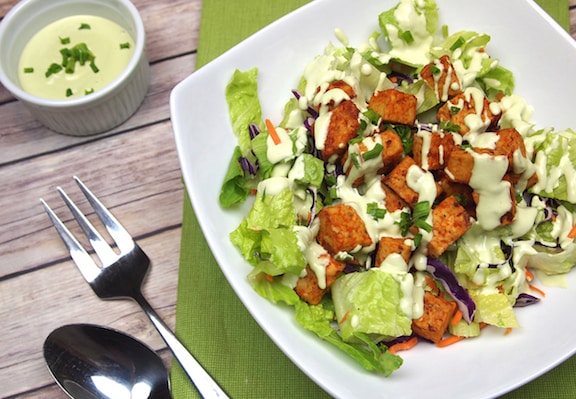 This luscious Buffalo tempeh salad offers up the contrast of spicy tempeh and cool creamy vegan ranch dressing on a crisp salad. If you're sensitive to tempeh's fermented taste, steam the cubes before marinating to tone it down. Steaming will also help the tempeh soak up more of the marinade. Recipe and photos by Dianne Wenz of Dianne's Vegan Kitchen, reprinted by permission. more→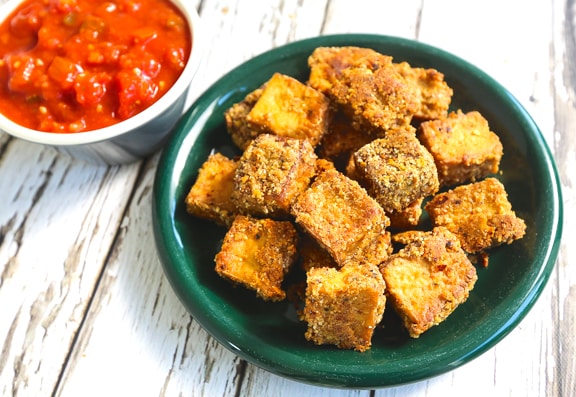 Lots of people come to VegKitchen searching for vegan chicken so we thought we'd accommodate with this easy and tasty recipe for nuggets. If there's a growing desire to avoid eating the bird (the chicken industry is beyond cruel, and terrible for the planet), we're all in. And tasty nuggets are as simple as can be to prepare. Kids will love these with ketchup (wouldn't you rather give your kids breaded tofu than "pink slime"?); adults will relish them with salsa, BBQ sauce, or other hot stuff. Truth be told, they're great plain, too.
It seems trivial to open an entire can of beans to use 2 tablespoons of the liquid, but that's the secret to getting the breading to stick to the surface of the nuggets. My favorite for this is none other than chickpea liquid, aka aquafaba, but you can use the liquid from any other beans instead.
more→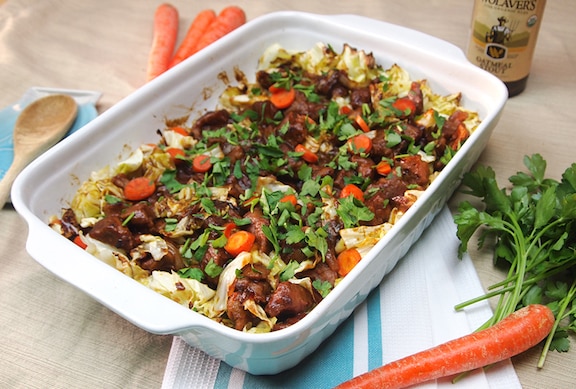 Despite being part Irish, my family never really did anything to celebrate St. Patty's day while growing up. There was no Irish soda bread, no corned beef and cabbage, no colcannon. Since it's turned into a bit of a foodie holiday, I wanted to make something to celebrate my Irish heritage a few years ago, but there were no family recipes to veganize.
I came across an interesting dish in an issue of Better Homes and Gardens, and it seemed perfect for converting. This cabbage casserole has become a St. Patrick's Day favorite in my house, but of course, it's perfect for dinner any day of the year. more→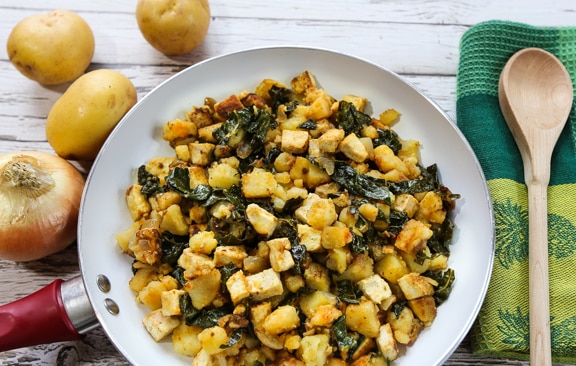 Tofu and potato hash browns is a simple, comforting skillet dish that's just as good for dinner as it is for brunch. Have potatoes cooked ahead of time, and this easy and tasty dish will have your family or guests eating in short order. Leftovers are wonderful for breakfast. Or, if you make this expressly to serve in the morning, you can either microwave or cook the potatoes the night before for a head start. Great accompaniments include orange wedges and fresh whole grain bread. Adapted from The Vegetarian Family Cookbook. more→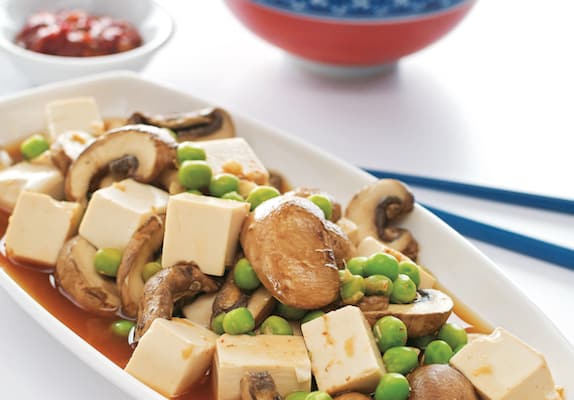 Mapo Tofu is one of the easiest Chinese dishes to throw together, even when you're too tired to cook. Since it's a stew instead of a stir-fry, you don't have to concentrate the entire time. It's full of flavor, with ginger, mushrooms and tofu in a spicy red sauce. Recipe and photo reprinted with permission from The Easy Vegan Cookbook by Kathy Hester ©2015, published by Page Street Publishing.
more→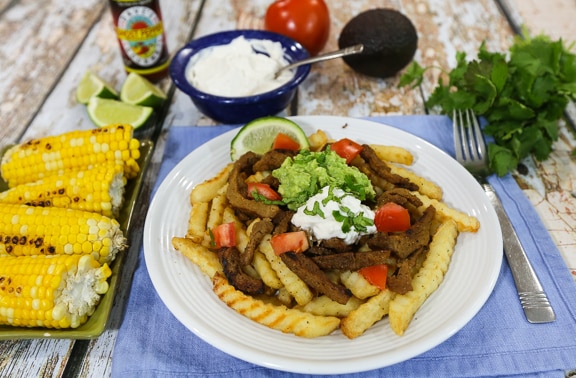 Carne asada fries exemplify how an offbeat local food trend takes off and goes national. An odd combination of french fries, avocado, sour cream, and in its original form, strip steak, this dish originated in San Diego in the 1990s and soon became a standard in casual Mexican restaurants in the American Southwest. Now it's on the menu in such eateries nationwide. I first had vegan carne asada fries at Mexican Radio in Hudson, NY, and understood why this hearty dish took off. How great that it can be made with seitan instead of meat! You can also use another meat substitute like jackfruit. more→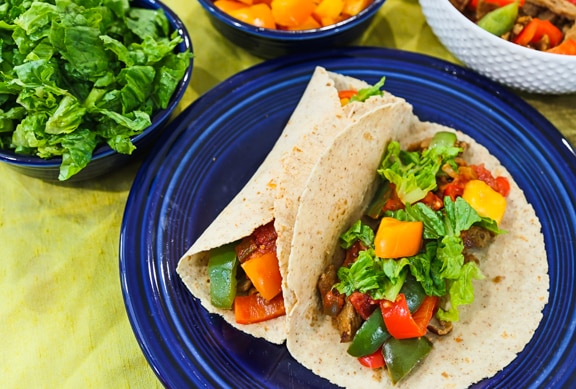 Strips of high-protein seitan (cooked wheat gluten) make a great filling for these easy vegan seitan fajitas. What's great about fajitas is that everyone participates in creating his or her own meal. It's less work for the cook, fun for everyone at the table, and everyone can tailor the ingredients to suit personal tastes. Serve with rice dish, or potatoes or sweet potatoes, or keep it super-simple with salsa and chips. Photos by Evan Atlas. more→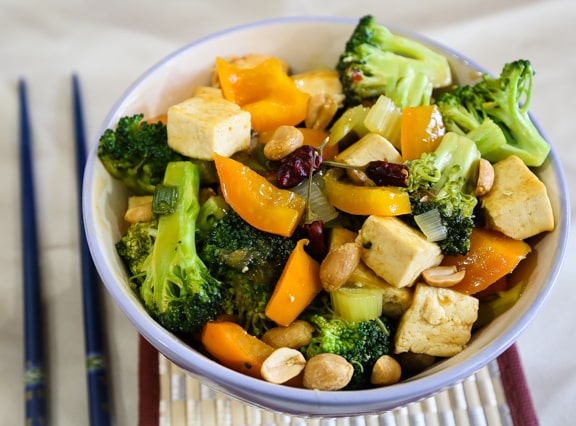 Kung Pao Tofu is a tasty recipe whose many iterations often require lots of steps and ingredients and sometimes even two different sauces. This version streamlines the process so that it can be on the table in less than half an hour. Serve on its own or over hot cooked rice or noodles. Photos by Evan Atlas. more→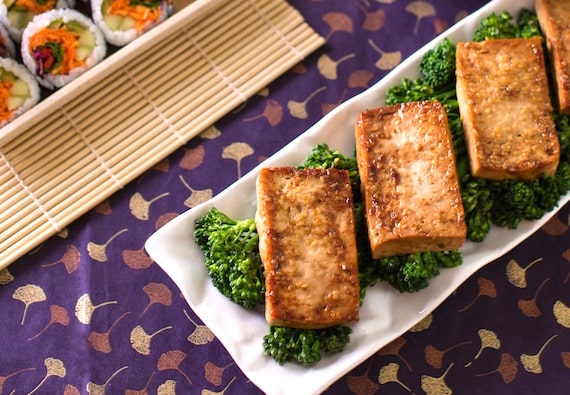 This simple recipe is all about the sauce, which absorbs into the tofu to make it remarkably flavorful. Double the recipe if you're feeding a hungrier group, as this makes 2 to 4 moderate servings. If you'd like, serve this over steamed broccoli. Store-bought vegetable sushi rolls add a "wow" factor to the meal. Recipe adapted from Plant Power. Photos by Hannah Kaminsky.