Seitan Recipes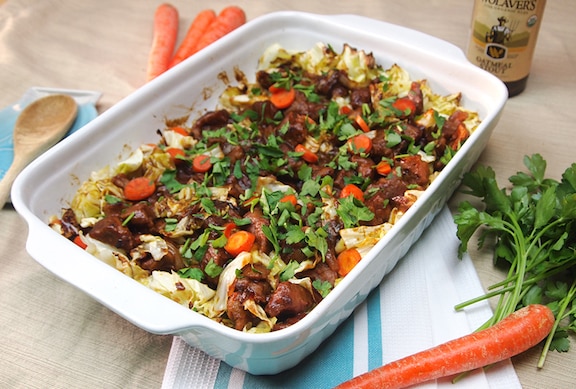 Despite being part Irish, my family never really did anything to celebrate St. Patty's day while growing up. There was no Irish soda bread, no corned beef and cabbage, no colcannon. Since it's turned into a bit of a foodie holiday, I wanted to make something to celebrate my Irish heritage a few years ago, but there were no family recipes to veganize.
I came across an interesting dish in an issue of Better Homes and Gardens, and it seemed perfect for converting. This cabbage casserole has become a St. Patrick's Day favorite in my house, but of course, it's perfect for dinner any day of the year. more→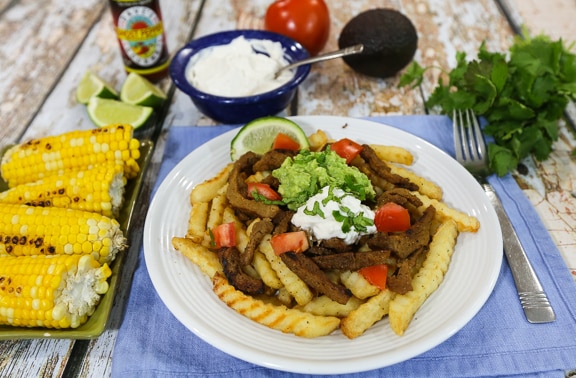 Carne asada fries exemplify how an offbeat local food trend takes off and goes national. An odd combination of french fries, avocado, sour cream, and in its original form, strip steak, this dish originated in San Diego in the 1990s and soon became a standard in casual Mexican restaurants in the American Southwest. Now it's on the menu in such eateries nationwide. I first had vegan carne asada fries at Mexican Radio in Hudson, NY, and understood why this hearty dish took off. How great that it can be made with seitan instead of meat! You can also use another meat substitute like jackfruit. more→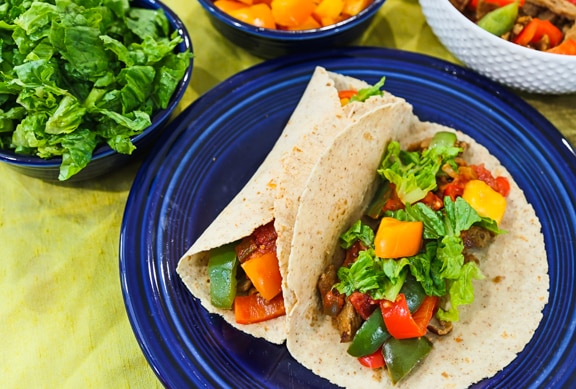 Strips of high-protein seitan (cooked wheat gluten) make a great filling for these easy vegan seitan fajitas. What's great about fajitas is that everyone participates in creating his or her own meal. It's less work for the cook, fun for everyone at the table, and everyone can tailor the ingredients to suit personal tastes. Serve with rice dish, or potatoes or sweet potatoes, or keep it super-simple with salsa and chips. Photos by Evan Atlas. more→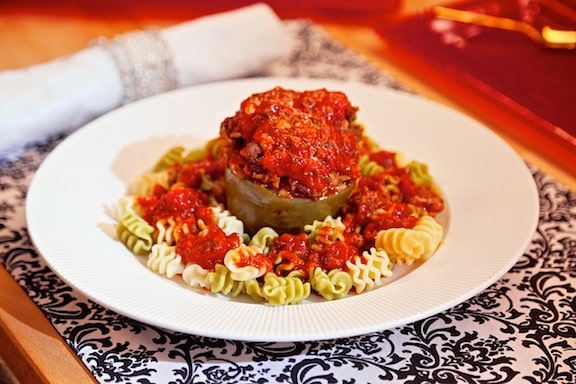 I first made these delicious peppers for a New Year's Eve party and they were a huge hit! Featuring a meaty-tasting seitan and hearty brown rice stuffing, these beautiful bell peppers satiate omnivores and vegans alike. Ready for the oven in under 20 minutes, these six-ingredient wonders are equally ideal for a holiday party or weeknight supper. Recipe from Vegan-Ease: An Easy Guide to Enjoying a Plant-Based Diet. Published by Jazzy Vegetarian LLC, © 2015, reprinted by permission. Photos by David Kaplan.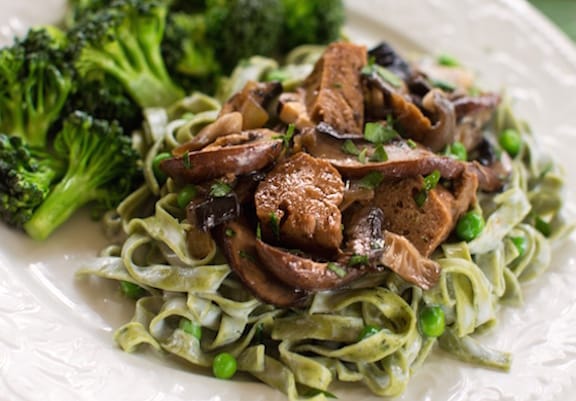 Here's a hearty pasta dish featuring a healthier, nondairy version of cream-filled Alfredo sauce. This dish also has some serious plant-based "beefiness" courtesy of seitan. Serve with plenty of green vegetables (like broccoli, greens, or green beans) and a simple salad for an any-night-of-the-week meal, or even as a company dish. Recipe adapted from Plant Power: Transform Your Kitchen, Plate, and Life with More Than 150 Fresh and Flavorful Vegan Recipes by Nava Atlas (©2014, published by HarperOne, reprinted by permission). Photos by Hannah Kaminsky.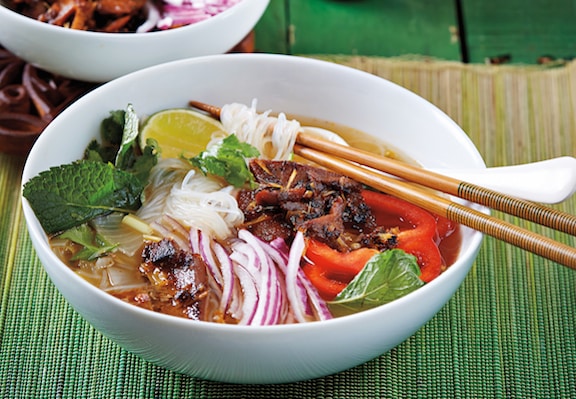 This dish is bursting with crave-worthy Vietnamese flavors: lemongrass, lime, mint, ginger. I like to use homemade broth and infuse it with aromatics, but you can use bouillon, if you like. Just try not to make the base too strong; you want all the flavors to shine through. Mock duck is really just seitan, but if you're familiar with those little cans of "mock duck" at the Asian grocery, feel free to use those! Recipe and photo from Vegan With a Vengeance: 10th Anniversary Edition* by Isa Chandra Moskowitz, ©2015. Published by Perseus Books, reprinted with permission. more→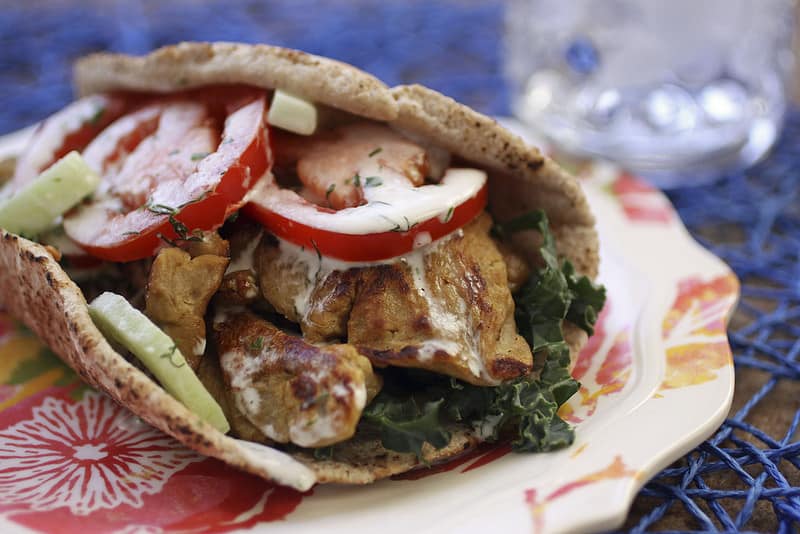 Dense and chewy seitan — cooked wheat gluten — is almost pure protein. Clearly, though, seitan is not for anyone with gluten sensitivity. Store-bought seitan usually comes in 8-ounce packages or 16-ounce tubs, or you can make Homemade Seitan with the recipe on this site. It's a hearty plant-based protein with an almost meaty texture. Here are 6 of our favorite ways to use this versatile food. Seitan Gyros is a kinder, gentler version of the Greek meat-on-a-pita classic. Seitan makes a superb stand-in, and the shortcut creamy cucumber dressing gives the entire enterprise a refreshing zip. more→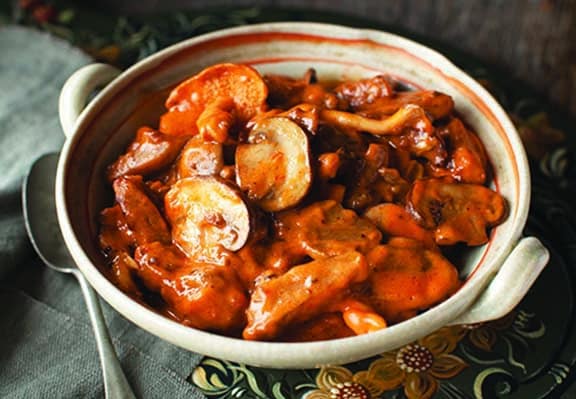 Thinly sliced seitan absorbs the flavor of the rich mushroom sauce in these German "hunter's cutlets." You can use any kind of mushrooms you like, but I prefer using a variety of different kinds to add interest and flavor dimension to the dish. Recipe from Vegan Without Borders* by Robin Robertson/Andrews McMeel Publishing, LLC ©2014, reprinted by permission. Photos by Sara Remington.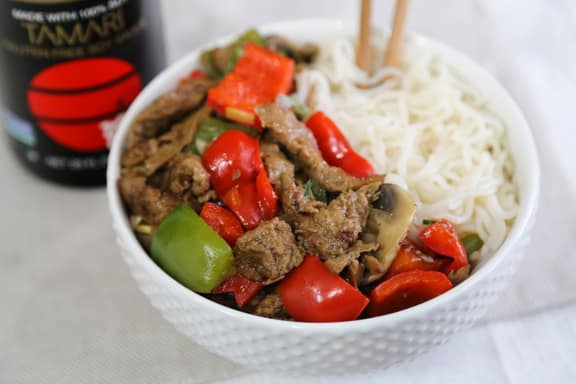 Here's the Chinese restaurant classic, peppersteak, in a hearty, "beefy" vegan version using seitan in place of the real thing. It's better this way! I enjoy this served with noodles, but serve with brown rice, or even just on its own, if you prefer. To complete the meal, serve with steamed broccoli, and a simple slaw or a platter of raw veggies. Photos by Evan Atlas.
more→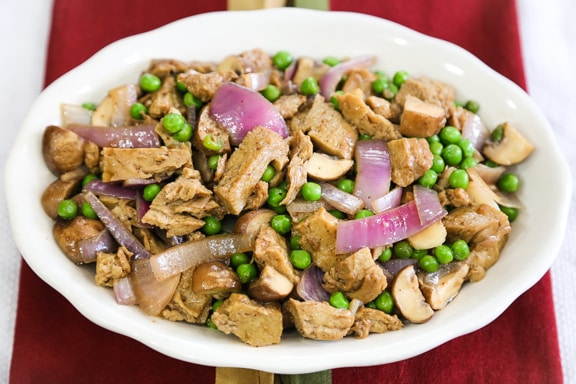 This simple seitan stir-fry is great choice for hearty appetites, and a warming dish for nippy evenings. Lots of red onion adds great flavor, and the mushrooms bolster the "meaty" quality of the seitan. Photos by Evan Atlas. more→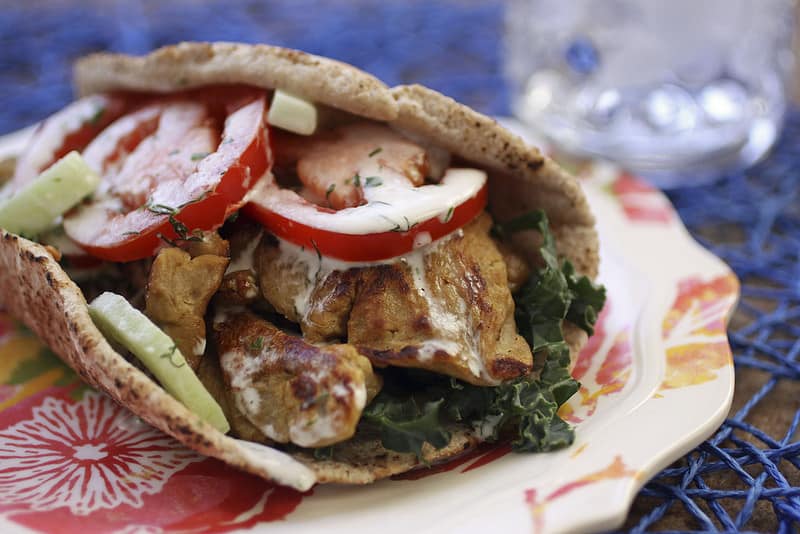 Here is a kinder, gentler version of gyros, the Greek meat-on-a-pita classic. Seitan makes a superb stand-in, and the shortcut creamy cucumber dressing gives the entire enterprise a refreshing zip. For heartier appetites, a serving would be 2 gyros; one is filling enough for moderate appetites or when other dishes are to be served. Recipe adapted from Vegan Express. Photos by Lori Maffei. more→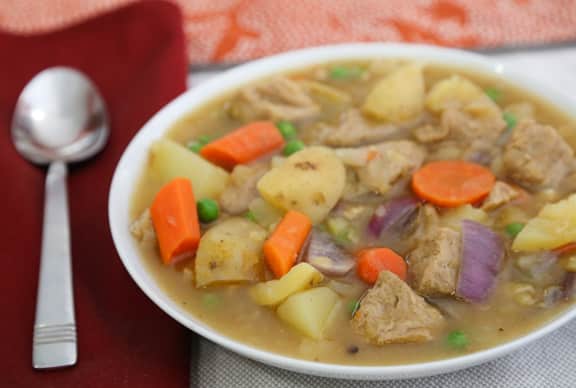 Seitan gives this stew a "meaty" texture, and combined with potatoes and carrots becomes a comforting, hearty dish. Prepared seitan is readily available in most natural foods stores as well as a growing number of well-stocked supermarkets, but you can make your own as well (see the link in the ingredient list). Photos by Evan Atlas. Adapted from The Vegetarian Family Cookbook.  more→