Seitan Recipes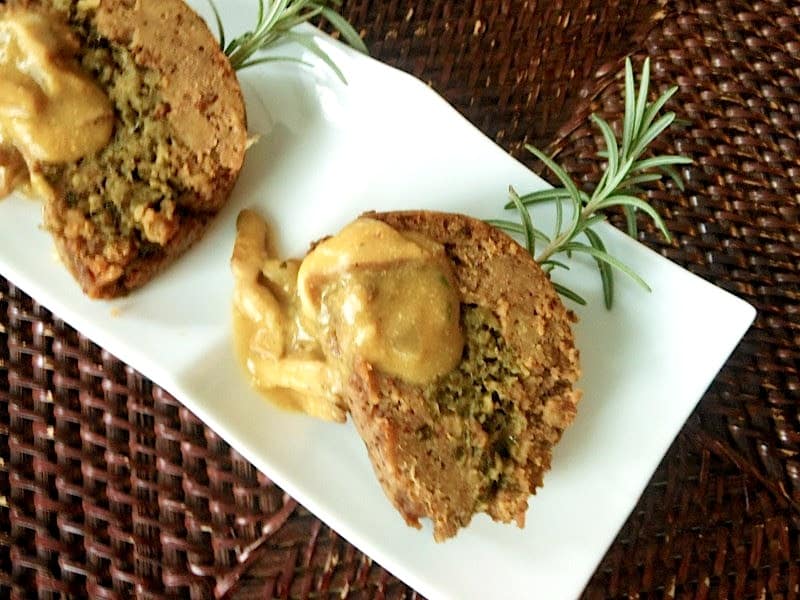 This is a whimsical and slightly tongue-in-cheek—but delicious!–vegan version of a standing rib roast baked in a bundt pan with a Shiitake and Kale Filling and rosemary sprig "bones." Served with a Shiitake Gravy, it is a beautiful holiday or special occasion entree. Recipe and photos contributed by Betsy DiJulio, The Blooming Platter.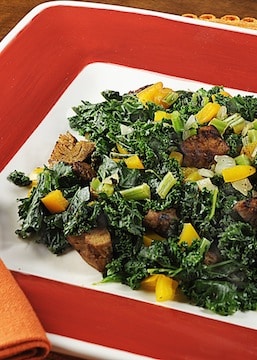 This delicious seitan dish was created by Dilip Barman, head of the Triangle Vegetarian Society in North Carolina, and host of the largest annual vegan Thanksgiving feast in the USA with over 800 attendees. For more information, see www.trianglevegsociety.org and www.dilipdinner.blogspot.com. Photographs by Linda Long from Virgin Vegan: The Meatless Guide to Pleasing Your Palate* by Linda Long, reprint permission by Gibbs Smith Publisher, 2013.
more→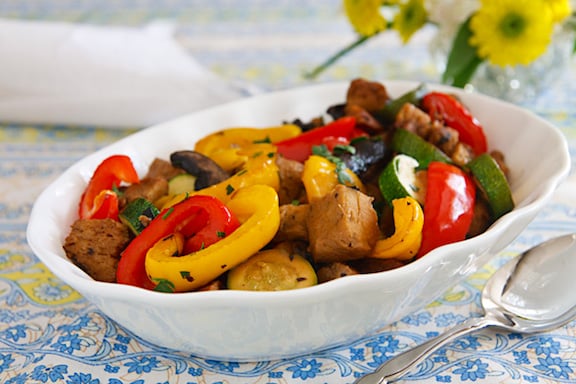 This hearty combination of seitan, bell peppers, and portobello mushrooms is so easy to throw together, yet makes a festive main dish for special occasions. It's a great centerpiece for a vegan Easter dinner, for example, and would be just as good for a Christmas menu. When you're preparing a multi-course meal, it's so nice when the entree can be made at the last minute with little hands-on time. If any of your family or guests eat gluten-free, this is obviously not the choice for them. Recipe adapted from Vegan Holiday Kitchen. Photos by Susan Voisin.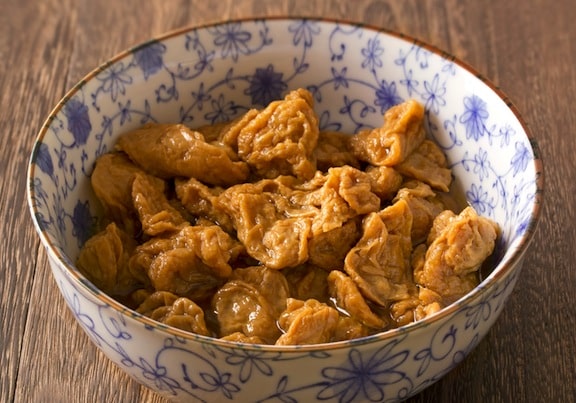 Store-bought seitan is usually excellent, but it can be expensive. Using pure gluten flour is a shortcut to a homemade version that's not difficult to make. This recipe may be idiosyncratic, but it works well and with practice produces seitan that's chewy but not overly tough. Whenever I make this, I freeze half. It's nice come across and use it a few weeks later. more→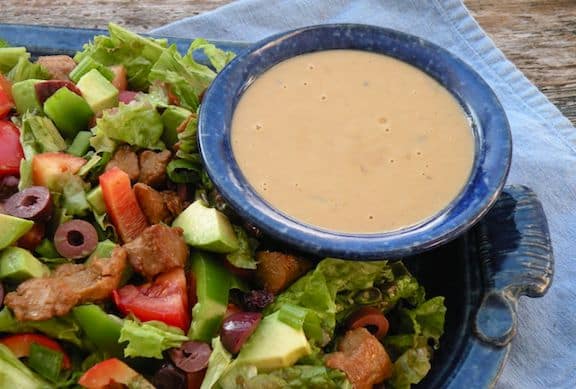 Here's a delectable salad featuring strips of high-protein seitan, embellished with avocado and olives. This salad is also delicious served in wraps. It's great accompanied with a simple potato dish or any kind of potato salad. Seitan is pure wheat gluten, so this is obviously not for those who are gluten-free! more→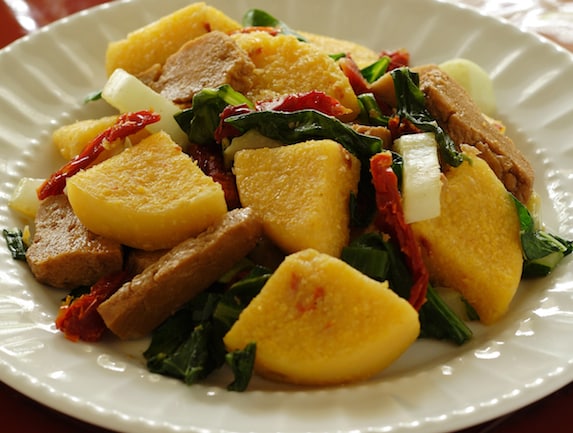 There's something enticing about the seitan/polenta synergy, and with the addition of greens, results in a great-looking, hearty dish. Serve with a simple potato dish and salad or slaw. Recipe adapted from Vegan Express. Photo by Susan Voisin.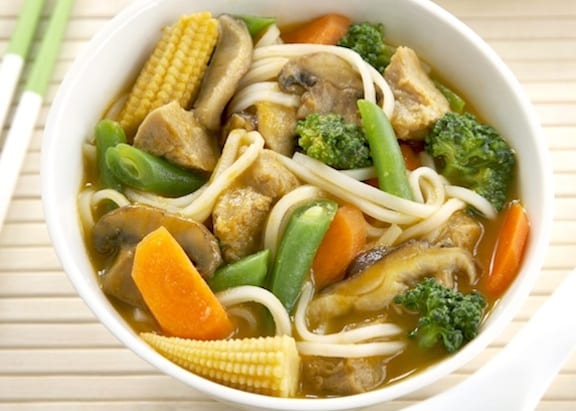 Inspired by a favorite vegetarian Chinese restaurant dish, Buddhist's Delight stew is enhanced with protein-packed seitan. Gluten-free? Substitute an equivalent amount of tofu for the seitan. For an everyday meal, serve with Tri-Color Coleslaw. To make it a feast, add Scallion Pancakes or simply serve veggie spring rolls from your natural food store's frozen food section. Adapted from Vegan Soups and Hearty Stews for All Seasons. Photo by Theresa Rafetto.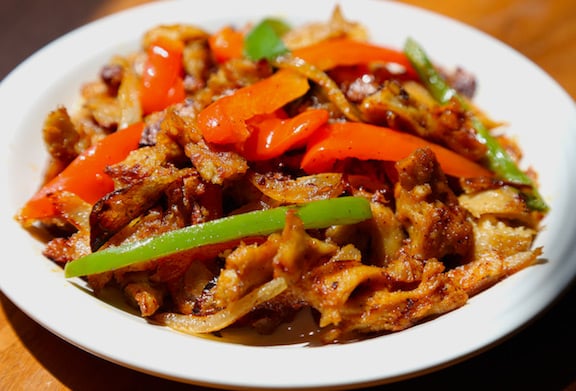 I had always wanted a luscious, reliable (and of course, easy) jerk seitan recipe, with lots of bell peppers and onions, but all the recipes I'd found rely on lengthy lists of spices, Scotch Bonnet peppers, and substantial time for marinating the seitan. After a couple of attempts to follow authentic-style recipes, with so-so results, I decided to throw authenticity to the wind, and take the easy route. This recipe may not be the genuine article, but its bold flavors never disappoint. Photos by Evan Atlas. more→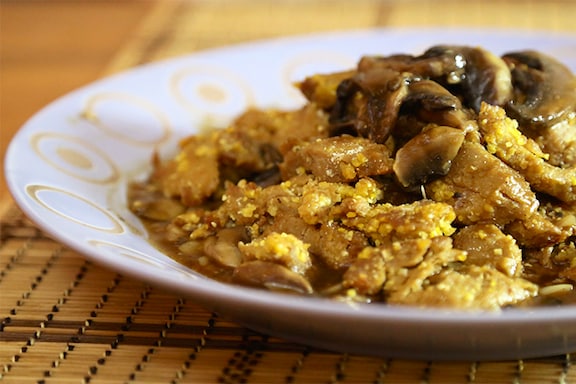 If you want to dress seitan up just a bit, sautéing it until crisp in a golden cornmeal crust does the job nicely. Serve with Easy Mushroom Gravy or Quick Vegan Barbecue Sauce (or your favorite natural brand), green veggies, and a simple salad or slaw.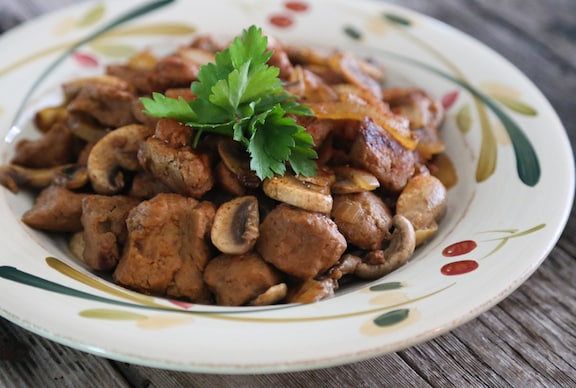 Who says it's not easy to be a vegan in Paris? I beg to differ. There are a number of fantastic vegetarian and vegan eateries all over the city of lights. Tender seitan, far better than any I've had in the U.S., is a common offering. This simple dish of seitan and mushrooms in a sweet paprika "cream" sauce is an amalgam of seitan dishes I enjoyed at Le Potager du Marais and Les Cinq Saveurs D'Ananda. Photos by Evan Atlas.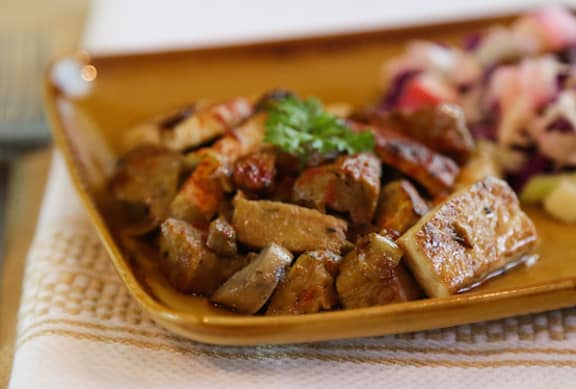 Here's a simple high-protein skillet of tofu and seitan, enveloped in delectable Easy Mushroom Gravy. Serve on its own or over grains or noodles, along with a colorful salad. Shown here, Cabbage, Apple, and Raisin Slaw. Photos by Evan Atlas. more→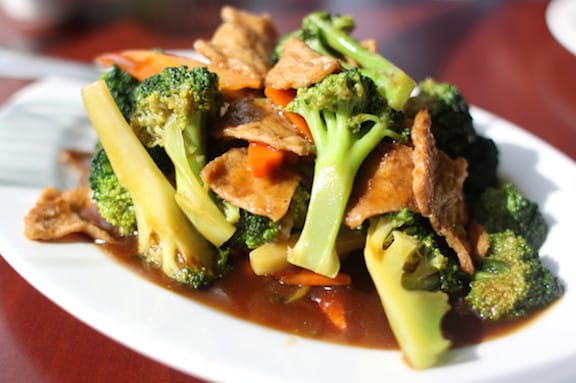 This easy vegetable stir-fry featuring broccoli and carrots, showcases seitan's unique flavor and texture. Serve with hot cooked brown rice or Asian noodles, along with one of the many tasty options in A Slew of Slaws. more→