Tempeh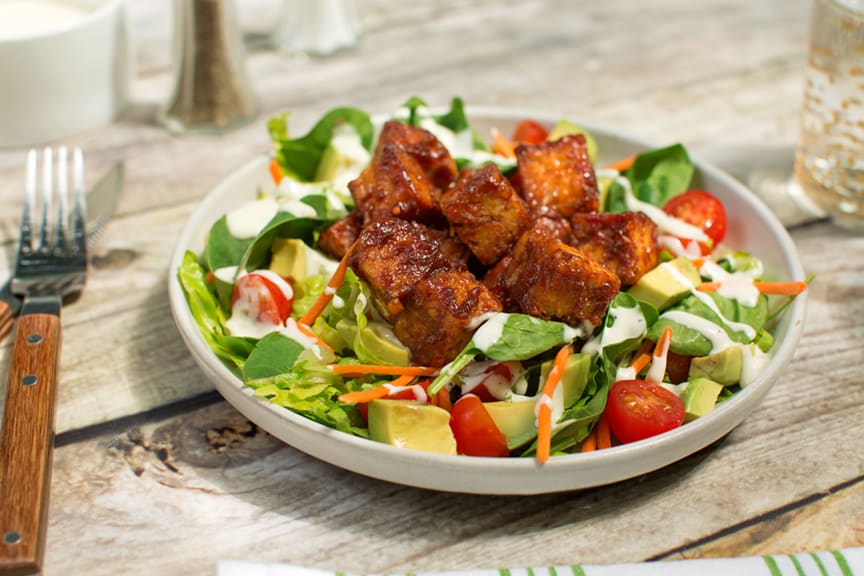 The synergy between hearty BBQ tempeh croutons and crisp salad veggies dressed in creamy vegan ranch dressing is most appealing. First presented as one of our Vegan Dinner Hacks, paired with sweet potato fries, this is a more formal recipe. But not so formal that you have to follow this recipe precisely — far from it. The barbecue-flavored tempeh croutons make any salad hearty and satisfying; you can vary the kinds of salad veggies here as you'd like. more→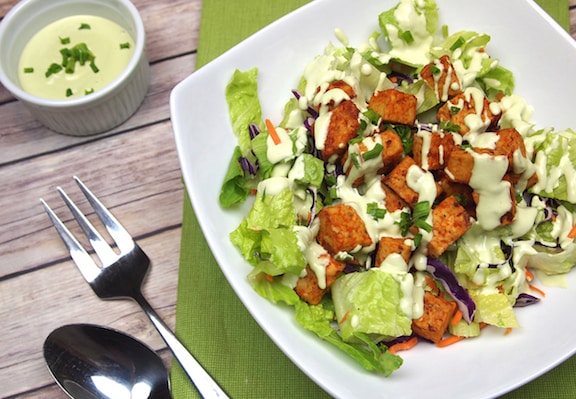 This luscious Buffalo tempeh salad offers up the contrast of spicy tempeh and cool creamy vegan ranch dressing on a crisp salad. If you're sensitive to tempeh's fermented taste, steam the cubes before marinating to tone it down. Steaming will also help the tempeh soak up more of the marinade. Recipe and photos by Dianne Wenz of Dianne's Vegan Kitchen, reprinted by permission. more→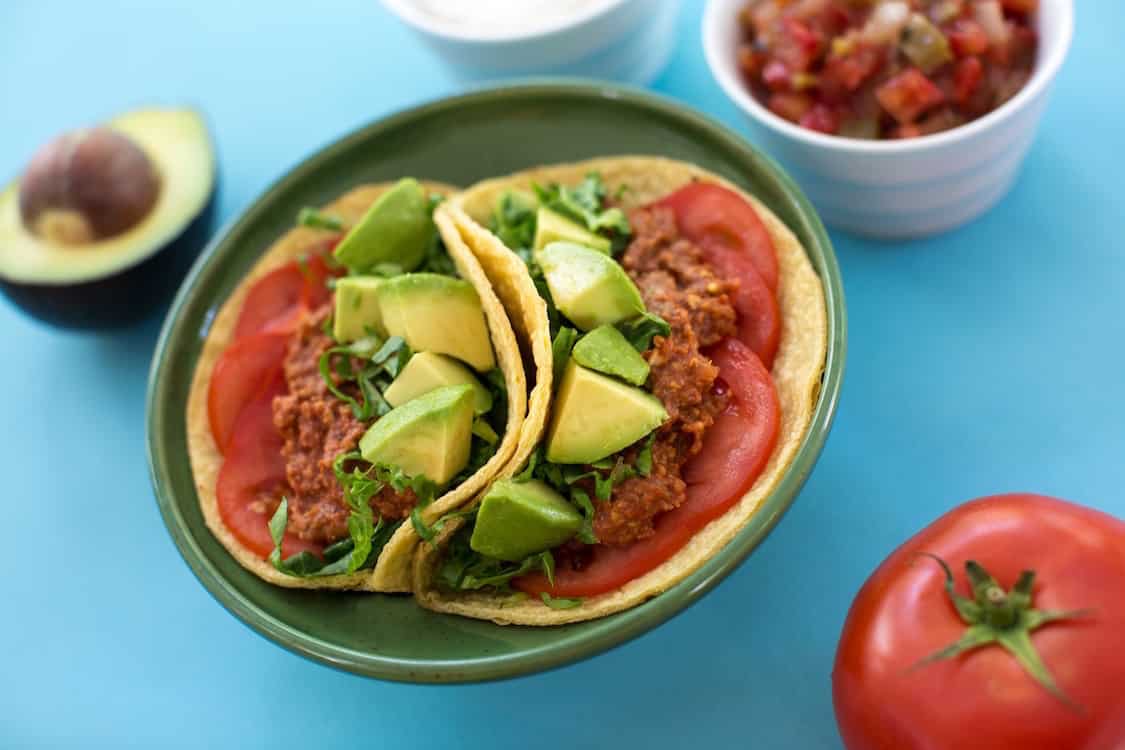 Two high-protein foods (with lots more going for them nutritionally) — tempeh and walnuts — team up in a tasty taco filling that goes a long way. Use leftovers to boost protein and add texture to bean dishes and stews. Or you can freeze half of this filling for a future taco dinner. For a great meal, serve with Southwestern-Flavored Kale Salad. Adapted from Plant Power: Transform Your Kitchen, Plate, and Life with More Than 150 Fresh and Flavorful Vegan Recipes by Nava Atlas (HarperOne, reprinted by permission). Photos by Hannah Kaminsky.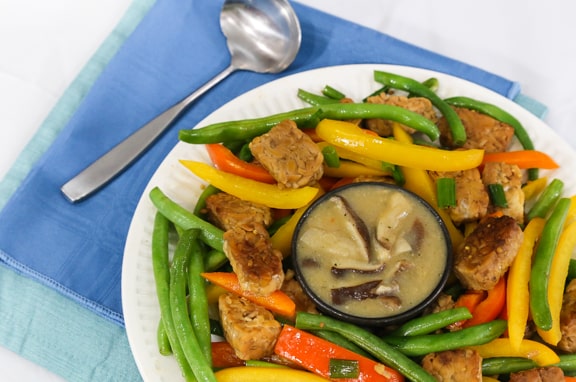 Green beans, tempeh, and bell peppers make for a tasty trio, especially when enveloped in a flavorful shiitake-miso gravy. To save time, or when fresh are out of season, use frozen organic baby green beans, available in most any natural foods store and many supermarkets. If available, do use fresh slender green beans, by all means, when they make their rare appearance at your local market. Photos by Evan Atlas.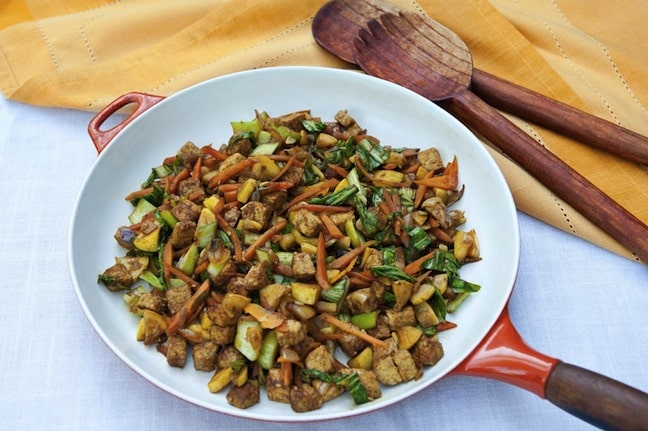 Frying tempeh in red palm oil gives it a rich flavor and meaty texture. You can use coconut oil or sesame oil and swap other seasonal vegetables for infinite tasty variations. In this recipe I used mirin, a sweet rice cooking wine, feel free to use another cooking wine or water. Serve this stir fry on top of rice and with a side of fresh pineapple for a fine meal. Copyright © 2013 Leslie Cerier. Photo by Tracey Eller.
more→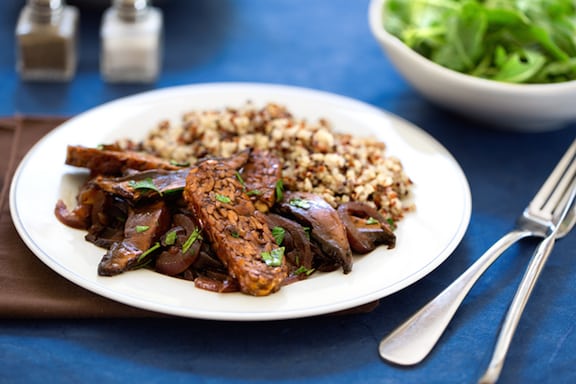 Tempeh, portobello mushrooms, and miso contribute a "meaty" heartiness to this dish, and balsamic vinegar provides a bit of tang. Serve this sumptuous stew-like sauce over a cooked grain—a mixture of long-grain rice with kasha or wild rice is one of my favorites—or on pasta. Contributed by Susan Jane Cheney, from Stir Crazy!* Reprinted by Permission. Photos by Hannah Kaminsky.   more→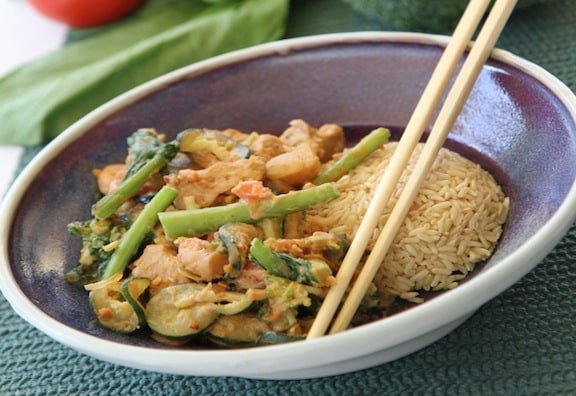 Tempeh is a great source of protein, traditionally made in Indonesia by fermenting cooked soybeans and moulding into a patty. Serve this satay with your favorite grain. Reprinted with permission from There's a Vegan in the Kitchen: Viva la Vegan's Easy and Tasty Plant-Based Recipes* by Leigh-Chantelle from Viva la Vegan! copyright © 2014. Published by Epicentre Equilibrium.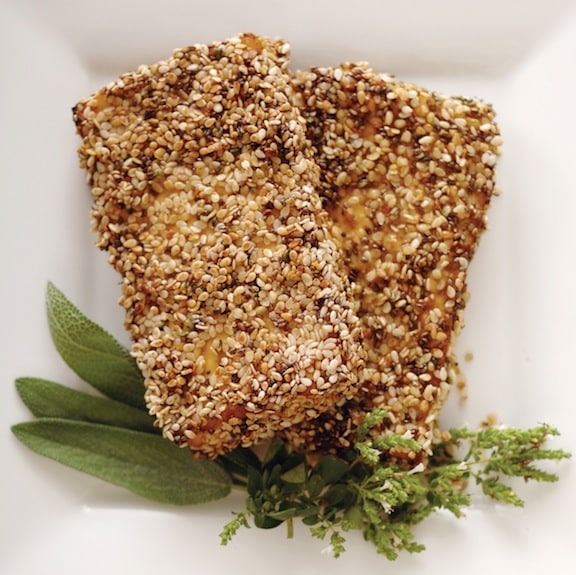 Slices of tofu are first bathed in a tangy marinade and then coated in a three-seed blend. Instead of being fried, these tofu cutlets are baked to perfection. Recipe by Beverly Bennett, from Chia: Using the Ancient Superfood* by Beverly Lynn Bennett, @2014 Books Alive, Summertown, TN, reprinted by permission. Photo by Andrew Schmidt.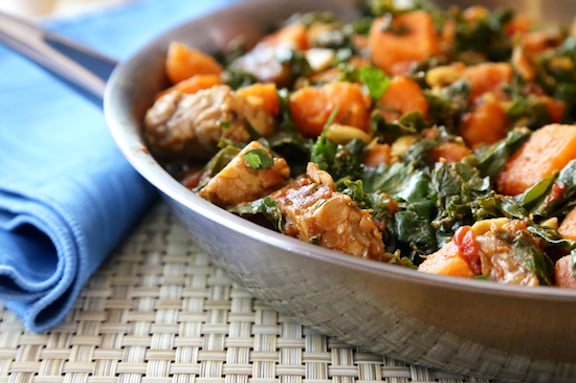 This supremely nourishing trio of ingredients — tempeh, kale, and sweet potatoes — are the basis of a quick, colorful, and comforting meal. It's an adaptable dish, too—don't like tempeh? Use tofu, seitan, or a can of chickpeas or white beans instead. It's great with chard in place of kale, as well. Great served with any of the slaw recipes on this site. Photos by Evan Atlas.   more→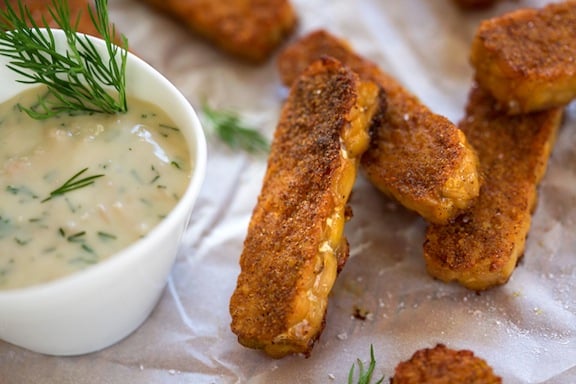 If your meal needs just a little extra something in the protein department, but not necessarily a filling main dish, this is a nice choice. It also works well as an appetizer. These fries can be a bit addictive, so you may want to double the recipe if serving hungry tempeh fans. Adapted from Vegan Express. Photos by Hannah Kaminsky. more→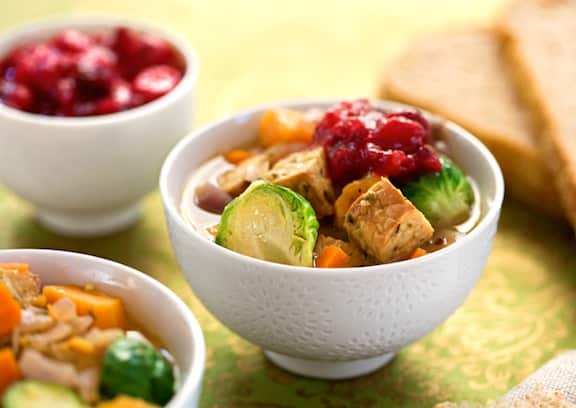 Just about any type of tempeh—soy, quinoa, sesame, wild rice—works well in this stew, which tastes even better the next day. It's a lovely main dish option for a vegan Thanksgiving table, though you can make it any time you crave something hearty and warming.  Cranberry-Orange Sauce is a perfect accompaniment. Contributed by Leslie Cerier, from Going Wild in the Kitchen: The Fresh and Sassy Tastes of Vegetarian Cooking*. Photos by Hannah Kaminsky.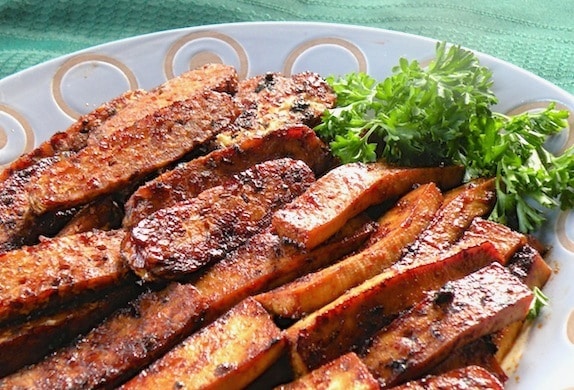 Savory, slightly sweet, and as spicy as you choose to make them, these delightfully flavored strips of tofu or tempeh are delicious in wraps and sandwiches. Or, just enjoy them on their own to bolster the protein content of meals. If you'd like to use both tofu and tempeh, as shown in the photo, double the amount of marinade. Cook each kind of protein separately, then arrange on a plate to serve.