Easy Vegan Cakes and Pies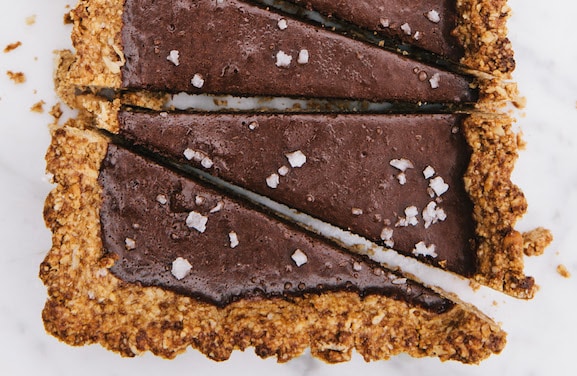 The combination of flavors in this salty peanut butter chocolate tart are familiar and crowd-pleasing. It's also packed with lots of good nutrition from the oats, peanuts, and cacao. This is an impressive dessert to take to a party because unlike other tarts that may be messy to serve, this one has a thick peanut butter and oat crust that holds its shape. A dark chocolate filling and a sprinkling of flaky salt bring it over the top. We usually cut the tart into bars, but it can also be cut into triangle wedges and eaten like a New York–style slice (of pizza, that is!).
From Chocolate Every Day: 85+ Plant-Based Recipes for Cacao Treats that Support Your Health and Well-Being by Bennett Coffey and Kyleen Keenan, Copyright © 2018. Published by Avery, an imprint of Penguin Publishing Group, a division of Penguin Random House, LLC, reprinted by permission. more→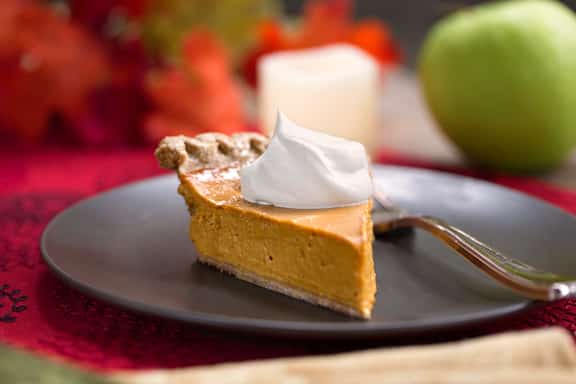 Vegan sweet potato pie, made with silken tofu, sets up beautifully when baked. The cheering color makes it perfect for fall or winter occasions. Pie crust sizes vary, so if excess filling remains after pouring into the crust, fill a ramekin or two, and bake at the same time as the pie to make mini-puddings. Photos: Hannah Kaminsky. more→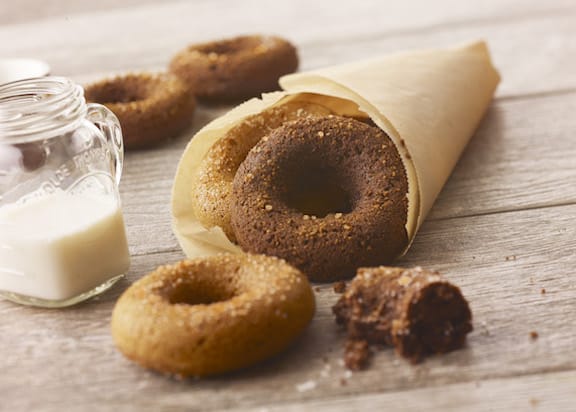 Pumpkin, like other winter squashes, is an excellent source of vitamin A, vitamin C, and vitamin B6. Vegan spelt pumpkin donuts are a fun way to celebrate the flavor of the season when the weather starts to get cooler. If you need gluten-free donuts, simply substitute oat flour and sorghum flour for the spelt flour, as noted below. Recipe from Ancient Grains: A Guide to Cooking with Power-Packed Millet, Oats, Spelt, Farro, Sorghum & Teff by Kim Lutz © 2016. Reprinted by permission of Sterling Publishing. Photo by Bill Milne. more→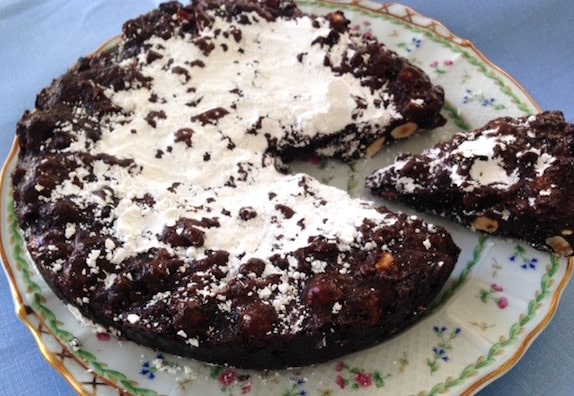 Panforte means strong bread, so be strong. Go lavish with the spices here — they balance the richness of the fruit and nuts — and don't wimp out with the black pepper. Traditionally, panforte is made with honey — it's the goo bonding the dried fruit and nuts. Swap it for vegan honey. The best commercial one I know is BeeFree Honee. I've also had good luck making this recipe with brown rice syrup, which has plenty of goo and adds a caramel-y note. Use a good sharp knife and serve skinny slices with a cup of espresso or a small glass of vin santo or sambucca. Recipe and photo contributed by Ellen Kanner. more→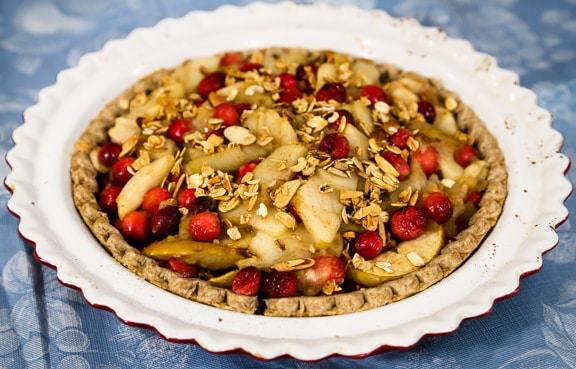 "Easy as pie" surely does fit this 6-ingredient vegan pie — a luscious combination of apples and cranberries, perfect for fall. If you love the tart burst of healthy fresh cranberries, you're sure to love this pie. Photos by Evan Atlas. more→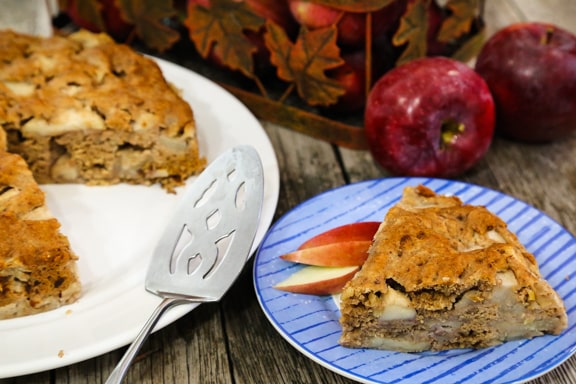 Your own homemade chunky applesauce is the key to this flavorful cake. That way, the cake is just as much (if not more) about the fruit than the batter. It's a healthy cake to snack on and to add to portable lunches, as well as to serve to fall and winter company. Photos by Evan Atlas. more→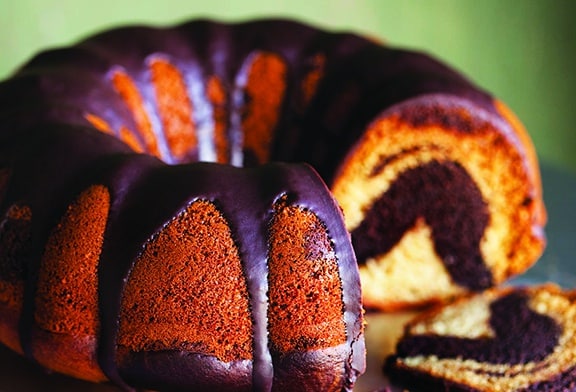 Bundt cakes are everyday cakes—easy to make (using just one pan) and delicious eaten as they are or dressed up with a simple glaze or icing. This swirled Bundt cake will satisfy both chocolate-lovers and those who favor vanilla: The two batters meet in the middle and bake, making for a pretty design when you cut and serve it. The addition of a quick chocolate glaze makes it that much more irresistible; to further embellish this cake, serve it with fresh berries or a dollop of nondairy ice cream.From Real Food For Everyone by Ann Gentry, founder of Real Food Daily restaurants in Southern California. Recipe reprinted by permission, © 2015 Andrews McMeel Publishing. Photos by Sara Remington.

more→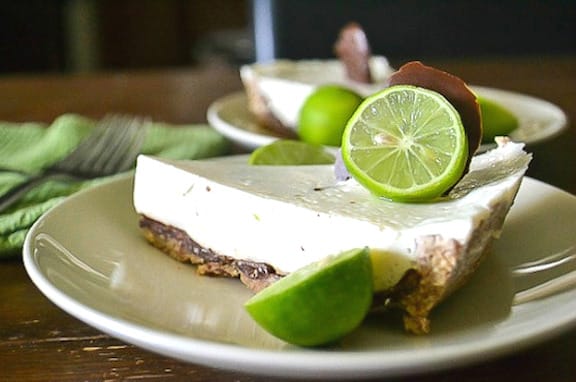 This pie is a combination of coconut creme and key lime so the tangy lime has been tamed somewhat – feel free to up the amount of juice (reducing the other liquids to compensate) or add more lime zest. The hint of chocolate and the crunch of the toasted coconut and cacao nibs is a wonderful counterpart to the creaminess of the "custard." Recipe and photo contributed by Annie Oliverio of An Unrefined Vegan. Annie is the author of the forthcoming Crave Eat Heal: Plant-based, Whole-food Recipes to Satisfy Every Craving  * (April, 2015). more→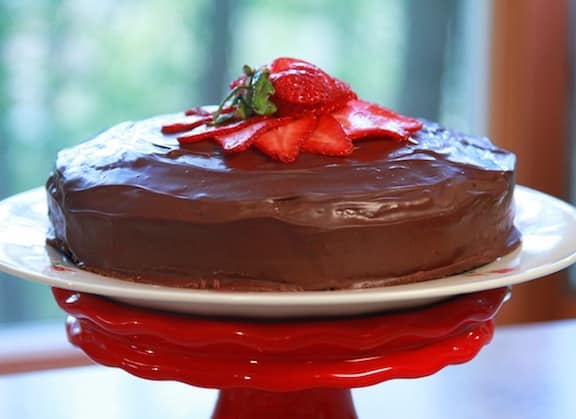 This is a rich, decadent-tasting, and gorgeous cake. This scrumptious confection, topped with a luscious vegan chocolate ganache frosting, is ideal to serve as an enticing dessert at any gathering throughout the year. Recipe and photos contributed by Laura Theodore, The Jazzy Vegetarian.
more→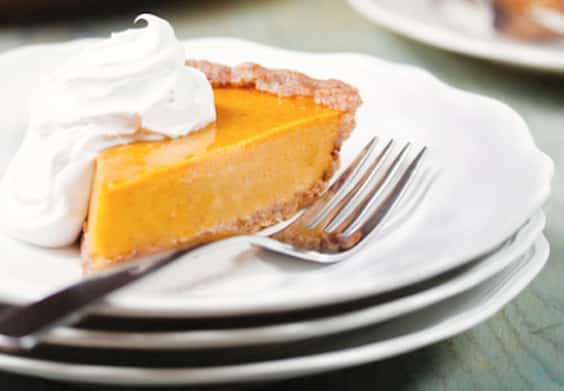 Buttery pecan crust filled with a smooth and spicy pumpkin pie filling make this Praline Pecan Pumpkin Pie a dessert your guests will remember and request every Thanksgiving. My favorite holiday moments include children playing together, feeling grateful to sit down to a full spread of compassionate foods, and the smell of delicious dishes and fresh pumpkin pie. Recipe by Allison Rivers Samson. Photo by Allyson Kramer. more→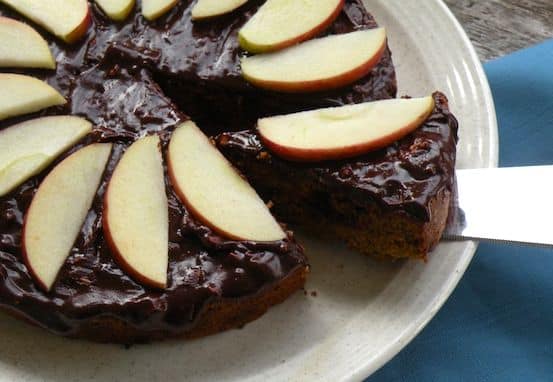 Just as the flavors of pumpkin (or other orange winter squash, especially butternut) and chocolate are surprisingly compatible, so are the flavors of sweet potato and chocolate. This moist cake will surprise your taste buds, and once you've got your pureed sweet potato, it's super easy to make.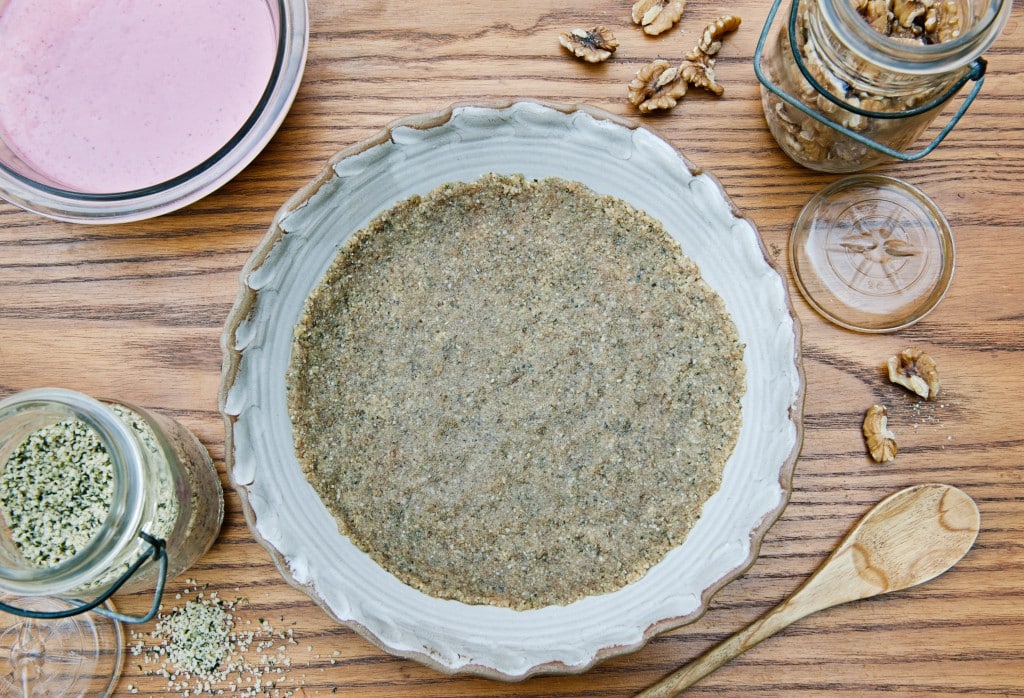 Walnuts and hemp seeds offer a tasty source of Omega 3s in this quick and easy raw pie crust. Feel free to fill it with your favorite fruit filling for a no bake pie everyone will love. Contributed by Leslie Cerier. Photos by Tracey Eller.
more→