Easy Vegan Cakes and Pies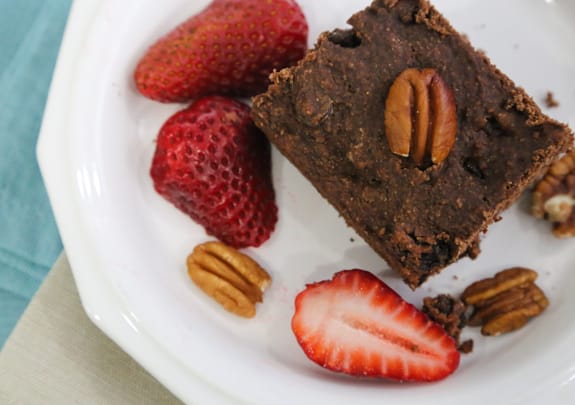 The classic comfort dessert — chocolate brownies — is made with a minimum or fat and sugar in this vegan rendition. As brownies go, these are more cake-like than chewy. This is super easy, so don't wait for a special occasion to make this! Photos by Evan Atlas.
more→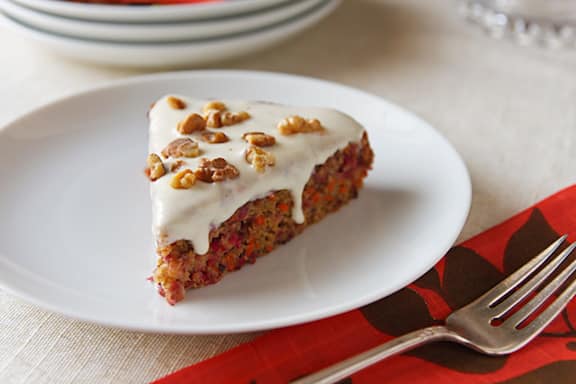 This cranberry-carrot cake is festive and luscious, but with a minimum of fat and a plethora of fresh fruit (and a vegetable!) in the batter, not the least bit guilt-inducing. It's a nice alternative to pumpkin pie for Thanksgiving dinner, for those few who don't care for it, and wonderful for Christmas as well. Recipe adapted from Vegan Holiday Kitchen. Photos by Susan Voisin.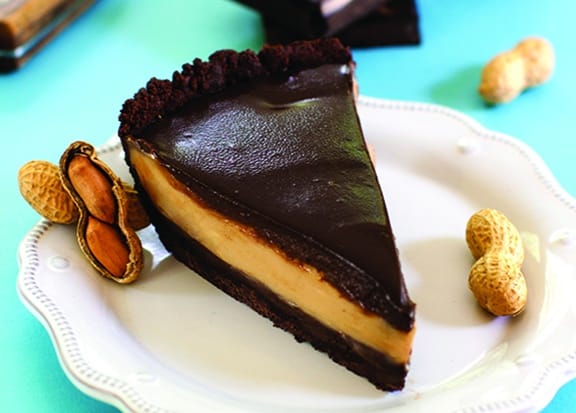 Cradled in a chocolate crust and blanketed by a ganache topping, the silky peanut butter mousse at the center is creamy and luscious. The hardest part of this pie is making the crust (if indeed you're making yours from scratch), so once it's baked and ready to go, you're more than halfway done! Recipe adapted from Easy as Vegan Pie by Hannah Kaminsky. © 2013, Skyhorse Publishing, reprinted by permission. Photos by Hannah Kaminsky.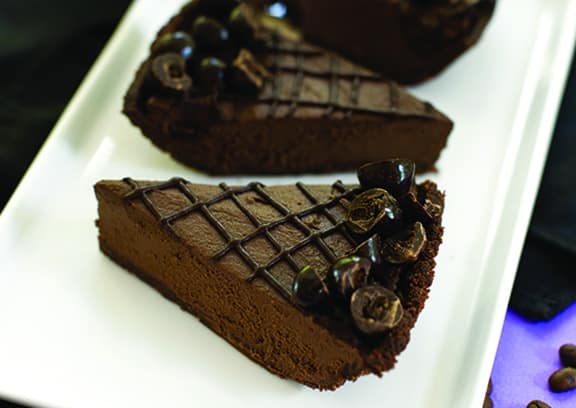 Go ahead and play in the mud! This vegan mud pie is inspired by the call for a "cup of mud," which is of course simply coffee, and the outrageously chocolaty affair known as Mississippi mud cake, it's as dark and intense as a fresh brewed cuppa, but with all the trappings of an elegant dessert.
Don't be misled by the funky name—this kind of mud pie is far tastier than any childhood sandbox creation. Perfect for a pie novice, this is an effortless dessert with a big flavor payoff. Recipe and photos from Easy as Vegan Pie by Hannah Kaminsky. © 2013, Skyhorse Publishing, reprinted by permission.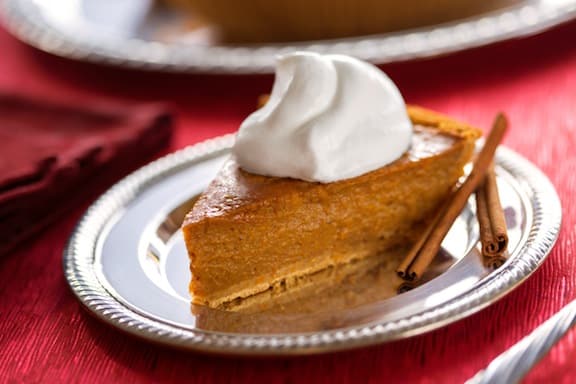 Smooth, sweet butternut puree tastes just as good as sugar pumpkin in the classic pumpkin pie (vegan style)—perhaps even better! Once you've got the squash or pumpkin baked, which I do ahead of time, making this nourishing pie is a snap. It contains no eggs or dairy, of course, but no one will notice the difference. Photos by Hannah Kaminsky.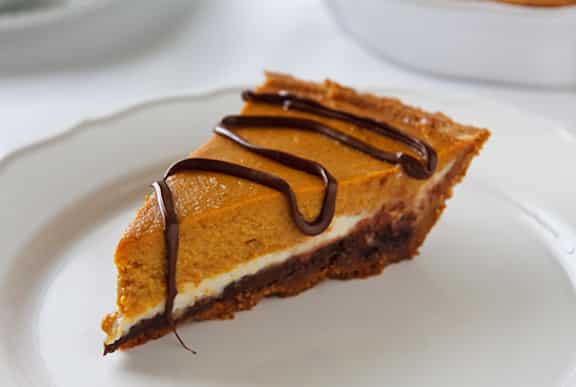 Here's a vegan cheesecake-like version of pumpkin pie that offers a subtle chocolate twist with each bite. What a perfect way to finish a Thanksgiving dinner! Recipe adapted from Vegan Holiday Kitchen by Nava Atlas. Photos by Susan Voisin.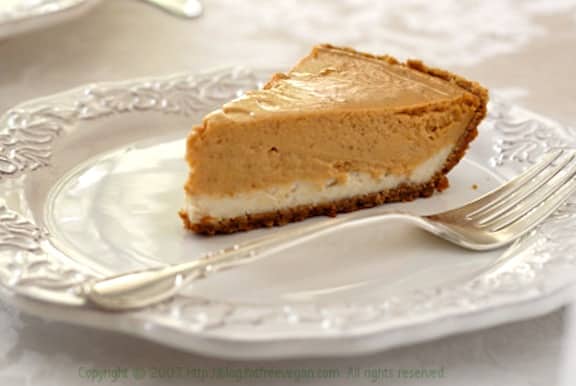 Thanksgiving isn't the same without pumpkin pie. But if you're looking for something different and delicious that your guests willl go crazy over, you've found it. Recipe and photos contributed by Susan Voisin, FatFree Vegan Kitchen. more→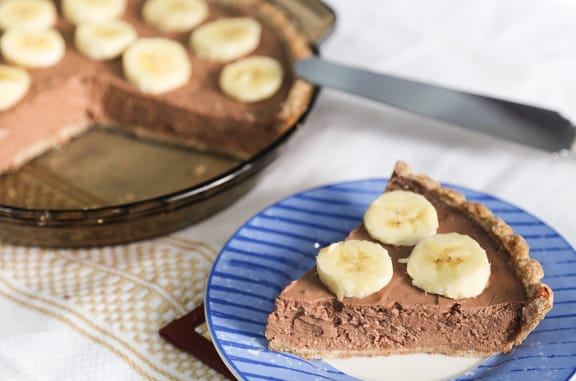 Silken tofu is a great base for a vegan mousse-style pie filling—it has just the right consistency, minus the bother of a flour-thickened sauce. Chocolate and banana are a dream team in this easy, dairy-free dessert, requiring just 5 ingredients (plus just a couple more if you decide to make your own crust). Photos by Evan Atlas. Adapted from The Vegetarian Family Cookbook. more→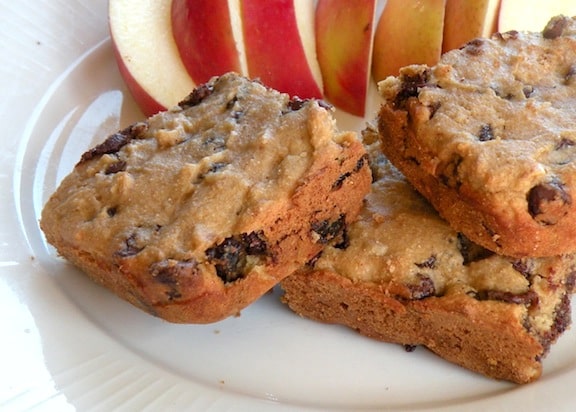 This nutty, chocolatey vegan cake has long been a family favorite. It's practically foolproof, and, with just minutes of hands-on time, a dream come true for lazy bakers like me. I often make this when asked to bring dessert to a gathering, and when I do, I double the recipe so I can leave one of the cakes at home! Feel free to substitute cashew or other nut butter for the peanut butter, and if need be, try the gluten-free version. And make sure to see the optional frosting below the recipe if you'd like an even richer cake. more→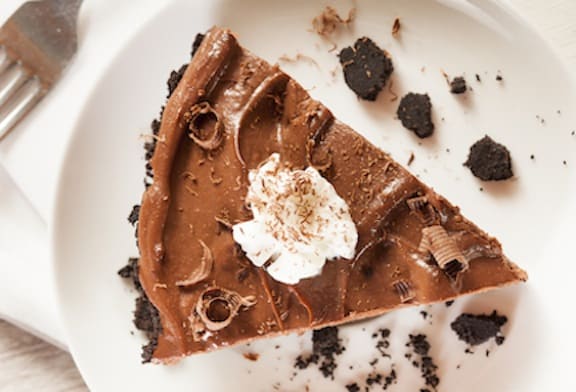 This vegan chocolate mousse pie, made of raw cashews and silken tofu, is rich and delicious. It goes down very easy, so depending on how many you are serving, you may want to double the recipe and make two. This is a great finish for holiday meals, but it's simple enough to prepare for dessert, any day of the week. Adapted from Vegan Holiday Kitchen* by Nava Atlas.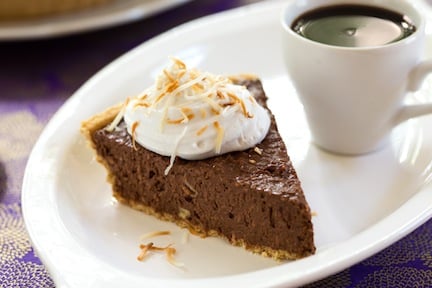 This concept is not original – you can't throw a stone in vegan blogland and not find a tofu and cocoa-type pie. But the ingredients are what give it a uniquely rich flavor profile and texture. With the blend of chocolate and a hint of coffee, one slice will sate you for the day. And it's easy and pretty enough to throw together for last-minute company. This takes only about 10 minutes to make, plus about 30 minutes to firm up in the freezer — if you can wait that long. Recipe contributed by Ashlee Piper, of The Little Foxes. Photos by Hannah Kaminsky, of Bittersweet. more→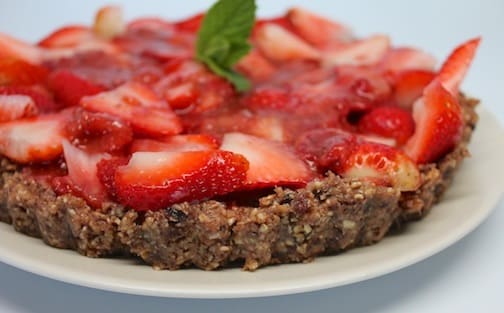 To make the most of the incredible strawberries available in late spring and early summer, try this raw strawberry tart created by Carrie Forrest of Carrie on Living. This easy recipe highlights ripe, sweet strawberries, which are nestled in a healthy, no-bake crust made of pecans, oats, raisins, flax meal, currants, and date paste. The recipe makes for a very thick crust, but, as Carrie says, "that's kinda how I like it." Chances are, you will, too. more→