Vegan Cookies and Bars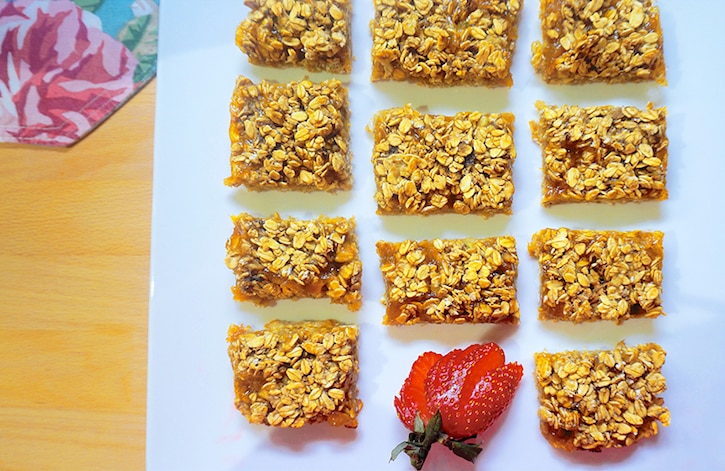 These tasty bars are easy to make, while being easy on the wallet. The sweetness comes from the apricot preserves, and rolled oats provide the crunch. Mashed bananas stand in beautifully for egg, and the vanilla extract really jazzes it up!
Recipe by Laura Theodore, from JazzyVegetarian's Deliciously Vegan. Published by Scribe Publishing, ©2018, reprinted by permission. more→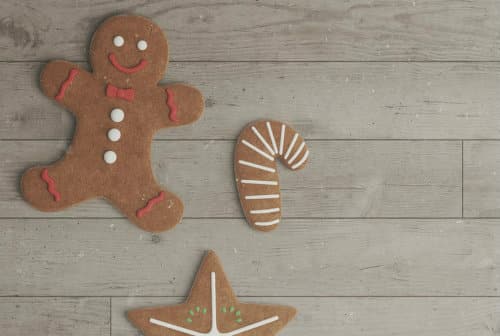 Baking is chemistry, while cooking is more of an art. If certain items are (or are not) present in your formula when you are baking something, then it will change the final product. This is true of vegan and non-vegan baking alike. This article is a look at vegan gingerbread cookies, and what makes one recipe different from another. They are all gingerbread after all, so why would you prefer one recipe to another. This article takes a look at recipes for vegan gingerbread cookies in an attempt to help you find the perfect one for your holiday celebrations.
more→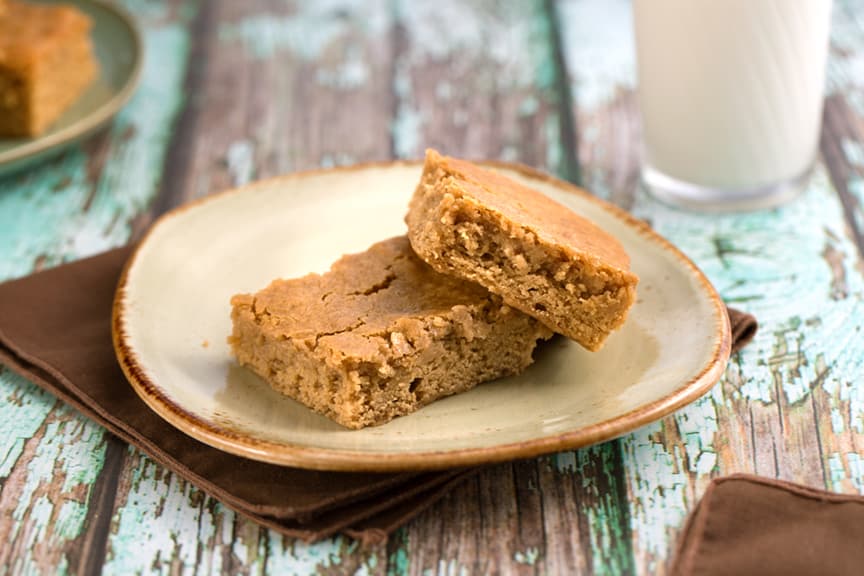 Butterscotch blondies, a childhood favorite, turned out to be one of the most difficult recipes for me to master. Really, it should have been a breeze to figure out this seemingly foolproof idea, and yet my first trial pan of raw batter literally exploded all over the oven. I wish I were exaggerating, but in all honesty, drippy streaks of sugar and margarine plastered the glass window from which I watched in horror.
Thankfully, though it took a while to perfect my approach, the following 5 or 6 attempts only resulted in a trash can full of unsatisfactory baked goods rather than more kitchen disasters. Now, I am happy to share my easy method for creating this sweet treat that I remember fondly from my pre-vegan days. It doesn't require you to blow anything up, either. Recipe and photos by Hannah Kaminsky. more→
These easy vegan peanut butter granola cookies pass an important test — if a sweet treat is actually healthy, will it still get eaten? Happily, these tasty cookies disappear quickly. Use whatever kind of granola you prefer — there are so many great varieties! These sturdy cookies are perfect or packing in the school or work lunch box, too.  more→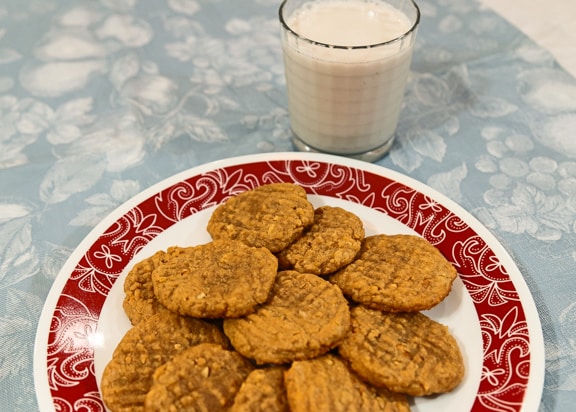 Who doesn't love a classic peanut butter cookie? It's even better when you make them vegan. The original recipe contains egg and lots of sugar, but those are easy swaps to make. First, replace the egg with applesauce, which in turn gives the cookie the extra sweetness needed to cut the sugar in half.
We've been enjoying using einkorn flour for baking — it makes baked goods really tender and naturally lower in gluten, but these cookies are great made with spelt or whole wheat pastry flour. Make sure your peanut butter isn't too dense so it's easy to blend with the other ingredients. This Makes about 30 cookies. Cut the recipe in half for a smaller batch. Photos by Evan Atlas. more→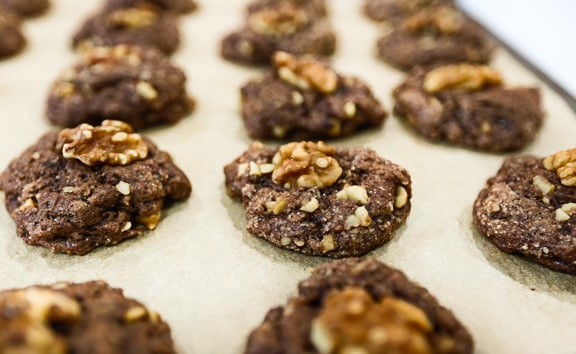 These vegan nutty chocolate cookies are made with einkorn flour, which gives them a nice texture and light flavor. Extra-virgin olive oil adds a subtle and seductive charm. See more about einkorn wheat, the oldest form of cultivated wheat which is higher in protein and lower in gluten than today's highly hybridized wheat. Photos by Evan Atlas. more→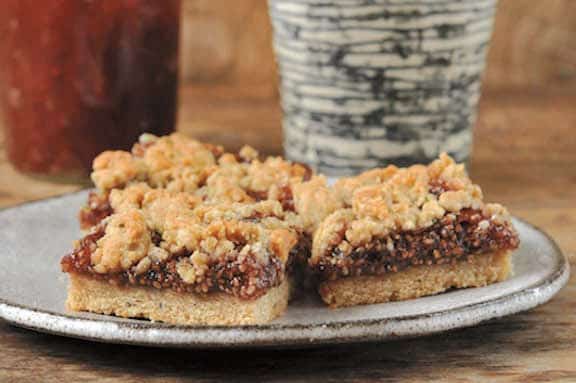 When a snack attack sneaks up on us, we can't get enough of these little squares paired up with a cold glass of unsweetened coconut-almond milk. The good news is they're quite nutritious on top of being delicious—so thumbs way up if you feel like having seconds. Recipe and photos from The Great Vegan Protein Book by Celine Steen and Tamasin Noyes. @2015, Fair Winds Press. Reprinted by permission. more→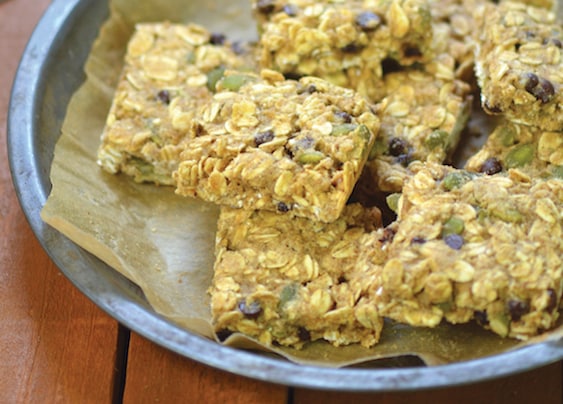 These homemade bars featuring pumpkin seeds and chocolate chips are a terrific on-the-go healthy breakfast, and a perfect snack for any time of the day. Our whole family loves them! Recipe from from Plant-Powered Families: Over 100 Kid-Tested, Whole-Foods Vegan Recipes* by Dreena Burton, BenBella Books © 2015, reprinted by permission. Photos by Nicole Axeworthy. more→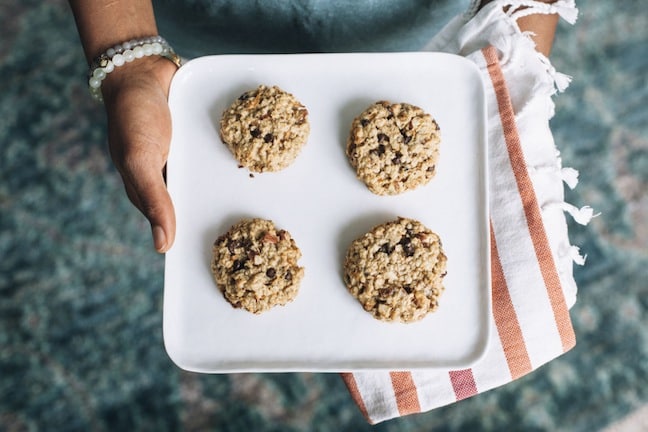 I love my cookies soft, hearty, and moist. They get extra points if they're healthy. Even more points when they take less than 15 minutes to make. These life-changing tahini cookies are the answer. I can have my cookie AND eat it too! Recipe contributed by Jenné Claiborne of Sweet Potato Soul, from her e-cookbook, 5 Ingredient Vegan. Photos by Sydney Bensimon.  more→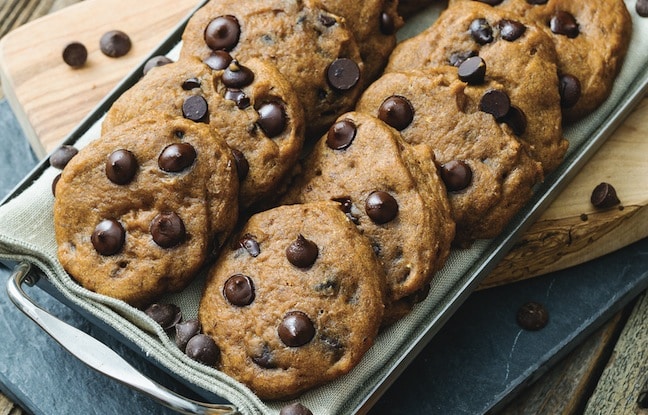 You may think that pumpkin is reserved for consumption between the months of October and November. That is true, except when that pumpkin is going into chocolate chip cookies. Then it is perfectly acceptable to eat it year round. The pumpkin acts as an egg replacer but also adds a lot of depth to the flavor. These cookies are a total crowd-pleaser, so if you serve them to your omnivore friends, be prepared for the question, "These are vegan?" Recipe from But I Could Never Go Vegan!: 125 Recipes That Prove You Can Live Without Cheese, It's Not All Rabbit Food, and Your Friends Will Still Come Over Dinner, copyright © Kristy Turner, 2014. Reprinted by permission of the publisher, The Experiment.  more→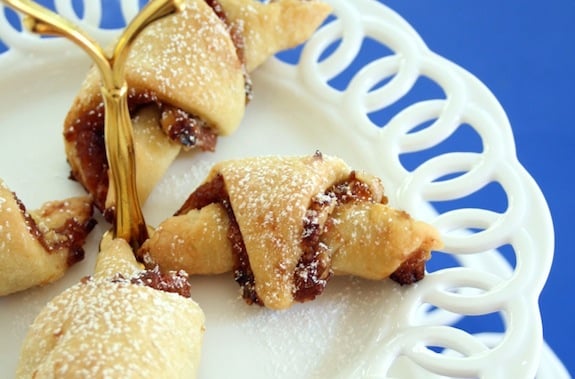 Apples and honey are the traditional treat to celebrate the Rosh Hashana, in hopes that it will be a sweet New Year. Apples and agave or maple syrup have always provided this same sentiment just fine, but now I have something even better to kick off a new 365 days with. Rolling up a mixture of walnuts, apples, agave, and just a tiny touch of orange blossom water for that floral hint you'd find in honey, the standard buttery rugelach dough becomes a whole lot more special. more→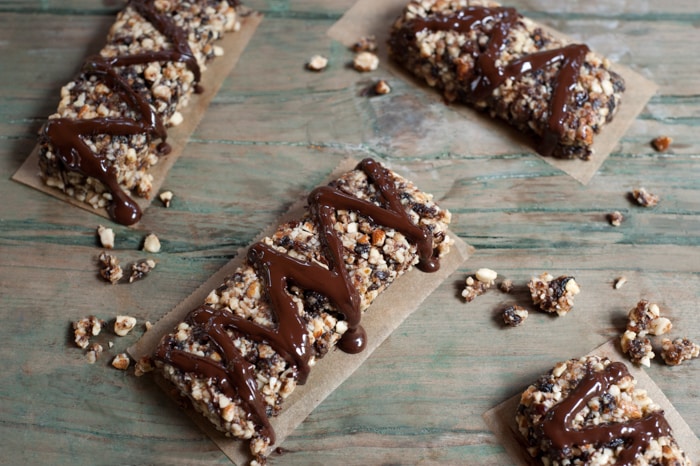 These no-bake bars are super-easy to make, and feature almonds, raisins and dark chocolate. Leslie Cerier recommends using as many organic and fair trade ingredients as possible for this yummy treat. Recipe contributed by Leslie Cerier. Photos by Tracey Eller. more→