No-Bake and Raw Sweets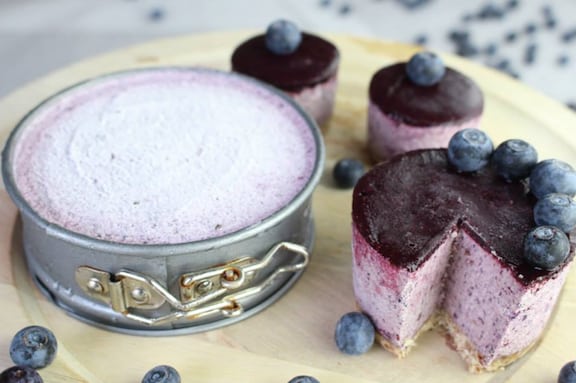 Whether fruity, creamy, chocolatey, nutty, or a combination, these no-bake vegan pies are cool, refreshing, and insanely delicious.So let's get started, especially because these are incredibly easy to make as well.
Blueberry Cheesecake (shown at top) might just be the best cheesecake you've ever tasted. Rich with nuts and flavored with summer blueberries, you won't believe that this is a raw, vegan dessert. Other than the 20 minutes of prep time, there are about 4 hours of freezing time.  more→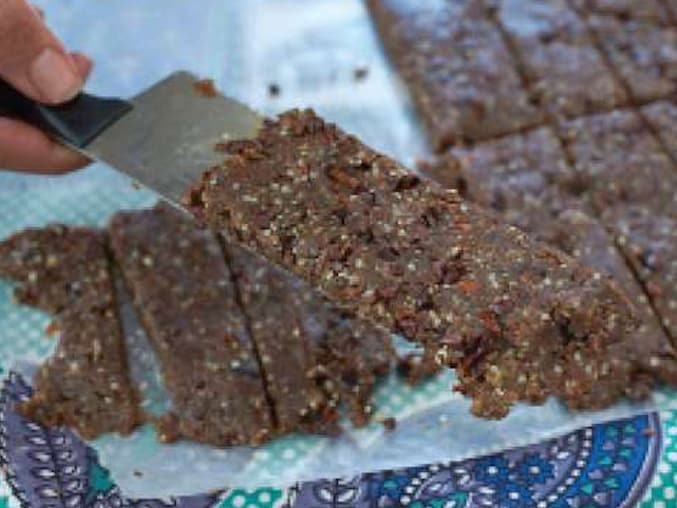 Power-packed with healthy ingredients like nuts, seeds, coconut and dried berries that boast a plentitude of protein, healthy fats and fiber, these energy bars will keep your engine revving all day long. Great for packing in your child's lunchbox!
Reprinted from Plantpower Way by arrangement with Avery Books, a member of Penguin Group (USA), a Penguin Radom House Company. © 2015, Rich Roll and Julie Piatt. more→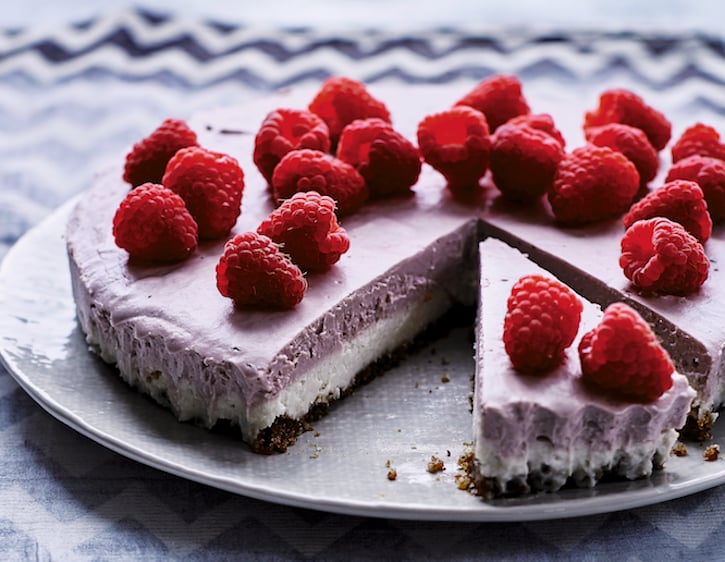 This raw cheesecake is much lighter and fresher-tasting than a dairy cheesecake and the cashew topping is such a good medium for color and decoration. Even though it looks stunning as a whole cake, we sometimes make individual ones in a silicone muffin tray.
It makes a fantastic light dessert, or, with a bit of imaginative decoration it makes a tastefully subtle celebration cake too—with a bit of planning needed for the freezing time. Freeze-dried raspberry powder may seem like a futuristic ingredient, but it is well worth having in your pantry as it has so many uses. Try stirring it into oatmeal and adding to your smoothies.
Recipe and photos from Super Loaves and Simple Treats: Modern Baking for Healthier Living by Melissa Sharp © 2018, Avery Publishing. Reprinted by permission.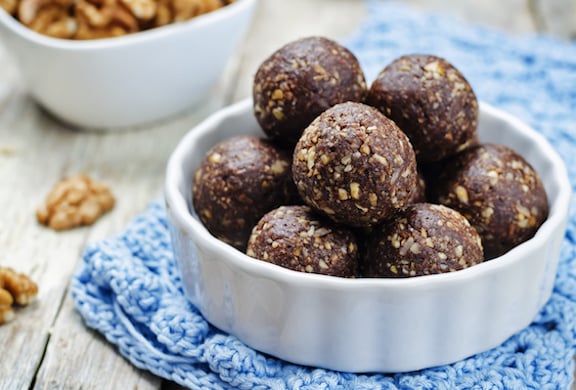 We love healthy treats that are as tasty as candy truffles, and these dried fruit and walnut energy balls fit that description. With just a few ingredients, they're super easy to make, too. Did you you know that walnuts are just about the best source of omega 3 fatty acids? This beneficial fat is hard to come by in plant-based foods, and walnuts are the only nut that contains ALA, or alpha-linolenic acid. Eating 3 or 4 of these will give you just about your total daily requirement.
Though the maca powder in these is optional, it's highly recommended — it's another way to get an energy boost and enjoy its other health benefits. more→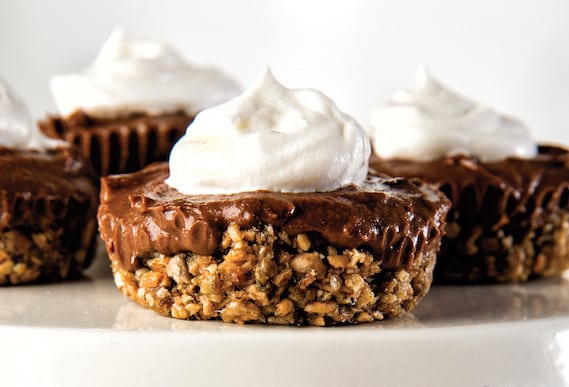 I don't know if you remember this, but many years ago, I'm talking the '70s, I think every mom in America was required to make her children chocolate pudding pie in a graham cracker crust and slather it with whipped cream. This was actually something I really loved to eat. Of course, I had to figure out a healthy, vegan, allergy-free version of it for my son (and for myself, who am I kidding?).
The best part is there is no need to bake it. Just assemble the parts and put it in the freezer. The avocado hiding out in the chocolate pudding adds a boost of potassium, a rich creaminess, and a smooth texture that makes it taste like custard.Recipe from Sweet, Savory and Free: Insanely Delicious Plant-Based Recipe Without Any of the Top 8 Food Allergens by Debbie Adler © 2017, BenBella Books. Reprinted by permission. more→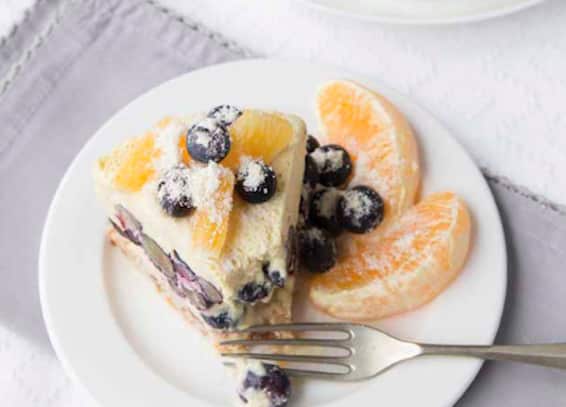 This summery dessert has everything you love about Creamsicles, but in cake form! While the presentation makes it look like you've been working on this dessert for days, it actually requires very little effort. Best of all, this orange creamsicle ice cream cake is vegan and raw.
This frozen cake is designed to be made in a springform pan so that the sides can be removed. Much like any ice cream cake, this recipe will melt when removed from the freezer. more→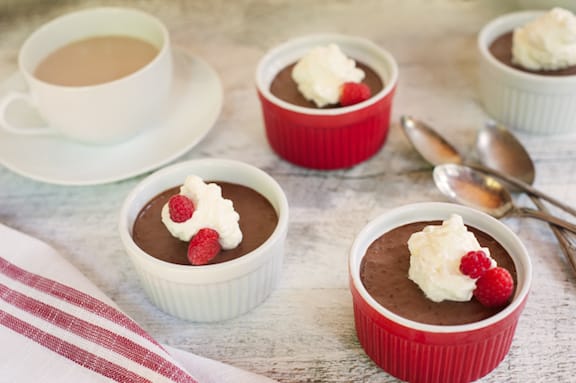 Dark chocolate coconut mousse is delicious any time of day! The secret to this simple and luscious 3-ingredient mousse is to thicken it up with a small amount of chia seeds, rather than arrowroot or cornstarch, which might make it lumpy. And it takes 10 minutes or less of hands-on time. Recipe by Leslie Cerier, developed for Equal Exchange with their organic dark chocolate chips. Chocolate is even more delectable when you know it's fair trade. Photo by Tracey Eller. more→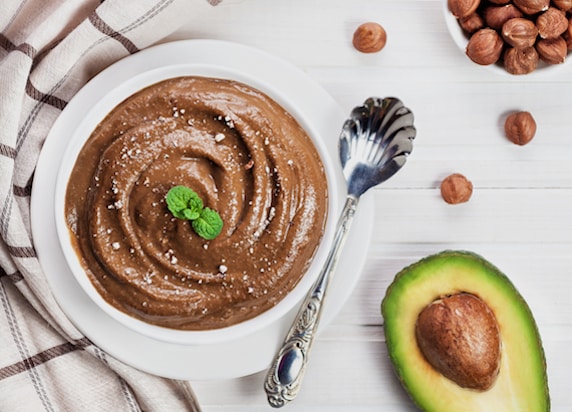 Many healthy food fans know that avocado is the secret ingredient in this kind of nondairy chocolate mousse. It's silky smooth, and maca makes it even better. Maca's malt-like flavor blends beautifully with chocolate. We recently received a package of Soul Organics Organic Maca Powder and tried a couple of our favorite ways to use maca — Strawberry-Vanilla Maca Smoothie, as well as simply stirring in a spoonful into granola with chocolate almond milk — yum! Maca is a fabulous superfood to add to your life. Learn more about it on our Frequently Asked Questions about Maca Root. more→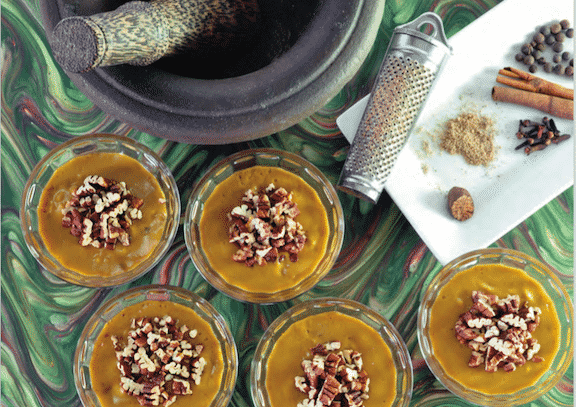 I'm a firm believer in dessert for breakfast, especially if it's wholesome but tastes decadent. Of course, this light, silky mousse also makes a delicious snack or after-dinner dessert. Recipe from Low-FODMAP and Vegan: What to Eat When You Can't Eat Anything by Jo Stepaniak, © 2016. This book is geared toward those with IBS that wish to enjoy a plant-based diet. Multiply the ingredients for serving a bigger crowd. Published by The Book Publishing Company. Reprinted by arrangement. more→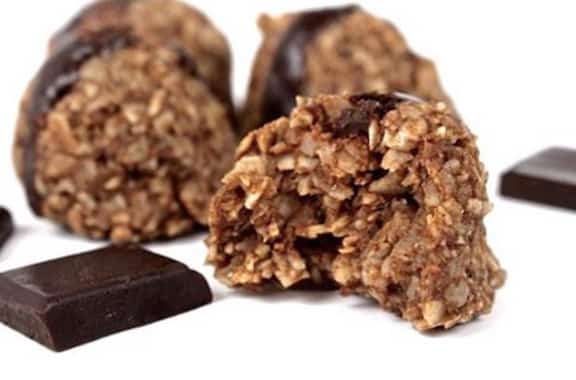 These raw chocolate macaroons are a perfect snack for your sweet tooth! With a hint of sweetness, chocolate and coconut these cookies will become your new favorite go to snack.Recipe and photo by Laura Marquis, from Sweets in the Raw: Naturally Healthy Desserts, reprinted by permission. more→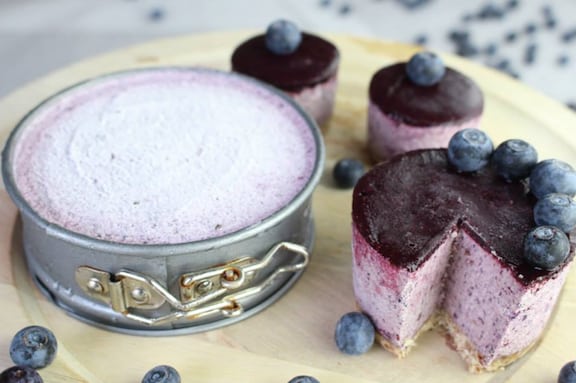 This might just be the best cheesecake you've ever tasted. Rich with nuts and flavored with summer blueberries, you won't believe that this is a raw, vegan dessert. Other than the 20 minutes of prep time, there are about 4 hours of freezing time. Recipe and photo by Laura Marquis, from Sweets in the Raw: Naturally Healthy Desserts, reprinted by permission. more→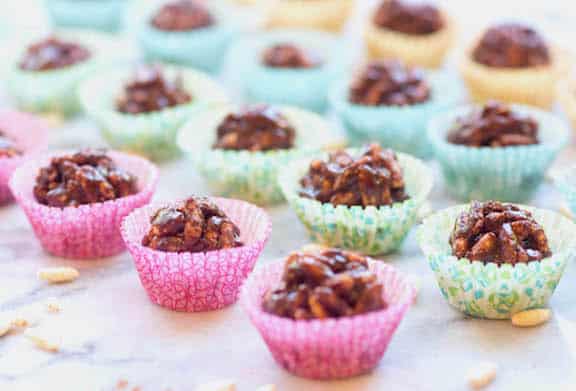 Here's a super-simple snack that will please kids of all ages! These chocolatey crispy rice cereal balls make a perfect snack for evening or after school. Recipe Vicki Marquez. Photos by Jennifer Kathryn.  ©2016, reprinted by permission. more→