Vegan chocolate desserts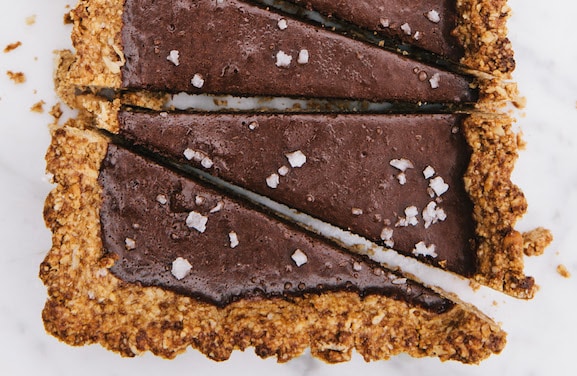 The combination of flavors in this salty peanut butter chocolate tart are familiar and crowd-pleasing. It's also packed with lots of good nutrition from the oats, peanuts, and cacao. This is an impressive dessert to take to a party because unlike other tarts that may be messy to serve, this one has a thick peanut butter and oat crust that holds its shape. A dark chocolate filling and a sprinkling of flaky salt bring it over the top. We usually cut the tart into bars, but it can also be cut into triangle wedges and eaten like a New York–style slice (of pizza, that is!).
From Chocolate Every Day: 85+ Plant-Based Recipes for Cacao Treats that Support Your Health and Well-Being by Bennett Coffey and Kyleen Keenan, Copyright © 2018. Published by Avery, an imprint of Penguin Publishing Group, a division of Penguin Random House, LLC, reprinted by permission. more→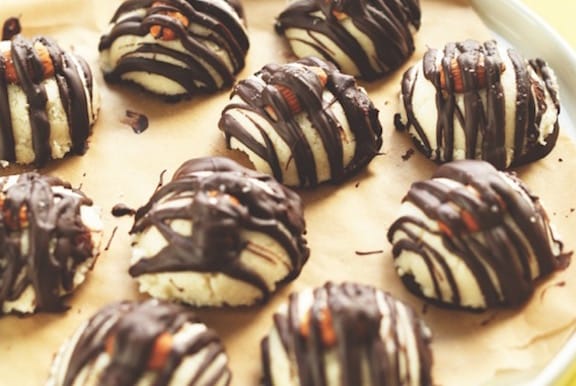 These bites are one of my favorite desserts yet! Consider these my lazy-girl's take on classic Almond Joys. The base is a naturally-sweetened, and these no-bake vegan coconut cookies are dunked in dark chocolate and topped with a roasted almond and more chocolate. Serve these delectable bites as a simple dessert, or enjoy throughout the week as a relatively guilt-free snack! Recipe from Minimalist Baker's Everyday Cooking by Dana Schultz © 2016, reprinted by permission of Avery Publishing. more→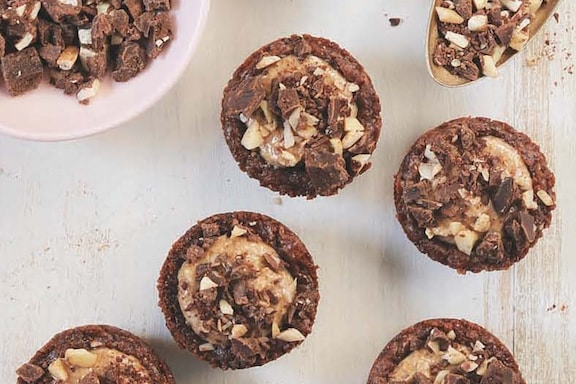 We've taken a look at the best thing ever (also known as peanut butter cups) and gone one step further, replacing the chocolate candy bottom with a mini brownie. You'll realize what a brilliant idea it was when you get your fingers on (and sink your teeth into) the resulting chewy, super rich goodness! Recipe and photo from Vegan Finger Foods: More Than 100 Crowd-Pleasing Recipes for Bite-Size Eats Everyone Will Love by Celine Steen and Tamasin Noyes. Published by Fair Winds Press @2014. Reprinted by permission. more→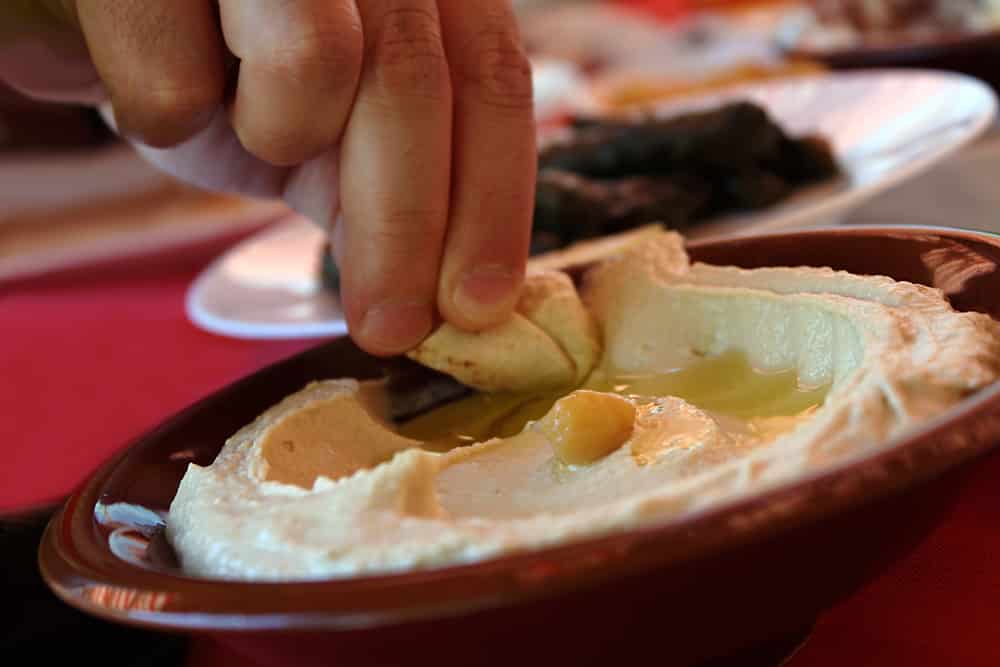 It doesn't get much better than gathering with good friends on a crisp, fall morning, all bundled in your favorite team's colors, preparing to cheer on the best players in the league. That is, unless you could somehow combine your love of football with your vegan diet.
Typical tailgate parties conjure up visions of grilling meat, dairy-laden dips and egg-based sweet treats that leave very few options for the true vegan. Vegans are accustomed to making do with the odd carrot stick or packing their own snacks at parties, but that doesn't have to be the case. Luckily, you don't have to throw out every tailgating guide to create a vegan tailgater's dream. more→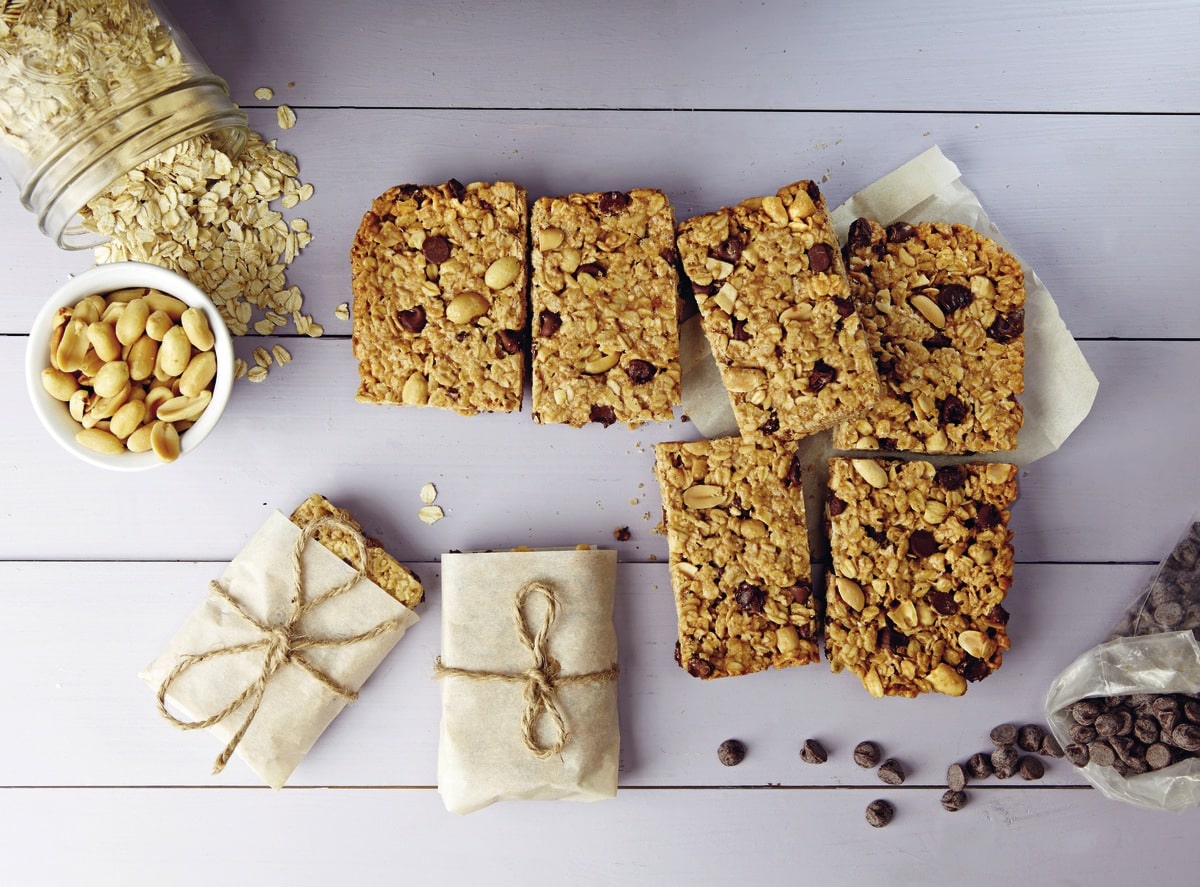 It's hard to think of a more compatible duo of flavors for desserts than peanut butter and chocolate. This array of recipes from a number of vegan foodies and chefs is proof positive of universal agreement on this topic! Above, Isa Moskowitz's Peanut Butter-Chocolate Chip Bars a perfect for a lunch box treat, a picnic, or hey, since there's cereal and oatmeal in there, why not breakfast? They're so easy and so much yummier than packaged granola bars that there's no reason not to give 'em a go. more→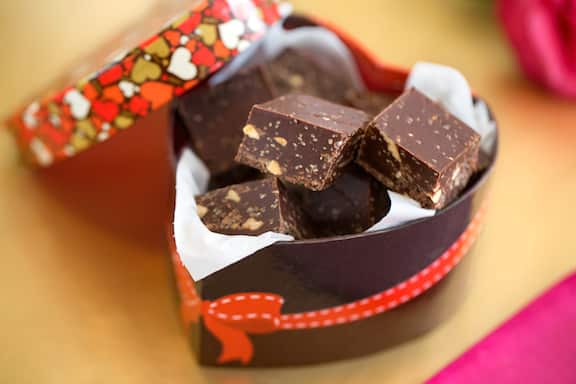 This super-easy, rich tasting vegan chocolate fudge gives you a nice dose of Omega 3s, as it features hemp or chia seeds and walnuts. Made in minutes, it needs about an hour of refrigeration to set up. If you can't wait that long, pop it in the freezer! Photos by Hannah Kaminsky.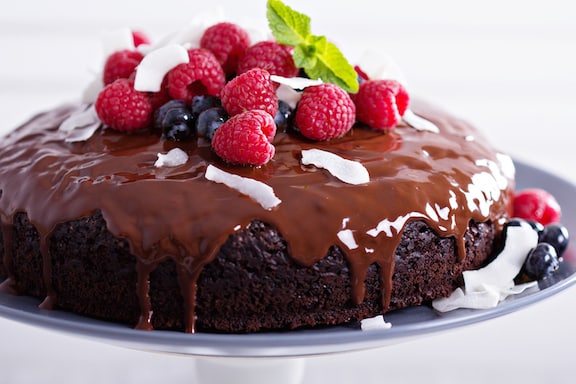 When Valentine's day is around the corner, or really, any festive occasion, here are VegKitchen's top reader favorites for luscious vegan chocolate desserts. First up is Easy Vegan Chocolate Cake. It's a dessert so easy, you can make it even if you don't consider yourself much of a baker. more→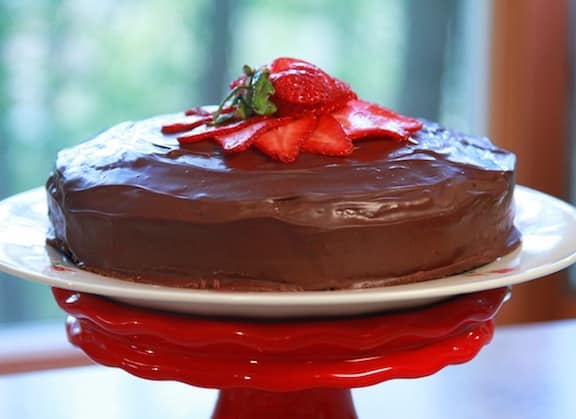 This is a rich, decadent-tasting, and gorgeous cake. This scrumptious confection, topped with a luscious vegan chocolate ganache frosting, is ideal to serve as an enticing dessert at any gathering throughout the year. Recipe and photos contributed by Laura Theodore, The Jazzy Vegetarian.
more→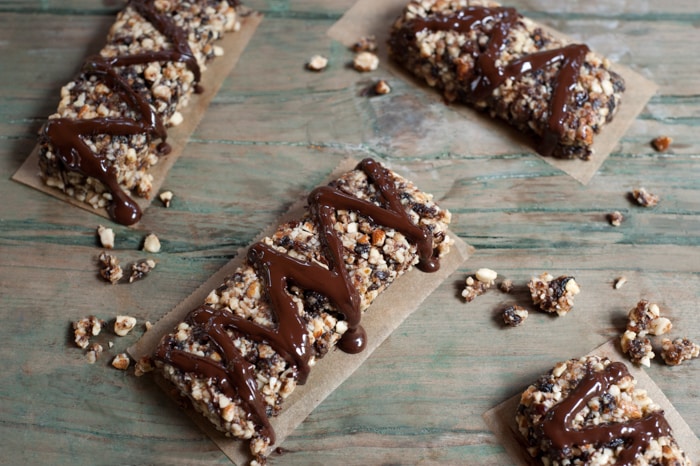 These no-bake bars are super-easy to make, and feature almonds, raisins and dark chocolate. Leslie Cerier recommends using as many organic and fair trade ingredients as possible for this yummy treat. Recipe contributed by Leslie Cerier. Photos by Tracey Eller. more→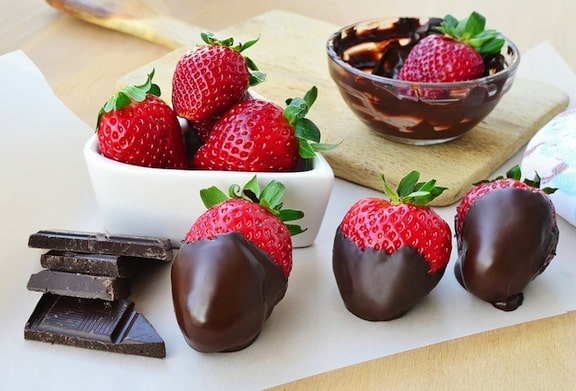 A two-ingredient classic dessert — how can you go wrong? Strawberries and dark chocolate are just made for one another. Though this hardly even qualifies as a recipe, there are are a few tips and tricks that make this come out just right. more→
Two of my favorite superfoods, sweet potatoes and raw cacao, are whipped together to make a delicious treat! This one passed by all my testers, young and old! Not only does this scrumptious dessert satisfy a sweet tooth, it will leave your skin glowing!  Both sweet potatoes and raw cacao are two of the best foods you can consume for radiant skin! Recipe and photos contributed by Cristina Cavanaugh, from Begin Within Nutrition.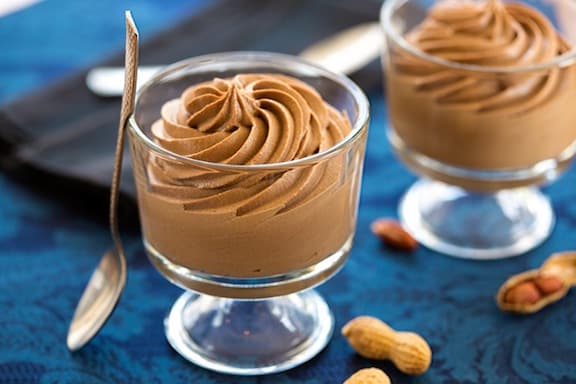 This super creamy and delightfully delicious dessert will please the chocolate and peanut butter fans at your table. Tofu replaces the eggs in this rich tasting pudding. Contributed by Laura Theodore, from Vegan-Ease: An Easy Guide to Enjoying a Plant-Based Diet* (October 8, 2015). Published by Jazzy Vegetarian LLC, © 2015, reprinted by permission. Photos by Hannah Kaminsky.