Vegan Muffin Recipes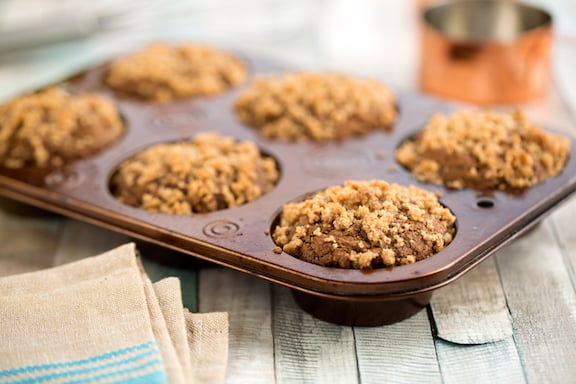 Inspired by traditional Pennsylvania Dutch shoo-fly pie, molasses and a crumb topping team up in delectably wholesome vegan molasses muffins. Barley malt syrup works just as well as molasses and produces a slightly milder flavor. Since these aren't overly sweet, they make a great breakfast muffin, and are welcome in the lunchbox as well; delicious with slices of crisp apple. Photos by Hannah Kaminsky. more→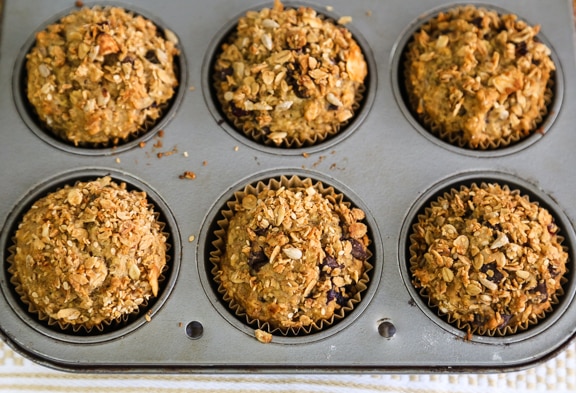 It's back to the 1960s with these hearty (but not heavy) crunchy granola muffins! Use your favorite homemade or bulk-purchased granola for these easy vegan muffins. If you want to do the from-scratch route, try our Classic Crunchy Granola — a perfect fit! These make a nice breakfast, on-the-go snack, and are fabulous with a cup of coffee or tea on a cold day. Photos by Evan Atlas.
more→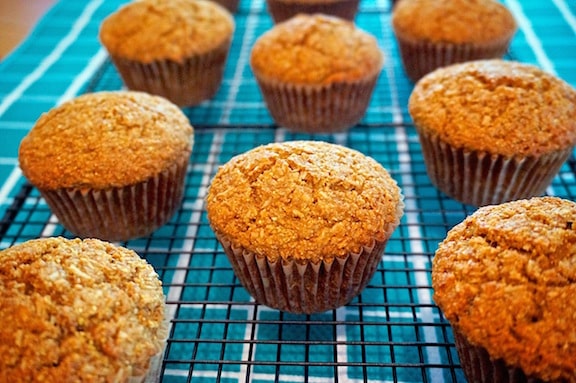 Cornmeal gives these vegan lime and coconut corn muffins a hearty texture, while the lime and coconut contribute a tropical twist. Recipe and photo by Laura Theodore, from Vegan-Ease: An Easy Guide to Enjoying a Plant-Based Diet. Published by Jazzy Vegetarian LLC, © 2015, reprinted by permission.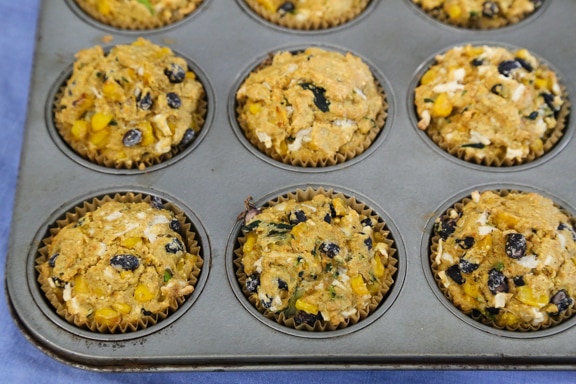 These healthy vegan corn muffins makes good use of summer's fresh corn and the season's abundance of zucchini. Other times of year, you can use frozen kernels, and of course, zucchini is a year-round veggie. These make a perfect accompaniment to hot or cold soups. Black beans give these a bit of heft, making them a nice change of pace for the lunch box. Photos by Evan Atlas. 
more→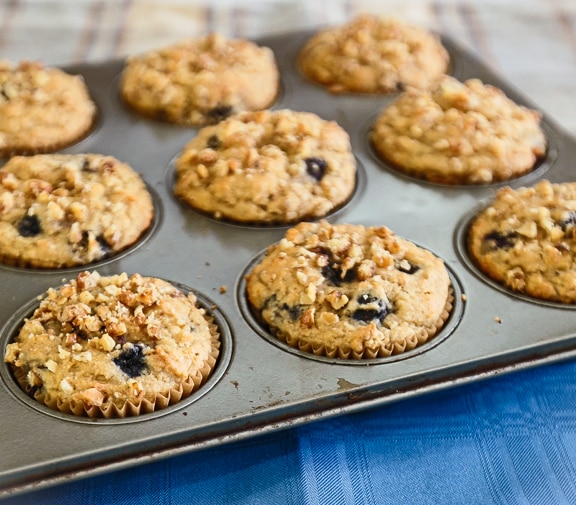 These subtly lemon-flavored vegan blueberry muffins are perfect for making on cool summer evenings during blueberry season, or any time of year with frozen organic blueberries. The double twist of lemon juice and zest (finely grated peel) is what makes them shine. Photos by Evan Atlas. more→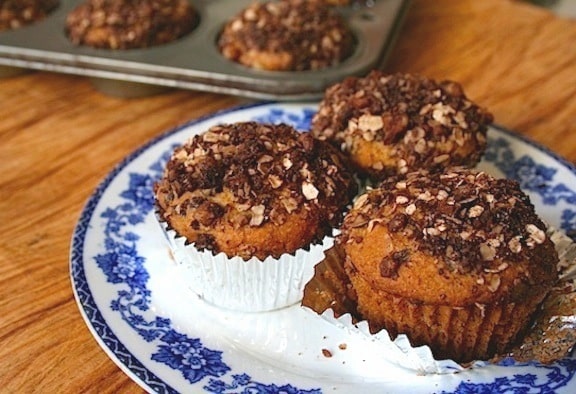 A healthy vegan muffin recipe that's moist and cake-like isn't hard to find — here are 8 of our favorites to choose from. Incorporating whole grains, fruits, and nuts, these muffins are good for any time of day as a treat or dessert; they're also a fantastic addition to portable lunches. Here are some of VegKitchen's favorites; make sure to browse through all of our vegan muffin recipes.
Pretty streusel-topped Double-Orange Chocolate Chip Muffins (at top) are not only delicious, but contain a dose of Vitamin C from fresh orange juice as well as concentrated orange juice. The concentrate also contributes sweetness as well as color.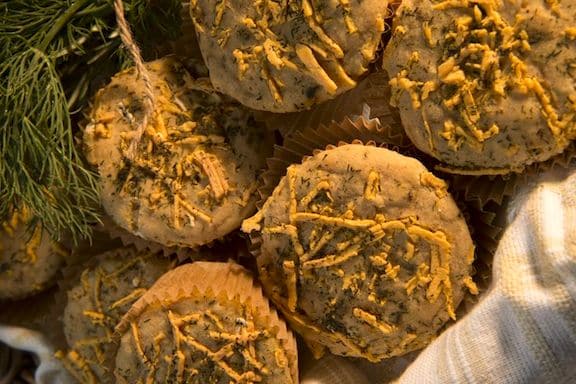 Here's a savory dill muffin recipe with all the most vibrant herbs your spice rack or garden can hold. My favorite is dill. Its fragrance and flavor enhance any dish. And with the additions of rosemary, thyme, and oregano, this muffin smacks of a garden Alice Waters might have planted. Recipe contributed by Debbie Adler, from Sweet Debbie's Organic Treats: Allergy-Free & Vegan Recipes from the Famous Los Angeles Bakery.* ©2013 Harlequin books, reprinted by permission. Photo by Carl Kravats. more→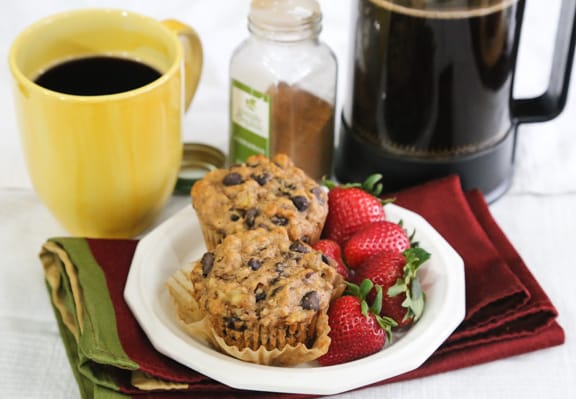 This vegan banana muffin recipe featuring chocolate chips yields a sweet and moist result. They're a scrumptious treat for breakfast, an afternoon snack, or dessert. This recipe uses ripe bananas rather than eggs for binding. Recipe contributed by Laura Theodore, from Jazzy Vegetarian, Lively Vegan Cuisine That's Easy and Delicious * (Book Publishing Company), reprinted by permission. Photos by Evan Atlas. more→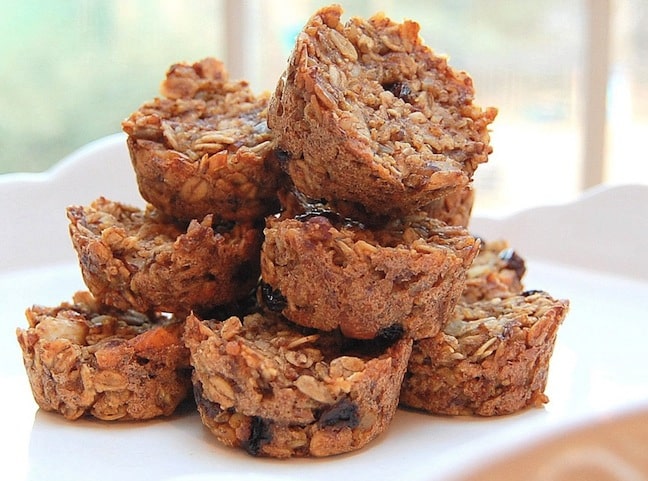 These light and healthy quinoa, apricot, and oat muffin clusters boast an irresistible creamy, crunchy sweetness. Apricots are rich in iron, potassium, vitamin A and fiber. They're also flourless and vegan. Enjoy these yummy, good-for-you treats — they're nutrient-rich and delish! Recipes and photos contributed by Jennifer Strohmeyer of Virtually Vegan Mama. more→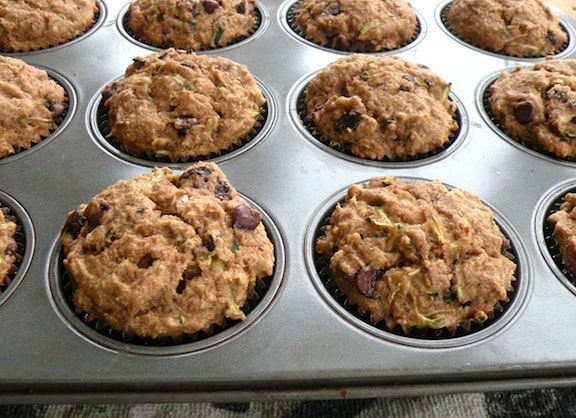 These delectable and healthy vegan zucchini-raisin muffins give you the classic  combo in an egg-free, dairy-free rendition. Use them as an alternative to sandwiches for brown-bag or school lunch, or as a healthy snack. For this recipe, the chocolate chips and walnuts are optional, but I like to use them both!
more→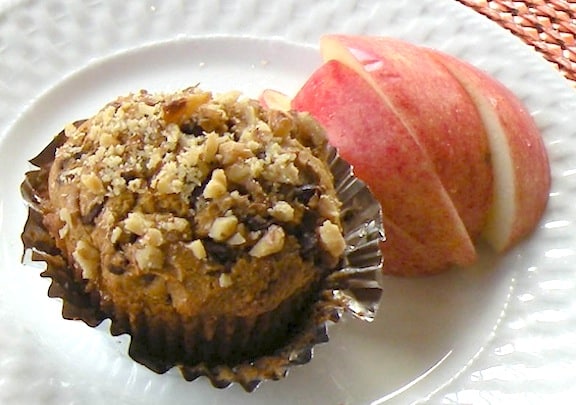 Vegan chocolate muffins featuring pumpkin might seem a little odd at first, but these flavors are surprisingly compatible.They're equally good with any other orange winter squash, especially butternut. These just could become your favorite fall-winter muffin to serve with tea or nondairy hot cocoa.  more→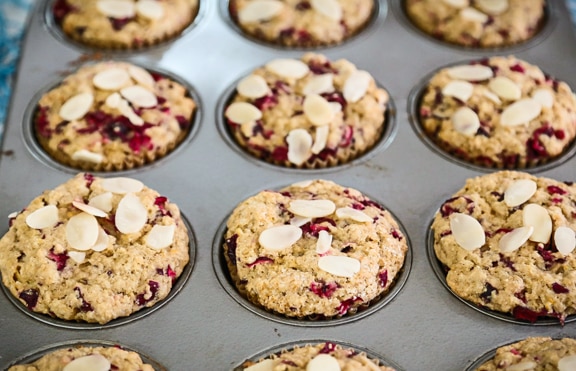 These delicious and healthy vegan muffins or mini-loaves prove that pairing orange and cranberry makes for a lively flavor combination in baked goods. If I'm in the mood to make muffins for a weekend brunch, this is one of my top choices! And for winter holiday baking or giving, this batter is nice made into mini-loaves.This makes 1 dozen muffins, or 3 to 4 mini-loaves. Photos by Evan Atlas. Adapted from The Vegetarian Family Cookbook.