Pizzas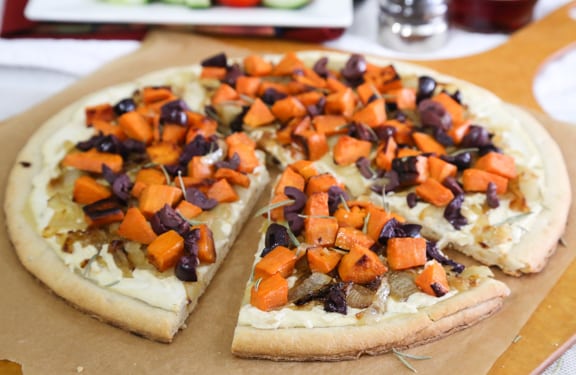 Here's a delectably different kind of pizza—a vegan white pizza brimming with well-cooked onions, roasted sweet potato, and briny olives. Combined with most any kind of salad, this pizza makes a delicious cool-weather dinner. This makes 6 to 8 slices. Double the recipe if you're feeding more than 3 hungry people! Photos by Evan Atlas.  more→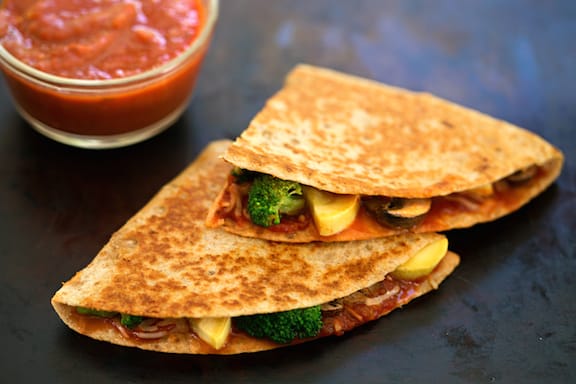 Vegan pizzadillas, a fast and fun dinner idea, are a mash-up of pizza and quesadillas. Basically, you're filling soft taco-size tortillas with the kinds of ingredients you'd use for making pizza — marinara sauce, vegan cheese, and lots of veggies. And you can just wing it as far as measurements, too.
For a one-person meal, cut the recipe in half. All you need to complete this meal is a substantial salad with some cooked quinoa, beans or chickpeas, and/or sunflower seeds for a protein boost. This serves 2 hungry people or 4 moderately (1 or 2 pizzadillas per serving). Photos by Hannah Kaminsky.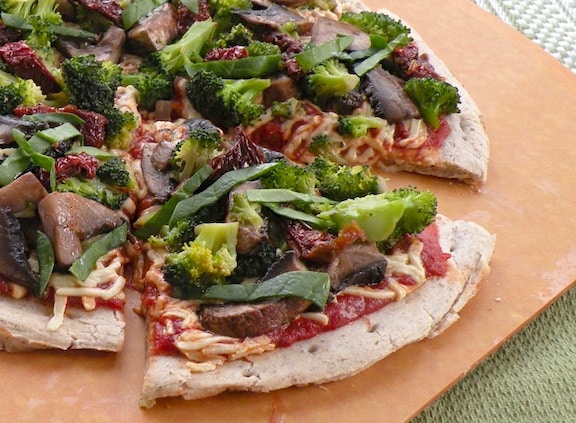 Using plenty of veggies makes this easy vegan broccoli pizza, embellished with mushrooms and sun-dried tomatoes, a nourishing meal. Serve a big salad with mixed greens and plenty of raw veggies, embellished with olives and chickpeas. Use as many of the shortcuts as you'd like, making this a super-quick preparation; I've provided from-scratch options for sauce and crust (even a gluten-free option!) for when you have more time. more→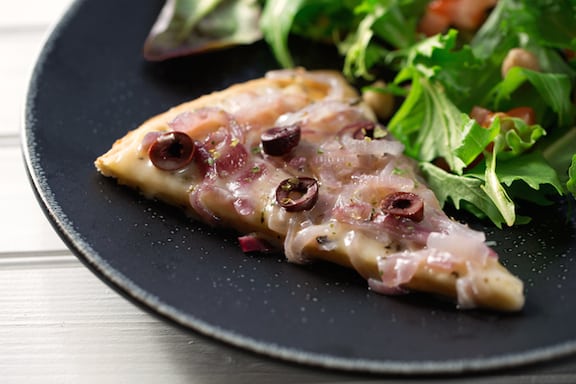 This deliciously offbeat onion and olive pizza features mellow caramelized onions, with briny olives for a contrasting flavor. For a simple meal, serve with a salad of mixed greens, cannellini or chickpeas, and ripe tomatoes. Photos by Hannah Kaminsky. more→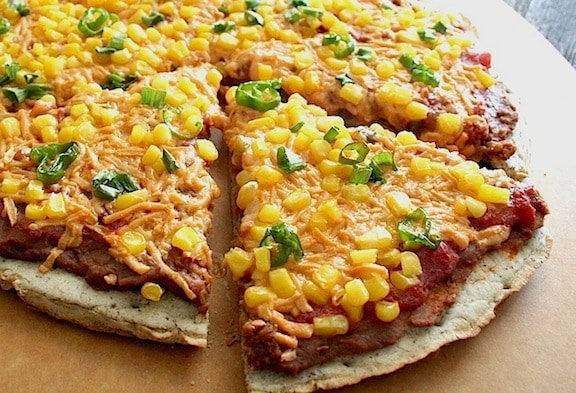 Layer on the Southwestern flavors in this playful vegan Mexican pizza. It starts with refried beans (in place of red sauce), followed by salsa, corn and nondairy cheese. Serve with a colorful green salad and garlic-sautéed greens. This recipe doubles easily. Adapted from Vegan Express.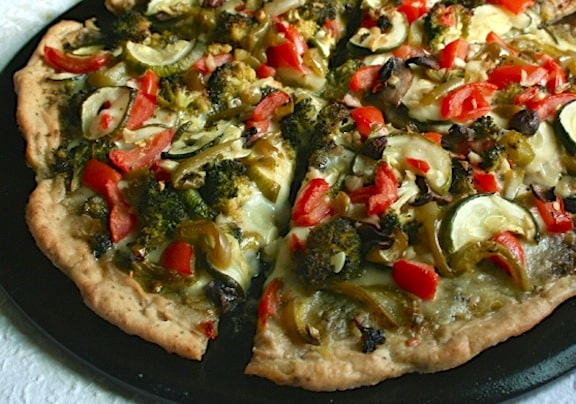 If you like a very veggie-filled pizza, this one's for you, piled generously with broccoli, bell pepper, and zucchini. And in place of the usual tomato sauce, this one features a delectable spinach-miso pesto as the base. Adapted from Vegan Express by Nava Atlas. Photos by Rachael Braun.  more→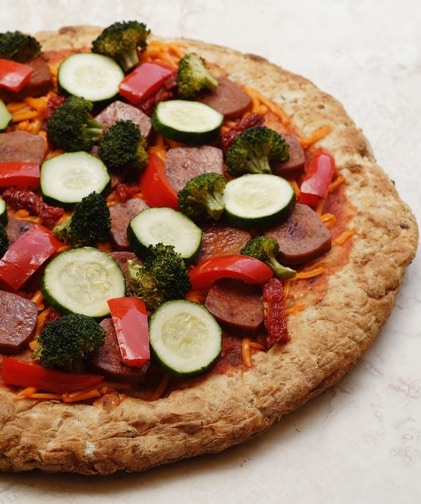 This hearty vegan roasted veggie pizza is a good one for hearty appetites. Feeding a larger crowd? The recipe is easily doubled to make two pizzas. Vary the pizza with other vegetables you may have on hand, including eggplant, sweet potato, kale, yellow summer squash, etc. Photo by Susan Voisin.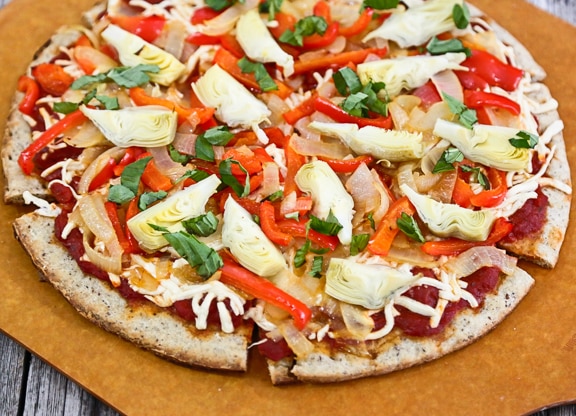 The added toppings on this vegan artichoke pizza —caramelized onions, red bell peppers, and basil — make it extra tasty. Serve with a big salad (add chickpeas or other beans for extra protein). Though it's filling, this pizza goes down easy, so double the recipe if you're feeding a hungry group. Though completely optional, tucking thin slices of fresh tomato between the pizza sauce and the cheese gives it a delicious summery flavor. Photos by Evan Atlas. more→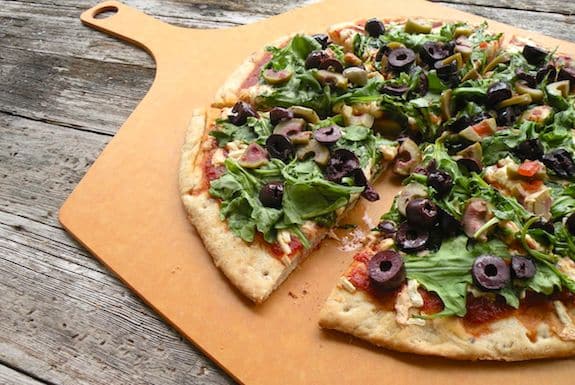 Olives add great flavor to this vegan spinach pizza. It features a generous helping of baby spinach; or, you can use baby arugula instead. Do try this with pepper jack or other spicy vegan cheese, which gives it a bit of a kick. Serve with a colorful salad — add some beans or chickpeas for more protein.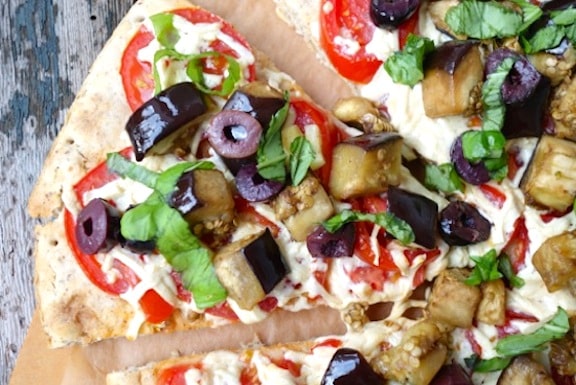 Make a simple vegan eggplant pizza special by adding fresh tomatoes and olives to the topping. It's a perfect pizza to make on cool summer evenings, though you can enjoy it year round as long as you can find decent tomatoes. Use tomatoes that are ripe yet firm, and dense and fleshy rather than seedy. Roma (plum) tomatoes are ideal for this.
This pizza goes down easy, so double the recipe to serve a hungry crowd, as this makes 6 slices, serving 2 to 3. Serve with a big colorful salad containing chickpeas for a simple and tasty meal.  more→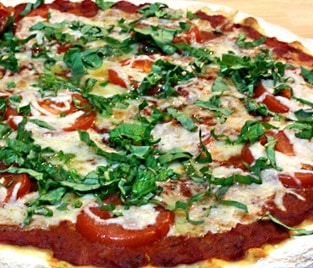 One of America's favorite comfort foods is made here with a roasted red pepper sauce. No shortcuts in this vegan Margerhita pizza recipe — the sauce, the dough, and all area made from scratch. Reprinted with permission from American Vegan Kitchen: Delicious Comfort Food from Blue Plate Specials to Homestyle Favorites*  by Tamasin Noyes © 2010, Vegan Heritage Press). more→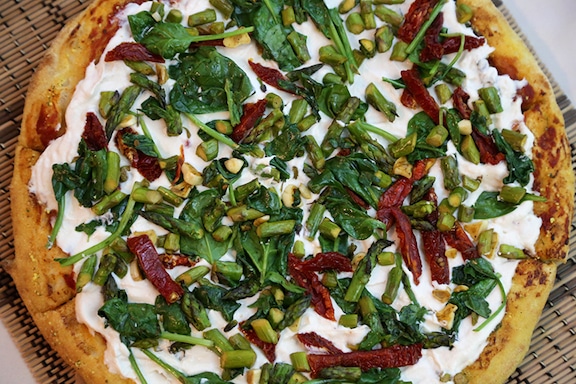 Here's a light, lively vegan white pizza recipe that's perfect for a springtime meal. It features favorite spring veggies — asparagus and spinach on a creamy backdrop. Serve with a big green salad; toss in some chickpeas, whose flavor is highly compatible with the pizza. This pizza goes down easy, so double the recipe if you're serving a hungry group. Recipe adapted from Vegan Express. Photos by Evan Atlas. more→