Vegetables All Year Round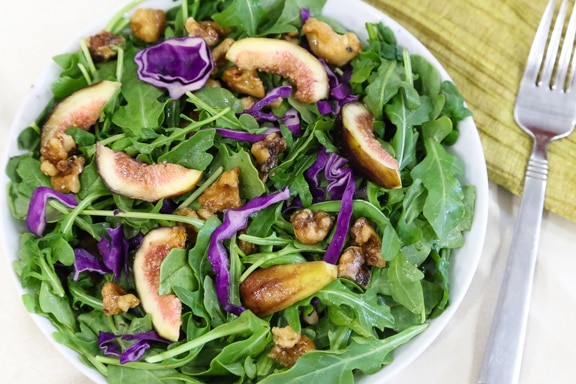 Arugula leaves are tender, bite-sized, and packed with a distinct, tangy flavor. Sometimes referred to as "rocket," this vibrant leafy green is the star of the year-round arugula recipes up ahead.
They're the versatile friend at the dinner party, blending well with nearly every dish. Not only that, but they're loaded with nutrients; studies have suggested that a sulfur-containing compound called sulforaphane gives cruciferous vegetables both their bitter taste and their cancer-fighting power. It's also packed with vitamin A, vitamin K, and antioxidants.
more→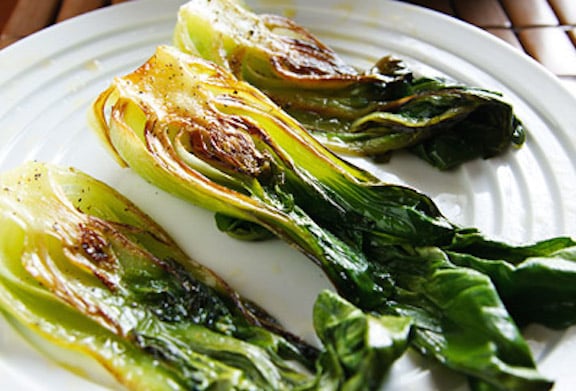 Baby bok choy is at its best in the late winter and early spring, though it's available most of the year round. A nutritional superstar, this vegetable (which can honestly be called "cute") offers a healthy dose of Vitamins K, C, A, and is a great source of calcium.
Seared Baby Bok Choy is a super-quick way to prepare it, showing off its flavor and visual appeal. This is not so much a recipe as an idea, but what a fun idea it is. There's so little prep involved, and no other ingredients to use, so you're on your way to a great vegetable side dish in minutes.
more→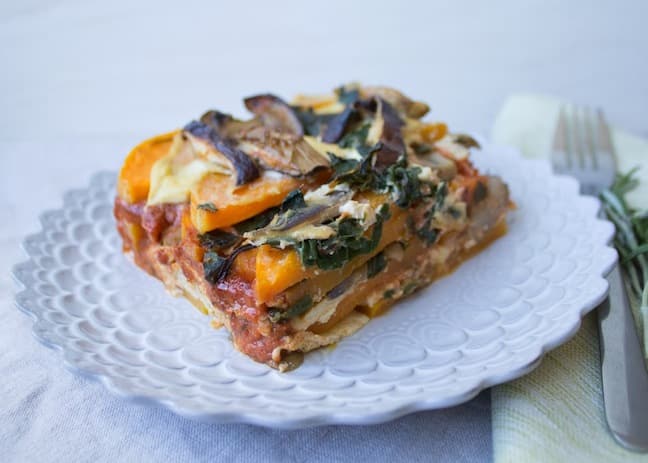 In this hearty vegan and gluten-free lasagna I used a mixture of shiitake and white button mushrooms, fresh rosemary and tarragon, swiss chard, homemade sauce (so easy!!!), tofu "cheese", and squash. The flavor and texture are excellent, everything you'd want from a meal on a cold winter day.  more→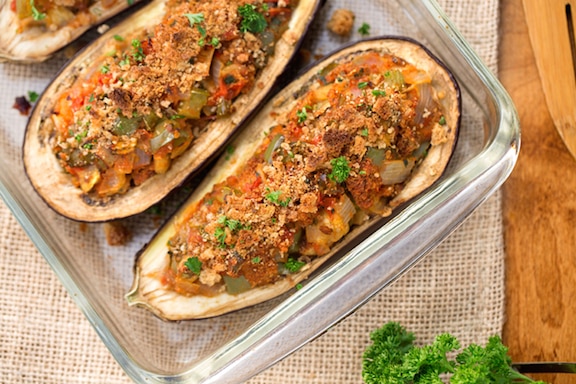 If you're an eggplant fan, you'll enjoy these 6 delicious ways to use eggplant in main dishes. Whether you're vegan or just looking for more veggie-oriented meals, you'll love these! Creole Stuffed Eggplant (above) was inspired by recipes in old Creole cookbooks. It's filled with typical Creole flavors like celery, bell pepper, onion and garlic, and seasoned with fresh herbs — parsley, basil, and thyme. It's a heavenly dish for eggplant fans!  more→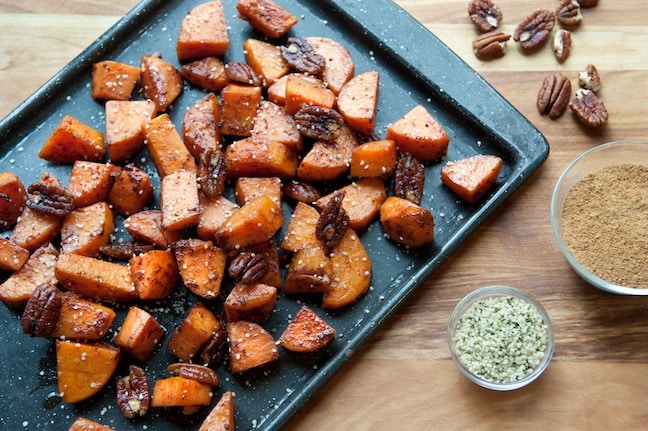 You can make this festive roasted sweet potato dish with yams or sweet potatoes or a combination of both. Generally speaking, garnet yams are sweeter than sweet potatoes. Serve it as part of a vegan Thanksgiving holiday or anytime you want to warm up the house with the sweet aromas of cinnamon and nutmeg. Recipe contributed by Leslie Cerier. Photo by Tracey Eller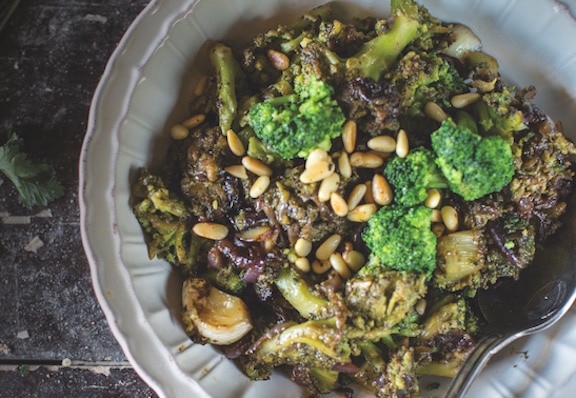 When I lived in New York, I had a flatmate who told me a story about how shocked she was when, during a trip to Italy, she saw her host mother cooking the life out of broccoli. "I had never seen anything like it before!" she said. "She cooked it until almost mushy, with tons of garlic. It was delicious!"
And it is. Strange as it may sound, and although it is surely not the healthiest way to cook broccoli, do give this broccoli Strascinati a try. You will be amazed at how even broccoli can become what tastes like an indulgent, olive oil–laden, garlicky treat.  Reprinted from Naturally Vegetarian by Valentina Solfrini, by arrangement of Avery Books, a member of Penguin Group USA. A Penguin Random House Company, © 2017.
Serves: 4 as a side dish
Florets from 2 large heads broccoli, or about 2 pounds

¼ cup olive oil

3 large garlic cloves, crushed

1 small onion, finely diced

1 tablespoon packed light brown sugar

3 tablespoons balsamic vinegar

1 teaspoon salt

¼ teaspoon pepper

1/3 cup raisins, soaked and squeezed out

¼ cup water

1/3 cup pine nuts or almonds, toasted
Blanch the broccoli florets in boiling water for 5 minutes or, even better, steam them for 10 minutes.
Heat the olive oil in a large pan over medium-low heat and add the garlic. Sauté for about 2 minutes, until the garlic releases its aroma.
Add the onion and sauté for 5 minutes, until translucent.
Add the broccoli and stir to coat with the oil, then add the brown sugar, vinegar, salt, pepper, and raisins. Stir well to dissolve the sugar, add the water, reduce the heat to low, and let cook, half-covered, for 30 minutes.
If the broccoli dries out too much, add a splash more water. Uncover and cook for 5 minutes more, until any leftover water has evaporated and the broccoli is very soft and slightly caramelized. Sprinkle the toasted nuts on top.
VARIATION: For an extra-simple version of this dish, omit the vinegar, raisins, and pine nuts. It will be just as delicious.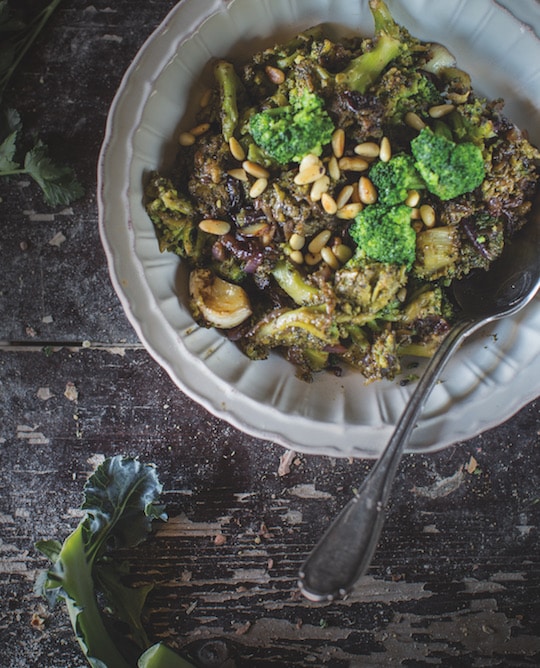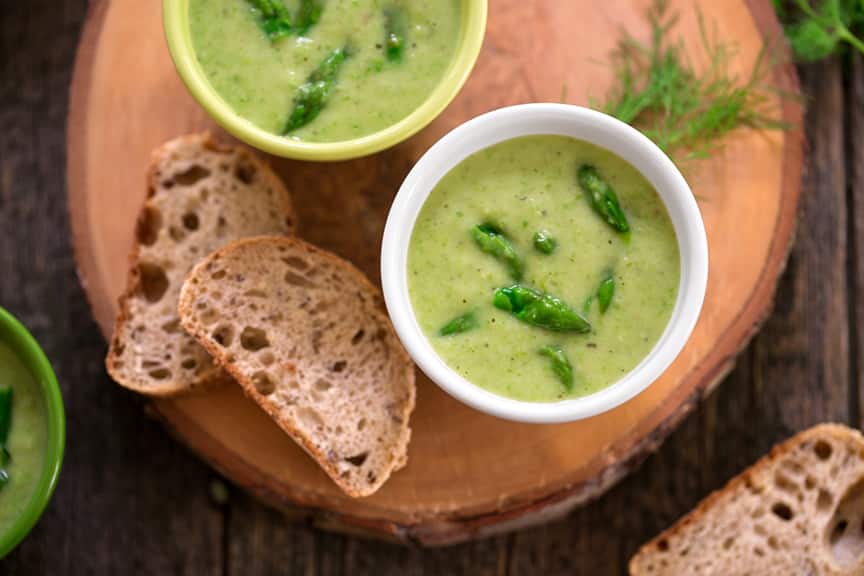 This gorgeous vegan cream of asparagus soup is a nice introduction to meals as a first course, since it's nice and light. It used to be that asparagus was primarily available in spring (and that's still when it's best and less expensive), but now that it's become more year-round, you can enjoy this soup nearly any time of year. Serve with a crusty whole-grain bread, if you'd like.
more→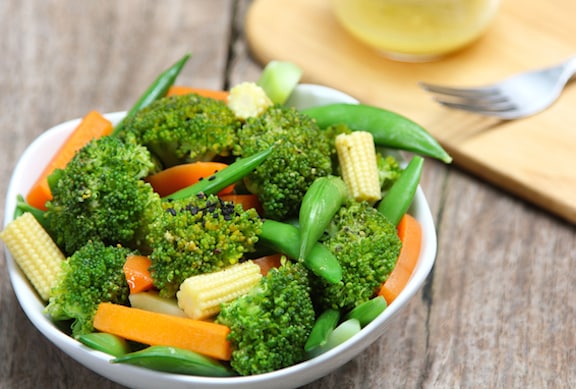 Here's an easy and colorful side dish to accompany Asian noodle or tofu main dishes. This broccoli and baby corn stir-fry especially good with really fresh broccoli from the garden or farm stand. more→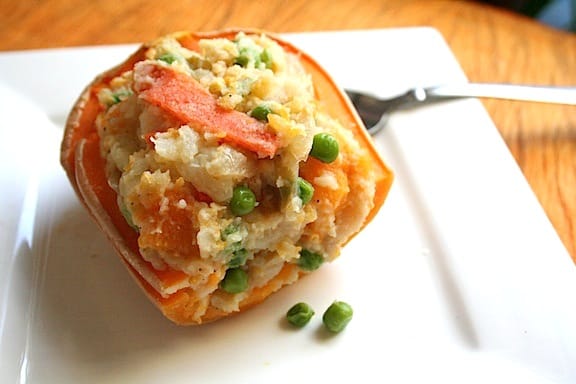 This mild mashed potato-stuffed winter squash makes a great alternative main dish for Thanksgiving, but it's any time during fall harvest season or as a winter comfort food. Double the recipe to feed a bigger crowd. Each stuffed winter squash half can serve as a main dish portion; or cut each half again to make 8 smaller side dish portions. Photos by Rachael Braun.

Winter Squash Stuffed with Mashed Potatoes and Peas
Recipe type:
Winter squash / Thanksgiving
Prep time:
Cook time:
Total time:
This mild mashed potato-stuffed squash makes a great alternative main dish for Thanksgiving, but it's any time during fall harvest season or as a winter comfort food.
Ingredients
2 medium butternut or carnival squashes (1½ to 2 pounds each)
6 medium potatoes, any variety, peeled and diced
1 tablespoon olive oil
1 large onion, chopped
1 large carrot, cut into thick 2-inch-long matchsticks
½ cup unsweetened nondairy milk
1 cup frozen petite green peas, thawed
2 teaspoons salt-free seasoning blend (such as Spike or Mrs. Dash)
Pinch of nutmeg
Salt and freshly ground pepper to taste
Nutritional yeast to taste, optional
Instructions
Preheat the oven to 400 degrees F.
Cut the squash in half lengthwise and remove the seeds and fibers. Cover with aluminum foil and place the halves, cut side up, in a foil-lined shallow baking pan. Bake for 40 to 50 minutes, or until easily pierced with a knife but still firm. When cool enough to handle, scoop out the pulp, leaving a firm ¼- to ½-inch-thick shell all around. Mash the pulp and set side until needed.
Meanwhile, combine the potatoes with enough water to cover in a large saucepan. Bring to a simmer, then simmer steadily, covered, until the potatoes are tender, about 10 to 15 minutes.
Heat the oil in a medium skillet. Add the onion and carrot and sauté over medium heat until the onion is golden and the carrot is tender-crisp. Remove from the heat.
When the potatoes are done, drain them and transfer to a mixing bowl. Add the milk  and mash until smooth. Stir in the onion-carrot mixture, followed by the peas, nutritional yeast, and nutmeg. Add the reserved squash pulp, and stir gently until the mashed potato and squash are well integrated.
Divide the mixture evenly among the four squash shells. Bake for 15 minutes, until well heated through. Serve each half as one substantial portion, or cut each half crosswise to make 8 smaller portions.
Variation: Substitute 1 large sweet potato for 2 of the other potatoes.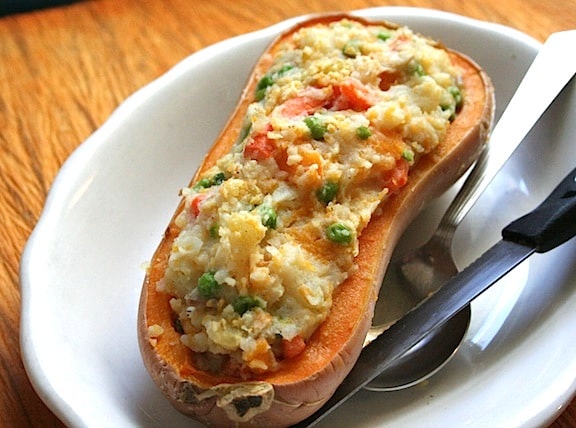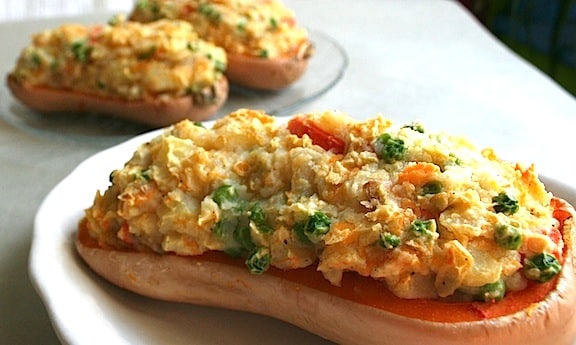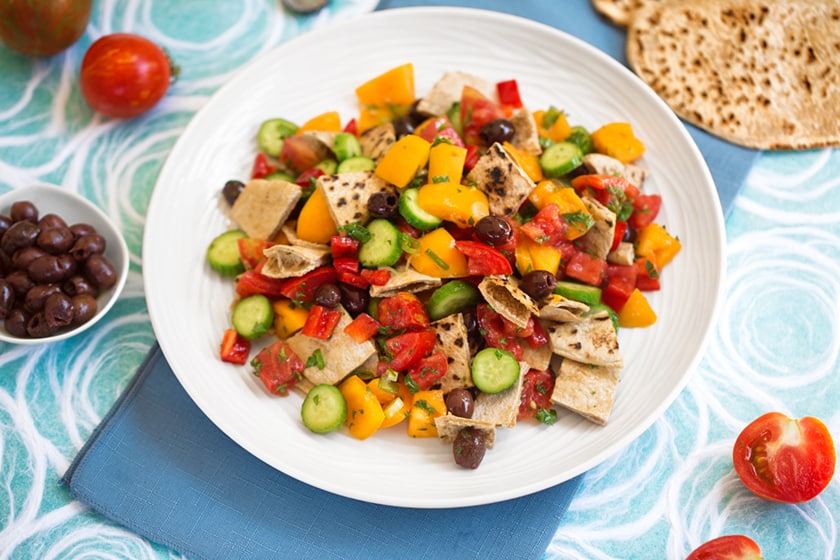 Fattouche salad is a Middle Eastern classic that's not as well known in western culture as is tabbouleh, though maybe it should be — it's just as delicious. It gets its characteristic touch from the use of small bits of toasted pita bread mingling with juicy tomatoes, cucumbers, and fresh herbs. It's good all year round, though especially tasty with summer tomatoes more→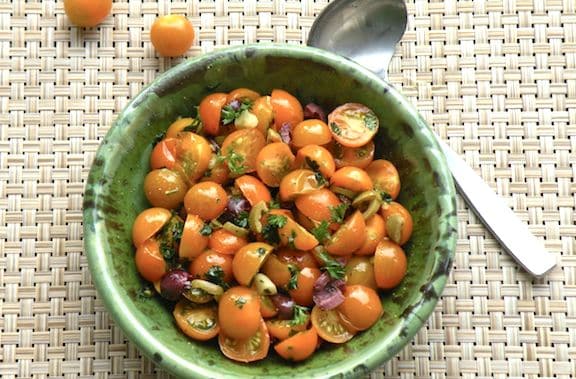 Now that I have a garden, though its theme is more overgrown than Italian, I'm finding a lot of inspiration from a wonderful cookbook titled My Italian Garden by Viana La Place. It's filled with simple, fresh vegetable recipes, most of which are vegetarian, and many of which are vegan or can be made so with minor adjustments.
My local CSA farm is bursting with the sweet-as-sugar Sungold tomatoes, so the time is ripe, so to speak, for this delectable little dish. I loved it as is from the book's recipe, below, but I'm also going to try a raw version tonight, minus the garlic. I can't wait to try her simple pizza dough recipe, and pile it high with tomatoes and basil from the garden! more→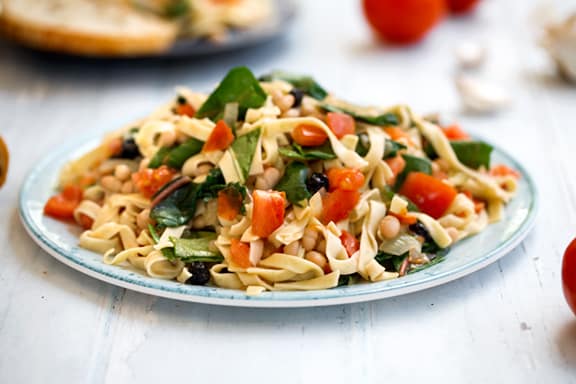 Chard, an abundant garden vegetable, a relative of both beets and spinach, comes in a number of varieties. Like all leafy greens, it's abundant in nutrients and so versatile in the kitchen. These fresh and easy chard recipes will inspire you to make good use of it.
Some common types of chard are Swiss, green, red, gold, and silverbeet. Rainbow chard is actually a 5-color silverbeet, which grows with a variety of stem colors. These are packaged together to create the rainbow of colors. Though chard stands out as the star of simple preparations, it more than holds its own with bold-flavored grain, bean, and potato dishes as well as in soups and stews.
Pasta with White Bean Sauce and Chard: When this beloved kitchen-garden vegetable is combined with beans and pasta in Italian cuisine, it adds up to a stick-to-your-ribs pasta dish to satisfy the heartiest of appetites (at top). This is nice with ribbon noodles, but you can use any short shape you'd like. more→