Beets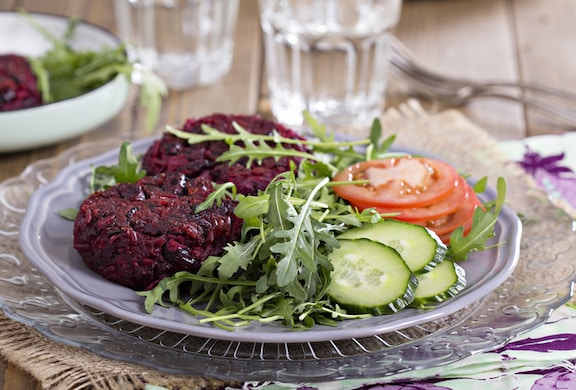 Vegan beet burgers are all the rage in the plant-based world. The red color is absolutely gorgeous! Serve as you would any other kind of burger — on buns or in pita bread, with your favorite condiments. They're so flavorful that I like to serve them on their own. If anything, I'd add a dollop of a quick vegan tartar sauce and serve them with salad.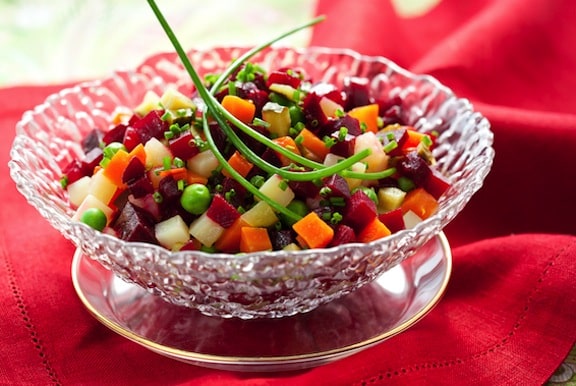 Here's a simple, classic potato salad made vivid with beets. If you have access to golden beets, by all means, use them. They're even sweeter than red beets, and keep their vivid color to themselves more than red beets do. Is this salad really Russian? I have no idea; it is really good, though, especially if you like beets! more→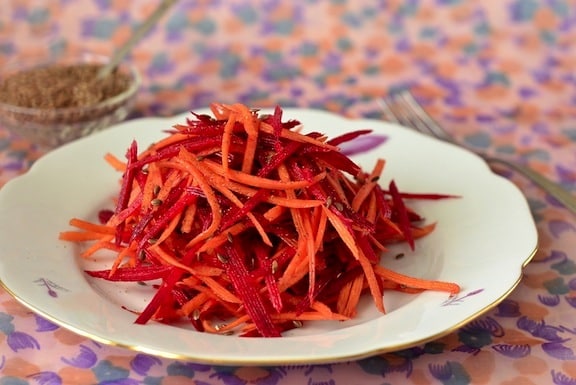 Beets and carrots are such companionable vegetables. They go together "grate" in this simple salad. Such flavorful veggies need only light embellishment — just a little added sweetness, plus the tartness of lemon, which brings out their flavors. And a small flourish of your favorite seeds is a nice finishing touch. more→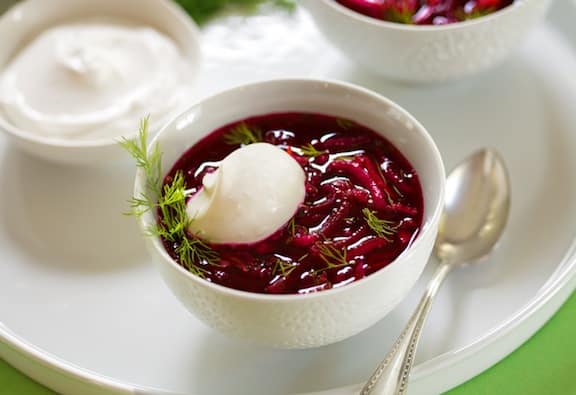 The ingredients of classic cold beet borscht are usually cooked together, then chilled, but in this version, there's no need to cook at all, unless you'd like to lightly pre-cook the beets. After this has a chance to chill, don't be shy about amping up the lemon/agave contrast to your taste. Photos by Hannah Kaminsky. more→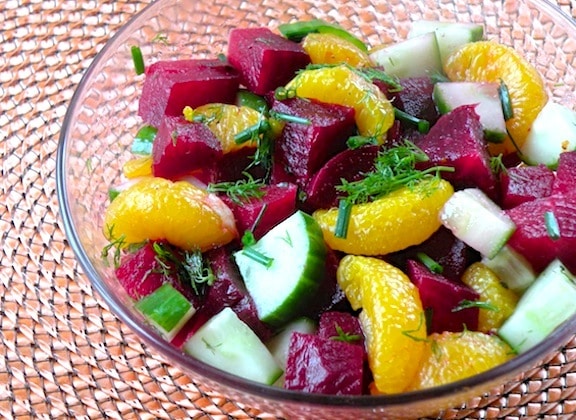 If you like beets, you'll absolutely love them combined with the crunch of cucumber and the sweetness of citrus. This salad can be enjoyed all through fresh orange season, adding color and flavor to cool-weather meals. It's also a festive salad to add to fall and winter holiday meals.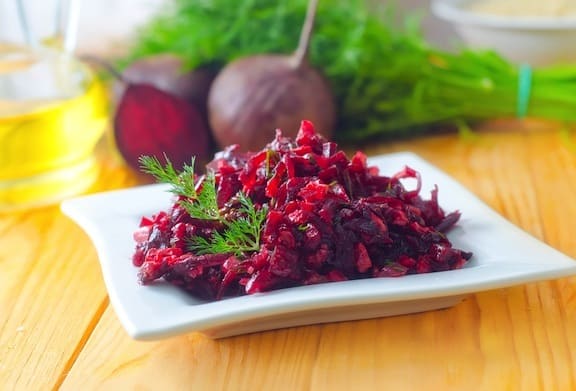 This vivid salad of grated beets and red cabbage, served in modest portions, makes a dazzling visual statement on the dinner plate, but more importantly, add a dose of vitamins and antioxidants. It's a beautiful addition to everyday meals or holiday plates.  more→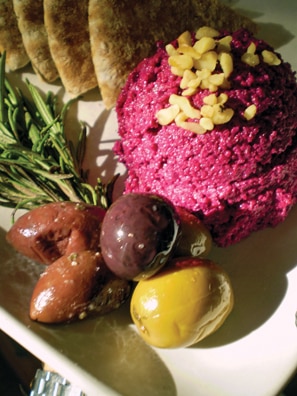 Inspired by muhummara, a Turkish spread typically made from roasted red peppers and walnuts, this stunning and addicting spread is perfect for festive occasions or any regular day of the week. Serve with warmed pita triangles. Recipe and photo courtesy of Betsy DiJulio, from The Blooming Platter Cookbook: A Harvest of Seasonal Vegan Recipes* (© 2011, Vegan Heritage Press). more→
I harvested/sacrified a good bit of my cilantro for this summer salad. It's sturdy and pretty enough for a summer potluck and get a spark from chili-lime vinaigrette. Recipe and photo contributed by Ellen Kanner. more→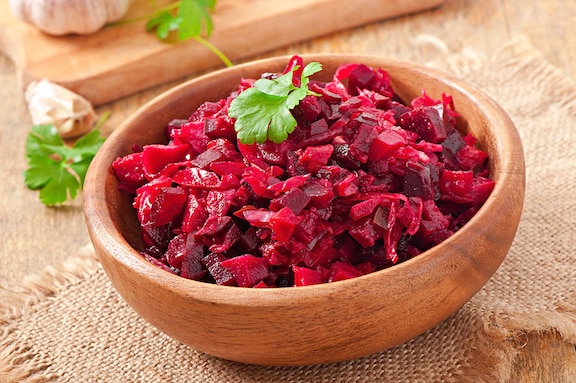 A citrus glaze is a great way to enhance the natural flavor of beets. This is a great way to use beets when they're plentiful at the farm market or from your home garden. They're great in the winter, too. Serve this simple preparation warm or at room temperature.  more→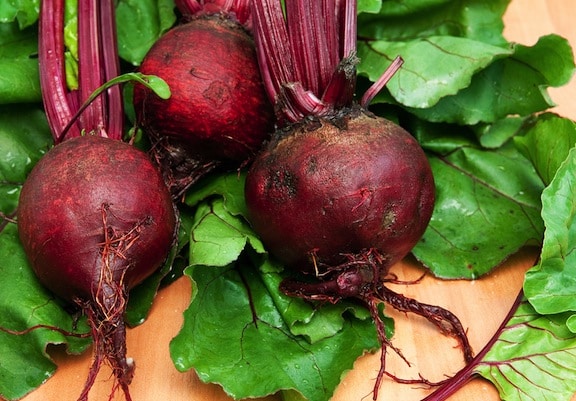 Shredded beets and potato are molded into a heart-shape for Valentines Day and baked until tender on the inside and crisp on the outside. more→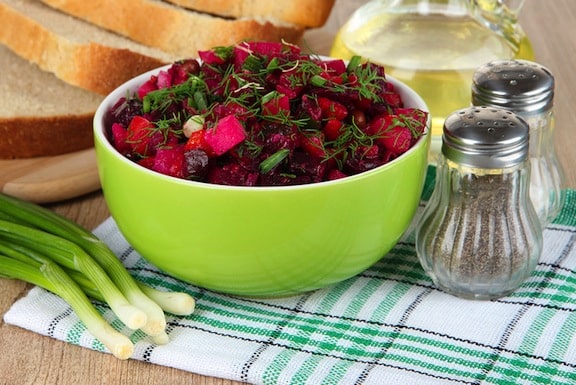 Here's a good way to combine beets with their nourishing greens. Both are lightly cooked and dressed in a sweet and tangy dressing. more→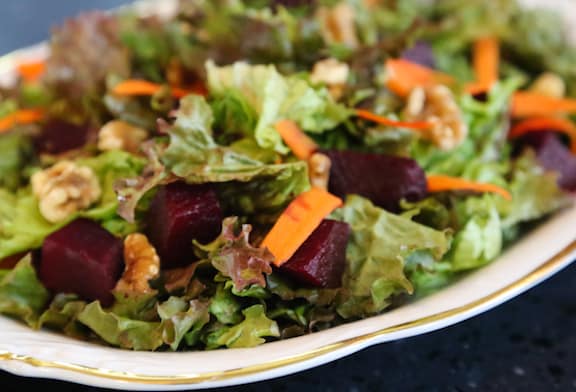 Marinated beets are an appetizing addition to this simple salad of mixed green and carrots. Walnuts add a nice flavor. If time is of the essence, I've included a shortcut of using pickled beets from a jar, but the homemade kind are best! Photos by Evan Atlas. more→