Bell Peppers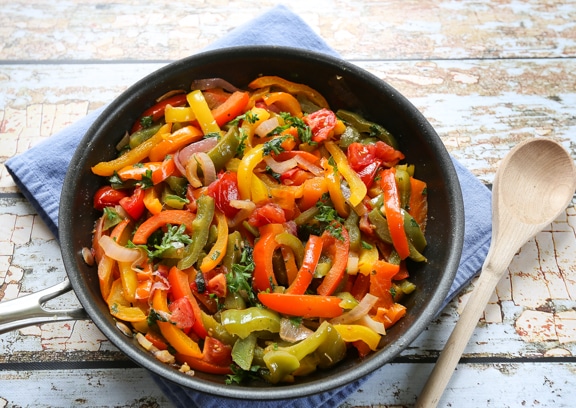 Summer is the perfect time to make the luscious Spanish bell pepper sauté, also known as piperade. When peppers of all colors are abundant and relatively inexpensive, this is a great side dish on its own, or it can be used to top pasta or open-faced sandwiches. Switching cuisines, you can also use leftovers to fill vegan fajitas! more→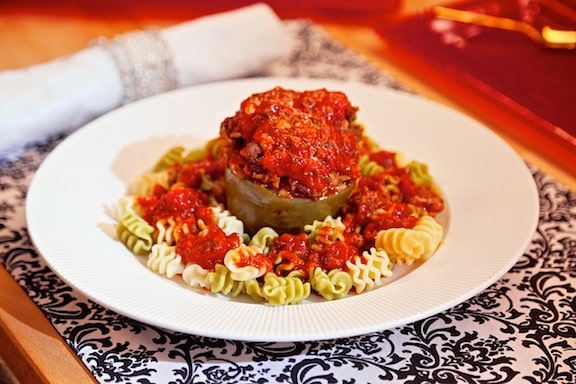 I first made these delicious peppers for a New Year's Eve party and they were a huge hit! Featuring a meaty-tasting seitan and hearty brown rice stuffing, these beautiful bell peppers satiate omnivores and vegans alike. Ready for the oven in under 20 minutes, these six-ingredient wonders are equally ideal for a holiday party or weeknight supper. Recipe from Vegan-Ease: An Easy Guide to Enjoying a Plant-Based Diet. Published by Jazzy Vegetarian LLC, © 2015, reprinted by permission. Photos by David Kaplan.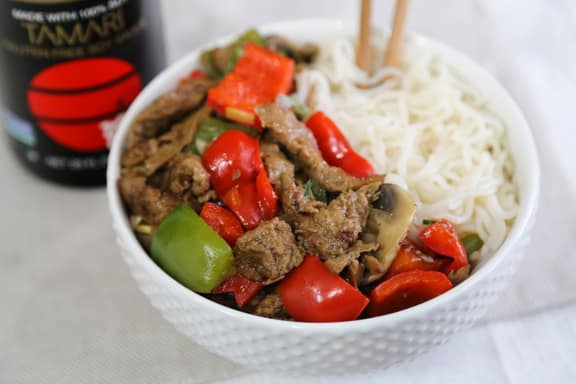 Here's the Chinese restaurant classic, peppersteak, in a hearty, "beefy" vegan version using seitan in place of the real thing. It's better this way! I enjoy this served with noodles, but serve with brown rice, or even just on its own, if you prefer. To complete the meal, serve with steamed broccoli, and a simple slaw or a platter of raw veggies. Photos by Evan Atlas.
more→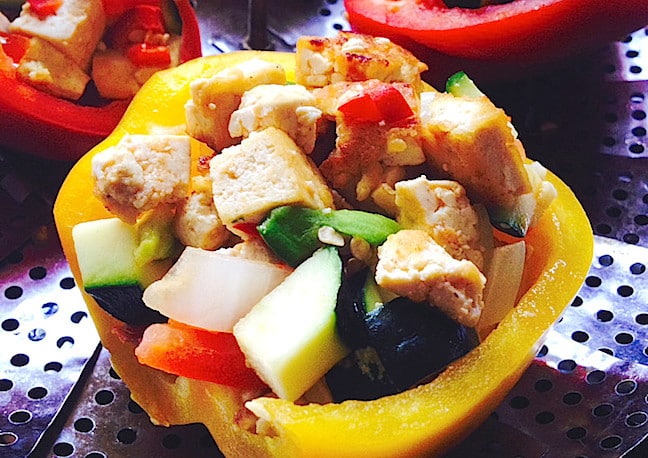 I believe that an all veggie stuffed pepper recipes are a great opportunity to get creative. Since this recipe uses fresh, vibrant, and robust flavors, the ingredient list is simple and grain-, gluten-, and dairy-free! Standard stuffed peppers recipes often contain rice, cheese, and bread crumbs, but this recipe does not. I challenge you to make this recipe once and you will see that the "stuffed pepper standard" need not apply! Recipes and photos contributed by Joelle Amiot, from JarOHoney.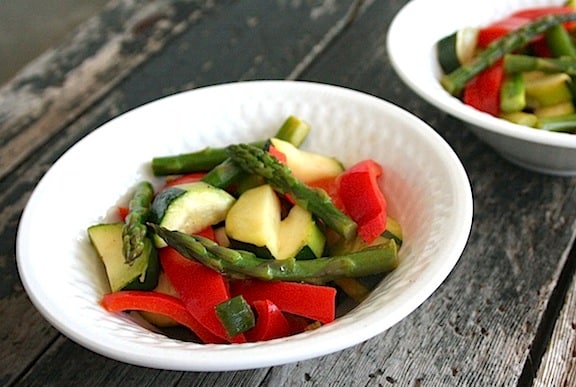 An appealing vegetable trio — asparagus, zucchini or summer squash, and red bell peppers — is enlivened by a wine-scented sauté. This colorful veggie side dish is perfect for embellishing everyday meals as well as spring holiday dinners. Photos by Rachael Braun.
more→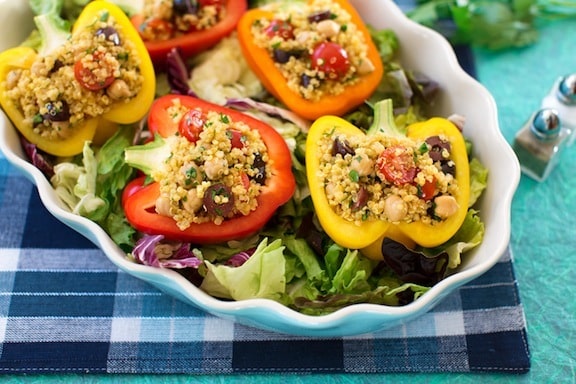 These appealing bell pepper "boats" are filling enough to serve as a main dish for any festive meal. Perfectly portable, too, they make a wonderful picnic entree or a change of pace from sandwiches for a hearty lunch. Recipe contributed by Laura Theodore, from Jazzy Vegetarian Classics: Vegan Twists on American Family Favorites* © 2013 BenBella Books, reprinted by permission. Photos by Hannah Kaminsky. more→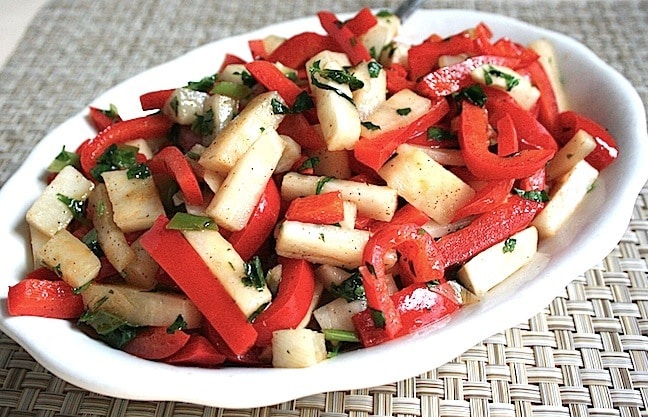 Raw turnips have a pleasant, mild bite; sautéed, they're delectably sweet. If you'd like to make use of winter's bumper crop of this underused root veggie, they're delicious simply sautéed with red bell pepper. more→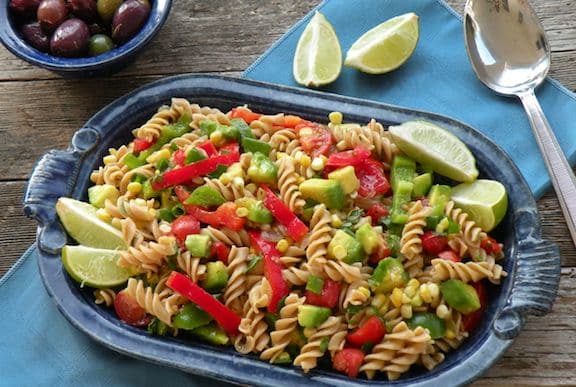 This pasta salad featuring peppers, avocado, and corn has a delectable southwestern flavor. For a nice warm-weather meal, serve with a simple bean dish or vegan quesadillas. Photos by Rachael Braun. more→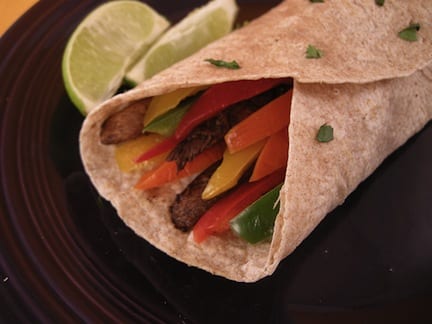 Using different colors of bell peppers makes this dish absolutely stunning. You can also substitute 1 to 2 additional bell peppers in place of the mushrooms if you prefer. Recipe and photo courtesy of Lindsay S. Nixon, adapted from The Happy Herbivore Cookbook.* more→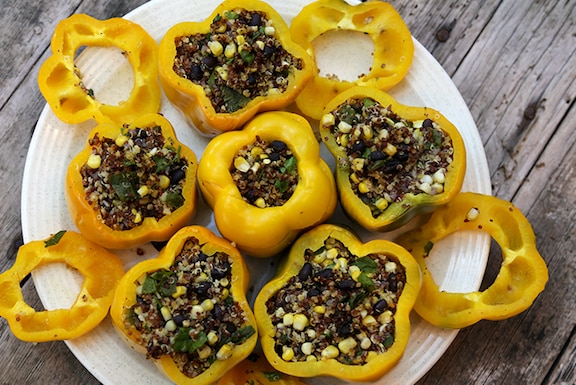 Quinoa, black beans, and corn add up to a hearty filling for vegan stuffed peppers. Since you've got the oven going at 400º F, you may as well roast your favorite combination of veggies at the same time. Broccoli, cauliflower, eggplant, portobello mushrooms, hard or tender squashes, and fennel are all good choices. A simple coleslaw or other slaw-style salad goes well with these, whether or not you serve with roasted vegetables. Photos by Evan Atlas. more→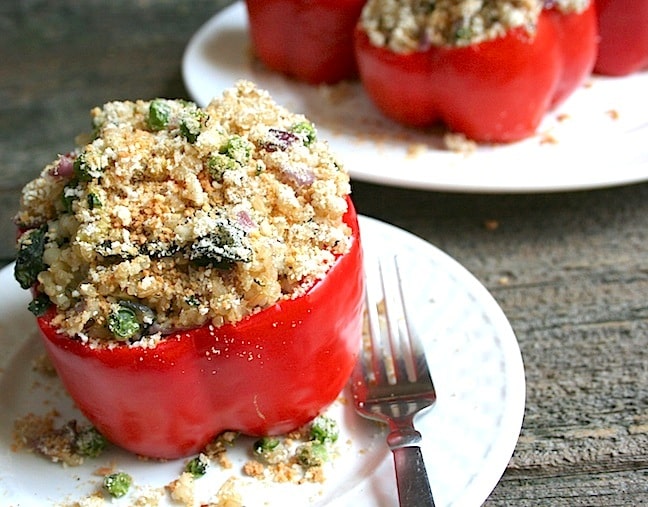 Stuffed bell peppers are a favorite comfort dish, and it's so easy to create vegan variations. Orzo, a tiny, rice-shape pasta, makes a nice filling, as does medium-grain brown rice. With the addition of green peas and fresh herbs, this makes a satisfying main dish. Photos by Rachael Braun.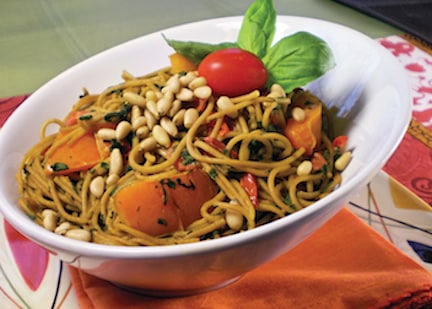 Fresh ingredients and pantry staples create a beautiful and nutritious dinner on the fly. This dish is equally delicious – if not more so – the next day. Recipe and photo courtesy of Betsy DiJulio, from The Blooming Platter Cookbook: A Harvest of Seasonal Vegan Recipes* (© 2011, Vegan Heritage Press). more→