Broccoli and Cauliflower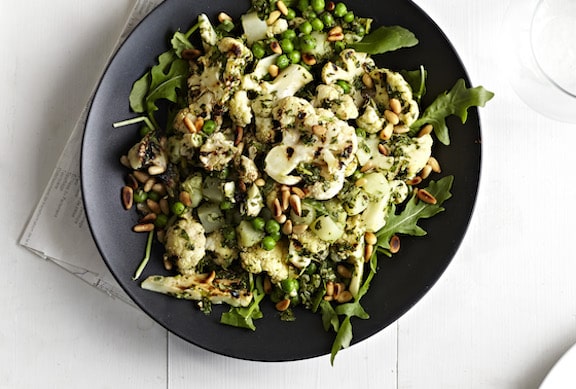 This classic combination of pesto and potatoes is lightened up with irresistible grilled cauliflower. For a more substantial pesto entrée, replace half or all of the cauliflower with pasta, preferably those tight little twists called gemelli. From Salad Samurai: 100 Cutting-Edge, Ultra-Hearty, Easy-to-Make Salads You Don't Have to Be Vegan to Love* by Terry Hope Romero. Reprinted courtesy of Da Capo Lifelong Books, ©2014. Photos by Vanessa K. Rees.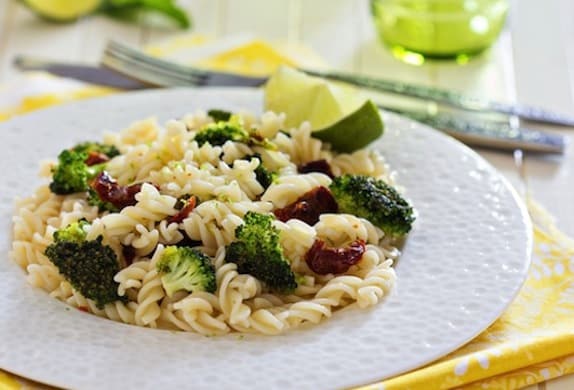 Sometimes simple can be sublime, and if you're a broccoli fan, you'll love this classic combo with pasta, embellished with sun-dried tomatoes and lots of garlic. Complete the meal with a colorful salad that includes some chickpeas or any kind of bean. more→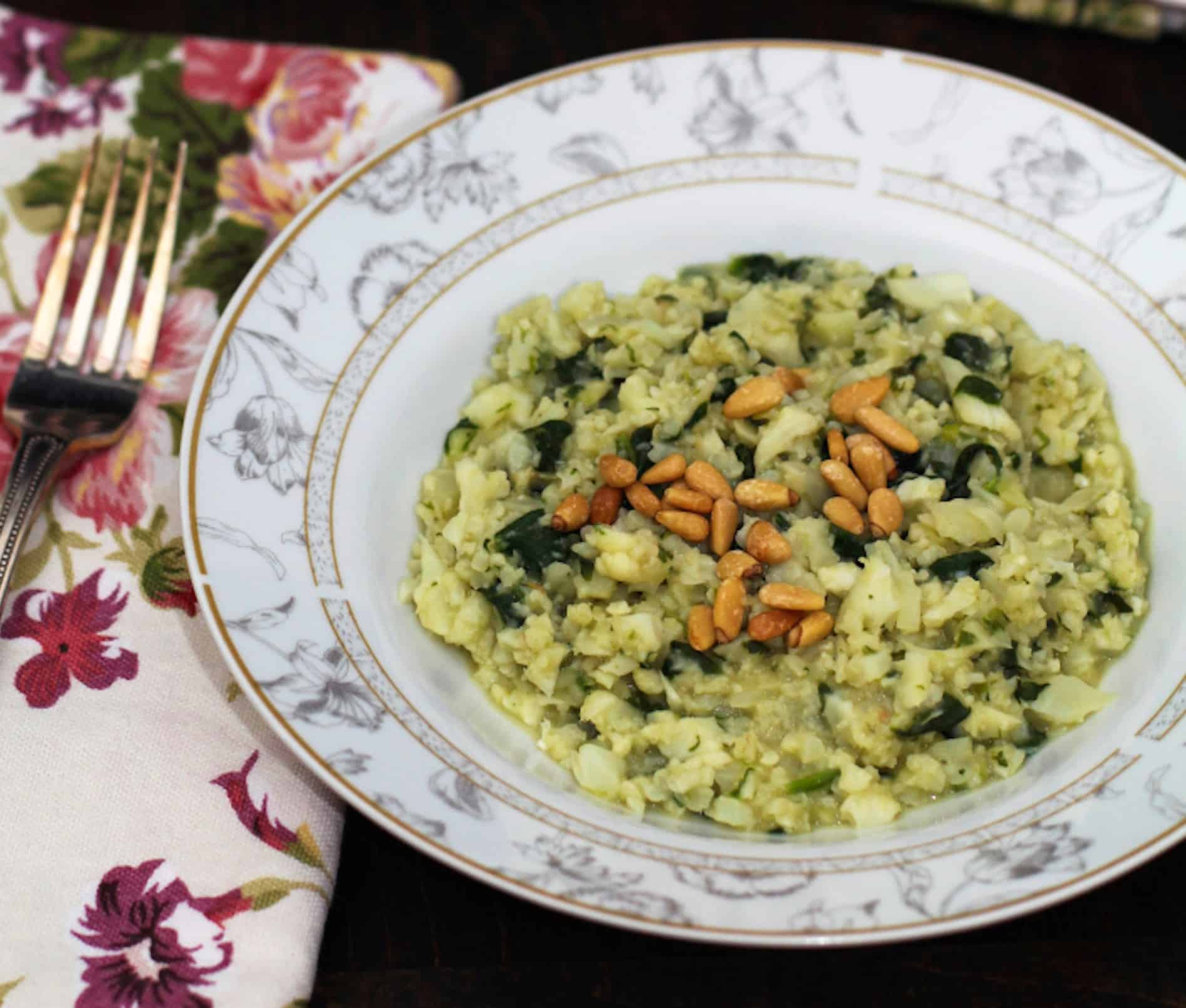 One of my favorite meals to make is risotto. I actually don't mind the laborious process; it's quite meditative and helps slow you down. A little splash of water, a stir, a sip of wine – so relaxing! But it's just not realistic on a weeknight when time is limited and there's a lot going on. We had our risotto with a side of roasted asparagus (chopping it and stirring it in is also an option) but you can easily adapt this risotto with ingredients you have on hand; add mushrooms, peas, tomatoes, basil, or other veggies and herbs you may be craving. Recipe and photos contributed by Sophia Zergiotis, from Love and Lentils.  more→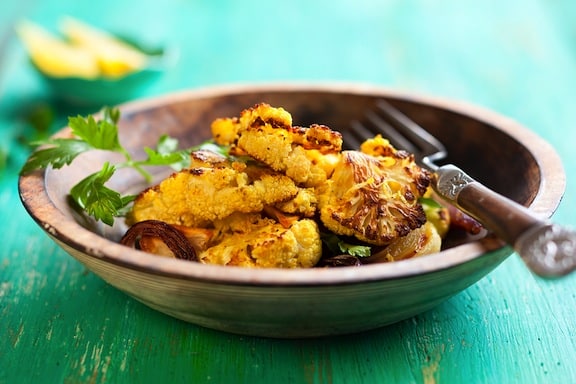 Curry and lemon add an offbeat flavor and vivid color to this roasted cauliflower dish. Red onion and garlic add depth of flavor. Use on its own as a tasty side dish, or toss with pasta or grains. more→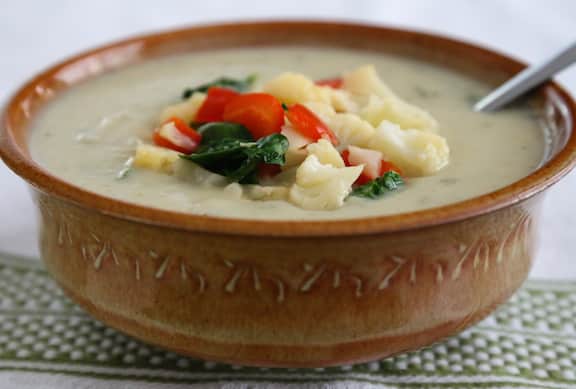 This creamy dairy-free cauliflower soup, enhanced with any of the garnishes recommended, makes a soothing introduction to a meal. It's great with veggie-filled wraps and main-dish salads. Adapted from Vegan Soups and Hearty Stews for All Seasons. Photos by Evan Atlas.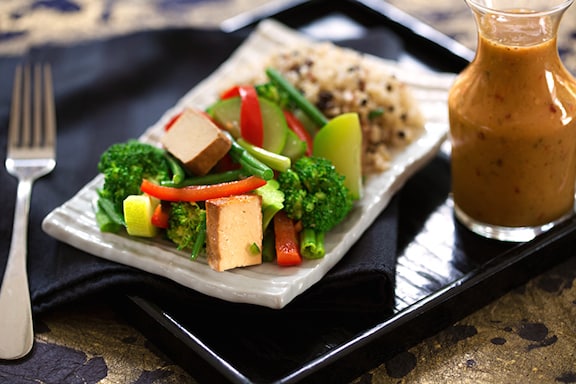 This Thai-style presentation of steamed fresh green vegetables offers a nice change of pace from the usual stir-fries. What makes this dish great is a rich and delectable peanut sauce. Served over hot cooked rice, just add a platter of cherry tomatoes and carrot sticks to complete the meal. Photos by Hannah Kaminsky.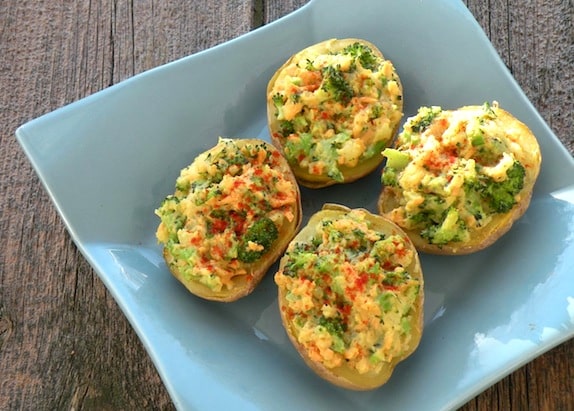 These broccoli-stuffed potatoes make a great main dish for families who have a taste for both of these well-loved veggies. For an easy meal, serve with tossed salad (add black beans or chickpeas) and corn on the cob. more→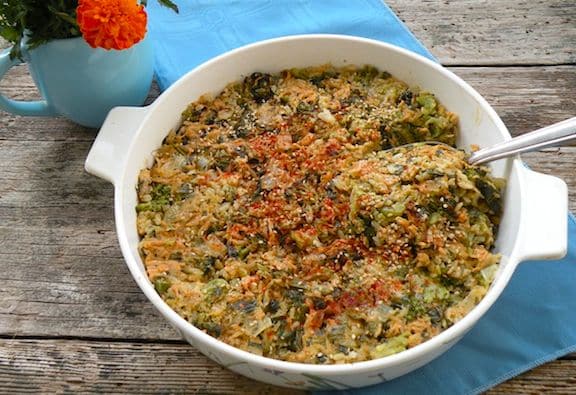 This is reminiscent of those old-fashioned casseroles you'd find in those spiral-bound community cookbooks. But hey, there's a reason why these kinds of comfort casseroles are so popular. Now, with meltable non-dairy cheese, there's a way to make them vegan. With plenty of broccoli and parsley along with brown rice, this is wholesome as well as somewhat addictive! Make sure to have your brown rice cooked ahead of time, and this whole enterprise becomes a snap. Since you have the oven going at 400º F., consider roasting a pan of root vegetables to go with this.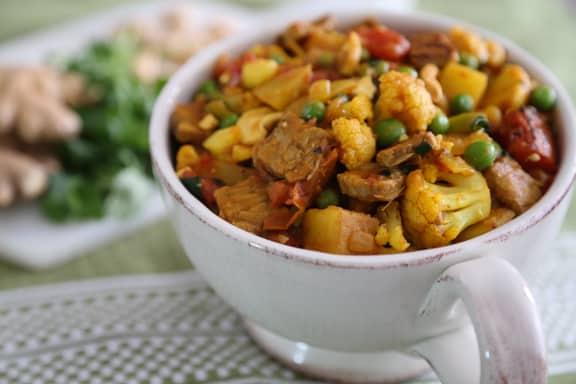 Even those who aren't quite sold on tempeh will be enticed by this delectable, veggie-filled curry. Cauliflower, potatoes, plenty of spices, and tasty cashews add up to a colorful and warming stew. Photos by Evan Atlas.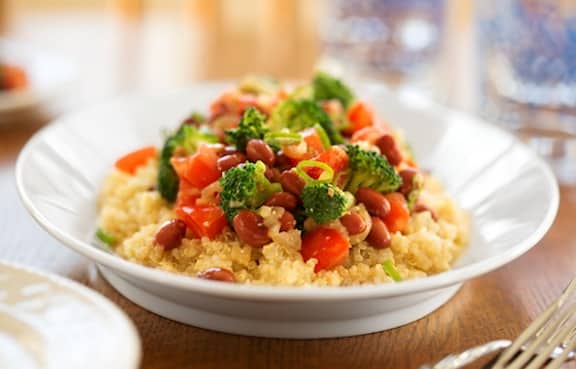 Red beans, broccoli, and tomatoes are enveloped in a gingery miso sauce. It's unusual to give a bean dish an Asian spin, but the balance of colors, textures, and flavors in this dish work very well. Quinoa makes a perfect bed of grain for this dish, though feel free to serve over rice or millet, or on its own in shallow bowls. Photos by Hannah Kaminsky. more→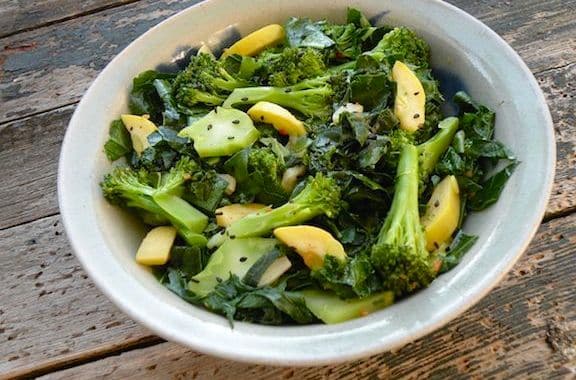 Kale and broccoli, two nutritious and delicious green vegetables are a compatible team in this easy recipe featuring Asian flavors. This is a great side dish with other Asian-inspired noodle, rice, or tofu dishes.  more→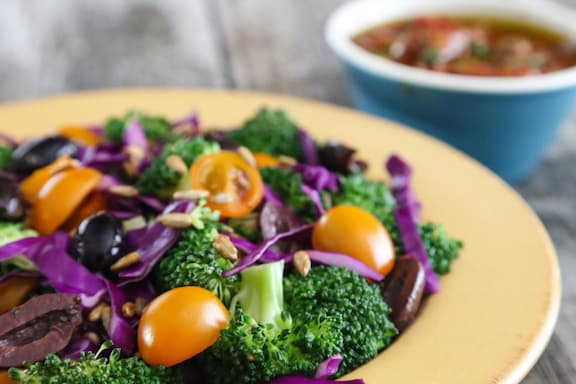 Dress this simple and pretty salad of broccoli, red cabbage, cherry tomatoes, and olives with a tasty salsa salad dressing, or just use any favorite dressing. This adds color and crunch to the dinner plate. Photos by Evan Atlas. more→