Carrots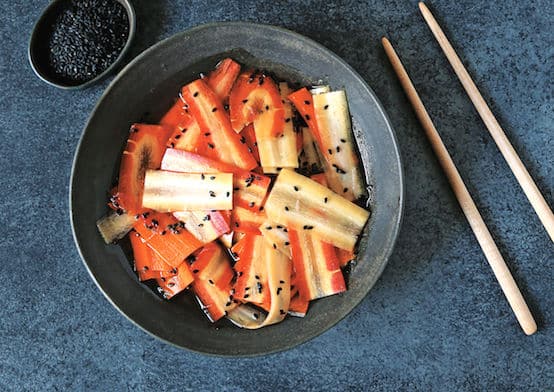 These traditional Japanese carrot pickles are great on their own as a snack or appetizer, but their flavor and texture truly shine when paired with other Asian dishes. This recipe is gluten-free, oil-free, soy-free, and super quick to prepare. Recipe and photo credit: Bold Flavored Vegan Cooking by Celine Steen, Page Street Publishing Co. © 2017. Reprinted by permission. more→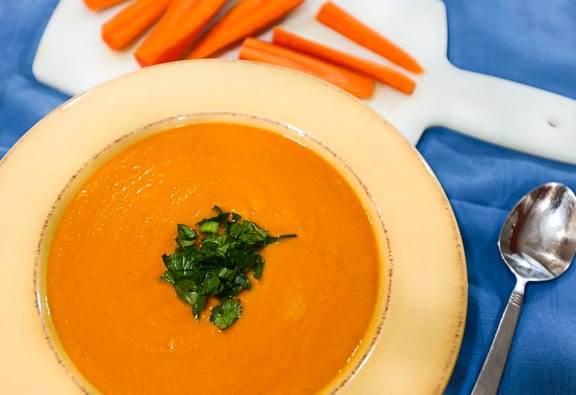 Here's a curried carrot soup in a coconut base that's perfect for any time of year. You can enjoy it chilled in the summer, or serve it hot when the weather gets nippy. Use baby carrots as a clever shortcut — no peeling or chopping required. Photos by Evan Atlas. more→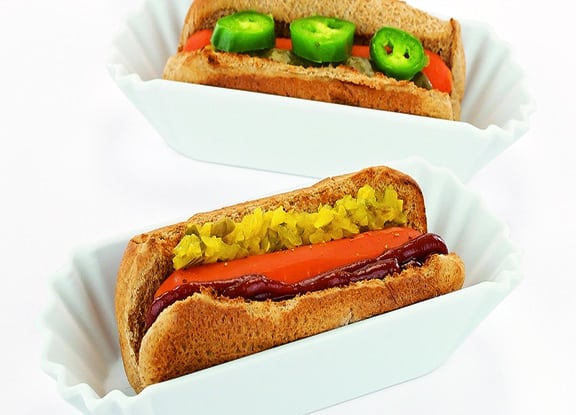 A carrot is the same shape as a hot dog and close enough in color to make a decent substitute. But what about the taste? I promise you, this marinade really takes it to the next level. I think the sesame oil helps, but the vinegar gives it that "cured" flavor, too. Think of this as a fun vegetable side dish rather than as a main dish. Recipe and photo reprinted with permission from The Easy Vegan Cookbook* by Kathy Hester ©2015, published by Page Street Publishing.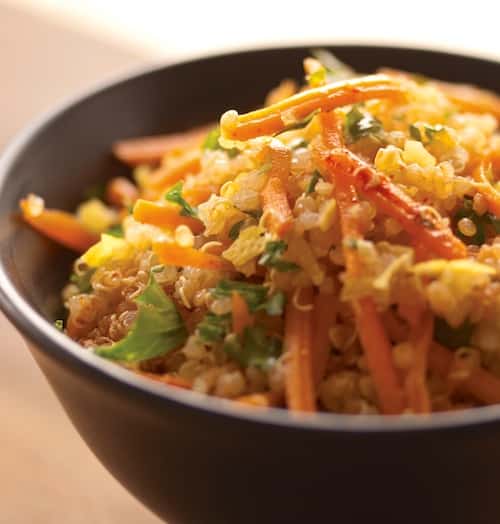 This simple side dish comes together very quickly if you have cooked quinoa on hand in the refrigerator. For even faster prep, use bagged shredded carrots and break the speed limit. Recipe  from Quinoa: High Protein, Gluten-Free* by Beth Geisler with recipes by Jo Stepaniak, @2014 Books Alive, Summertown, TN, reprinted by permission. Photo by Andrew Schmidt.
more→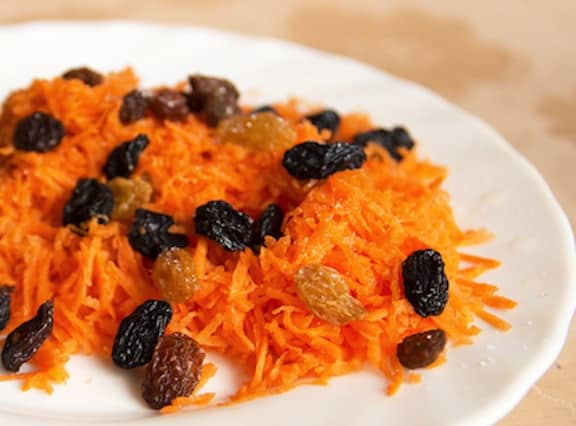 Here's a simple salad that goes with just about anything. Carrot-raisin salad might just be the first that kids will enjoy! A food processor is a must for preparing this salad quickly; or you can start with pre-grated carrots that come packaged, but make sure they look nice and fresh. more→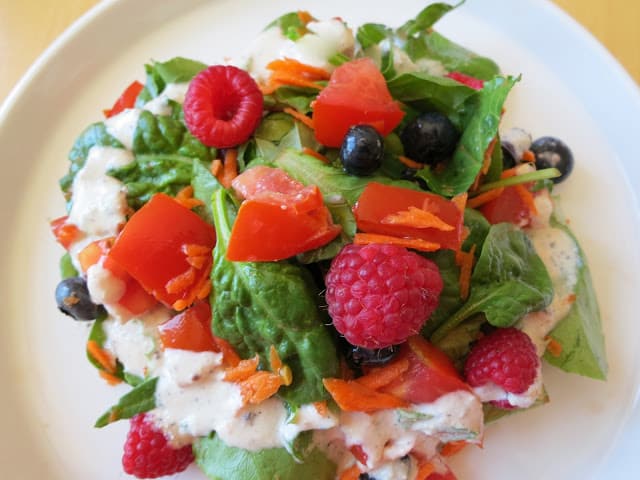 This simple salad is a summer delight — sweet berries and a peppery cashew dressing combine with greens, carrots, and tomatoes. Recipe and photo contributed by Vasanthi Raghavan, from Mixed and Tossed. more→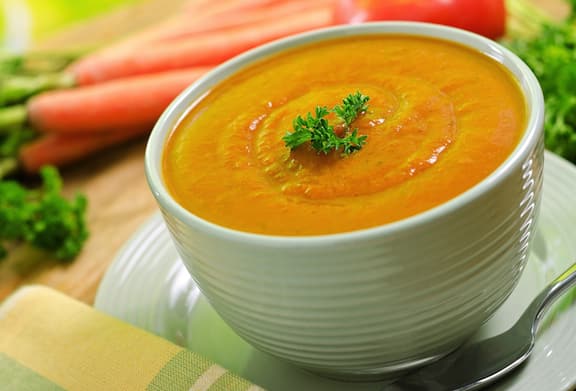 This clove-scented Creole cream of carrot soup has a cheery orange color, and if good, fresh carrots are used, a subtly sweet flavor. It's a real spirit-lifter in the fall, winter and spring, awakening and nourishing the senses. Serve with fresh warm bread or top with crisp croutons. Leftovers are great to pack into thermoses for school lunch or the office.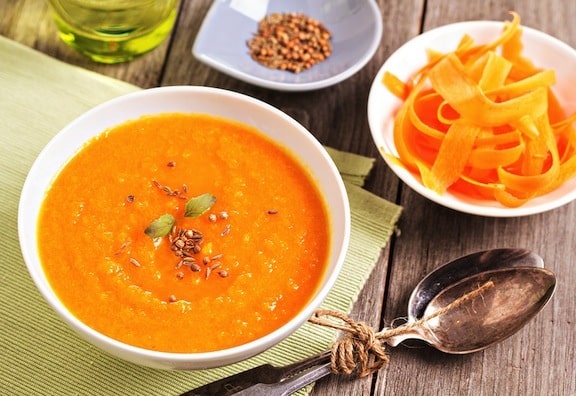 A warming soup with the cheering color of carrots and the zesty flavor of citrus and ginger, this soup is great as everyday fare as well as a first course for winter holiday meals.  more→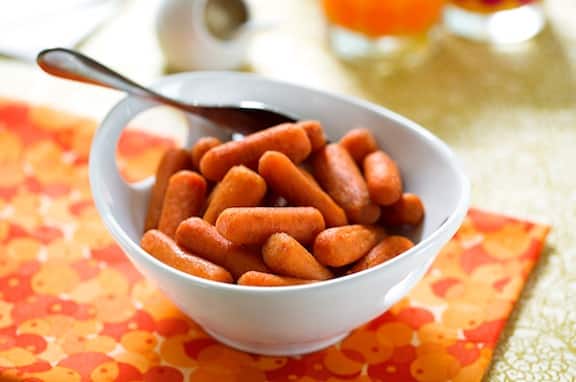 Here's an easy way to enjoy roasted with no cutting or peeling involved. Simply use a bag of baby carrots! It's a veggie dish that stands a good chance of winning over young eaters, and a good side dish to make while another kid-friendly dish (like Tofu Nuggets), is in the oven.  more→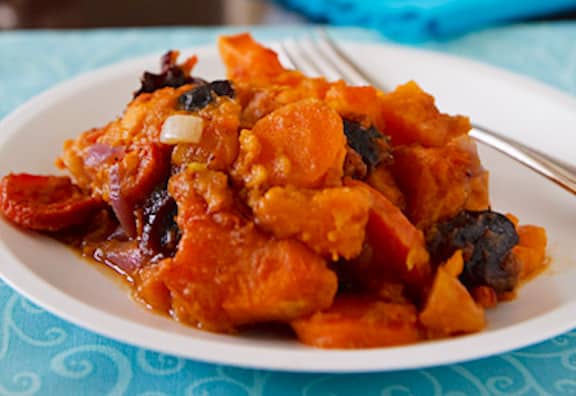 An Eastern European standard, tzimmes is a roasted vegetable dish that is made a number of ways, depending on the occasion. For the Jewish New Year, Rosh Hashana, the appropriate ingredients include carrots and sweet potatoes, with the added sweetness of fresh and dried fruits. Recipe adapted from Vegan Holiday Kitchen. Photos by Susan Voisin.

Sweet Potato Tzimmes
Recipe type:
Jewish holiday
Cuisine:
Vegan / Jewish New Year / Healthy
Prep time:
Cook time:
Total time:
Ingredients
2 tablespoons olive oil
1 cup chopped onions
3 large carrots, sliced
3 large sweet potatoes, cooked, baked, or microwaved in their skins, then peeled and sliced
1 large apple or pear, cored and sliced
½ cup chopped prunes
¼ cup chopped dried apricots
½ cup orange juice, preferably freshly squeezed
1½ teaspoons cinnamon
½ teaspoon each: ground ginger and salt
⅓ to ½ cup chopped walnuts, optional
Instructions
Preheat the oven to 350 degrees F.
Heat the oil in a large skillet. Sauté the onions over medium heat until translucent. Add the carrots and continue to sauté until onions and carrots are golden.
In a mixing bowl, combine the onion-carrot mixture with all the remaining ingredients except walnuts. Mix thoroughly; don't worry if the potato slices break apart.
Transfer the mixture to a large, oiled, shallow baking dish (a round or oval shape is attractive). Sprinkle the optional walnuts over the top.
Bake for 45 to 50 minutes, or until the top begins to turn slightly crusty. Serve hot or warm from the baking dish.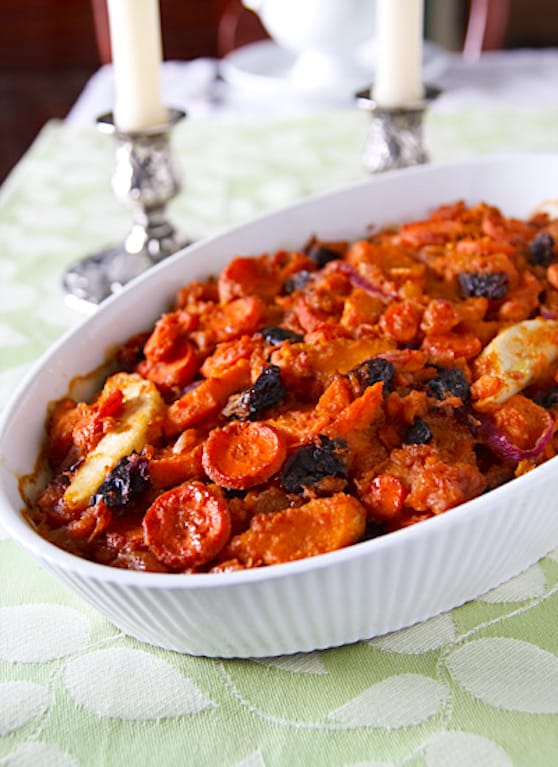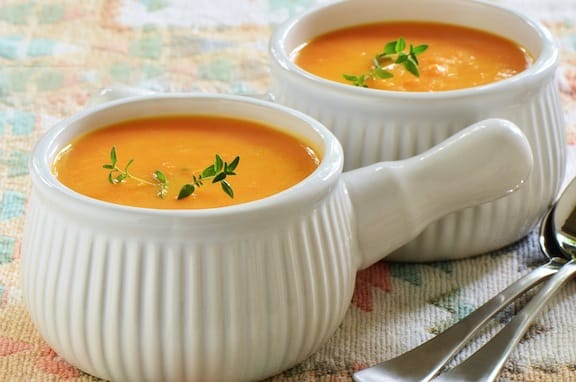 This soup can be enjoyed warm or cold, depending on the time of the year. The flavors mingle the longer they hang out together, so cook it well ahead of time if possible. Feel free to adjust the amount of ginger for a milder or stronger flavor. Cancer-fighting miso helps strengthen the good bacteria in the gut, and adds a little saltiness. Recipe reprinted with permission from Kicking Cancer in the Kitchen* by Annette Ramke & Kendall Scott (© 2012 Running Press, a member of the Perseus Books Group). more→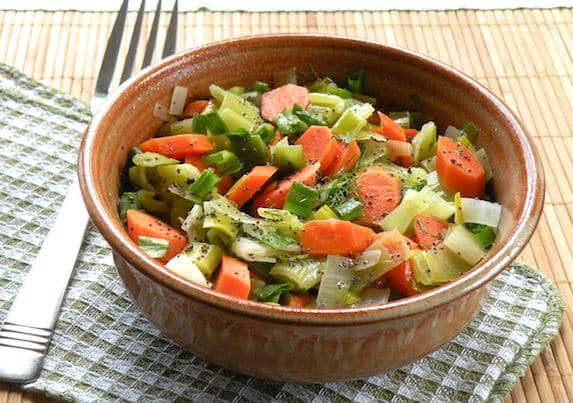 Both leeks and carrots have a natural sweetness, and so the two veggies mingle nicely. This is a mild and pleasant side dish, good with pastas as well as tofu or tempeh dishes. This tastes just as good at room temperature, almost like a warm salad, as it does hot from the skillet. more→