Potatoes, Easy and Elegant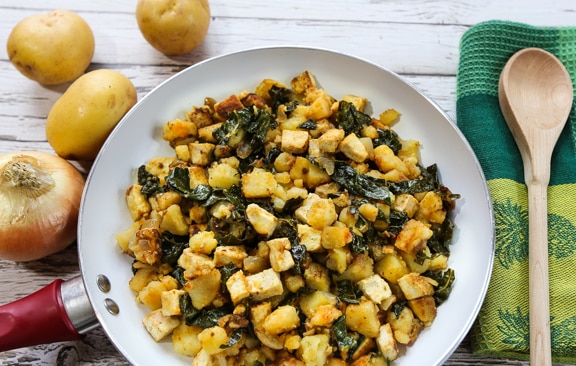 Tofu and potato hash browns is a simple, comforting skillet dish that's just as good for dinner as it is for brunch. Have potatoes cooked ahead of time, and this easy and tasty dish will have your family or guests eating in short order. Leftovers are wonderful for breakfast. Or, if you make this expressly to serve in the morning, you can either microwave or cook the potatoes the night before for a head start. Great accompaniments include orange wedges and fresh whole grain bread. Adapted from The Vegetarian Family Cookbook. more→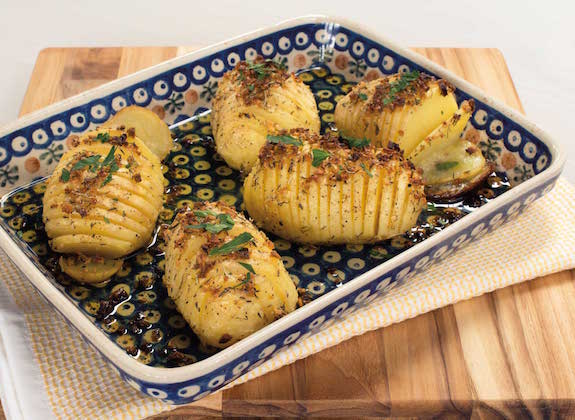 This impressive-looking potato side dish is not much more difficult to make than your average baked spud. It combines the crispiness of French fries with the creaminess of a well-baked potato. Stuff your potato fans with a non-dairy cheese, or make them just as the recipe calls for. Either way, you'll wonder why you never made something this simple before. more→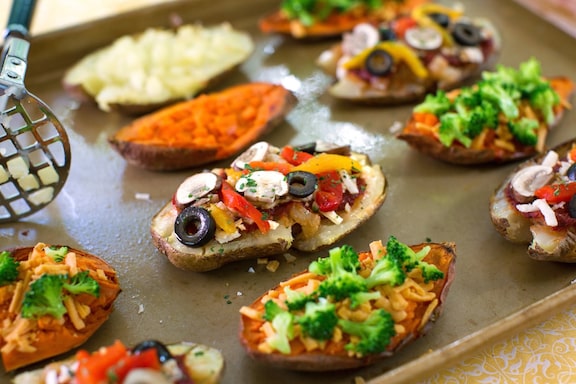 Twice-baked potatoes (also known as stuffed potatoes) seem like they'd be an easy thing to prepare for quick meals. They look so enticing, and have "comfort food" written all over them. But if you're preparing them for several people, the process can be a bit tedious. Let's say you start with 4 or 6 big potatoes. You have to neatly scoop out 8 to 12 halves, leaving not too thin or thick a shell. Then, you need to mash and combine the scooped-out flesh with other prepped and cooked ingredients.
The resulting mixture must then be stuffed neatly back into the potato shells (with the hope that you didn't add in too many or too few additional ingredients). And finally, it all needs to be heated up in some way, hence, "twice baked." more→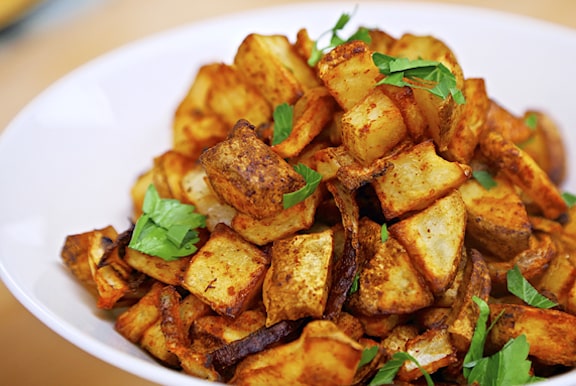 Who doesn't love home fries? Laura Theodore came up with this tantalizing version that's easy to make for any meal of the day. There's a little heat and a lot of zest. Recipe and photos by Laura Theodore, from Vegan-Ease: An Easy Guide to Enjoying a Plant-Based Diet. Published by Jazzy Vegetarian LLC, © 2015, reprinted by permission.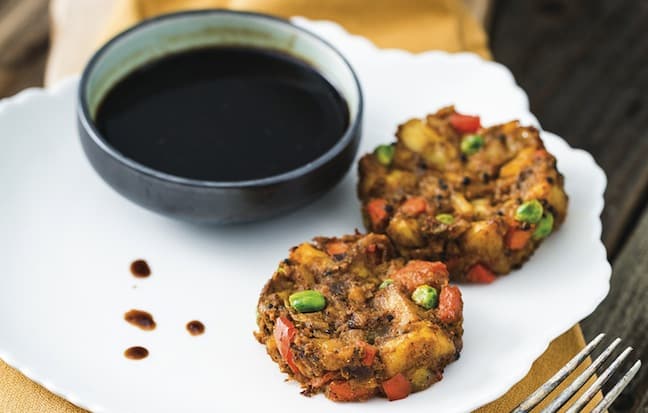 Samosas are a traditional savory Indian pastry, usually stuffed with spiced potatoes and other vegetables. These cakes are basically samosa filling without the pastry. The tart and sassy tamarind sauce makes the perfect accompaniment. The patties would be well received as finger food or as a side, but you could also pile four or five (or nine) on your plate for an unforgettable main course. Recipe from But I Could Never Go Vegan!: 125 Recipes That Prove You Can Live Without Cheese, It's Not All Rabbit Food, and Your Friends Will Still Come Over Dinner,* copyright © Kristy Turner, 2014. Reprinted by permission of the publisher, The Experiment. more→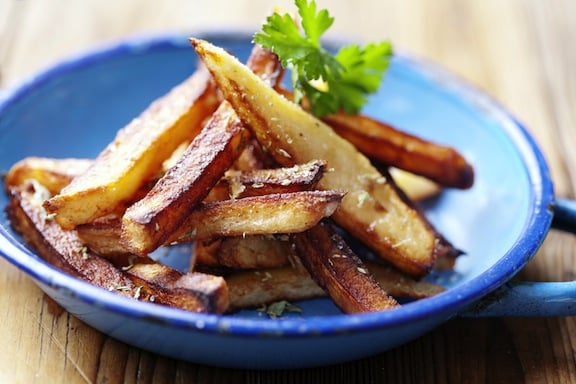 OVEN "FRIES": Use one large or two medium potatoes per person (preferably red-skinned, Yukon gold,  or other firm-fleshed variety). Peel the potatoes and cut them into long, 1/2-inch thick fry-shaped strips. Combine them in a large mixing bowl with a modest amount of light olive oil and toss well to coat. Sprinkle with a little salt. Transfer to a nonstick baking sheet. Bake in a preheated 425º F. oven, stirring gently every 10 minutes, until the potatoes are crisp and lightly browned, about 25 to 30 minutes. Serve at once. Note, this is also an excellent way to serve sweet potatoes. more→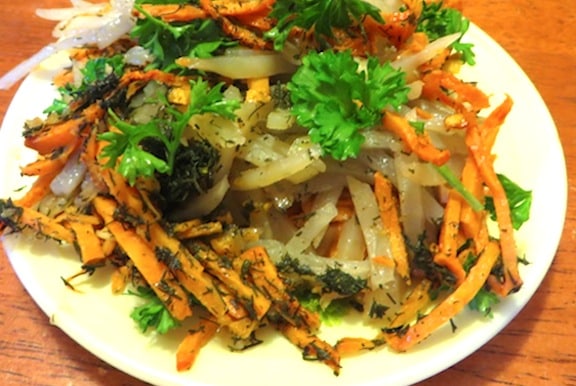 This potato kugel (which is a baked pudding or a casserole) is reminiscent of my grandmother's, but I kicked up the nutritional profile a bit with the inclusion of sweet potatoes and taking out the eggs. This version is less rich but still full of potato-y comfort, a cross between hashed browns and scalloped potatoes, and a great side dish at a Passover meal. Being gluten-free, I omitted the traditional matzo meal, but feel free to add that as described if you have no issues with wheat. By the way, a mandolin slicer works great for getting the potatoes into uniform matchsticks. Recipe and photo contributed by Maria Rose from Vegan Street.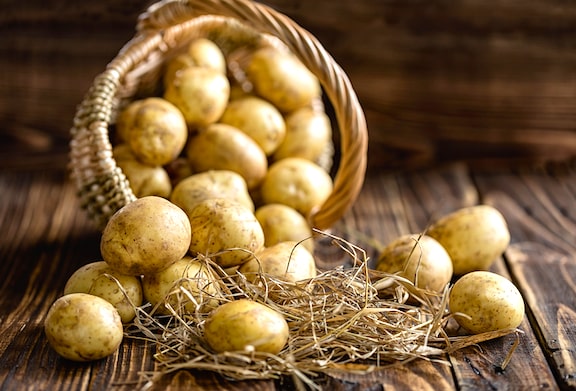 Made with summer's new potatoes and garden tomatoes, this late-harvest dish is fragrant with herbs and olives. Serve warm or at room temperature, with a wedge of lemon and vegan mayonnaise.  Reprinted with permission from The New Vegetarian Cooking For Everyone* by Deborah Madison,copyright © 2014. Published by Ten Speed Press, an imprint of Random House LLC.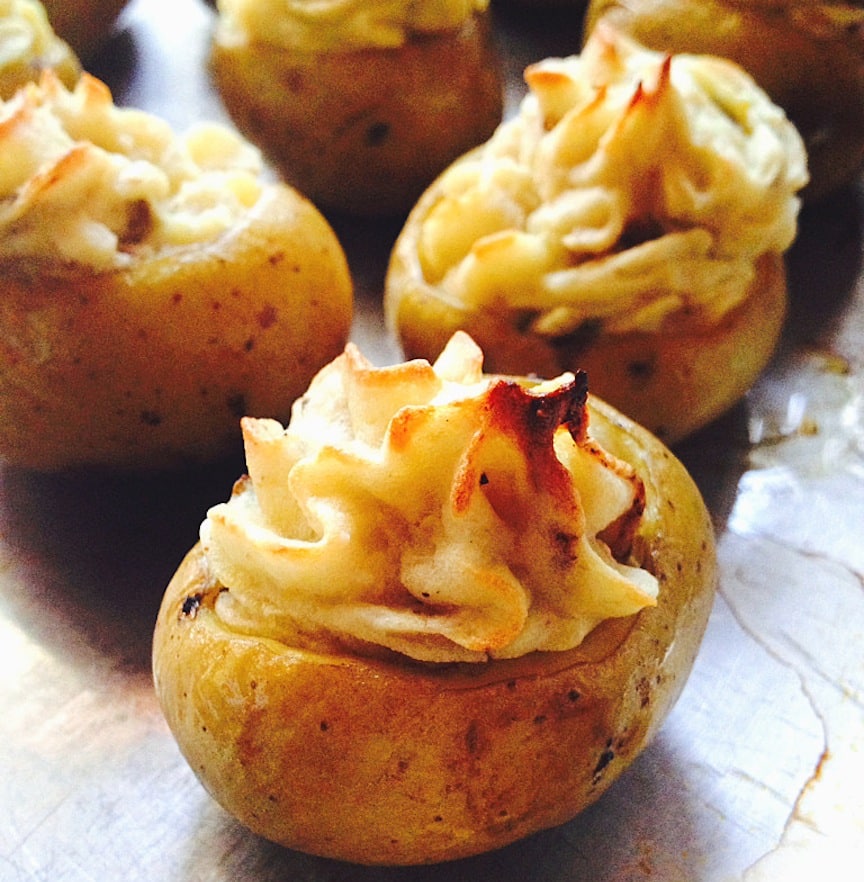 These little gems have ALL the flavor without the fatty ingredients we have indulged in the past. The two examples that I will touch on (because the other one is kinda obvious) is replacing dairy ingredients with nuts and incorporating the veggies and spices. Normally when people think of twice baked potatoes they think of creamy potatoes and smoky bacon flavors. How do you achieve these traditional flavors while adhering to a completely veggie lifestyle? Easy!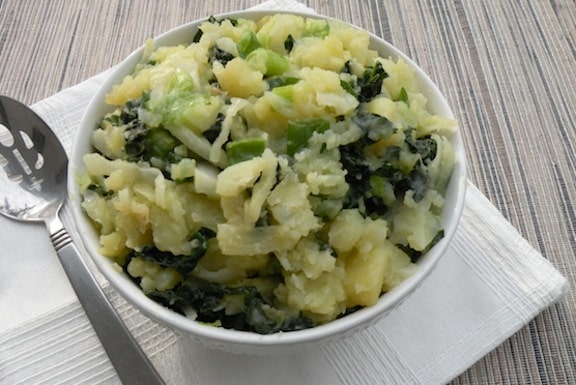 In colcannon, an Irish classic, potatoes, cabbage and/or kale plus leeks or scallions come together for a tasty dish. Here I've used both types of greens, which makes it tastier than ever. Traditional recipes for colcannon call for milk and butter, but it's easy to make vegan (aka dairy-free) with non-dairy milk and olive oil. Serve it on St. Patrick's Day, or any day of the year! Adapted from Wild About Greens by Nava Atlas. more→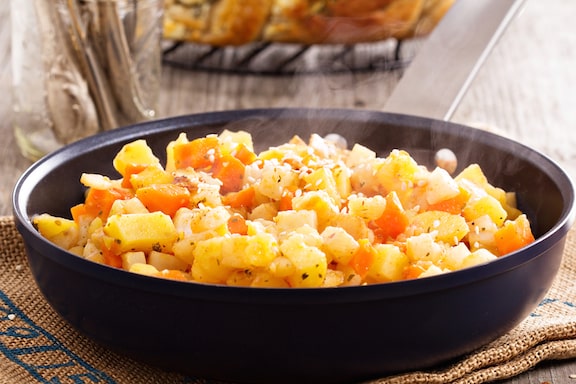 Ordinary potato hash browns are given an interesting twist with the addition of root vegetables — with a choice from among sweet potato, golden beets, turnips, parsnips, etc. Do try the optional tart apple — it adds a delightful flavor. This goes hand-in-hand with tofu scrambles, but you can use it as a cold-weather side dish with bean dishes.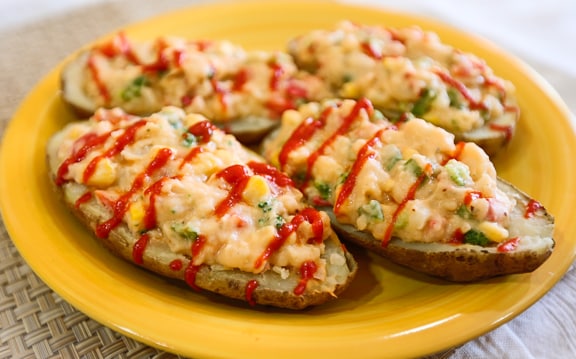 I learned long ago that leftover potatoes come in handy if they're ready to use all week long. One of my favorite ways to enjoy potatoes is scooped out, mashed, and stuffed right back into the shells. The skins become super crunchy on the outside, and the filling is pure creamy goodness on the inside. Using leftover cooked vegetables, which add extra fiber and nutrients, along with a bit of hummus, dinner almost makes itself. These are simple, satisfying, and completely delicious. Photos by Evan Atlas. Recipe by Vicki Brett-Gach from her blog Ann Arbor Vegan Kitchen.  more→