Potatoes, Easy and Elegant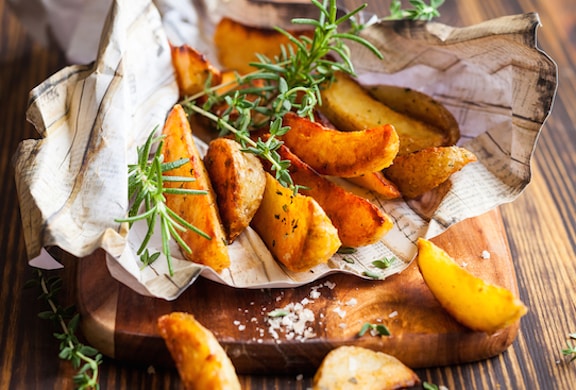 If you love French fries but not all the oil usually used to make them, you'll enjoy these "fries" baked in the oven. They're a perfect accompaniment for veggie burgers and wraps. See our recipe for Sweet Potato Oven "Fries" as well. more→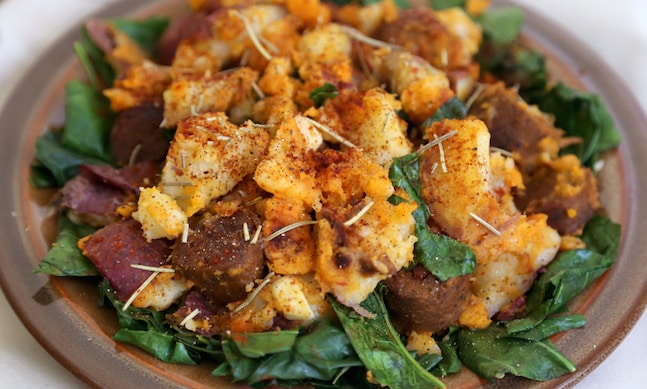 Here's a hearty dish of potatoes and vegan sausage, highlighting calcium-rich collard greens. It's so hardy, that all you need is a simple salad or slaw to complete the meal. Photos by Evan Atlas.
Serves: 4 to 6
4 medium-large Yukon gold or red-skinned potatoes
1 large sweet potato
2 tablespons extra-virgin olive oil
3 to 4 cloves garlic, minced
1 good-sized bunch collard greens (8 to 10 ounces)
2 links Tofurky or Field Roast vegan sausage, cut into 1/2-inch-thick slices
1/4 cup white wine, vegetable broth, or water
Leaves from 2 sprigs fresh rosemary,
or 1 to 2 teaspoons dried rosemary leaves, to taste
1 teaspoon sweet paprika
1/4 teaspoon dried hot red pepper flakes, or to taste
Salt and fresly ground pepper to taste
Cook, bake, or microwave the potatoes and sweet potatoes until they can be pierced with a fork but still firm. When cool enough to handle, cut in half lengthwise, then cut into 1/2-inch-thick half circles.
Cut away the thick mid-ribs from the collard greens and cut the leaves in half lengthwise. Rinse well, then, stacking several leaves at a time, cut them into thick strips.
Heat the oil in a large skillet or steep-sided stir-fry pan. Add the garlic and sauté over low heat until golden.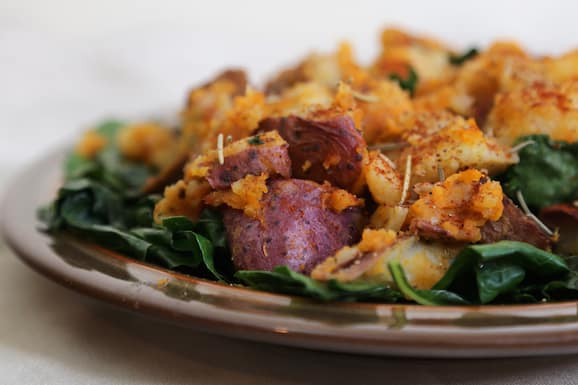 Add the potatoes, collards, sausage, and wine (or broth or water). Turn the heat up to medium high and cook, stirring frequently, until the collards are bright green and tender-crisp and the potatoes and suasage are touched with golden spots here and there.
Sprinkle in the rosemary, paprika, and red pepper flakes and cook for two to three minutes longer, stirring frequently. Season with salt and pepper and serve.
Nutrition Information:
Per Serving (based on 4 servings): 318 calories; 43g carbs; 12g fat; 15g protein; 226mg sodium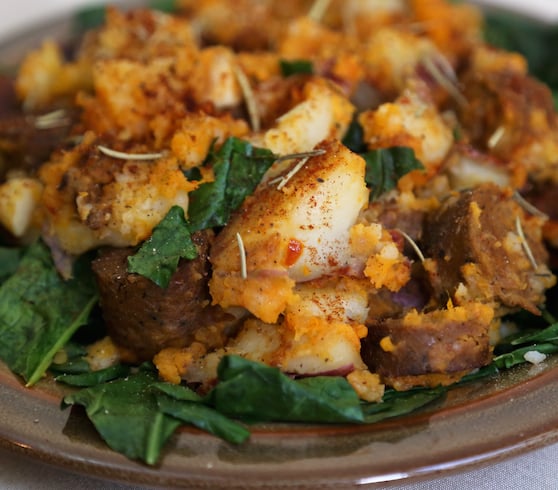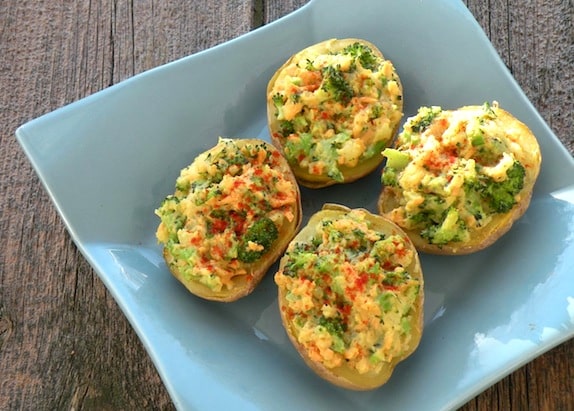 These broccoli-stuffed potatoes make a great main dish for families who have a taste for both of these well-loved veggies. For an easy meal, serve with tossed salad (add black beans or chickpeas) and corn on the cob. more→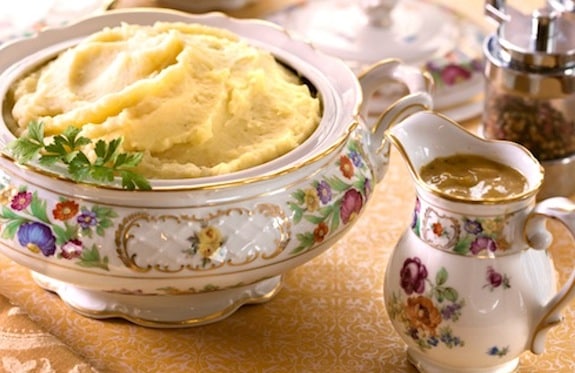 Have a fabulous celebration with these mashed potatoes and gravy, a must-have on the dinner table during the holidays — they're a welcome addition for both vegan Thanksgiving and Christmas dinner menus. Try some of the variations for both recipes and make it even more fun! Contributed by Beverly Lynn Bennett, from The Complete Idiot's Guide to Vegan Living*. Photos by Hannah Kaminsky.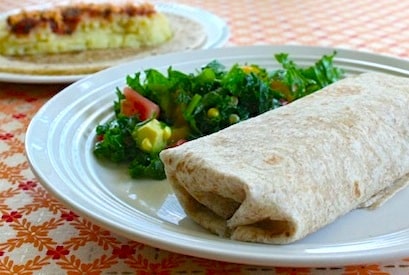 Once you've got cooked or baked potatoes ready and mashed, these tasty burritos come together quickly. Serve with a simple bean dish if you'd like extra protein, and a salad. Pictured here is Southwestern-Flavored Kale Salad. Photos by Rachael Braun.  more→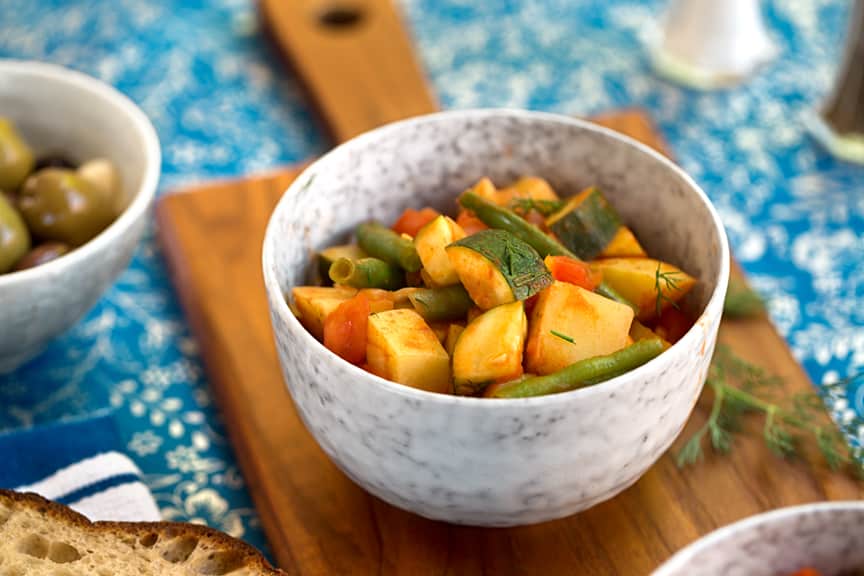 Here's a simple Greek potato stew bursting with summery flavors — green beans and zucchini in a mellow tomato base. A fresh, crusty bread rounds out the meal along with a big green salad with some chickpeas tossed in. For a company meal, add Olive Bar Medley with Tofu "Feta" as an appetizer, and a good wine.  more→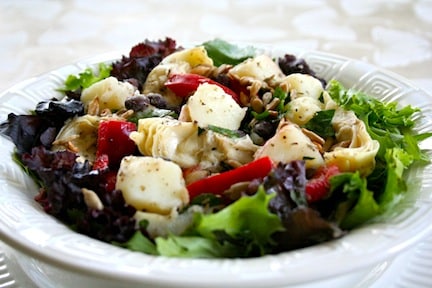 If salads aren't your thing, try this one, which may change your mind. Potatoes add comfort, and black beans add flavor and protein. The potatoes and beans synergize nicely in this offbeat salad, embellished with artichokes and bell peppers. The liquid from the artichoke hearts provides lots of flavor. Photos by Rachael Braun.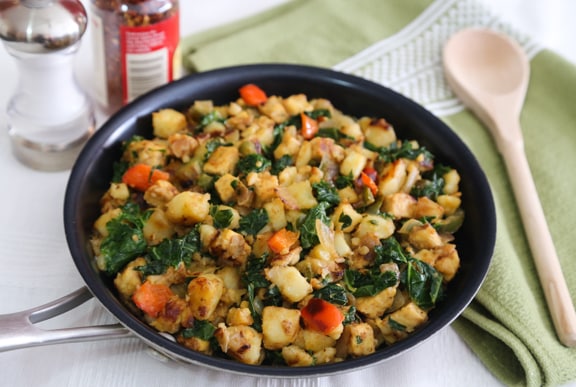 A hearty vegan spin on a "meaty" classic, this skillet hash of potatoes and high-protein tempeh (embellished with bell pepper and kale) is as good served as a quick dinner as it is an offbeat and hearty breakfast. For breakfast or brunch, serve with fruit; add whole-grain bread for a heartier meal. For a quick dinner, serve with an abundant tossed salad, whole grain bread, and orange slices. Photos by Evan Atlas. more→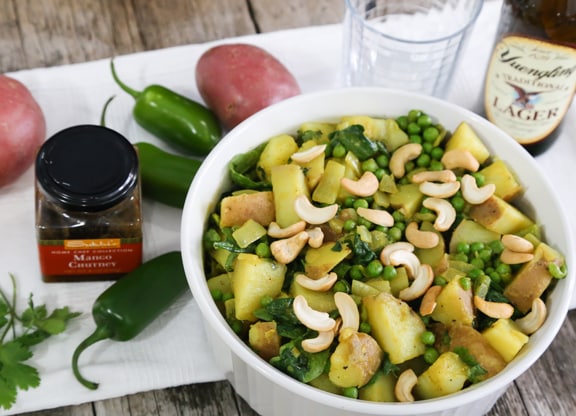 Peas and cashews lend a subtle sweetness to this curried potato dish. Once you've got the just-done potatoes ready, the rest of the dish comes together in no time. For an enticing meal, serve with Couscous Pilaf with Apple and Dried Fruits, and pass around a spicy chutney for a nice touch. Photos by Evan Atlas. more→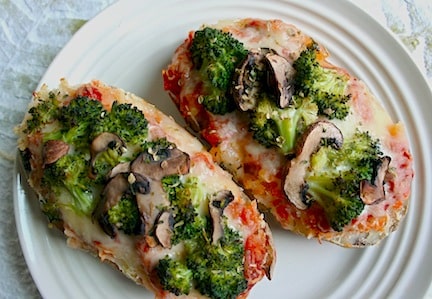 Marinara sauce, melted vegan cheese, and simple steamed vegetables on a baked potato add up to an irresistible pizza-flavored vegetable dish. Potatoes make for a healthy "crust" that's low in fat and naturally gluten-free. The kids will love this! Vary the vegetable toppings as you'd like. Try peppers, onions, artichokes, and other favorite pizza veggies. Photo by Rachael Braun. more→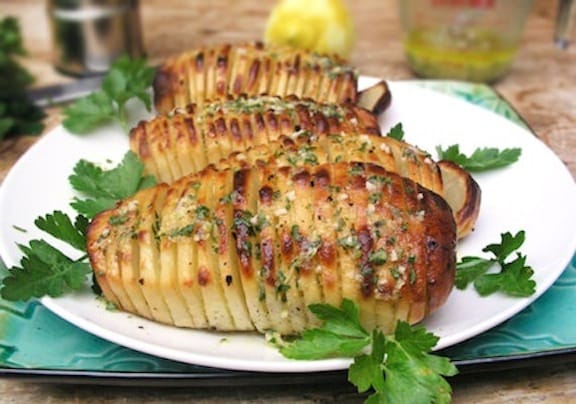 This delicious take on baked potatoes is gorgeous to look at as well. Crisp on the outside, creamy on the inside, these are flavored with a lemon garlic dijon vinaigrette. Recipe and photos contributed by Lisa Goldfinger of Panning the Globe. more→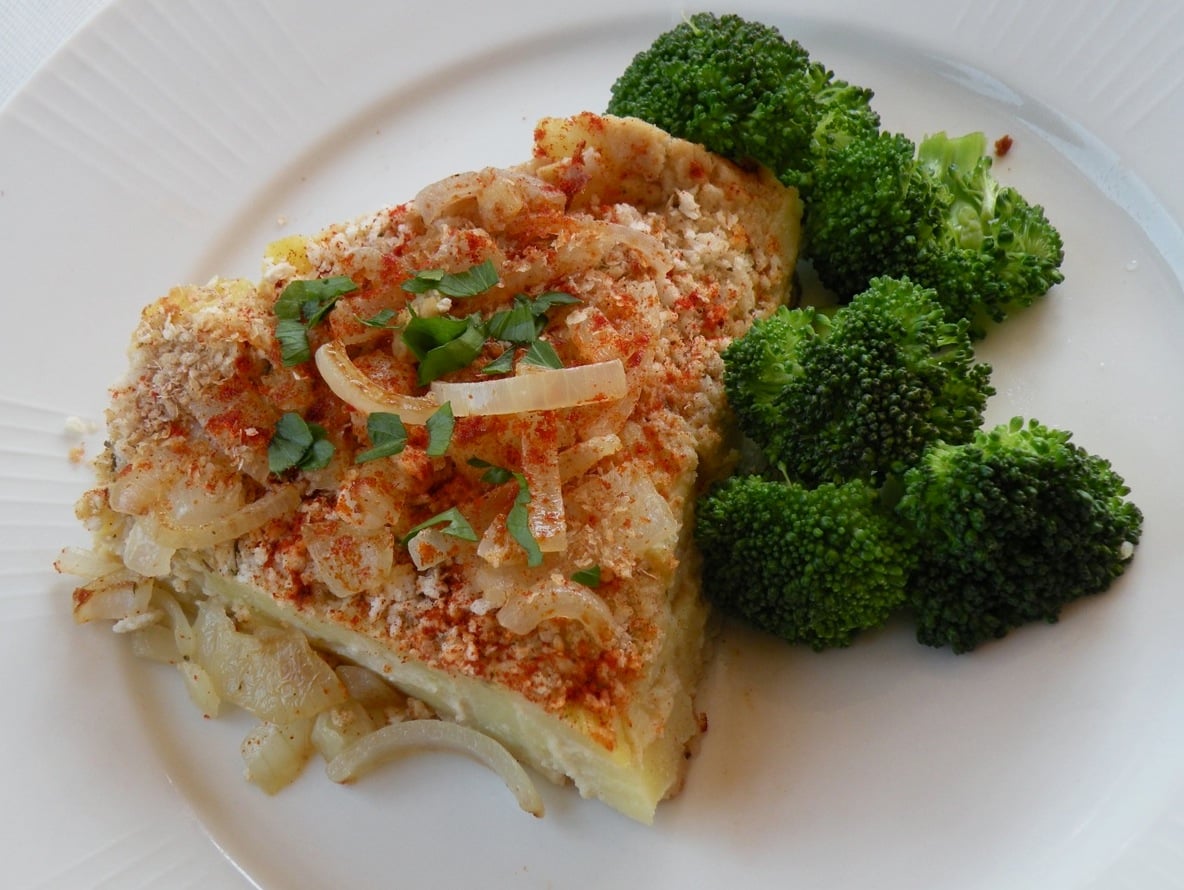 Here's a deceptively rich-tasting version of scalloped potatoes. It's made with a creamy sauce of silken tofu or white beans (canellini or Great Northern), minus the bother of making a flour-thickened white sauce. Simple and comforting, it's a great Thanksgiving dish for the vegans in the family, especially if you have your potatoes prepared beforehand. Serve with a green veggie and colorful salad.  more→