Eggplant Extravaganza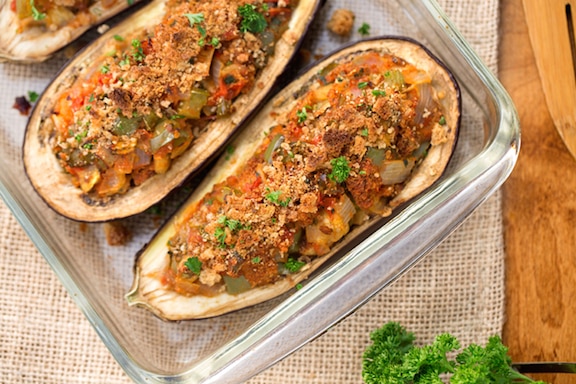 If you're an eggplant fan, you'll enjoy these 6 delicious ways to use eggplant in main dishes. Whether you're vegan or just looking for more veggie-oriented meals, you'll love these! Creole Stuffed Eggplant (above) was inspired by recipes in old Creole cookbooks. It's filled with typical Creole flavors like celery, bell pepper, onion and garlic, and seasoned with fresh herbs — parsley, basil, and thyme. It's a heavenly dish for eggplant fans!  more→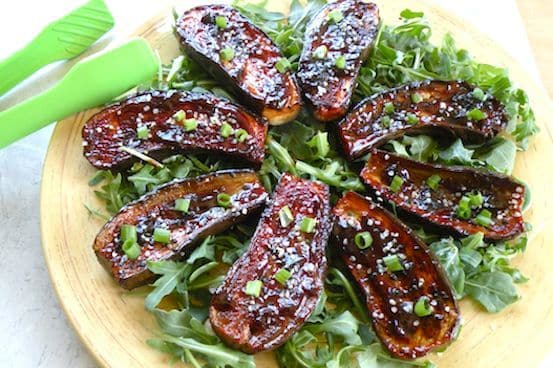 Here's a simple way to prepare the abundance of Japanese eggplants or the mini eggplants of summer. The hoisin marinade cooks into these small eggplants and makes them irresistible! Serve with a cold Asian-style noodle dish and a simple tofu dish for a delicious warm-weather meal. Or, serve on its own as an appetizer or first course. Look for hoisin sauce in the Asian foods section of well-stocked supermarkets, or at natural foods stores or Asian groceries. more→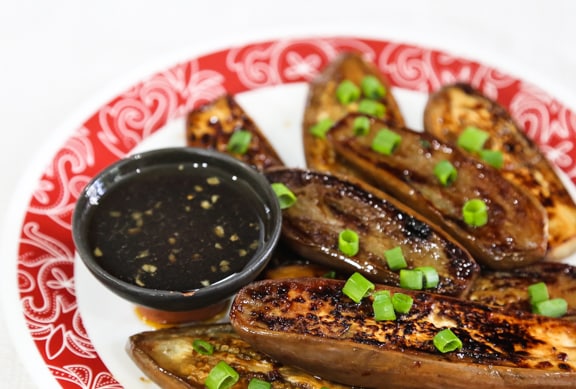 Similar to the delectable appetizer often found on Japanese restaurant menus, this pan-sautéed teriyaki eggplant couldn't be easier to make. For heartier appetites, allow more than just one mini eggplant per serving, as this has an addictive flavor and goes down easy! Serve as an appetizer or side dish. Photos by Evan Atlas.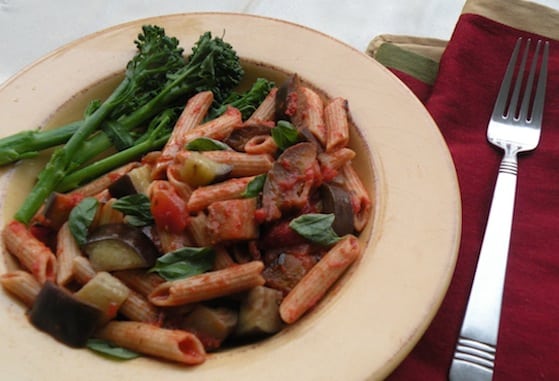 Pasta alla Norma is one of those great classic Italian recipes that's simple and healthy. Its basic embellishments are eggplant, onion, garlic, and basil. It's quick, too — in the time it takes to boil the water and cook the pasta, the sauce is started and finished. Be generous with the red pepper flakes if you like a little spice to your pasta dishes— they really give the flavor a boost. Serve with a colorful salad to which chickpeas are added for extra protein. more→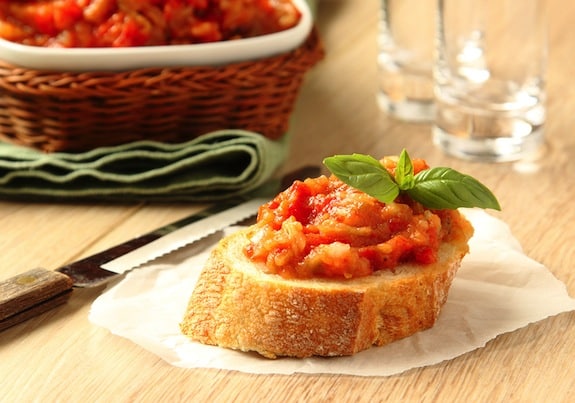 This spread featuring eggplant with a hint of tahini is reminiscent of baba ghanouj, but gives tomatoes a starring role as well. It makes a lovely late-summer appetizer. Serve with Bruschetta, wedges of whole grain pita bread, or pita chips.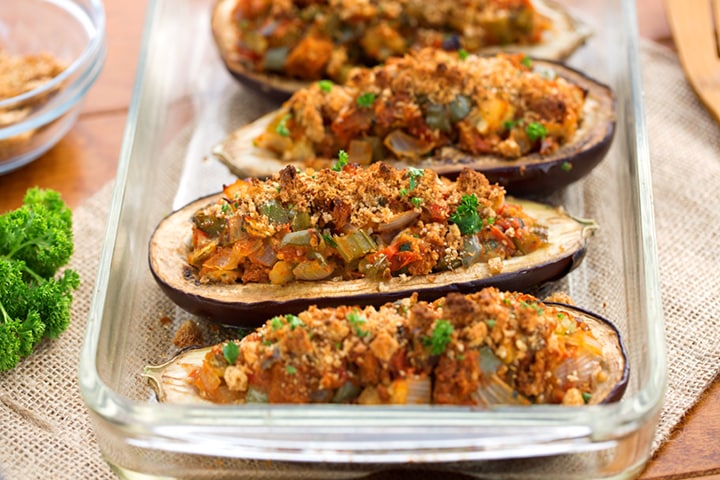 This delicious stuffed eggplant dish is inspired by recipes I came across in old Creole cookbooks. It's filled with typical Creole flavors like celery, bell pepper, onion and garlic, and seasoned with fresh herbs — parsley, basil, and thyme. It's a heavenly dish for eggplant fans! Photos by Hannah Kaminsky. more→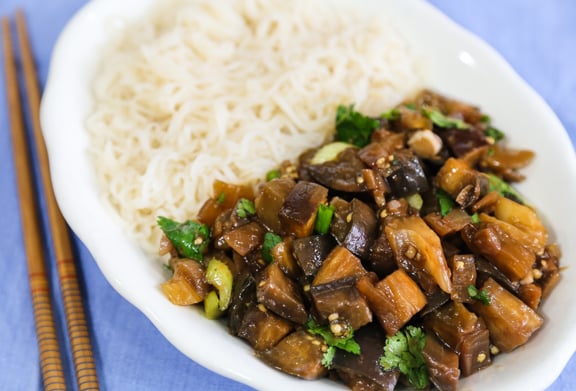 This recipe is based on one of my favorite Chinese take-out dishes—spicy Szechuan eggplant—with a lot less oil than its restaurant counterpart. I've devised this lower-fat version as a way to satisfy my craving for it. Add tofu to make it more of a main dish (see the variation below recipe box). Otherwise, you can serve alongside a simple tofu or seitan dish. If you love eggplant, it's really tasty any way you present it. Photos by Evan Atlas. more→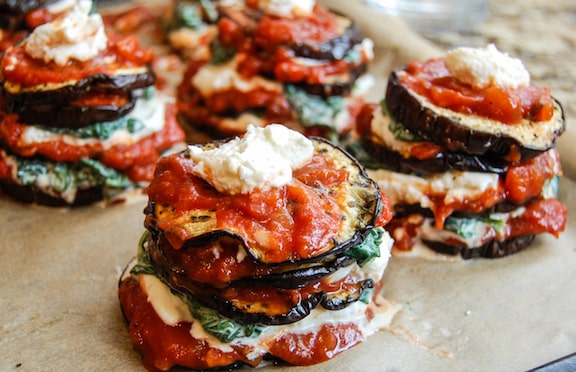 A twist on a classic Italian meal features baked eggplant slices stacked with cashew ricotta, balsamic infused baby spinach and your favorite marinara sauce. Just add a colorful salad and fresh whole grain bread (or a simple pasta or grain dish) for a fantastic meal. Make sure to start soaking the cashews and pine nuts for the "ricotta" well ahead of time. Contributed by Jennifer Strohmeyer, from Virtually Vegan Mama. more→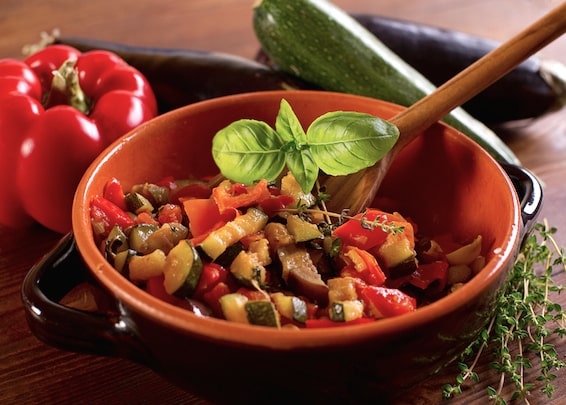 This classic French vegetable stew is a perfect way to enjoy several abundant summer garden vegetables — eggplant, zucchini, peppers, and tomatoes —in a single, savory dish. Fresh basil, and oregano or thyme provide extra pleasure for both the palate and the eye. Serve on its own with crusty bread, or over pasta or polenta. more→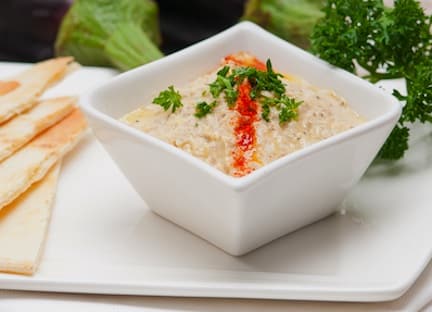 An eggplant lover's delight, Baba Ghanouj is, like hummus, a classic Middle Eastern spread meant to be scooped up on wedges of pita bread. It's also good as a dip for raw veggies.
more→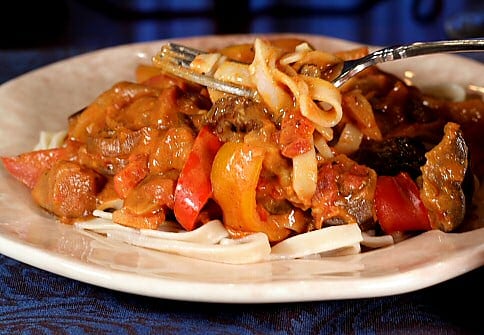 As part of my agenda to convert everyone into Eggplant Lovers (aka Aubergine Admirers and Brinjal Buddies), I've transformed the traditional Hungarian chicken paprikash into a vegan dish worthy of an eggplant. Mild Hungarian paprika gives the sauce its vibrant color and rich, distinctive flavor, while tofu "sour cream" adds creaminess and zing. Recipe and photo contributed by Susan Voisin, Fatfree Vegan Kitchen.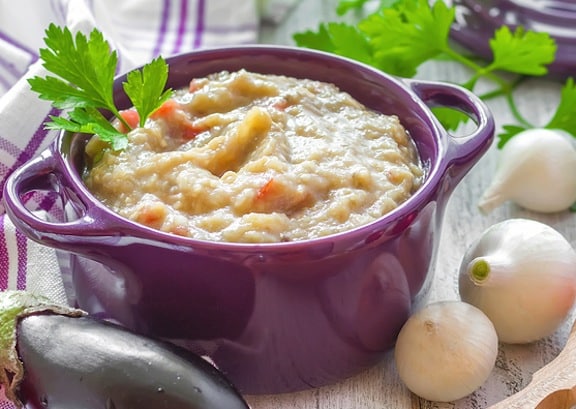 From an old Creole recipe, this offbeat eggplant soup was a  favorite discovery on a trip to New Orleans many years ago. It makes a wonderfully warming soup for winter or early spring. It's believed that the soup originated locally due to the abundance of the eggplant crop in the region. more→