Green Beans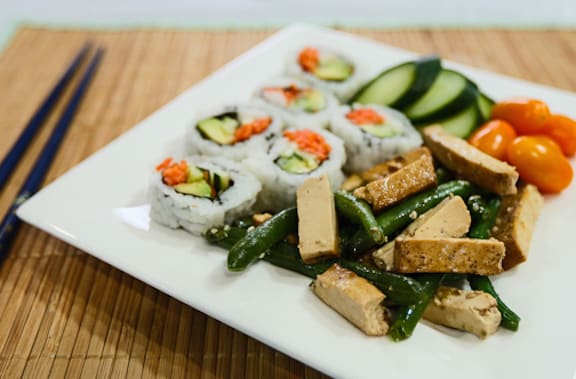 Fresh green beans are one of my favorite veggies, but they have a frustratingly short season. While they're on the produce shelves longer than they once were, that doesn't necessarily mean they're always good — they can be tough and stringy more often than not, if they don't come straight from your garden or farm market in midsummer. That's why whole frozen organic green beans are a staple for me. They're consistently good in stir-fries or salads. more→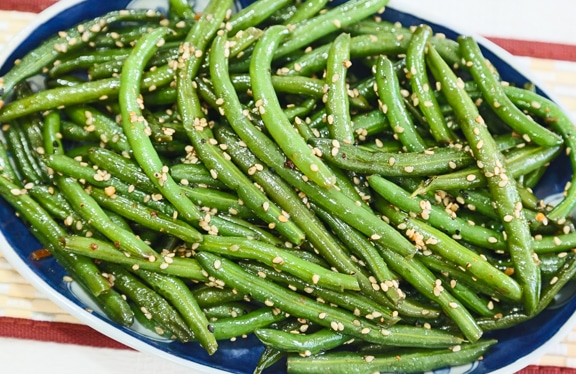 Since the season for really good fresh green beans is quite short, you can make this any other time of year using frozen organic whole green beans. Either way, this tasty and simple side dish is addictive! it's great with tofu, seitan, or noodle dishes. Try this with Stewed Tofu with Corn and Tomatoes. Photos by Evan Atlas. more→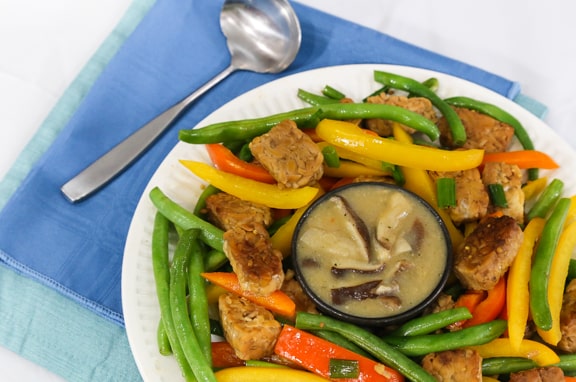 Green beans, tempeh, and bell peppers make for a tasty trio, especially when enveloped in a flavorful shiitake-miso gravy. To save time, or when fresh are out of season, use frozen organic baby green beans, available in most any natural foods store and many supermarkets. If available, do use fresh slender green beans, by all means, when they make their rare appearance at your local market. Photos by Evan Atlas.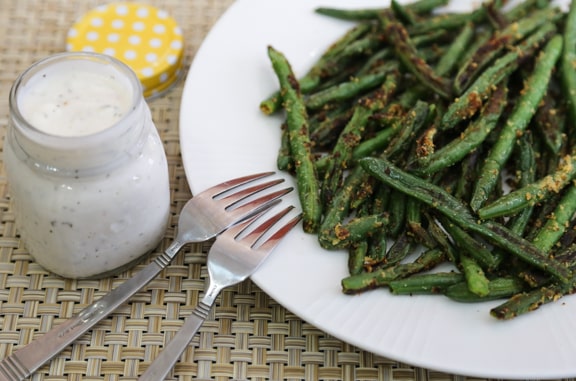 Green bean fries are a less starchy but equally fun and tasty alternative to potato fries. Using fresh slender green beans in season is the way to go, even though trimming them is a bit of work. Off season, use partially thawed whole baby green beans. These are tasty with our dairy-free ranch dressing, but they're good on their own, too. Use as a snack, appetizer, or side dish. Photos by Evan Atlas.
more→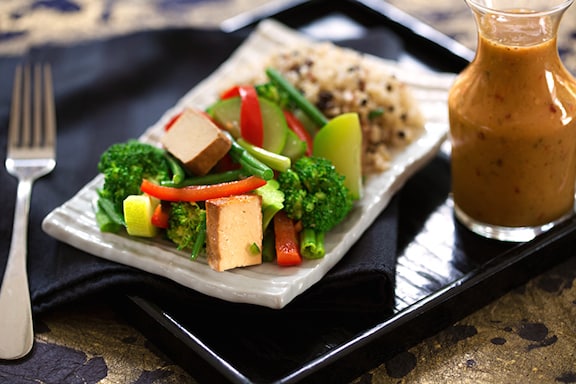 This Thai-style presentation of steamed fresh green vegetables offers a nice change of pace from the usual stir-fries. What makes this dish great is a rich and delectable peanut sauce. Served over hot cooked rice, just add a platter of cherry tomatoes and carrot sticks to complete the meal. Photos by Hannah Kaminsky.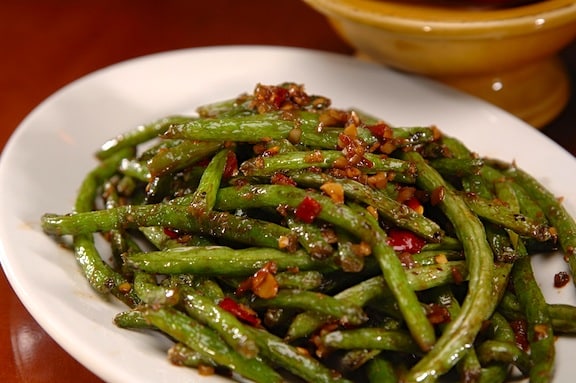 Crunchy green beans taste wonderful in a rich, nutty coating of walnuts and lots of garlic and ginger. Serve with your favorite Asian noodle or rice dishes. This also makes a great warm or room-temperature appetizer.  more→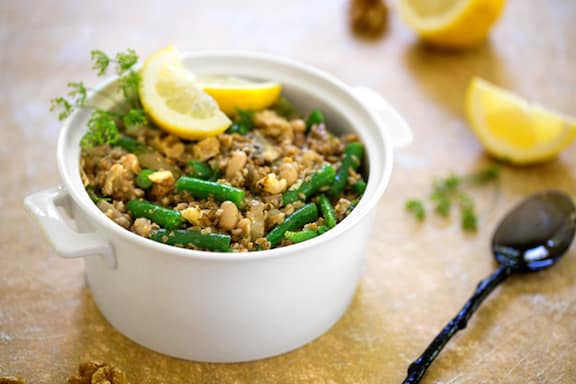 Filling and hearty, the lemony flavor and the slender green beans give this bulgur dish a fresh flavor. It's ideal to make when fresh slender green beans are on the market. That's quite a fleeting moment, so feel free to substitute whole organic baby green beans when good fresh ones are unavailable. Serve with a colorful salad and some corn on the cob for a simple meal. Photos by Hannah Kaminsky.  more→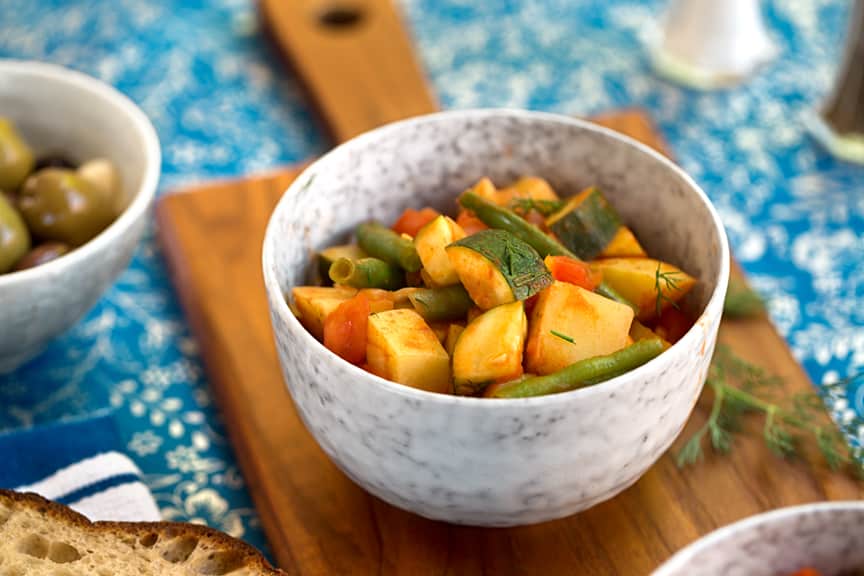 Here's a simple Greek potato stew bursting with summery flavors — green beans and zucchini in a mellow tomato base. A fresh, crusty bread rounds out the meal along with a big green salad with some chickpeas tossed in. For a company meal, add Olive Bar Medley with Tofu "Feta" as an appetizer, and a good wine.  more→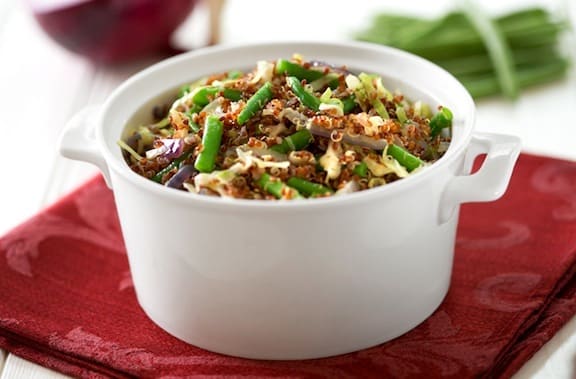 Here's an easy dish to highlight super-nutritious quinoa. With a flavorful sauté of onion, cabbage, and green beans, this needs very little in the way of seasoning. Serve with a simple bean dish and a colorful salad or slaw for an easygoing meal. Photos by Hannah Kaminsky. more→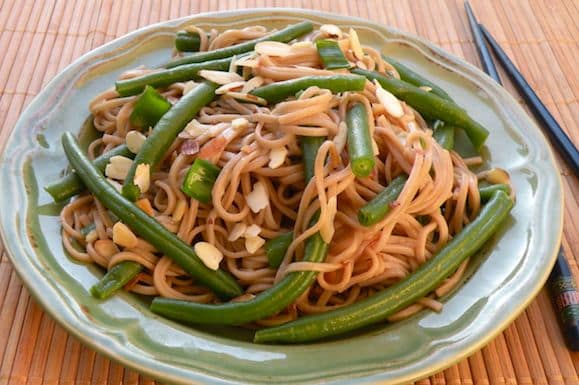 Perfect green beans seem to be available only for a month or two in the summer. This dish is a nice way to highlight them during that brief window. However, I'm so fond of them, that I use frozen green beans so I can make this easy soba noodle dish regularly. I highly recommend using organic whole baby green beans.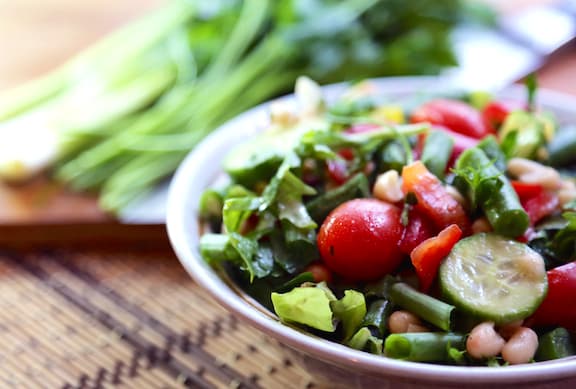 Featuring the companionable flavors of fresh green beans, navy beans, and cucumber, here's a lively, refreshing salad, perfect for picnics, potlucks, and casual company buffets. Use the recommended amounts of fresh herbs as a guideline — the more, the better! Photos by Evan Atlas. more→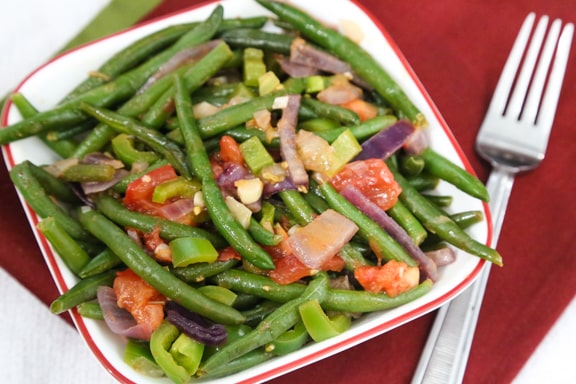 This nippy preparation of green beans is adapted from a traditional recipe from the Southwestern U.S. Fresh tomatoes and jalapeños combined with tender fresh green beans make for a tasty summer side dish. You can use whole organic green beans when fresh are unavailable. Photos by Evan Atlas. more→