Hardy Greens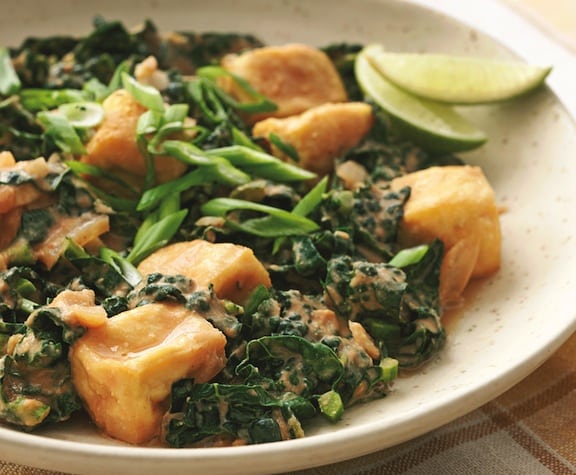 Kale, tofu, and peanut butter join forces to create a tasty, nutrition-packed dish. Serve with brown rice or quinoa and a colorful salad for a great weeknight meal. Recipe and photos from Eat to Live Cookbook* by Joel Fuhrman, M.D. © 2013 HarperOne; reprinted by permission. more→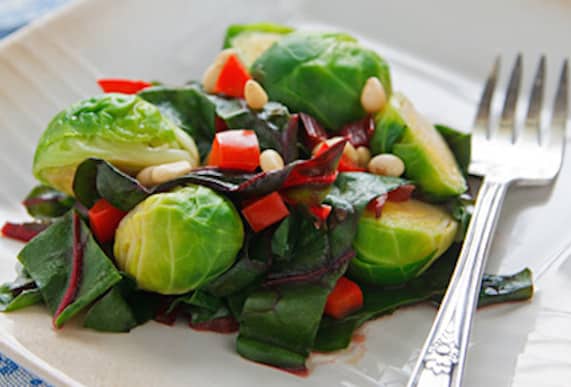 Halves of Brussels sprouts look pretty mingled with any variety of chard, and they taste wonderful together, too, making for a perfect Thanksgiving side dish. Substitute kale, collards, escarole, or broccoli rabe, depending on what's available. Recipe from Wild About Greens by Nava Atlas ©2012, Sterling Publishing. Reprinted by permission. Photos by Susan Voisin.

more→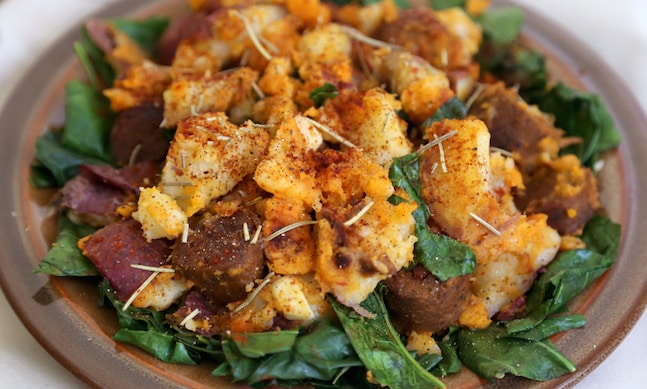 Here's a hearty dish of potatoes and vegan sausage, highlighting calcium-rich collard greens. It's so hardy, that all you need is a simple salad or slaw to complete the meal. Photos by Evan Atlas.
Serves: 4 to 6
4 medium-large Yukon gold or red-skinned potatoes
1 large sweet potato
2 tablespons extra-virgin olive oil
3 to 4 cloves garlic, minced
1 good-sized bunch collard greens (8 to 10 ounces)
2 links Tofurky or Field Roast vegan sausage, cut into 1/2-inch-thick slices
1/4 cup white wine, vegetable broth, or water
Leaves from 2 sprigs fresh rosemary,
or 1 to 2 teaspoons dried rosemary leaves, to taste
1 teaspoon sweet paprika
1/4 teaspoon dried hot red pepper flakes, or to taste
Salt and fresly ground pepper to taste
Cook, bake, or microwave the potatoes and sweet potatoes until they can be pierced with a fork but still firm. When cool enough to handle, cut in half lengthwise, then cut into 1/2-inch-thick half circles.
Cut away the thick mid-ribs from the collard greens and cut the leaves in half lengthwise. Rinse well, then, stacking several leaves at a time, cut them into thick strips.
Heat the oil in a large skillet or steep-sided stir-fry pan. Add the garlic and sauté over low heat until golden.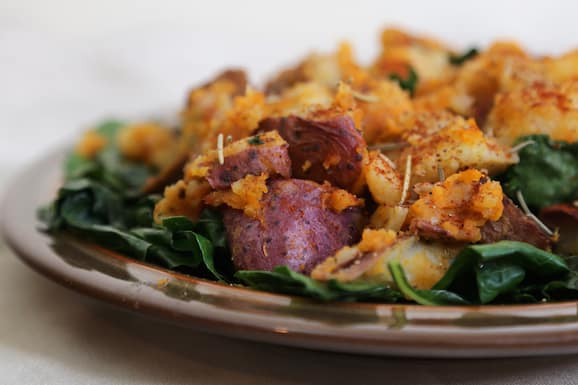 Add the potatoes, collards, sausage, and wine (or broth or water). Turn the heat up to medium high and cook, stirring frequently, until the collards are bright green and tender-crisp and the potatoes and suasage are touched with golden spots here and there.
Sprinkle in the rosemary, paprika, and red pepper flakes and cook for two to three minutes longer, stirring frequently. Season with salt and pepper and serve.
Nutrition Information:
Per Serving (based on 4 servings): 318 calories; 43g carbs; 12g fat; 15g protein; 226mg sodium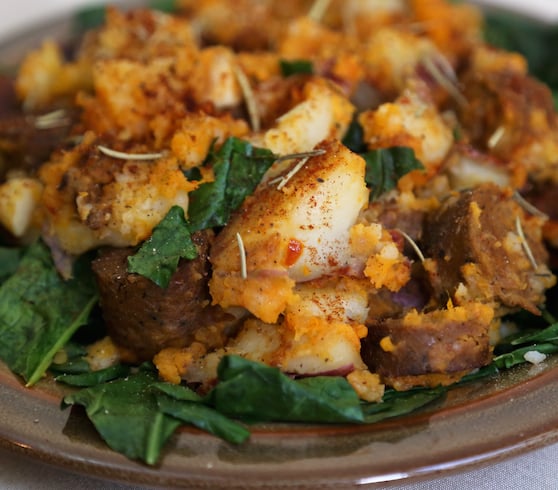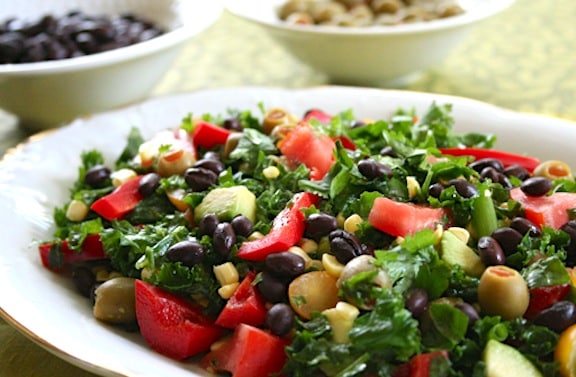 Kale, corn, avocado, and tomatoes add up to a seriously delicious salad. With the optional beans, it's a fantastic main dish salad. Without the added beans, it's a great companion to tortilla specialties containing beans—burritos, enchiladas, and the like. Recipe adapted from  Wild About Greens by Nava Atlas. Photos by Rachael Braun. more→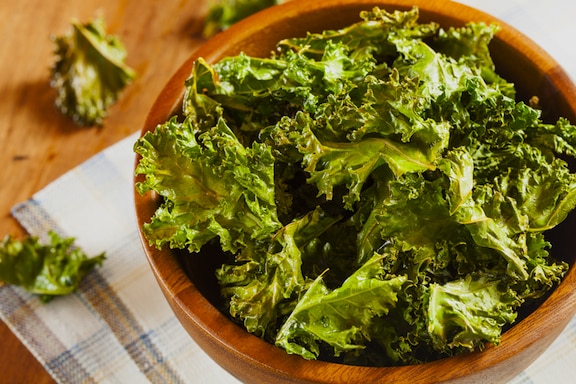 Here's a simple how-to for making kale chips. One of the trendiest and most popular things to do with kale is to transform it into crispy chips for snacking. Though I'm more partial to raw kale salad, kale chips enthusiasts report that once these are out of the oven, they're instantly devoured by snackers of all ages. more→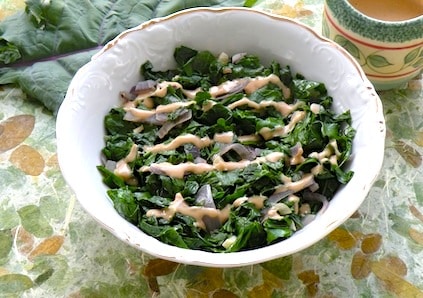 When lots and lots of kale needs to be used up all at once, this is one of my favorite go-to recipes. A tangy tahini-lemon sauce enhances the flavor of kale superbly. Adapted from Wild About Greens by Nava Atlas. more→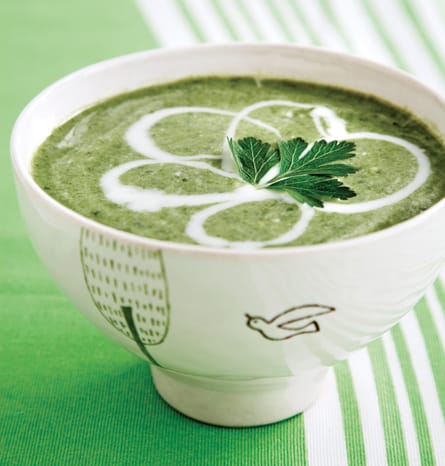 Here's a soup designed to make the most of kale or chard, spinach, arugula, and lettuces when they become too abundant. When greens threaten to take over the fridge, I turn to this recipe, which has become an annual tradition! If you love greens and have plenty of them, you'll find this nourishing recipe useful as well as delicious. Make sure all greens are very well washed. Adapted from Vegan Soups and Hearty Stews for All Seasons.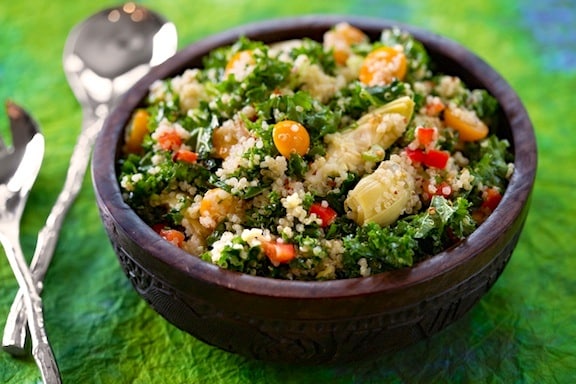 Any time you put kale and quinoa together, it's a winning duo. Not only are they both nutritional powerhouses, they taste and look fantastic together. Cook quinoa ahead of time, and this salad can be made in a snap. For an easy meal, serve with Sweet and Savory Sautéed Tofu, and corn on the cob or baked sweet potatoes. Photos by Hannah Kaminsky.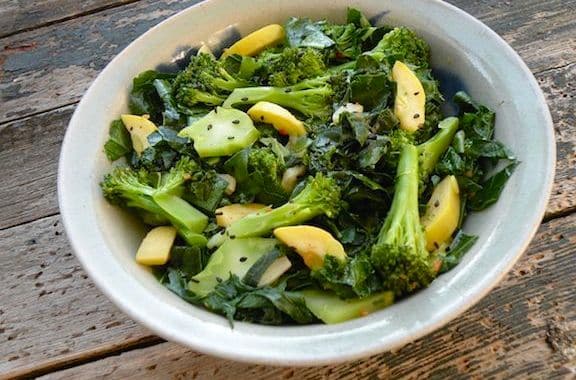 Kale and broccoli, two nutritious and delicious green vegetables are a compatible team in this easy recipe featuring Asian flavors. This is a great side dish with other Asian-inspired noodle, rice, or tofu dishes.  more→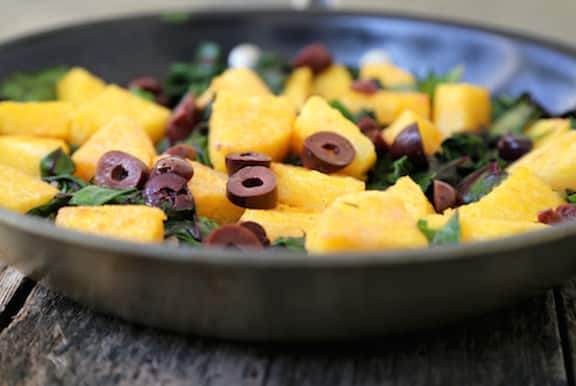 Little wedges of precooked polenta add immense charm to this simple preparation of chard. The flavor and texture of polenta is so compatible with leafy greens; you can use kale or collards in this in place of chard, if you'd like. Olives or sun-dried tomatoes give it a nice flavor twist. Photos by Evan Atlas. more→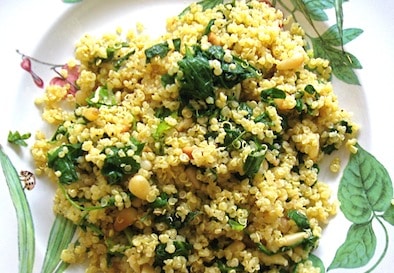 This speedy, simple dish features two — no, three — vegan faves — quinoa, kale and nutritional yeast. Nutritional yeast provides a big B-12 boost and terrific cheesy flavor. What's not to love? Tart this dish up with a handful of your favorite chopped herbs, pair it with grilled vegetables or tempeh or serve with a salad.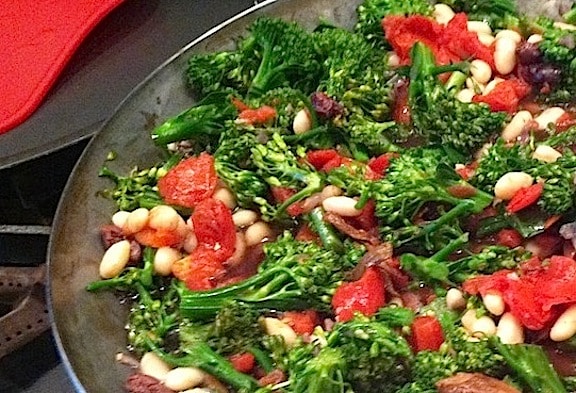 This earthy stew of broccoli rabe, beans, and mushrooms is quick to prepare, and is good served on its own in shallow bowls with crusty bread, or over pasta or polenta. Adapted from Wild About Greens by Nava Atlas.