Spinach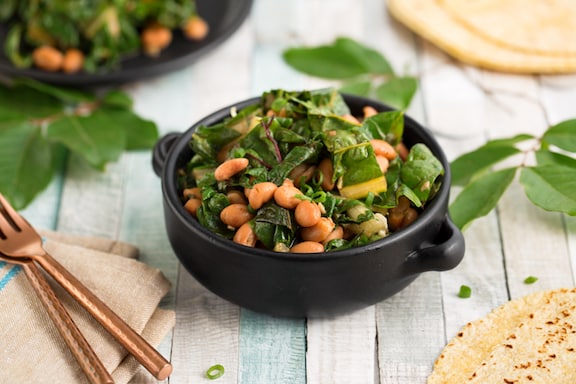 This simple recipe for chard with pinto beans is inspired by a Native American recipe made with wild greens. It's an excellent way to use up big bunches of chard when it's in peak season. You can use any variety of chard — green, Swiss, rainbow — our favorite is the latter. You can substitute other greens in whole or in part, too — kale, collards, spinach, mustard greens, etc. Try this side with tortilla dishes that don't themselves contain beans, like vegan quesadillas. more→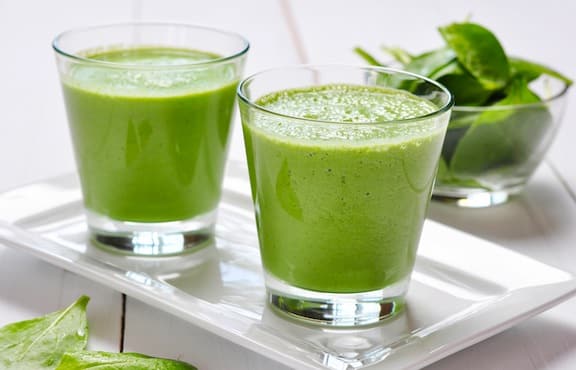 There are few veggies more versatile than spinach, which adds flavor and nutrition to so many kinds of dishes — soups, salads, sides, main dishes, and even appetizers and smoothies. Here's just a small sampling of some of our favorite spinach dishes. Also explore Healthy and Delicious Spinach Recipes, where you'll find even more. Let's start with Spinach, Sprouts, and Pineapple Smoothie blends the green goodness of spinach and sprouts with the sweetness of pineapple. It offers ultimate refreshment, and the coconut water is immensely hydrating. more→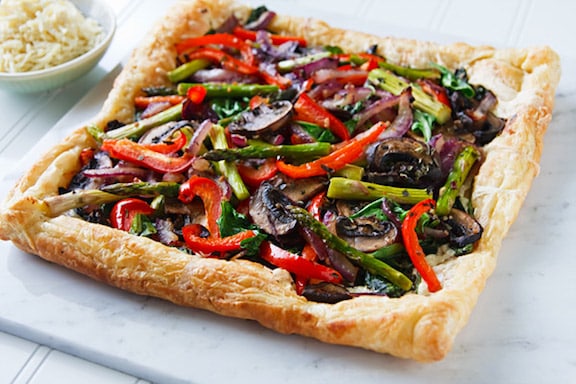 This spring vegetable tart looks like a work of art, but it's so easy to accomplish. Puff pastry isn't the healthiest item in the world, but for special occasions, it transforms simple ingredients into something fun and festive. Use a name brand (these are most often vegan, though it doesn't hurt to check the ingredients), and make sure to give it a good 45 minutes to an hour to thaw out—not less, and ideally, not much more. This makes two rectangular tarts that are easy on the cook and gorgeous to behold. Recipe adapted from Vegan Holiday Kitchen. Photos by Susan Voisin.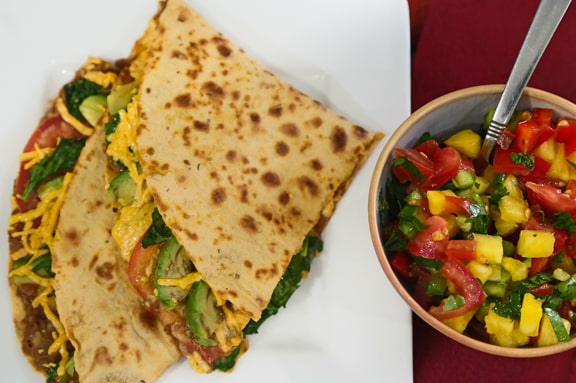 A sweet and spicy pineapple salsa adds an intriguing flavor element to these easy vegan quesadillas featuring convenient baby greens, prepared refried beans, avocado, and tomato. If you're short on time, skip the homemade salsa, and use a prepared pineapple or mango salsa instead. Either way, finish the meal with a simple salad. For heartier appetites, add some cooked quiona or a baked sweet potato. Photos by Evan Atlas.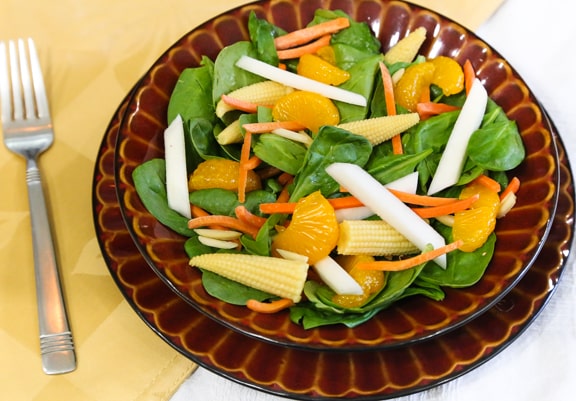 Spinach, baby corn, and tiny orange sections are featured in a salad that yields abundant pleasure with little effort in preparation. This is a perfect one to team with an Asian-style stir-fry or noodle dish.  Photos by Evan Atlas.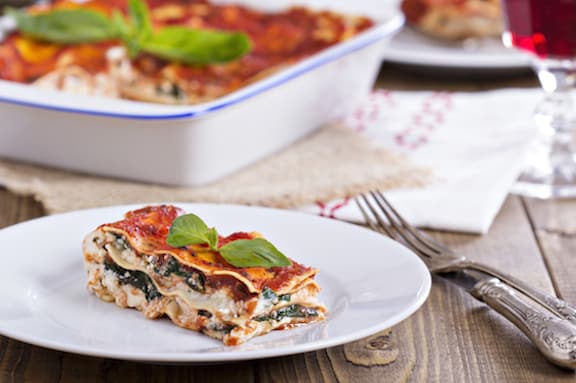 I almost named this "The World's Easiest Lasagna" because this dish is super easy to make. Using no-boil noodles and pre-made sauce cuts prep time down so much that you can throw this together pretty quickly and your dinner guests will think you slaved away in the kitchen for hours. I served this at a party once and it was a huge hit, so I can attest to it's omnivore friendliness. This tastes even better reheated the next day. Contributed by Dianne Wenz, from VeggieGirl.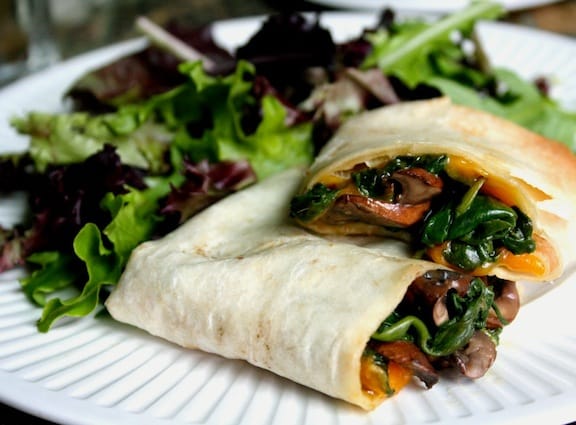 Spinach and mushrooms are nicely flavored with vegan cheddar-style cheese in these delectable wraps. For an easy meal, serve with baked or microwaved potatoes or sweet potatoes and a colorful salad. Adapted from The Vegetarian 5-Ingredient Gourmet. Photos by Rachael Braun. more→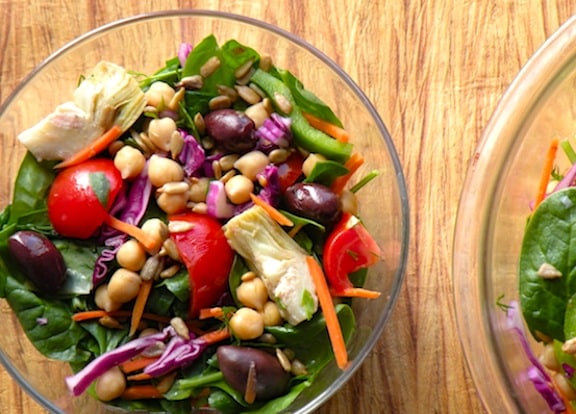 A feast of color and texture, this salad of baby spinach, embellished with other colorful veggies, is quick to prepare and a pleasure to serve. Serve it in larger portions as a main-dish salad, or in smaller portions as a substantial side salad. Delicious served with a pureed vegetable soup and some fresh bread. Photos by Rachael Braun.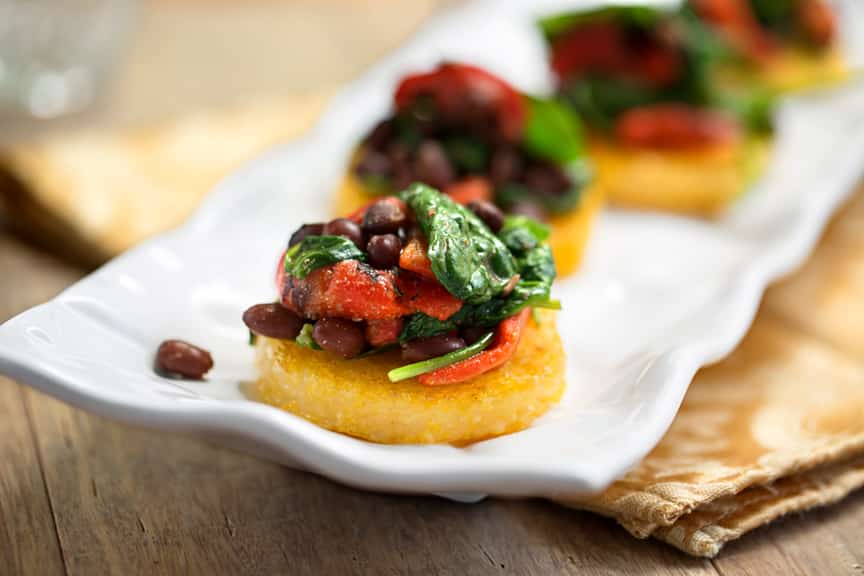 Prepared polenta that comes in a tube provides an easy way to add variety to the dinner repertoire. In a simple combination, polenta topped with black beans and spinach can be a hearty warm appetizer or the main dish as part of a simple dinner. Look for this kind of polenta in natural foods stores or the Italian or gluten-free foods sections of supermarkets. Adapted from Vegan Express by Nava Atlas. See a complete simple dinner, with shopping list, featuring this recipe. more→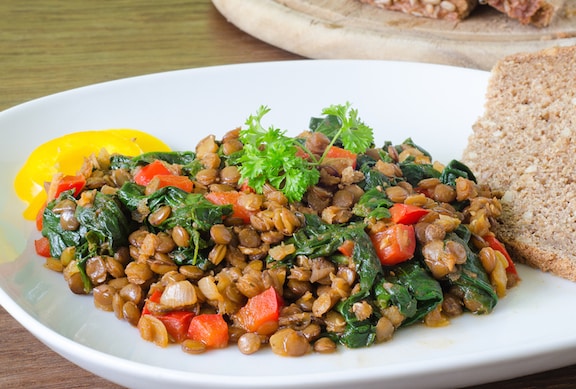 Since my family loves lentils, I keep a few cans of organic canned lentils on hand to use when we want a meal with this nourishing legume in a hurry. If you prefer to cook your own, the dish will also come together in a snap if you have them cooked ahead of time. To make this dish a little fancier, try using beluga lentils. There diminutive, gleaming black lentils contrast attractively with the greens and dried tomatoes. Green or brown lentils will taste just as good, though they're not as pretty. This is great served with Cauliflower Rice Pilaf, Quinoa with Cauliflower, Cranberries, and Nuts, or another grain dish, plus a simple salad.
Serves: 4 to 6 as a side dish
1 tablespoon olive oil
1 medium onion, finely chopped
2 cloves garlic, minced
1/2 medium red bell pepper, finely diced
6 to 8 ounces baby spinach, rinsed
Two 15-ounce cans lentils, drained and
rinsed (try using beluga lentils if available)
1/4 cup sliced sun-dried tomatoes (with a little of their oil, if using oil-packed_
2 tablespoon lemon juice, or to taste
1 teaspoon ground cumin
1/4 cup minced fresh dill, cilantro, or parsley, or more to taste, optional
Salt and freshly ground pepper to taste
Heat the oil in a large skillet. Add the onion and sauté over medium-low heat until translucent. Add the garlic and bell pepper, and continue to sauté until the onion is golden.
Add the spinach and cover the pat; Cook until just wilted, 1 to 2 minutes.
Add the remaining ingredients and stir until the spinach is evenly distributed with the lentils. Cook just until the mixture is well heated, then serve.
Variation: Replace all or part of the spinach with baby arugula.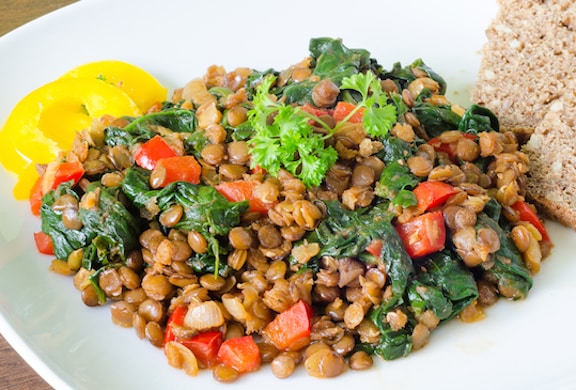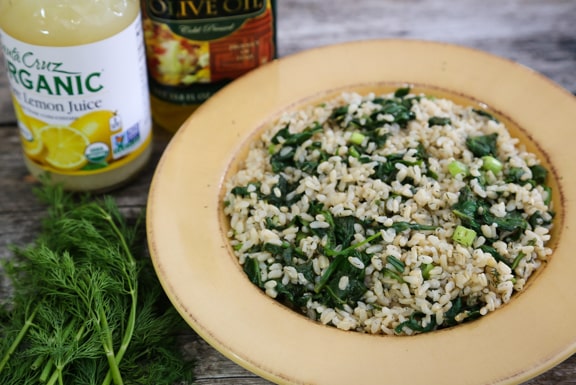 Here's a simple brown rice dish that incorporates lots of fresh spinach. Using organic baby spinach is convenient, because it's already cleaned and ready to go (though I usually give it a good rinse nonetheless). Scallions, fresh dill, and lemon juice add the finishing touch. Photos by Evan Atlas. more→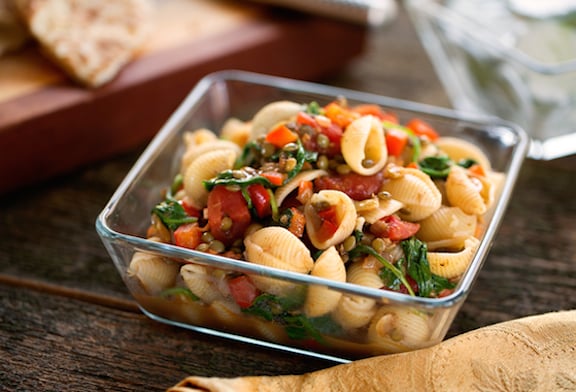 Spinach and lentils often paired Indian cuisine. Here, they are given an unusual context when combined with pasta. For a delicious meal, serve with a fresh flatbread and sliced cucumbers in coconut yogurt, embellished with cilantro. Photos by Hannah Kaminsky.