Sweet Potatoes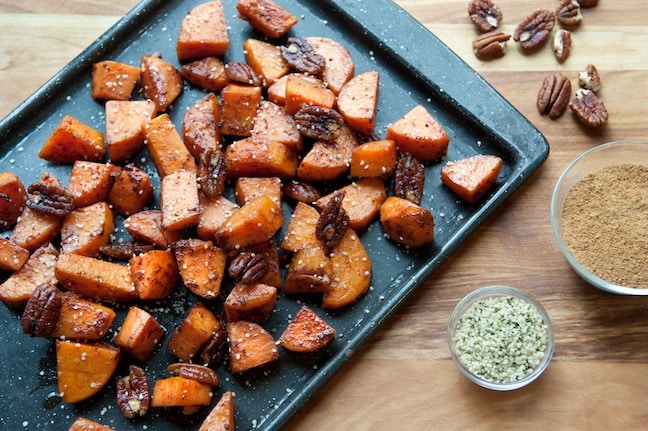 You can make this festive roasted sweet potato dish with yams or sweet potatoes or a combination of both. Generally speaking, garnet yams are sweeter than sweet potatoes. Serve it as part of a vegan Thanksgiving holiday or anytime you want to warm up the house with the sweet aromas of cinnamon and nutmeg. Recipe contributed by Leslie Cerier. Photo by Tracey Eller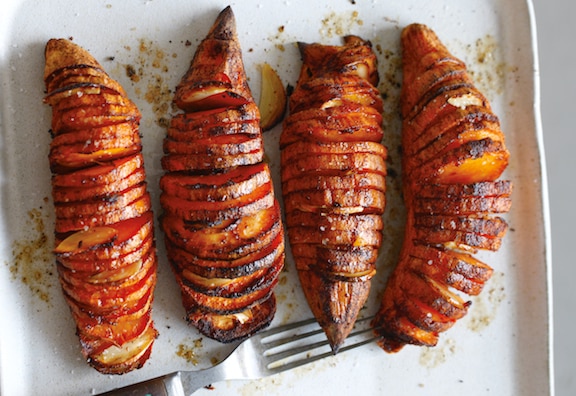 This style of preparing potatoes is popular for good reason: Not only are they visually striking, you also get some of the benefits of a gratin—thin, tender slices and deliciously crusty edges—without the heavy sauce. I especially like this technique for sweet potatoes, which are grown in Texas much of the year. Reprinted with permission from Meatless in Cowtown: A Vegetarian Guide to Food and Wine, Texas Style © 2015 by Laura Samuel Meyn and Anthony Head, Running Press, a member of the Perseus Books Group. Photos by Jason Varney. more→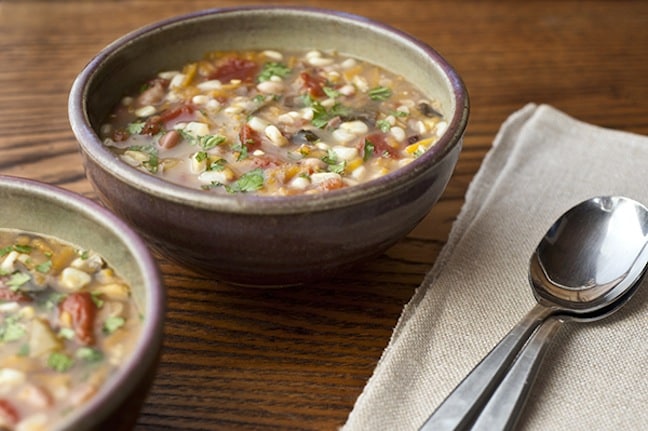 This sweet and spicy stew is a fun and unusual take on chili. And if you happen to have leftovers, it tastes even better a day or two later. Kelp may seem like an unusual ingredient here, but it has several benefits: it makes the beans more digestible, and it also contains flavor-enhancing compounds and loads of minerals and vitamins. Copyright © 2010 Gluten-Free Recipes for the Conscious Cook* by Leslie Cerier (New Harbinger, Inc). All rights reserved. Used by permission of the publisher and author.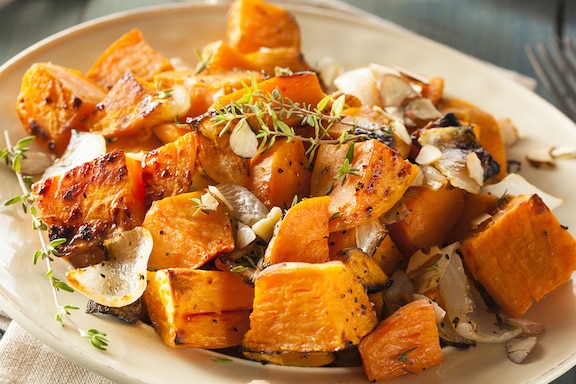 In this simple preparation, oven-roasting naturally delicious sweet potatoes enhances them all the more. Embellished with a little onion, garlic, and fresh thyme, it's really all you need to create fantastic side dish. more→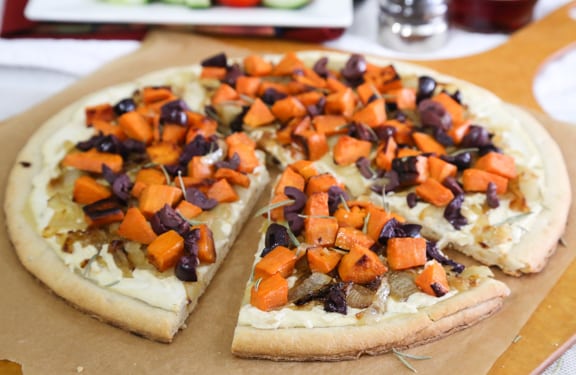 Here's a delectably different kind of pizza—a vegan white pizza brimming with well-cooked onions, roasted sweet potato, and briny olives. Combined with most any kind of salad, this pizza makes a delicious cool-weather dinner. This makes 6 to 8 slices. Double the recipe if you're feeding more than 3 hungry people! Photos by Evan Atlas.  more→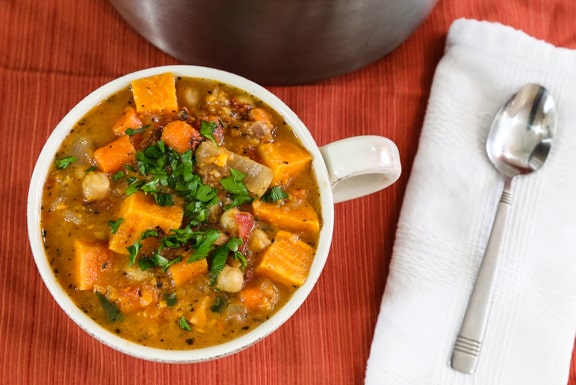 A satisfying soup that gets its golden-orange color from sweet potatoes and carrots, this will warm you throughout the fall and winter. Served in a generous bowl, it can be a main dish, completed simply with salad and fresh bread. Served in smaller portions, it's a nice way to start a vegan Thanksgiving meal. Photos by Evan Atlas.
more→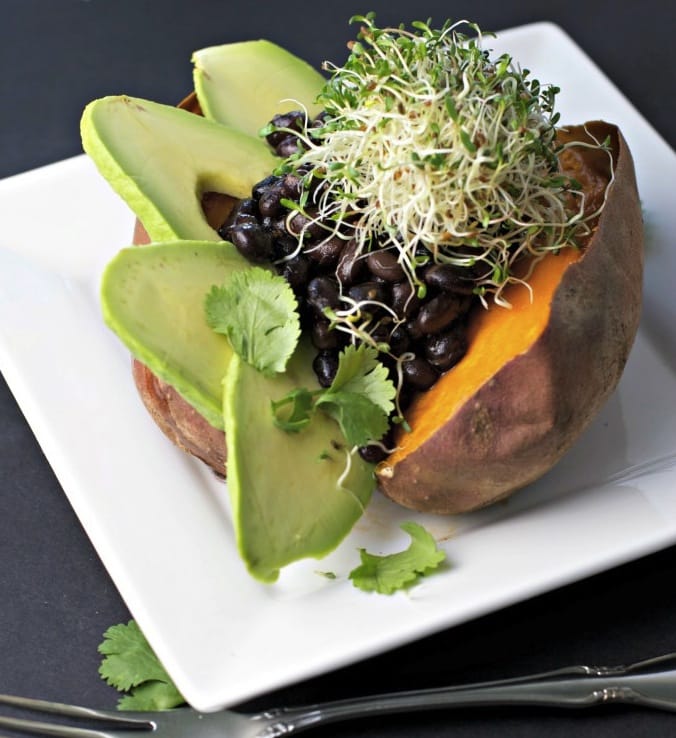 Loaded with cumin-scented black beans, fresh sprouts, avocado and topped with a chipotle lime tahini sauce, this is a Meatless Monday (or any day) meal that's packed with flavor and nourishing ingredients. Recipe and photos contributed by Cristina Cavanaugh, from Begin Within Nutrition.  more→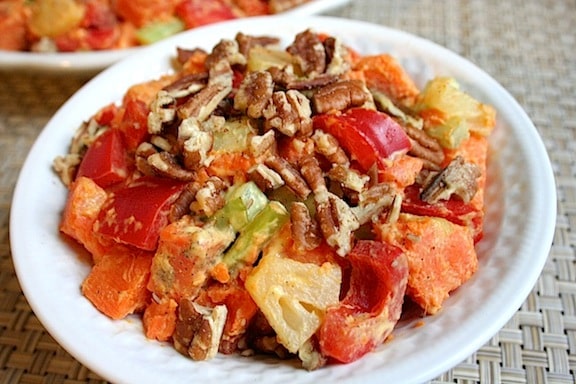 This simple sweet potato salad, developed by Ginny Messina, is a great choice when you want something a little different for a picnic or potluck. It's also a wonderful addition to fall and winter holiday meals. From Never Too Late to Go Vegan: The Over–50 Guide to Adopting and Thriving on a Plant-Based Diet,* copyright © Carol J. Adams, Patti Breitman, Virginia Messina, 2014. Reprinted by permission of the publisher, The Experiment. Photos by Rachael Braun.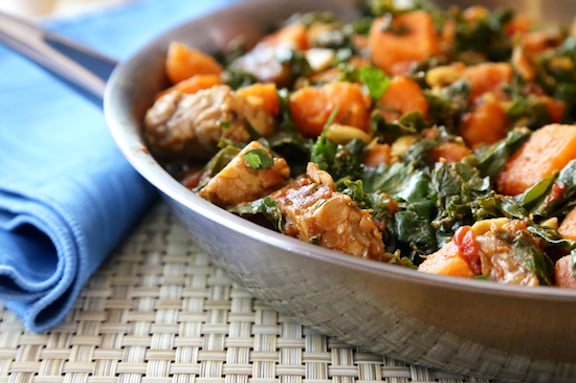 This supremely nourishing trio of ingredients — tempeh, kale, and sweet potatoes — are the basis of a quick, colorful, and comforting meal. It's an adaptable dish, too—don't like tempeh? Use tofu, seitan, or a can of chickpeas or white beans instead. It's great with chard in place of kale, as well. Great served with any of the slaw recipes on this site. Photos by Evan Atlas.   more→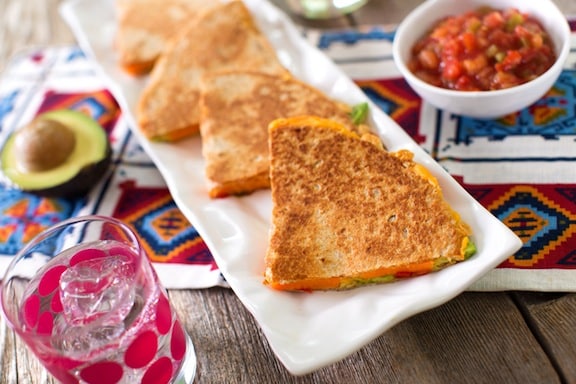 Combining sweet potatoes, avocados, and vegan cheese in soft tacos or quesadillas is downright sensuous. Whether you make these into soft tacos or crispy quesadillas, serve with plenty of napkins! For a bigger crowd or hungrier eaters, double the recipes, as these go down easy! Photos by Hannah Kaminsky.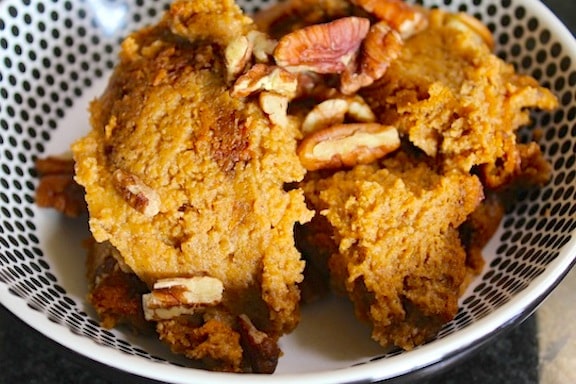 It all started with a leftover baked sweet potato that I put in the food processor with some other ingredients including nut butter, pumpkin pie spice, applesauce, coconut flour, almond milk, and dried currants. The consistency definitely ended up being more like a pudding. I served the final product with chopped pecans and a splash of almond milk for a wonderful dessert. Recipe and photos contributed by Carrie Forrest, from Carrie on Vegan. more→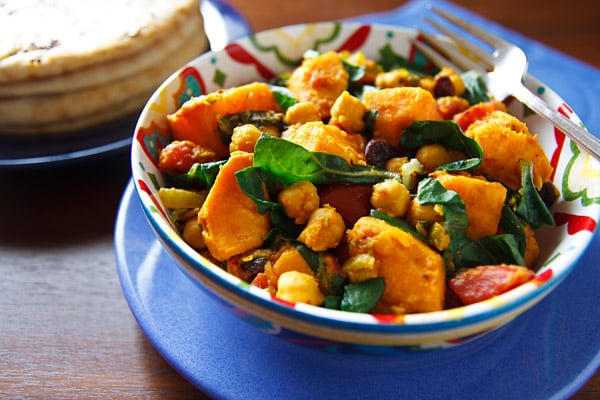 A superb fusion of flavors permeates this nourishing harvest dish of sweet potatoes and chard. Serve like a stew in shallow bowls, accompanied by warm flatbread. This recipe works well with other greens, as you'll see in the variations following the recipe. From Wild About Greens. Photo by Susan Voisin, FatFree Vegan Kitchen. more→