Tomato Heaven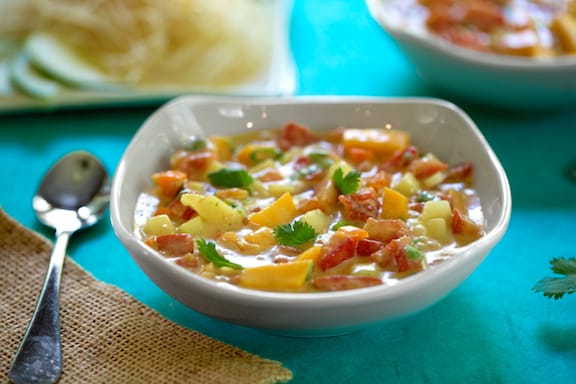 Think of this no-cook soup as a Thai-flavored gazpacho. It's best with really lush summer tomatoes. Serve with a cold noodle dish for a quick summer meal. Adapted fromVegan Soups and Hearty Stews for All Seasons by Nava Atlas. Photos by Hannah Kaminsky.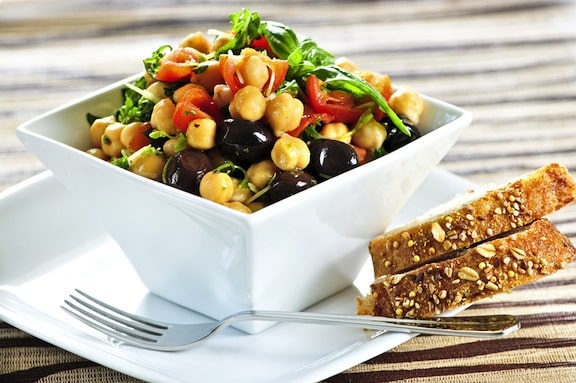 This easy chickpea salad, filled with flavorful tomatoes and aromatic basil, makes a good lunch on its own with whole grain bread and fresh fruit. It's a great companion to many Italian-style pasta dishes or simple grain dishes during the cooler months, especially if the meal needs a protein boost. It's also good with pasta salads or potato salads as part of a summer meal, served with a cold soup or fresh corn. It's especially good with ripe summer tomatoes, though off season you can use tomatoes on vine or hydroponic tomatoes. more→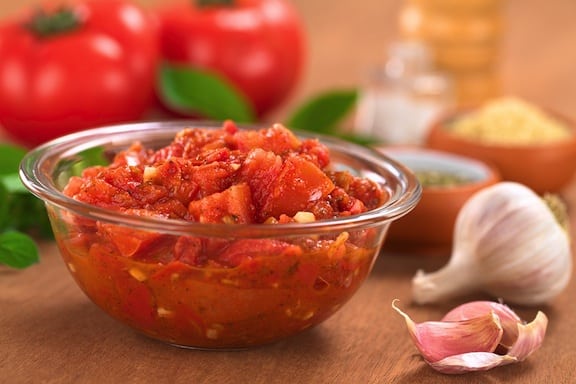 Garlic lovers, this sauce is for you! It's perfect for summer, when you can get garden-fresh organic tomatoes. It's delicious served over pasta or polenta. Recipe contributed by Vicki Chelf. more→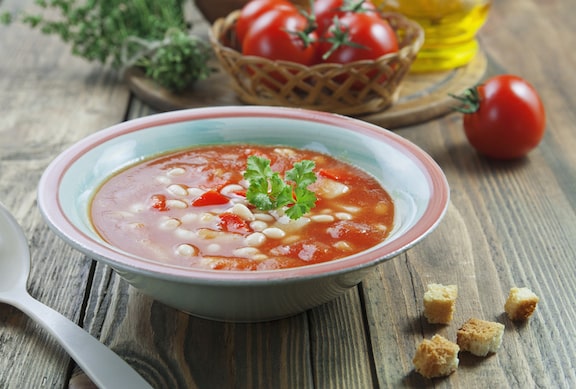 White beans make a creamy base for soups, dips, and sauces, in addition to being quite companionable with the ripe tomatoes of summer. The combination of white beans and fresh tomatoes makes for a flavorful, nearly instant cold soup.  more→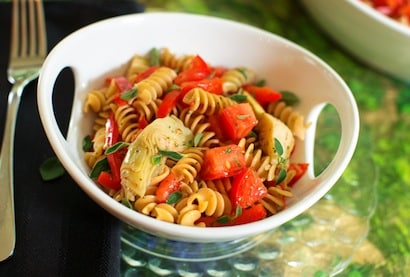 Here's a summer pasta dish that's perfect for using all those ripe, juicy tomatoes from the garden or farm market. Teamed with artichokes, this makes a quick and tasty dinner. Serve with Summer Squash, Green Bean, and Chickpea Salad and fresh corn. Photo by Hannah Kaminsky. more→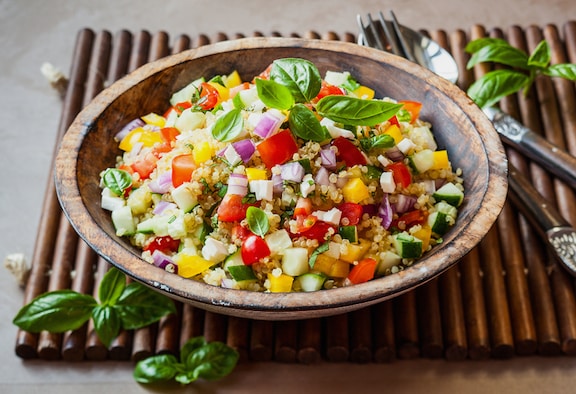 This simple salad is somewhat akin to tabbouli, but it's more about the ripe summer tomatoes and other garden veggies. It's also a great way to use up leftover quinoa, so the amount used in the salad is flexible. Make sure to use the most flavorful summer tomatoes for best results! more→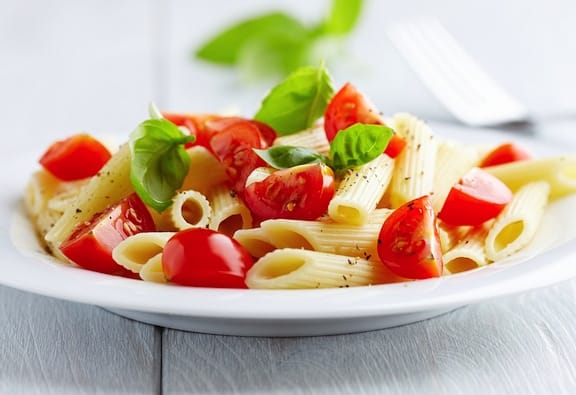 This simple summer dish of pasta with tomatoes and basil will get you out of the kitchen quickly. Make sure to use summer tomatoes at the peak of their flavor, as that's what this dish is all about! This is a good accompaniment to grilled vegetables; it's also good with a colorful bean salad. Try it with Mediterranean Bean Salad with Pickled Beets. more→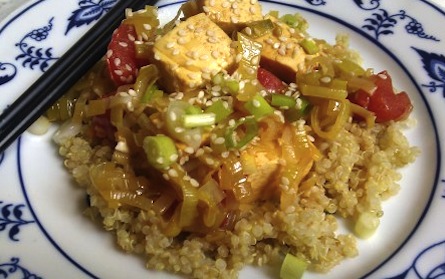 This simple, tasty tofu dish, flavored with ripe tomatoes and leeks, makes a nice entrée for a summer dinner. To make it more substantial, serve over warm cooked grains or noodles. Hoisin sauce, a salty-sweet condiment, is readily available in the Asian foods section of well-stocked supermarkets. Photo by Sophie at Happy Spinach. more→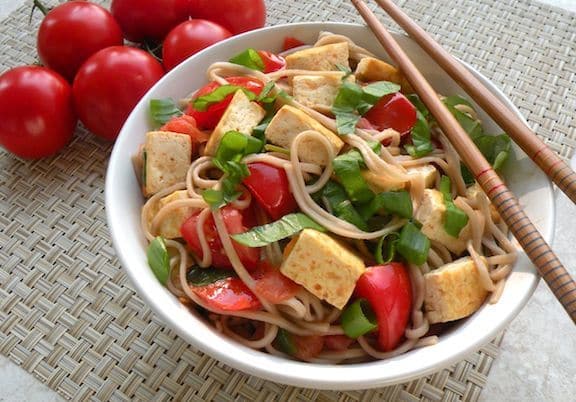 This quick summery dish of soba (buckwheat noodles), tomatoes, tofu, and basil has a lovely combination of Asian and Italian flavors. Flavored with sesame oil and soy sauce, as well as the fresh tomatoes and basil, it might sound strange, but it works! Serve with fresh corn and/or grilled vegetables for a warm weather meal.  more→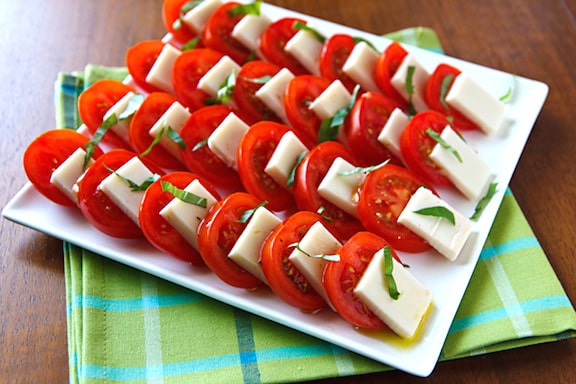 This veganized version of the classic combination of fresh summer tomatoes, mozzarella, and basil barely qualifies as a recipe, but it's impressive enough to be greeted with delight every time. Basically all you need is vegan mozzarella-style cheese (either the kind you can get in natural foods stores, or a more artisanal variety), a few medium-sized lush, ripe tomatoes, a handful of basil leaves, and some good, fruity olive oil. Photos by Susan Voisin.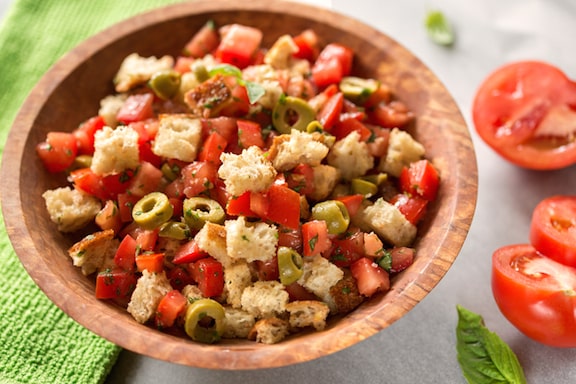 Crisp cubes of Italian bread mingle with fresh tomatoes in this interpretation of a popular Mediterranean salad. Use only the most flavorful of summer tomatoes for best results. Photos by Hannah Kaminsky. Adapted from The Vegetarian Family Cookbook. more→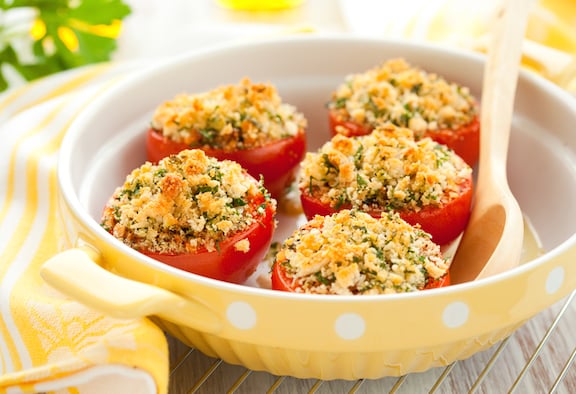 Here's a great way to use late summer's bumper crop of tomatoes. Seasoned with the characteristic herbs of Provence, this recipe for Baked Tomatoes Provençal can easily double if you have a surplus of tomatoes.