Winter Squash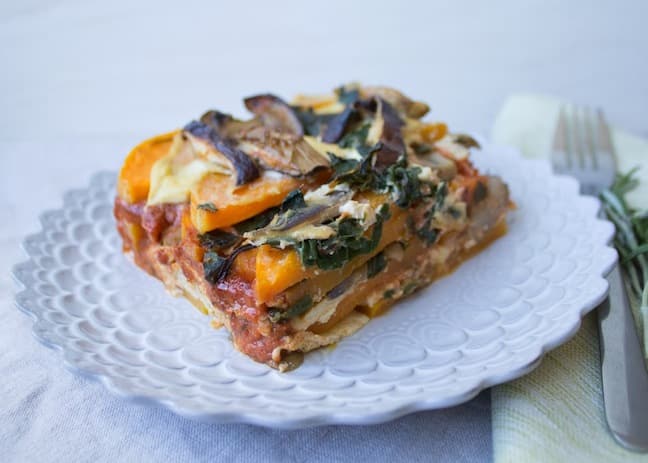 In this hearty vegan and gluten-free lasagna I used a mixture of shiitake and white button mushrooms, fresh rosemary and tarragon, swiss chard, homemade sauce (so easy!!!), tofu "cheese", and squash. The flavor and texture are excellent, everything you'd want from a meal on a cold winter day.  more→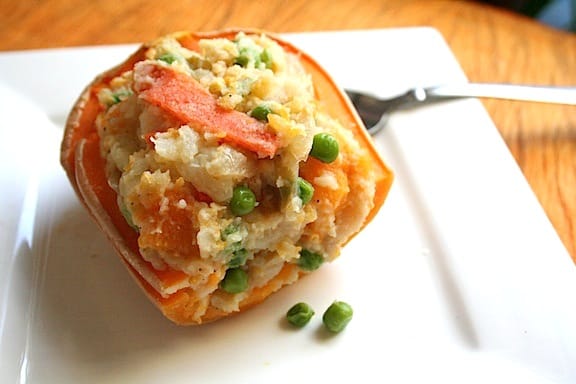 This mild mashed potato-stuffed winter squash makes a great alternative main dish for Thanksgiving, but it's any time during fall harvest season or as a winter comfort food. Double the recipe to feed a bigger crowd. Each stuffed winter squash half can serve as a main dish portion; or cut each half again to make 8 smaller side dish portions. Photos by Rachael Braun.

Winter Squash Stuffed with Mashed Potatoes and Peas
Recipe type:
Winter squash / Thanksgiving
Prep time:
Cook time:
Total time:
This mild mashed potato-stuffed squash makes a great alternative main dish for Thanksgiving, but it's any time during fall harvest season or as a winter comfort food.
Ingredients
2 medium butternut or carnival squashes (1½ to 2 pounds each)
6 medium potatoes, any variety, peeled and diced
1 tablespoon olive oil
1 large onion, chopped
1 large carrot, cut into thick 2-inch-long matchsticks
½ cup unsweetened nondairy milk
1 cup frozen petite green peas, thawed
2 teaspoons salt-free seasoning blend (such as Spike or Mrs. Dash)
Pinch of nutmeg
Salt and freshly ground pepper to taste
Nutritional yeast to taste, optional
Instructions
Preheat the oven to 400 degrees F.
Cut the squash in half lengthwise and remove the seeds and fibers. Cover with aluminum foil and place the halves, cut side up, in a foil-lined shallow baking pan. Bake for 40 to 50 minutes, or until easily pierced with a knife but still firm. When cool enough to handle, scoop out the pulp, leaving a firm ¼- to ½-inch-thick shell all around. Mash the pulp and set side until needed.
Meanwhile, combine the potatoes with enough water to cover in a large saucepan. Bring to a simmer, then simmer steadily, covered, until the potatoes are tender, about 10 to 15 minutes.
Heat the oil in a medium skillet. Add the onion and carrot and sauté over medium heat until the onion is golden and the carrot is tender-crisp. Remove from the heat.
When the potatoes are done, drain them and transfer to a mixing bowl. Add the milk  and mash until smooth. Stir in the onion-carrot mixture, followed by the peas, nutritional yeast, and nutmeg. Add the reserved squash pulp, and stir gently until the mashed potato and squash are well integrated.
Divide the mixture evenly among the four squash shells. Bake for 15 minutes, until well heated through. Serve each half as one substantial portion, or cut each half crosswise to make 8 smaller portions.
Variation: Substitute 1 large sweet potato for 2 of the other potatoes.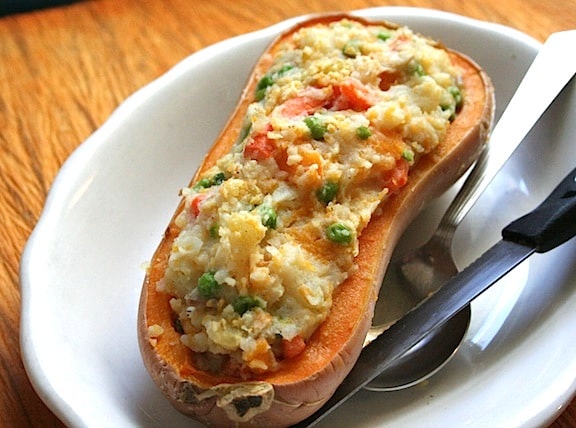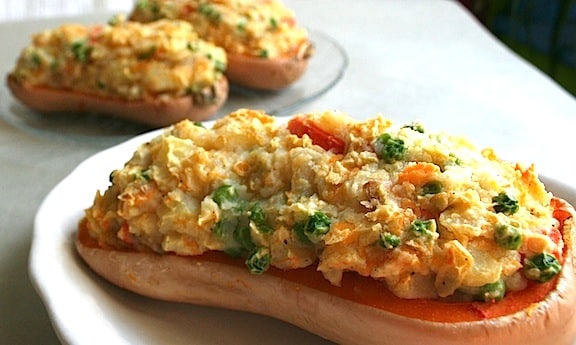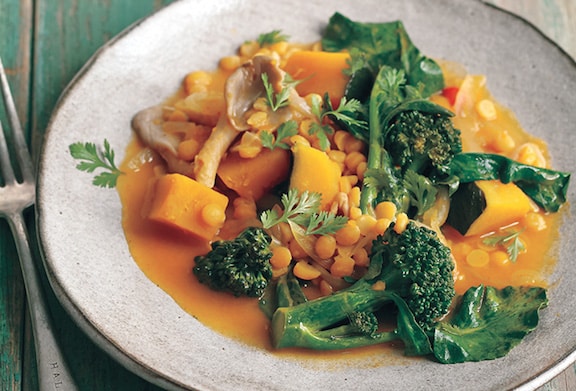 This is a perfect winter dish. You'll be wowed by the flavor of this fusion-style dish, where winter squash pairs very well with Thai curry. The mushrooms add earthiness and a lot of texture, while the broccoli (or greens) adds freshness. Excerpted from Vegan Under Pressure: Perfect Vegan Meals Made Quick and Easy in Your Pressure Cooker © 2016 by Jill Nussinow. Reproduced by permission of Houghton Mifflin Harcourt. All rights reserved. Photo © Lauren Volo.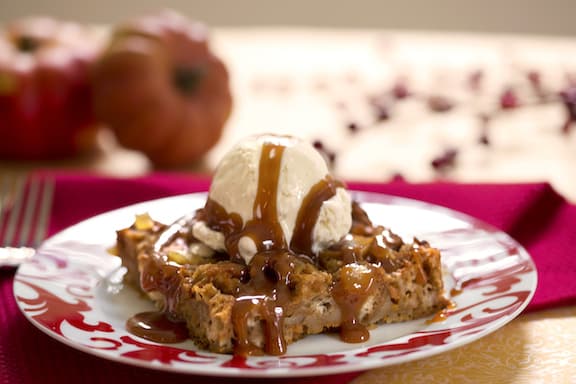 Warm, creamy, and comforting, Pumpkin Bread Pudding is the perfect dessert to ward off those autumn chills while celebrating the season's bounty. It's a snap to customize depending on your preference; consider the spices as a mere suggestion. Recipe and photo above by Hannah Kaminsky.
more→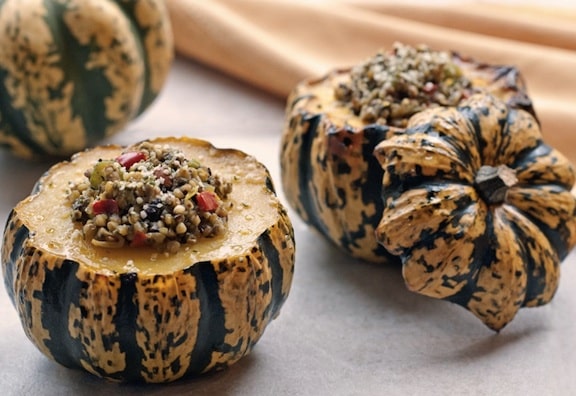 With organic chia seeds, organic red palm oil, and herbs, gluten-free kasha and vegetables is transformed into a colorful side dish that is fabulous stuffed into winter squash. Recipe contributed by Leslie Cerier. Photos by Tracey Eller. more→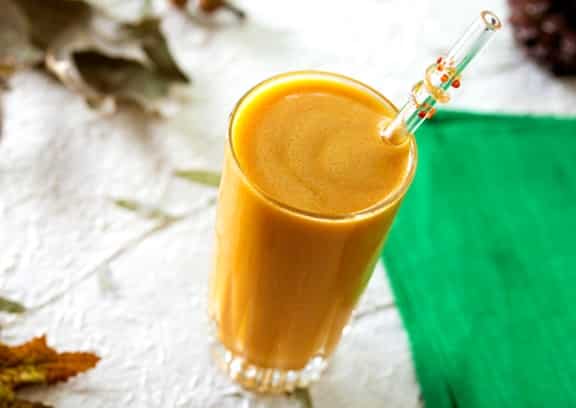 This mellow smoothie tastes like a liquid version of a delicious pumpkin pie — the secret being that butternut squash makes better pumpkin pie than pumpkin itself does. Gently spiced with cinnamon and ginger, this smoothie is packed with flavor and gives you a generous dose of  vitamins A and C. It might well become your go-to fall and winter smoothie! Photos by Hannah Kaminsky of Bittersweet Blog. more→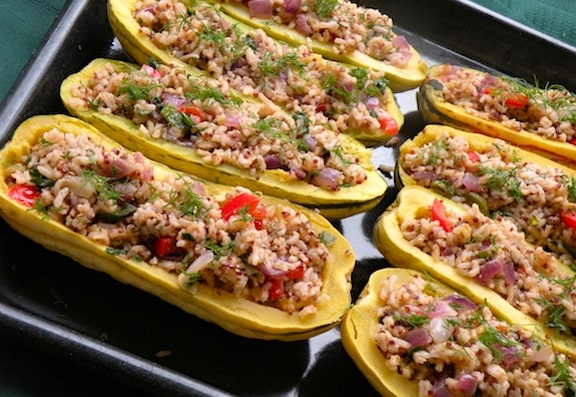 My husband certainly has a way with his vegetable garden. Each year there's one or another crop that becomes, to put it politely, overabundant. The first year, it was tomatoes. The phrase, "too many tomatoes" was particularly resonant for me, as my overindulgence triggered an allergy (fortunately, temporary) resulting in itchy hives. The following year, the culprit was Swiss chard. Though mildly annoying at the time, my bewilderment over what to do with this profusion of greens led to my writing a book (my latest, Wild About Greens) on leafy greens of all sorts.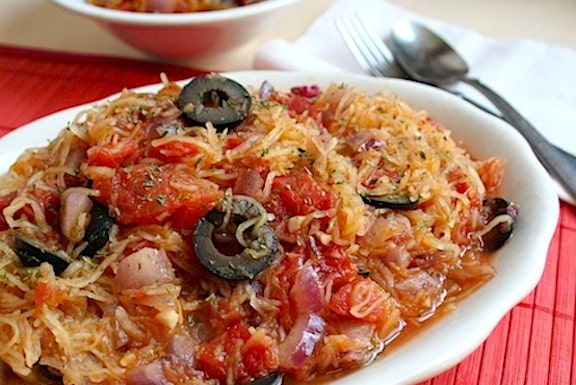 Spaghetti squash is a "fun" vegetable if ever there was one. This unique squash is delicious as well as entertaining, with its spaghetti-like flesh. Serve as a side dish with grain pilafs that include quinoa or wild rice. Complete the meal with a simple salad. Photos by Rachael Braun. more→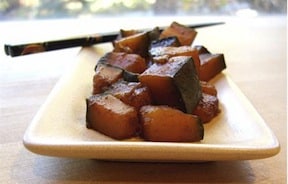 Like most other winter squashes, kabocha is a bear to cut, but, on the bright side, no peeling is required! The skin offers a pleasant and unique texture to the dish. For efficiency, I cut up all of the kabocha at once, and store any leftovers in baggies to use or freeze at my convenience.
This recipe offers a wonderful side dish (or breakfast, as I like to eat it) that is slightly sweet and spicy, and is a breeze to cook up. From start to finish, I had the kabocha ready in 20 minutes, and that was with minimal monitoring required. It was definitely a nice change from my usual roasting or steaming techniques with squash. Recipe and photo contributed by Alisa Fleming, from Alisa Cooks. more→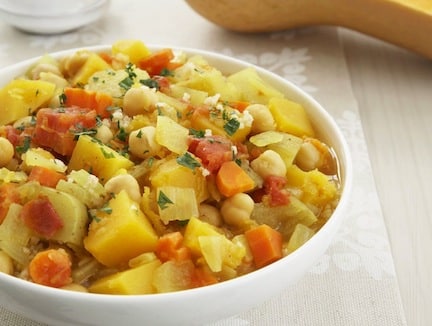 This delicious Moroccan-inspired stew looks as good as it tastes. It's a wonderful way to warm up cold season dinners, with sweet sugar pumpkin or butternut squash in an aromatic broth. This can also be a wonderful choice for fall Jewish holidays — Rosh Hashanah (Jewish New Year)and Sukkoth. Adapted from Vegan Soups and Hearty Stews for All Seasons by Nava Atlas. Photo by Theresa Raffetto.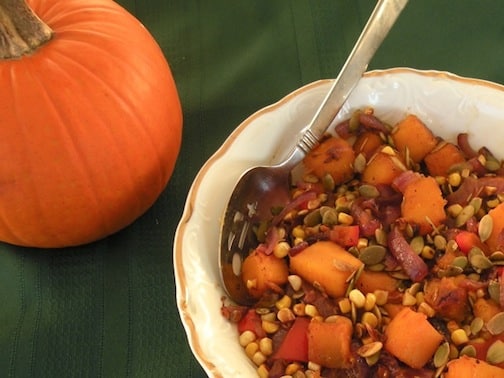 Once you have a winter squash partially baked, most anything you make comes together easily and quickly. This simple side dish is easy enough to serve at everyday meals, and festive enough for the holiday table. Though its past fresh corn season in most areas, markets often bring this classic crop back for the holiday season, and it's still quite good. This serves 8 or more as a side dish. more→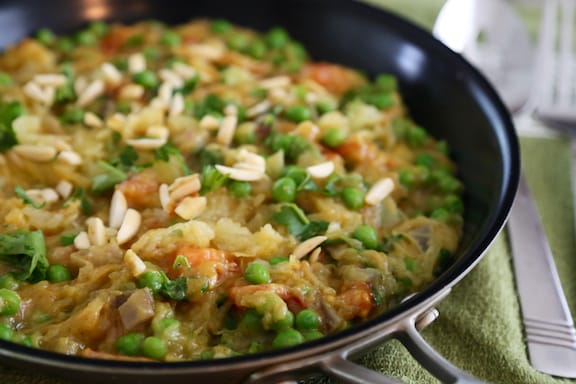 If ever there was a "fun" vegetable, it would be spaghetti squash. Here's a tasty way to serve it, with a lightly curried tomato-coconut sauce, plus peas and almonds. I enjoy serving it to anyone who has never tried it, as everyone seems amused by its spaghetti-like appearance. Photos by Evan Atlas. more→