I first spotted Ripe from across a crowded room at a culinary conference. And from the moment I held the book in my hands, it was love at first sight. Ripe: A Fresh, Colorful Approach to Fruits and Vegetables*(written by Cheryl Sternman Rule, with photography by Paulette Phlipot, Running Press), is like no cookbook I've ever seen.
It's organized by the color of the produce rather than the usual categories, and while this may sound odd—honeydew precedes kale, which is followed by kiwi, I assure you, it not only works logistically, but creates a literal rainbow of a book. The whole concept is so appealing to me as a visual artist; and as a writer and foodie, well, I wish I had thought to create a book like this.

Before trying a single recipe, I took the book to bed (appropriately enough, being that I am in love with it!) and read it cover to cover. Cheryl's text is so witty, and I often giggled at her musings such as: "First, bok choy has a hilarious physical appearance. It looks like me on a rough morning." Or, "If you crossed a volleyball with a grapefruit, you'd get a pomelo."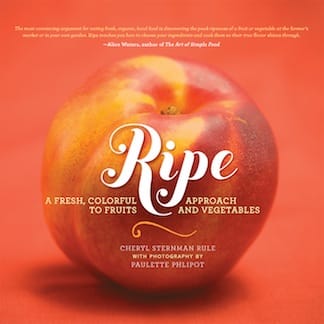 Cheryl's levity invites you to become friends with a very wide range of produce, but putting her wit aside, her recipes and ideas make it clear that this woman knows her way with fruits and veggies. Her recipes are simple and clear, and makes their subjects shine, whether starring in the dish solo or sharing the stage with other ingredients.
It should be said that the book is vegetarian, but many, if not most of the recipes are vegan. Those that aren't can be made vegan with simple modifications. For instance, in the Radish-Olive Crostini (yum!), the little bit of butter can be replaced with olive oil or Earth Balance.
All the recipes I've made so far have been smash successes. Radicchio Salad with Tahini-Lemon Drizzle offers a luscious array of rich flavors with a small number of ingredients. With it I served Ginger-Cashew Cauliflower, which gives an Asian twist to a veggie not usually highlighted in stir-fries (not sure why, as it works really well).
Since there were six of us including our guests and recipe serves four, I tossed in some green beans, which complemented the cauliflower nicely. I completed the meal with some simple red quinoa, and what a gorgeous plate these made all together!
For my family, I've made the Peanut-Strewn Purple Cabbage Slaw, which, with the apples, carrots, and peanut crumble topping, looks almost like a cobbler. It's so pretty, in fact,  that my family mistook it for dessert.
The Black Lentil Celery Couscous with Jeweled Fruit is colorful and filled with flavor and texture, this dish would be perfect for fall holiday meals — Jewish New Year, Thanksgiving, or Christmas. The Miso Tofu Bok Choy is truly my kind of dish; in fact I already have something fairly similar here. I like Cheryl's take on it using miso, which, along with a very generous amount of ginger, marries the tofu with the crunchy green bok choy beautifully.
This review would be incomplete without a shout-out to Paulette Philipot, who made every shot of every fruit and veggie irresistible, whether featuring it in its natural state or within the plated recipes. Every recipe is accompanied by a glorious photo. Each individual fruit and vegetable has only one formal recipe, but in her description of the particular produce, Cheryl lists three "Simple Uses." I appreciate that she recognizes that many uses for produce don't require formal recipes, but most of us, even the most avid cooks, can always use some inspiration.
I rarely gush on and on like this, but I don't see a single recipe in the book that I don't want to try, and with produce season in full swing, now through fall, I'll have ample opportunity. This isn't an exhaustive tome on produce; it doesn't have celeriac, which I find kind of gross anyway, nor okra, which doesn't have such broad appeal either.
But Ripe* does feature a broad range of the kinds of produce you are most likely to come across, and should eat more of! It will inspire you to make these plant-based pleasures a part of your daily life. The recipes are easy, unfussy, unpretentious, and judging from those I've already made, absolutely delicious.
Sample three recipes from Ripe:
Read more of VegKitchen's book reviews.
*This post contains affiliate links. If the product is purchased by linking through this review, VegKitchen receives a modest commission, which helps maintain our site and helps it to continue growing!