Review contributed by Marla Rose, Vegan Street. Is salad an often overlooked culinary art form? According to one creative cookbook, yes. A second book has just been released that seconds the "Heck, yeah, vegan salads!" sentiment and it comes from accomplished cookbook author Terry Hope Romero.
As you can probably see, I am an unabashed fangirl of Terry's oeuvre. That being said, I think that I can be unbiased enough to still be critical-minded about her work to give it a fair review and I am pleased to say that her new cookbook, Salad Samurai: 100 Cutting-Edge, Ultra-Hearty, Easy-to-Make Salads You Don't Have to Be Vegan To Love,* is one that I can highly recommend.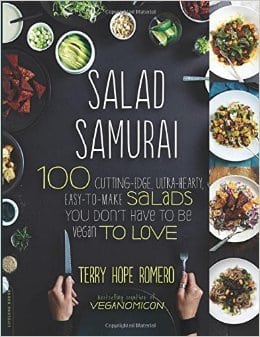 Who needs salad? We all do! Year-round. Raw and cooked. For breakfast and lunch, dinner and dessert. With fruit, crunchy croutons, noodles and pickled vegetables. In jars, layers and simply salad bowls.
As a fellow former teenaged vegetarian who often had no other options but tired and limp iceberg affairs, it took me a little while to come around to see the culinary potential in salads, but now that I have, I know that the best of them are fresh, full of flavor, and even a little bad-ass. In this new cookbook, we are treated to an array of main dish recipes that make no apologies for being salads while not being exactly constrained by tradition, either: instead, the form is played with a lot, in everything from an elegant Salade Nicoise Bento Box to a novel interpretation of the beloved tempeh reuben.
All are big, robust and filling, bursting with textures and flavors that keep us from ever getting bored. In other words, these ain't the iceberg salads of yore and thank goodness for that. Today, the best salad artists are kitchen samurais.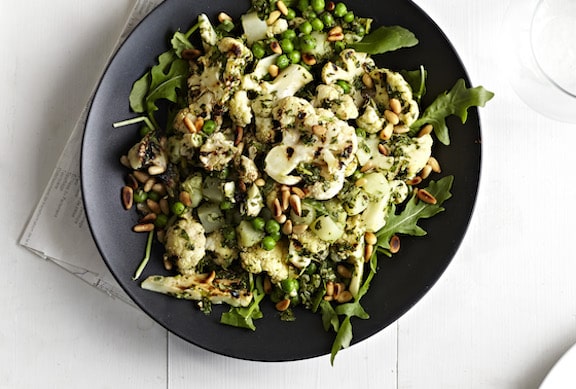 Using a lighter sensibility and relying more on vegetables, fresh ingredients and whole grains than in her earliest cookbooks, Terry Hope Romero takes us through substantial salad options organized by the season (yes, you can eat salad in winter), and along the way, she offers a primer on planning a week's worth of salads, portability suggestions as well as equipment advice and an ingredient glossary.
With a palate that enjoys a variety of international influences, this cookbook takes us to Thailand (Asparagus Pad Thai Salad), the Middle East (Almond Falafel Crunch Bowl), the good ol' U.S.A. (the Seitan Steak Salad with Green Peppercorn Dressing) and a bunch of points in between, we get to fill our virtual passport with a lot of culinary treasures, all gussied up in a free-spirited salad form. 
These are recipes with lots of ingredients but pretty simple, easy to follow instructions. Most ingredients can be found at a well-stocked grocery store. Under the sidebar "The Spin," you'll find hints and tips. Under the "Samurai Stylings" sidebar, readers will find variation suggestions. There are also icons for gluten-free options and denoting recipes that can be prepared raw. With beautiful food photography and arresting art direction, this is also a cookbook that is easy on the eyes.
I recommend Salad Samurai for anyone looking for bring more enlightened, fresh salads from around the globe into their lives. With a great variety of easy but creative recipes, this is a cookbook that can be used year-round. It's far better than a boring iceberg salad, to say the least.
Link to this recipe for Mexican Roasted Corn Salad with Avocado and Pesto Cauliflower & Potato Salad from Salad Samurai by Terry Hope Romero.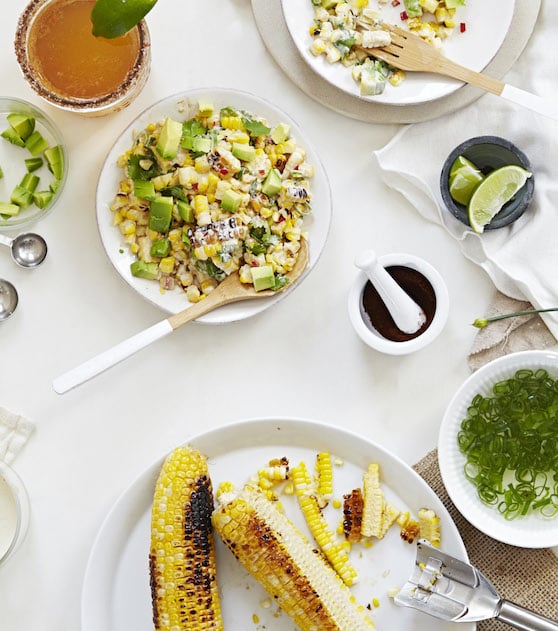 Reprinted with permission from Da Capo Lifelong, © 2014.
*This post contains affiliate links. If the product is purchased by linking through this review, VegKitchen receives a modest commission, which helps maintain our site and helps it to continue growing!