Search Results for:
black bean stew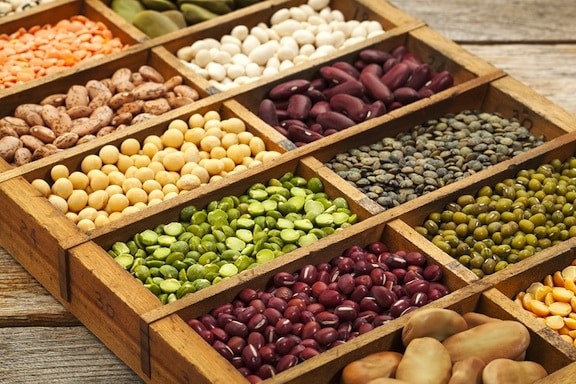 Beans and legumes are nutritional powerhouses, rich in protein and fiber, and very low in fat. They boast a slew of vitamins (B vitamins in particular) and essential minerals (notably iron). If you're among the uninitiated, the following guide should demystify beans for you. If you're a bean aficionado, take a look for new information and tips. To get you primed to add more beans to your repertoire, here are  VegKitchen's categories for delicious, high-protein bean recipes: more→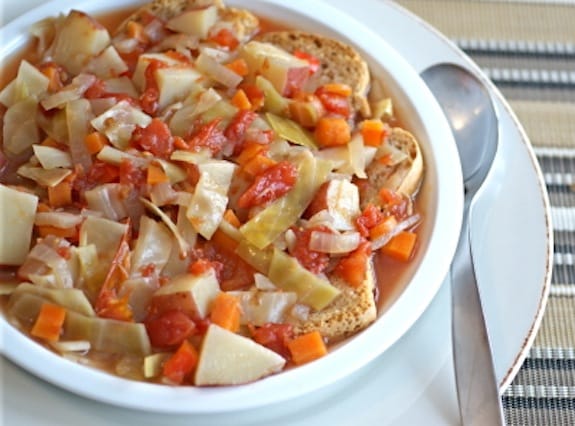 In VeganSoups and Hearty Stews for All Seasons, Nava Atlas ladles out more than 120 satisfying, imaginative soups and stews—including 20 new recipes. Arranged in seasonal chapters, these bountiful bowlfuls are now completely vegan. Low in fat and rich in flavor, these soups and stews highlight the best of each season's produce.
You'll find exciting global offerings, light brothy soups, comforting cold-weather stews, and no-cook soups for warm evenings. Fall soups include Moroccan Lentil and Chickpea Soup, Orange-Butternut Squash Soup, and Southwestern Fresh Corn Stew. Winter features Brazilian Black Bean Stew, Sweet-and-Sour Cabbage and Bread Stew, and Four-Grain Tomato Soup. more→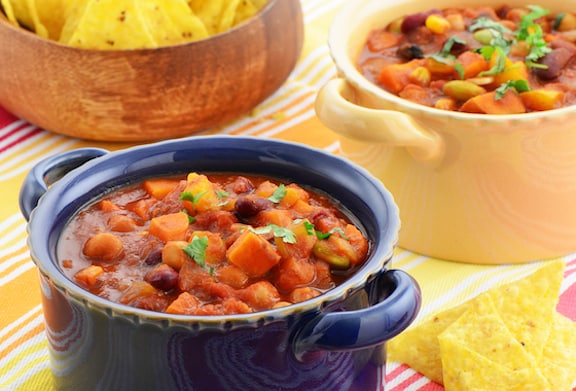 It can be challenging to be either vegan or gluten free, but when you're both, it's doubly tricky to find suitable vegan gluten free recipes. VegKitchen offers lots of vegan gluten free recipes for every meal of the day. Use this list as a great resource for easy, everyday recipes to suit both dietary needs.
For all recipes that contain products that have both GF and non-GF versions, (like soy or teriyaki sauces, broth, and tortilla products), read labels carefully to be sure you're using GF versions. Please contact us (form is above right) if we've gotten anything wrong here as far as GF and we will make the correction post haste!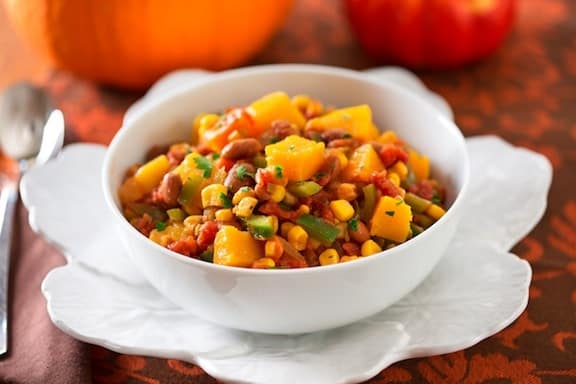 Thanksgiving has gotten to be a more inclusive holiday over the past few years — where once upon a time, the lone vegetarian or two picked at side dishes. Fast-forward to the present, and even full-fledged vegans can enjoy the full feast, from appetizers to desserts. Whether you're going to be a guest or host, you'll want to explore these options for our best vegan Thanksgiving main dish recipes. And make sure to explore our entire array of vegan Thanksgiving dinner recipes.

Three Sisters Stew (shown at top) is somewhat like chili, though it's more about the squash than beans. In Native American mythology, squash, corn, and beans are known as of the "three sisters" — the very crops that the harvest festival of Thanksgiving is meant to celebrate! more→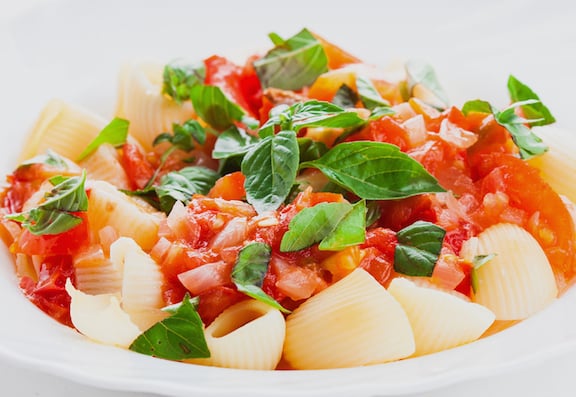 When August rolls around, it's all about the holy trinity of produce — tomatoes, corn, and summer squash (zucchini, yellow squash, and others). This week's vegan dinner ideas focus on these three great late summer veggies for delicious fresh meals. First up, the companionable summer duo—tomatoes and basil—becomes quite a delicacy when teamed with pasta. Serve Cold Pasta with Tomatoes and Basil (above) with corn on the cob for a simple meal. more→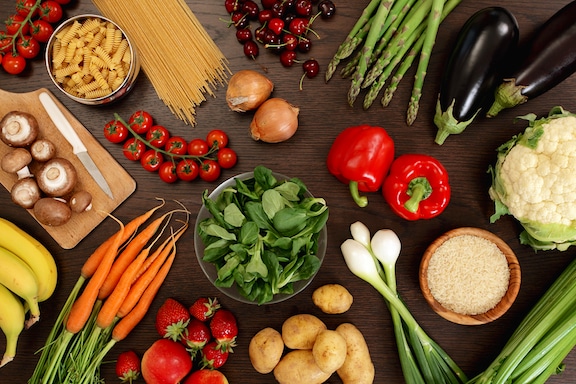 Excerpted from The End of Dieting: How to Live for Life* by Joel Fuhrman, MD. © 2014 HarperOne, reprinted by permission. Everybody can do this, and here's the plan. But remember: These are just general guidelines; you don't have to follow them precisely. For example, you can go above or below the general serving recommendations depending on your height and degree of physical activity or exercise. A world-class athlete may need triple the calories of a sedentary office worker. To call yourself a nutritarian, follow these six basic guidelines:
1. Eat a large salad every day as your main dish.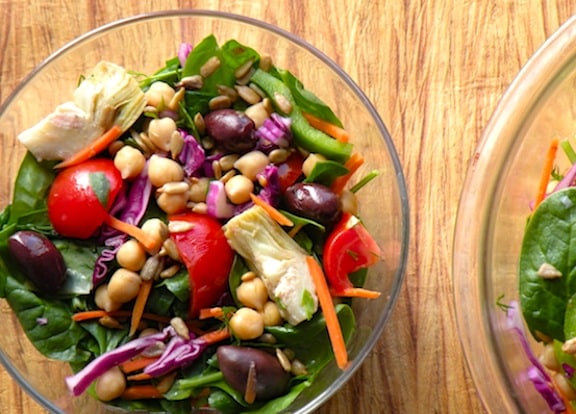 This salad should include lettuce, tomatoes, shredded onion, and at least one shredded raw cruciferous vegetable, such as chopped kale, red cabbage, nappa cabbage, arugula, watercress, or baby bok choy.
Use a variety of greens, including romaine, mixed greens, mesclun mix, arugula, baby spinach, Boston lettuce, and watercress. For added veggies, choose from red and green bell peppers, cucumbers, carrots, bean sprouts, shredded red or green cabbage, chopped white and red onions, lightly sautéed mushrooms, lightly steamed and sliced zucchini, raw and lightly steamed beets and carrots, snow peas, broccoli, cauliflower, and radishes. I often add some frozen peas and beans to my salads too.
Add a healthy dressing (one that is nut and seed based). I usually make a huge salad, share it with family members, and have enough left over for later in the day or the next day. Remember, for superior health, the green salad is the main dish, not the side dish.
2. Eat at least a half cup, but preferably closer to 1 cup, of beans a day.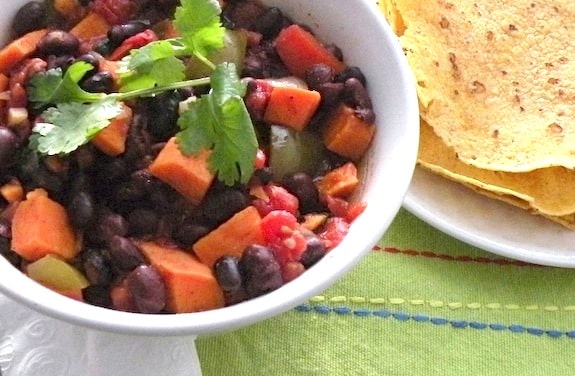 This means eating a bean burger, a bean loaf, or a veggie-bean soup or putting beans on your salad or in a stew or chili in the evening. In our household, we almost always make a giant pot of veggie bean soup once a week. After eating the soup that day, I portion it into eight containers and refrigerate or freeze it so I can take it to work with me or use it when I need it. Quick tip: Use some of the soup you made as a unique salad dressing base by adding some flavored vinegar and nuts. Blend in a high-powered blender until smooth.
3. Eat one large (double-size) serving of lightly steamed green vegetables a day.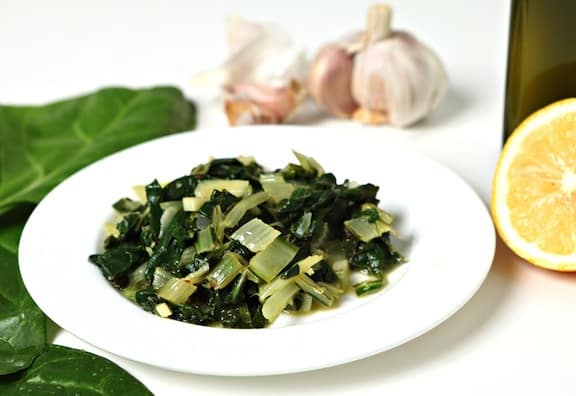 This means a bowl of asparagus, chopped kale with a delicious mushroom/onion sauce, green beans, steamed zucchini, bok choy, artichokes, cabbage, or collard greens. Don't overcook greens; thirteen minutes of steaming is plenty. The longer you cook them, the more micronutrients you burn off, which wastes the effects of phytochemicals. Green vegetables need to be fully chewed (to the consistency of nearly liquid in your mouth) for you to fully benefit from their anticancer phytonutrients.
4. Eat at least 1 ounce of nuts and seeds per day if you're female and at least 1.5 ounces of nuts and seeds per day if you're male.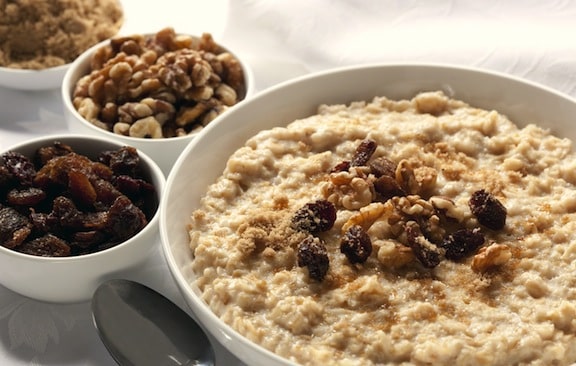 Remember, don't use nuts and seeds as snacks. They are the healthiest way to take in fat with meals and demonstrate a powerful effect on extending the human lifespan. The fat from nuts and seeds, when eaten with vegetables, increases the phytochemical absorption from those veggies. That's why I typically recommend that nuts and seeds be part of your salad dressing, too. Also, at least half of this intake should be from walnuts, hemp seeds, chia seeds, flaxseeds, and sesame seeds because they have unique protective properties, such as lignans and omega-3 fatty acids.
Eating 3 to 4 ounces of nuts and seeds a day isn't too much if you're active and slim. There's no problem with eating even more than 4 ounces of nuts and seeds per day if you're an avid exerciser or athlete who needs the calories. I have worked with professional football players and Olympic skiers who follow this diet style; obviously, they need lots more seeds and nuts, and other food too.
Eat nuts and seeds raw, or just lightly toasted, because the roasting process alters their beneficial fats. Commercially packaged nuts and seeds are also frequently cooked in oil and are heavily salted. If you want to add some flavor, lightly toast seeds and nuts in a toaster oven on one low toasting cycle. This doesn't deplete their beneficial properties. Don't toast to the point of dark browning, however, as this can cause carcinogenic compounds called acrylamides to be formed. You can also bake them in a 250˚F oven for about fifteen minutes, or until very lightly browned.
5. Eat mushrooms and onions every day.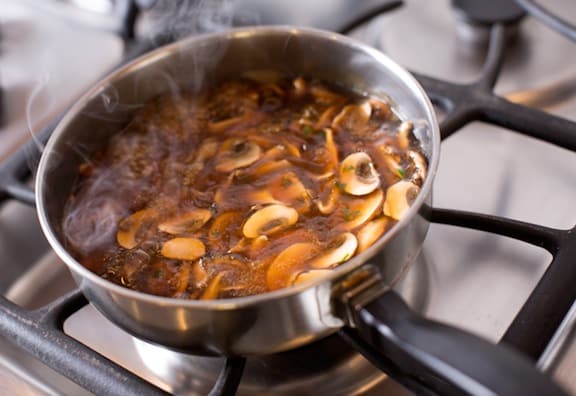 Both mushrooms and onions have powerful anticancer benefits. Mushrooms are better eaten cooked because some mushrooms contain a mild carcinogen called agaritine. It is gassed off during cooking.
Only the Agaricus genus of mushrooms—which includes the common white, brown, button, cremini, and portobello mushrooms—contains agaritine. Shiitake, chanterelle, enoki, morel, oyster, and straw mushrooms belong to different genera that don't contain agaritine. But they should also be cooked to reduce the risk of any potential contamination with microbes.
It's still not entirely clear whether agaritine is a health risk, but play it safe and cook most of your mushrooms with your other vegetables, or water-sauté them in a wok or other pan. Keep a container of cooked mushrooms in your fridge to add to salads and vegetable dishes regularly.
6. Eat three fresh fruits a day.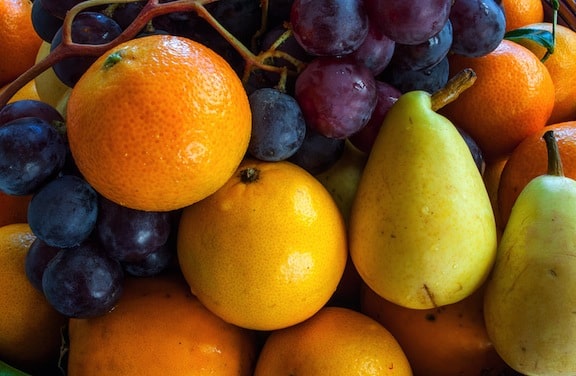 Fresh fruits aren't just nutritious and delicious, they also protect against disease. The phytochemicals in fruits have anticancer effects, and berries have even been shown to protect the brain from dementia in later life. Try to eat one serving of berries or pomegranate a day as part of your total fruit intake.
When eaten with a meal, vegetables dilute and slow your body's absorption of glucose and fructose, so it's best to eat fruit as part of your vegetable-based meal, either mixed in with your salad or as a dessert. If you're physically active, you can certainly eat more than three fruits a day, but it's still best to avoid fruit juice and too much dried fruit, such as dates, raisins, figs, and prunes, because they are calorically dense and could elevate your blood sugar if you eat them in large amounts.
When making a recipe or dessert that contains dried fruit for flavor and sweetness, limit the amount to 2 tablespoons per serving. That means one Medjool date or two Deglet Noor dates per dessert serving; otherwise, you could be consuming too much simple sugar.
That's it. Six simple guidelines to follow. That's not so difficult to do, is it? Can you imagine what would happen if everyone in the United States followed these guidelines?
We would stop the healthcare crisis in its tracks and save billions of dollars on medical expenses.
We would save millions of lives from premature death.
We would reduce rates of heart disease, stroke, dementia, and cancer by more than 80 percent.
We would have less crime, and a more successful, intelligent, and productive workforce.
We would have many fewer people in nursing homes, fewer stroke victims, and fewer elderly people suffering from dementia and unable to enjoy life.
Nutritarian Daily Checklist (Make copies of this chart and check off each point each day.
Eat a large salad as the main dish for at least one meal.
Eat at least a half cup, but preferably closer to 1 cup, of beans.
Eat one large (double-size) serving of steamed green vegetables.
Eat at least 1 ounce of nuts and seeds if you're female and at least 1.5 ounces of nuts and seeds if you're male. Half of them should be walnuts, hemp seeds, chia seeds, flaxseeds, or sesame seeds.
Eat some cooked mushrooms and raw and cooked onions.
Eat at least three fresh fruits.
Visit Joel Fuhrman on the web at Dr. Fuhrman.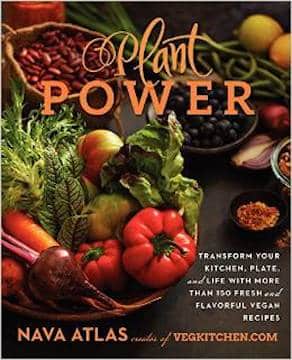 In addition to Dr. Fuhrman's excellent books, another helpful guide to transitioning to a vegan diet and lifestyle is Plant Power: Transform Your Kitchen, Plate, and Life with More than 150 Fresh and Flavorful Vegan Recipes* delivers a beautiful must-have guide with more than 150 delicious and versatile plant-based recipes for every day of the year. Eating vegan doesn't have to be about sacrifice and substitutions. With Plant Power, Nava Atlas celebrates the bounty of natural foods and teaches everyone—from committed vegans to those who just want more plants in their diet—how to implement a plant-based approach to their lives—easily, practically, and joyfully, every day.
*This post contains affiliate links. If the product is purchased by linking through this review, VegKitchen receives a modest commission, which helps maintain our site and helps it to continue growing!
For more tips on plant-based nutrition, make sure to browse VegKitchen's Nutrition page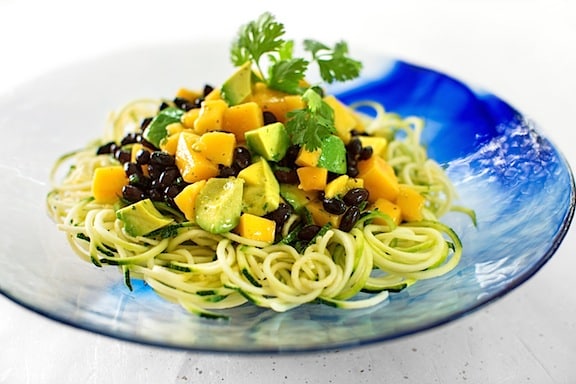 Zucchini is available and economical all year round, though it's midsummer to early fall when it's most abundant in gardens and at farm markets. So for your enjoyment, here are VegKitchen's 12 best healthy zucchini recipes, from "zoodles" to sweet muffins and everything in between — plus some alternates that are also among our best.
1  Zucchini "noodles"
Everyone needs a good zucchini "noodles" (or as some call them, "zoodles") recipe or two in their repertoire, and Gena Hamshaw's Zucchini Pasta with Mango, Avocado, and Black Bean Salsa (at top) is easy and impressive.  more→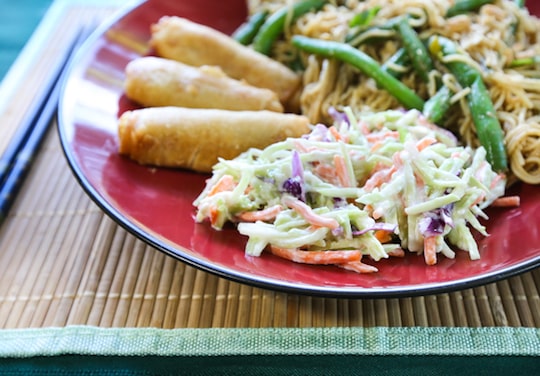 When people go plant-based, it can be challenging to put together an entire meal; we often get the question: what goes with what? That's why we offer easy vegan meal plans for every mood and season. These menus are designed to help you create healthy dinners all year round. Of course, they're flexible; you can swap in a different companion dish, or just have the main dish on its own or with a simple salad. Some of these menus have dessert suggestions, some don't; fresh fruit is always a welcome way to end a healthy meal on a refreshing note. more→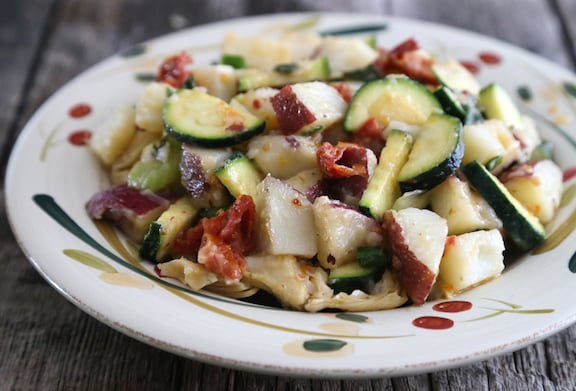 Eating produce all year round — both cooked and raw — is one of the healthiest habits on earth. Salads take care of the latter, but they're not exactly crave-worthy in the winter when most of us would rather have warm foods like soups and stews (or starchy comfort foods).
Something that works like a charm to make cool weather salads more enticing is adding something warm or even piping hot to them. And in some cases, serving them warm altogether. Here are 10 seriously delicious warm winter salads that will keep you eating your veggies all season, and coming back for more! more→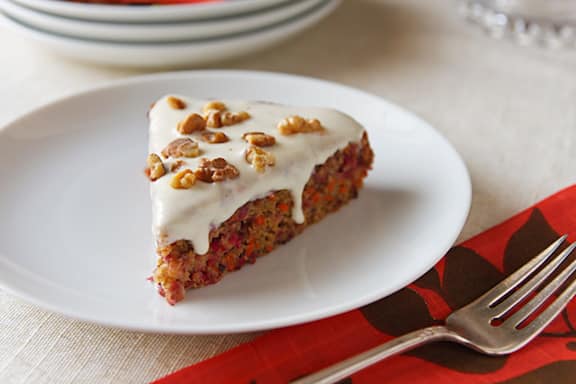 Sometimes it can be tough to come up with exciting vegan recipes. You might have a few go-to recipes you've stuck to since you became a vegan. But why not branch out and see what the vegan world has to offer? And these are the best vegan cookbooks for expanding your vegan repertoire. more→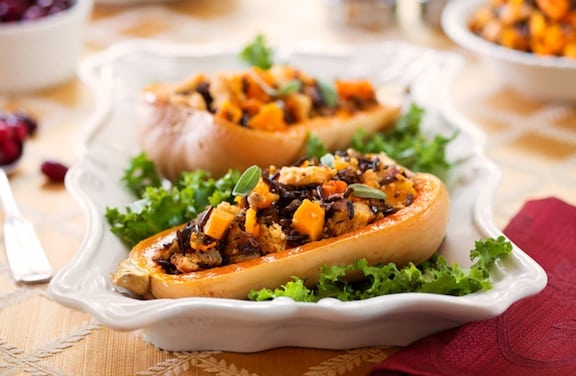 Here's your premier source for vegan Thanksgiving recipes and menus to create a memorable dinner—suitable for any vegetarian guests as well! Create mix-and match vegan Thanksgiving menus from the following recipes, from soup to dessert, complete with vegan stuffings and main dishes—all the holiday traditions you adore, updated for a compassionate plant-based feast. Shown above, Butternut Squash With Whole Wheat, Wild Rice, & Onion Stuffing; photo by Hannah Kaminsky.
For even more recipes and menus for vegan Thanksgiving and other major holidays, see Nava's book, Vegan Holiday Kitchen). Enjoy, and share the blessings! Would you like these choices narrowed down a bit? Here's a link to our absolute favorite vegan Thanksgiving recipes.  more→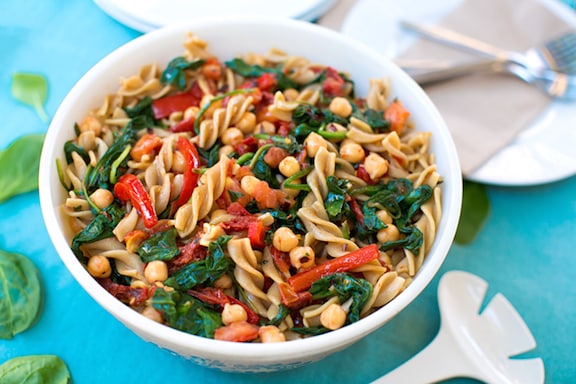 Happy Monday! It's time for our weekly suggestions of easy, plant-based dinner ideas to get you through the week. Pasta combined with greens and beans is a classic combo, and this Pasta with Spinach, Chickpeas, and Sun-Dried Tomatoes is a tasty take on this trio. You need only a salad and some crusty bread to accompany this hearty pasta dish that's welcome all year around. more→