I have a good supply of Vegan Holiday Kitchen on hand, so I'm putting them on sale here for the same price you'd pay on Amazon, with the shipping. In addition, I just received a batch of my 2009 book of humor, Secret Recipes for the Modern Wife, at a bargain price. These orders go securely through PayPal. You'll see a space there for a message, where you can list to whom you'd like the books inscribed, or if you want them simply signed. So, here's what's on sale! These prices include shipping on U.S. orders; for Canadian orders, please add an additional $5.00 for shipping.
______________________________________________________________________________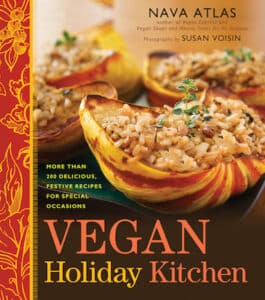 Vegan Holiday Kitchen: More than 200 Delicious, Festive Recipe for Special Occasions

With more than 200 mouthwatering recipes, Vegan Holiday Kitchen is your go-to resource for recipes and menus for major holidays. Vegans can at last celebrate the holidays with gusto and enjoy every course of the meal—from appetizers to desserts. What's more, these lovingly crafted dishes will satisfy everyone who loves great food, no matter what their culinary preferences. There's no reason to wait for a special occasion to enjoy these recipes—they're healthy and uncomplicated enough for everyday fare. Read more about Vegan Holiday Kitchen.
______________________________________________________________________________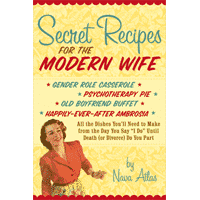 Secret Recipes for the Modern Wife: All the Dishes You'll Need to Make from the Day You Say "I Do" Until Death (or Divorce) Do You Part 
Flavored with frustration, simmering with rage, and iced with affection, these "recipes" will make you laugh as you multitask your way through the challenges and joys of matrimony. Enveloped in them are the secrets — delicious, distressing, and everything in between — that accompany women on their marital journeys. Please note, this is NOT a real cookbook! But it IS a perfect gift for newlywed, newly divorced, and those in it for the long haul. And for anyone who loves retro art and imagery. Read more about Secret Recipes for the Modern Wife.