Tasty, Easy Brown Rice Recipes: 30 Recipes for the World's Most Versatile Grain. With its nutty taste and chewy texture, brown rice doesn't fade into the background of dishes as does white rice. But once you switch to brown rice, there's no going back! Nutritionally, brown rice is far superior to white, which has had its valuable hull and germ removed.
Here is a selection of 30 of VegKitchen's most popular recipes featuring brown rice, from hearty main dishes to delectable pilafs and filling salads. 20 full-color photos included. See entire contents under the cart buttons.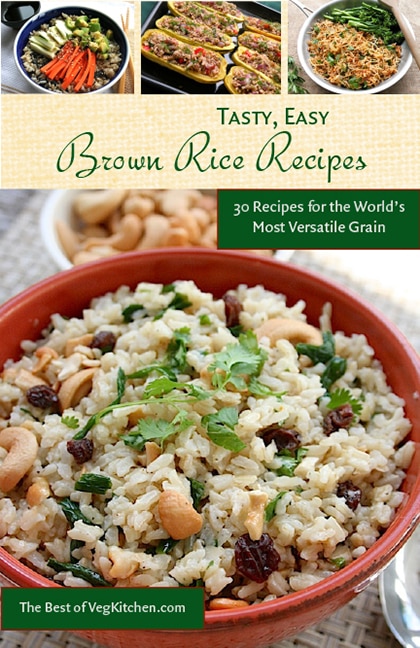 This title is part of VegKitchen's "Best of VegKitchen" pdf e-book series. Featuring recipes that have proven most popular on the site, these compact e-books let you to delve into specific food niches without poring through lots of web sites (or even just VegKitchen, which in itself has thousands of recipes!).
Please note—this e-book can be viewed on your computer after downloading, or printed and popped into a binder, but it is not formatted for e-readers such as Kindle, Nook, etc.
How it works: Once you click Add to cart (below), you'll be taken to a checkout page. All orders are processed though PayPal. Once payment has been made, you'll receive an e-mail with a link to an instant download. Chances are that you already have Adobe Acrobat reader on your computer, but if not, you can download it for free by following this link.
44 pages, $5.95
Hearty Main Dishes

Spanish-Style Rice & Red Beans
Gingery Rice with Sweet Potatoes & Peas
Vegan Jambalaya
Hoppin' John (Black-Eyed Peas & Rice)
Rice-Stuffed Delicata Squashes
Rice-Stuffed Bell Peppers
Cuban-Inspired Black Beans & Rice
Baked Rice with Cheese & Green Chiles
Quick Jamaican Rice & Red Beans
Vegan Cheddar & Broccoli Rice Casserole
Substantial Side Dishes & Pilafs
Cauliflower Rice Pilaf
Wild & Brown Rice Pilaf with Apples & Pecans
Wild Rice & Brown Pilaf with Spinach & Almonds
Rice & Noodle Pilaf
Fragrant Brown Basmati & Cashew Pilaf
Italian-Style Rice and Peas
Ginger Coconut Rice
Simple Spinach Rice
Creole Orange Rice
Mexican Rice
Thai Pineapple Stir-Fried Rice
Chinese-Style Vegetable Stir-Fried Rice
Fruited Basmati Rice
Salads & More
Wild & Brown Rice Salad with Artichokes
Olive Rice Salad
Pineapple Rice Salad
Southwestern Rice & Bean Salad
Veggie Sushi Rice Bowls
Piquant Rice Salad
Pineapple Rice Pudding